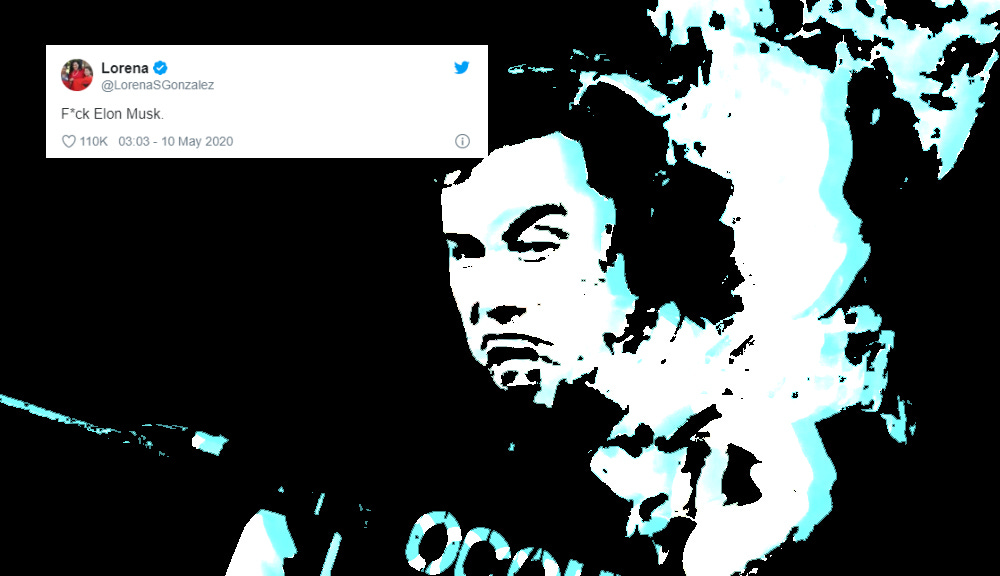 I once had an editor that didn't like it when I used swear words, and on more than one occasion, I discovered that he had edited them out without telling me. The most egregious example is when I turned in a first-person account of the Julian Apple Fest with the headline "Julian Apple Fest is quaint AF" (AF here meaning "as fuck")—an extreme and vulgar way to describe the most innocuous festival that I've been to.
Under this editor's hand the headline became "Julian's Apple Fest is hyper quaint." I wasn't so much angry as confused and embarrassed. Hyper quant? What did that even mean? I imagine he was looking for a similarly strong sentiment, but ended up draining the headline of all its humor. This new headline reminded me of something I'd say when I was 10 years old and one-upping myself to describe the best mutant powers to have: I'd shoot lasers, big lasers—no—super lasers—no!—hyper lasers!
When I asked the editor about the change, he said something along the lines of "you're too smart to be using that kind of language."
If you don't like swearing, I get that. But also—and this is disregarding the fact that "af" is just an implied swear, not even a real one!—have you seen a movie in the last 40 years? Watched TV? We have the most foul-mouthed and disgusting president in the history of presidents and people still get upset when I use the word fuck. Okay, fine. I mean, I've received enough feedback on this newsletter that I now carefully consider every instance I use a swear word, and only do it when I think it's most effective or, more importantly, most funny. But to think that swearing is a sign of lower intelligence is, in itself, a patronizing and naive point of view. Swearing is effective af.
Which is why CA Assemblymember Lorena Gonzalez tweeting "f*ck Elon Musk" is my favorite thing to come out of this pandemic.
The tweet came after Musk — founder of SpaceX, CEO of Tesla, 31st richest man in the world (net worth $36.5 billion) — announced that he would reopen the Tesla plant in Alameda County in defiance of the state's lockdown mandates. For anyone who's followed Musk's tweets, this move isn't really surprising given that he's prone to invoking revolutionary language. With messages like "FREE AMERICA NOW," "Now give people back their FREEDOM" or bizarrely typing out the words to the "Star-Spangled Banner,"
Sometimes I like to close my eyes and try to imagine how Musk thinks of himself (or how his legions of fans do): a Paul Revere-esque firebrand, American entrepreneur brave enough to lead the way against a tyrannical government, and now a vision of civil disobedience?? It's almost too patriotic for my progressive little brain to handle.
But then I open my eyes. Musk is not a symbol. He's a capitalist, and a shitty one at that.
It's sad how our concept patriotism has been so twisted that we make an example of a billionaire who has a history of union busting, cultivating unsafe working working conditions, and who's built an empire on "inventing" things that have already been invented. His cars are essentially status symbols for incels, and everything else he's made could fill the pages of Rich Asshole Sharper Image, if such a catalog existed. Oh, and let's not forget that his family made their fortune through emerald mining in Africa.
I know people are hurting financially right now, but let's be clear: The people who are most eager to get back to work actually just mean they want people who work for them to get back to it. Musk does not care about freedom. It won't be him reopening the economy, but the people who work for him. Putting his workers' lives at risk in order to make a profit—but wrapping his intentions up in jingoistic rhetoric—is a very get-fucked-able offense.
Of course, Gonzalez's tweet went viral. Apparently, seeing an elected official use a swear word is still too much for some. Her replies became clogged with Musk apologists (truly a perplexing bunch!) and sanctimonious Democrats and other weasels decrying her strong language. Reading through the replies to Gonzalez's tweet, I remembered all the times that someone took it upon themselves to reprimand me for using a swear word. When it becomes hard to engage with a message, people will engage with how you said it. This is why calls for public calls for "civility" now ring false to me—our nation's on a sinking ship and you're worried about semantics.
But here's the thing: Gonazlez—and all San Diego politicians—are doing a pretty great job right now. As a city, we're keeping our death and infection rates down. By no means am I trying to diminish anyone's death and suffering, but as of this writing, there are only 190 COVID-19 deaths in San Diego County, (compared to 1,613 in LA County and 349 in the Bay Area). Sure, there are lots of factors at play with these numbers, but overall, local leaders like Gonzalez and her husband, Supervisor Nathan Fletcher, have a great job of keeping people alive during the pandemic. And I can only imagine the frustration of having some fuckboi like Musk swoop in on one of his Running Man-style trucks and defy lockdown mandates, thereby compromising what progress we've achieved.
Side note: there will always be people who never forgive Gonzalez for authoring AB5, which unfortunately falls in line with the American tradition of obsessing over a woman's misdeed instead of the good she's done (i.e. Hilary's emails or Elizabeth Warren's dark money or whatever the fuck Bernie Bros hate her for). AB5 sucked upon its inception—and I had my own issues with it—but it's getting better. And If you're more willing to side with a billionaire technocrat instead of someone who just wants you to have job protection when you're driving for Uber, then I'm sorry.
There's something beautiful with Gonzalez's succinct message. It's not so much as an insult as it is a culmination, the type of thing one says after putting up with nonsense for so long. It's a dismissal in the highest form, and in politically-powerful hands, that kind of dismissal is art. I could say "fuck Elon Musk" all day and no one would care, but Gonzalez has much more power than me, and her tweet was like a microphone for all of us who are frustrated by the performative indigity of people who haven't really lost anything: friends who disregard social distancing to have secret get-togethers, people who wear swastikas and KKK hoods to grocery stores, millionaires who organize protests, people who spread COVID conspiracy theories, people who do pushups outside of the gym they're fighting to reopen. Fuck them all, really.
So, fuck Elon Musk, indeed. You are dismissed, sir.
---
AWKWARD COCKTAILS
By Kelly Davis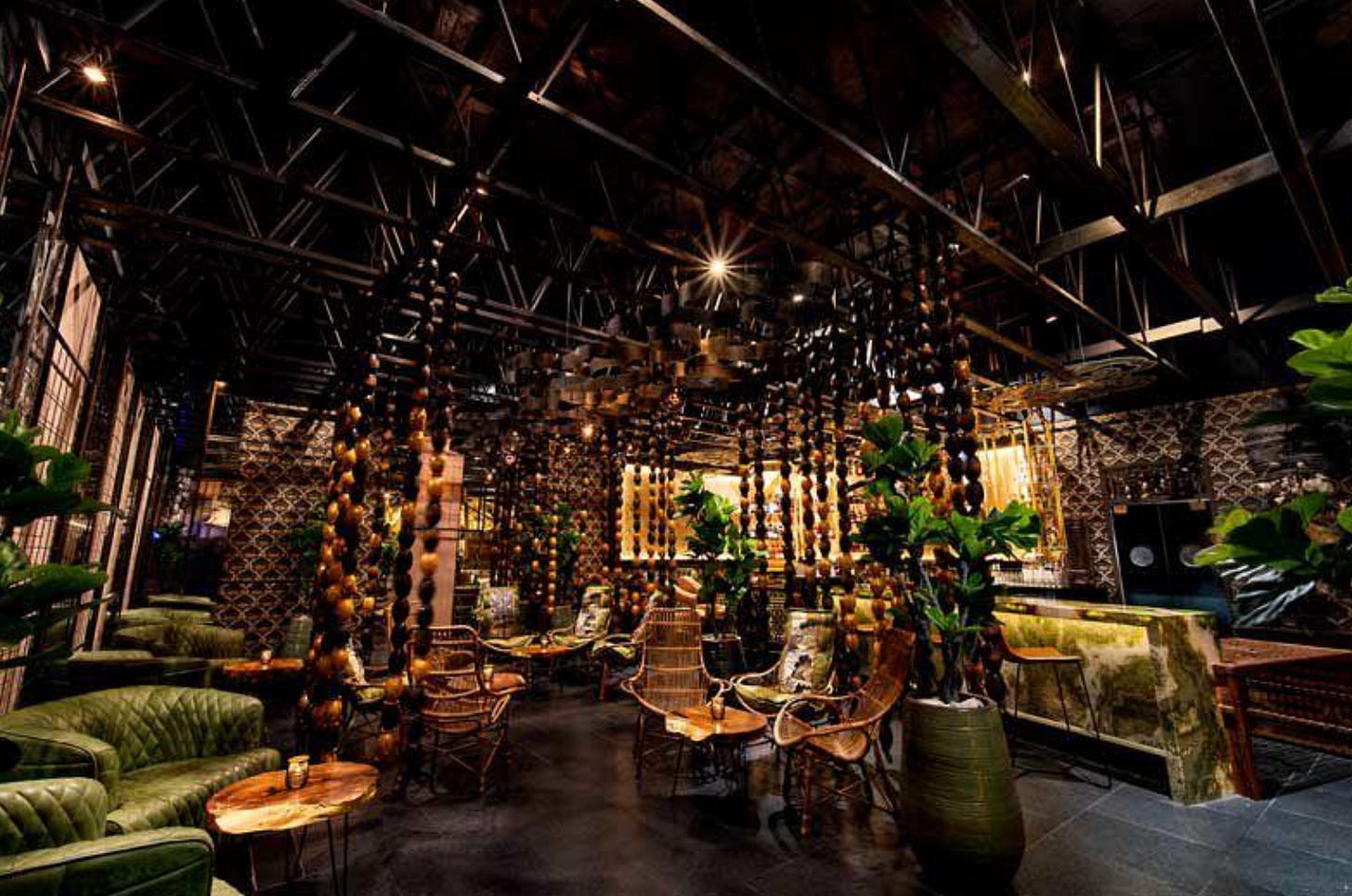 Sigh, I'd gladly quarantine at the Realm of the 52 Remedies / Photo by James Tran

If you follow bartending trends, you've probably heard the term "zero-waste" or "no-waste" cocktails. Simply put, it's all about making use of mixology by-products that would normally go in the trash. Discarded bits of fruit garnish? Make a syrup! Pods from shelled peas? Infuse tequila! How about some avocado pit orgeat? Parsley stem simple syrup! If you can imagine it, someone's done it.
Perhaps the easiest-to-make zero-waste cocktail ingredient is oleo saccharum, named because it combines the oils from citrus rinds with lots of sugar. It basically involves taking the rinds from lemons, limes, oranges or grapefruit, tossing them with sugar and letting the mixture sit for at least a few hours, but 24 hours is ideal. The sugar will draw out the oils in the peels, resulting in a sweet syrup that's been used in cocktails since the 18th century. You can add an oleo made with oranges to an Old Fashioned, or use one made with lemons in a French 75:
1.5 oz gin
1.5 oz lemon oleo saccharum
3 oz sparkling wine
Add the gin and oleo to a cocktail shaker with ice and shake for several seconds. Strain into a glass and top it off with sparkling wine. If you're feeling fancy and have any lemons left, garnish with a lemon twist.
In San Diego cocktails news: Here's one more to add to the list of places serving cocktails to go: Kearny Mesa's Realm of the 52 Remedies is now selling bottled cocktails. This link takes you to the menu for Realm's sister restaurant, Common Theory. Go to the "Choose a Menu" pull-down and select "52R Home Therapy." They'll be switching up the menu weekly and posting it to their Instagram page.
---
THE WEEKLY GOODS
I've decided to alter the Corona Activity Calendar. When this whole thing started, I thought it'd be a few weeks at most, but it's hard and very time-consuming to come up with seven things for you to do every week. Plus, people seemed bummed at the constant reminder that our activity options are limited. So until concerts come back, this space will become more of a spotlight on three cool things to watch, listen to, look at, read and/or do.
Listen to this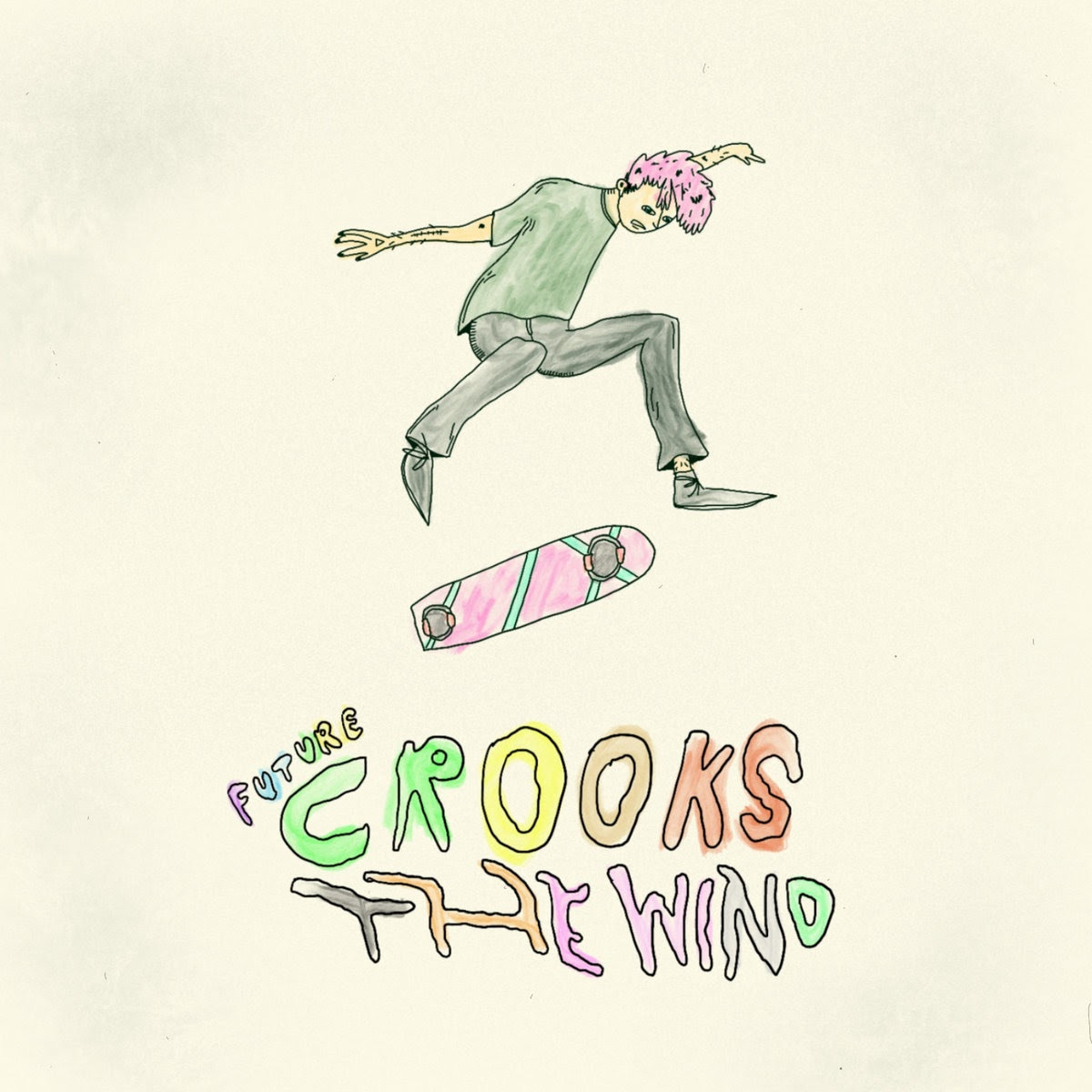 A few months ago, I wrote about Half Way Home, an expertly-produced, San Diego-based live music show that features musicians performing in a cozy living room setting. Well, now that group has started releasing records under their new Half Way Home Records label, and their first release is a four-song EP by Future Crooks. The EP is a mainlined injection of melodic punk that's reminiscent of Get Up Kids or Motion City Soundtrack, and it's an absolute blast. It's sweet and sundrenched, but also bittersweet and nostalgic.. I can't wait to hear more music by Future Crooks.
Go buy Future Crooks on Bandcamp
Read this
Luke O'Neil's newsletter Welcome to Hell Worldis what inspired me to start my own newsletter. If you haven't seen it, it's a wild and grammatically-unsound ride of smart, hyper (!) depressing, incredibly biting commentary about living in the U.S. I don't read every issue because I like to preserve my mental health, but his latest issue contained this passage that resonated so hard with me that I feel like it's essential:
"I briefly convinced myself that there is some number of deaths some horrific massive number with real gravity to it that demands attention and action a tipping point type of number that we might reach whereby Republicans and "open the economy" types might stop acting like they are now. Is it 500,000 I wondered is it a million but if we're being honest no such number likely exists. Instead what will happen is we will come to accept thousands dead every single day as another voice in the churning ambient chorus of suffering we do our best to tune out already much like with gun violence or unnecessary deaths due to the cost of healthcare or the thousands our military kills around the world."
Do this
Over the past few weeks, I've been a special guest on the YouTube show Polyester Blend, hosted by my friends Ryen Schlegel and Clayton Scrivner. Every Monday night from 7-9 p.m. we play music, talk about things and make goofs. For a segment last week, we up with new Austin Powers sequels, complete with synopses and posters.
Turns out imagining Austin Powers sequel is a lot of fun—all you really need is a title and the rest writes itself.
So this week, write the synopsis of your own Austin Powers sequel, and if you want to go the extra mile, create your own poster for it. If you want, feel free to share it with me: ryancraigbradford@gmail.com. I'll forward the best pitches to New Line Cinema.
Here are some of the examples to get you started: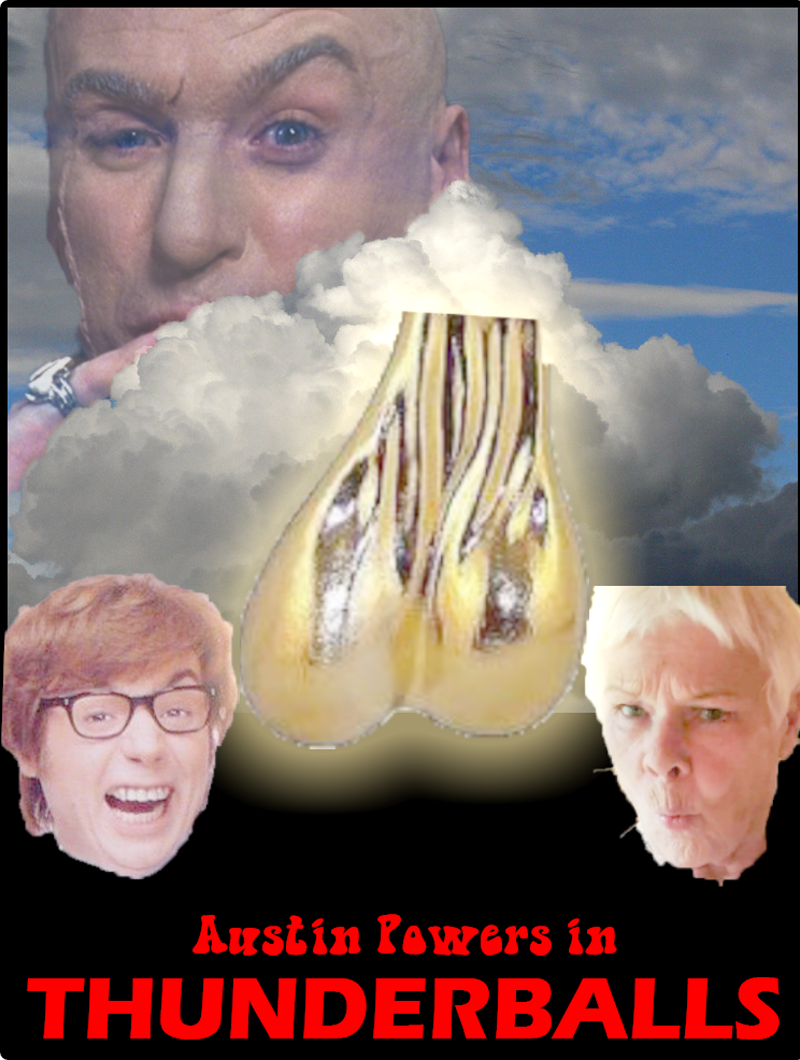 Austin Powers in Thunderballs— Dr. Evil finds a way to control the weather and causes Austin's balls to make thunder noises when he shags, making Austin easily detectable. Dame Judi Dench plays Dame Judi "Drenched" as the co-lead. Mike Myers introduces a new character: The German Weatherman….but it's basically just Sprockets with a funny hat.
— Ryen Schlegel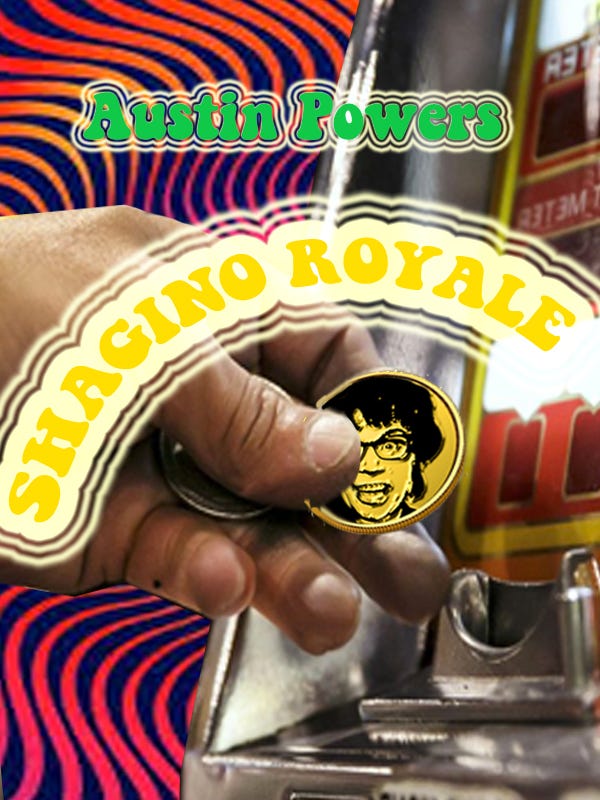 Austin Powers in Shagino Royale — Austin gets transported back to '70s alternate universe Las Vegas and, suffice it to say, it's not his bag, baby! Dr. Evil owns "MaGMa Grand" casino, which is the biggest casino on the strip and Austin is on a Oceans 11-style heist to steal his money. Along the way, he meets new villain "Big Crapper"—Michael Myers in a fat costume who's really good at craps and also taking big dumps. Austin's sexual interest is Lucy Slots, who does make Austin horny, yeah baby.
— Ryan Bradford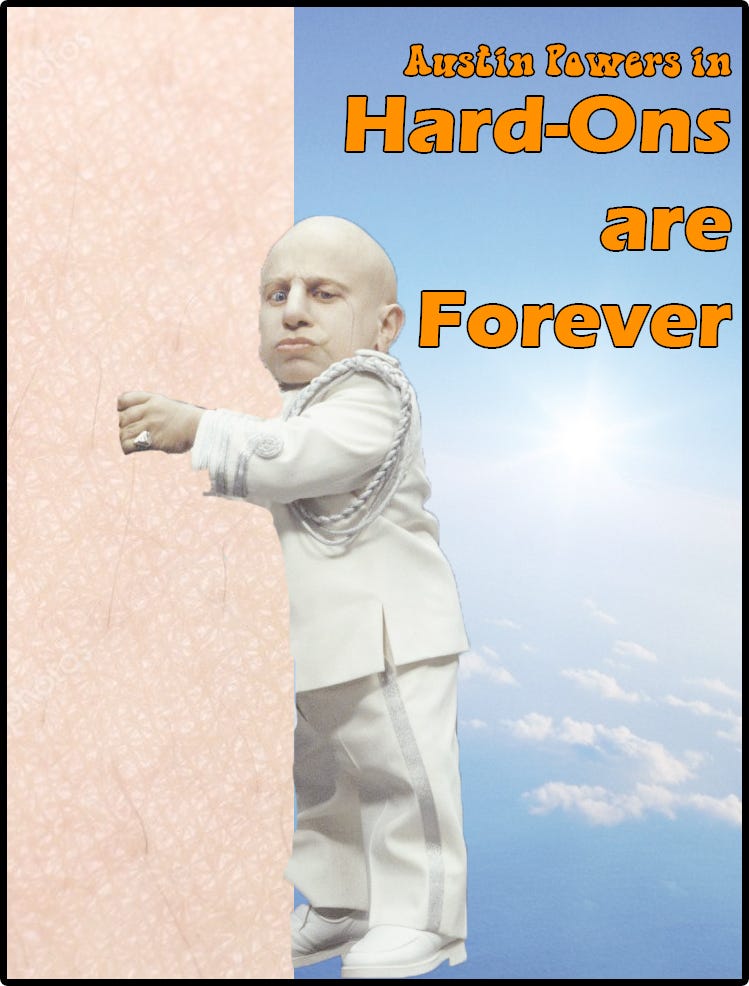 Austin Powers in Hard Ons are Forever — Dr. Evil puts viagra in the water systems of the world. Jesse Eisenberg plays Jesse "EisenTURD" as Austin's first ever male co-lead. Who the Polyester Blend Times called "the most annoying actor today." So cocky and pretentious. Memorable scene: Mini- Me slides down Austin's erect penis in effort to cause a massive load to cover Dr. Evil's "Head" Quarters. The Head in Headquarters means it is a giant penis. Mike Myers is one of the reasons I got into comedy.
— Ryen Schlegel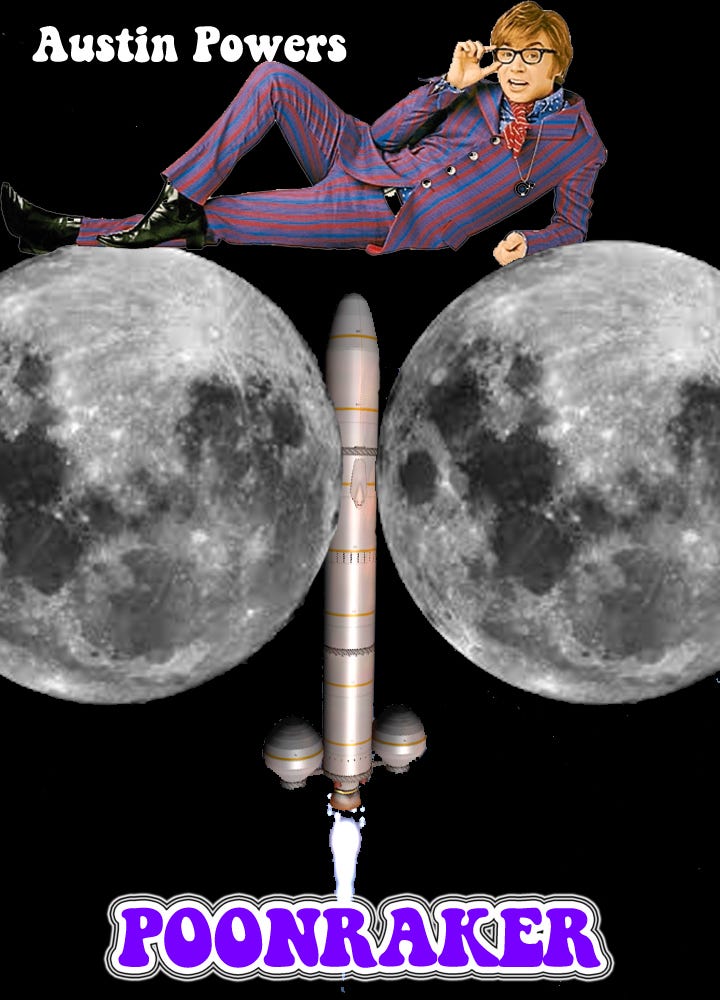 Austin Powers in Poonraker — Austin goes to space! Turns out Dr. Evil has set up a network of interstellar bases on each planet in our solar system (No. 2 is stationed on Uranus), Mini Me (Verne Troyer stand-in) gets Pluto and Fat Bastard gets Saturn, a gas giant (because he farts). Poonraker is pretty much the same movie as Ad Astra. Tagline: in space, no one can hear you shag.
— Ryan Bradford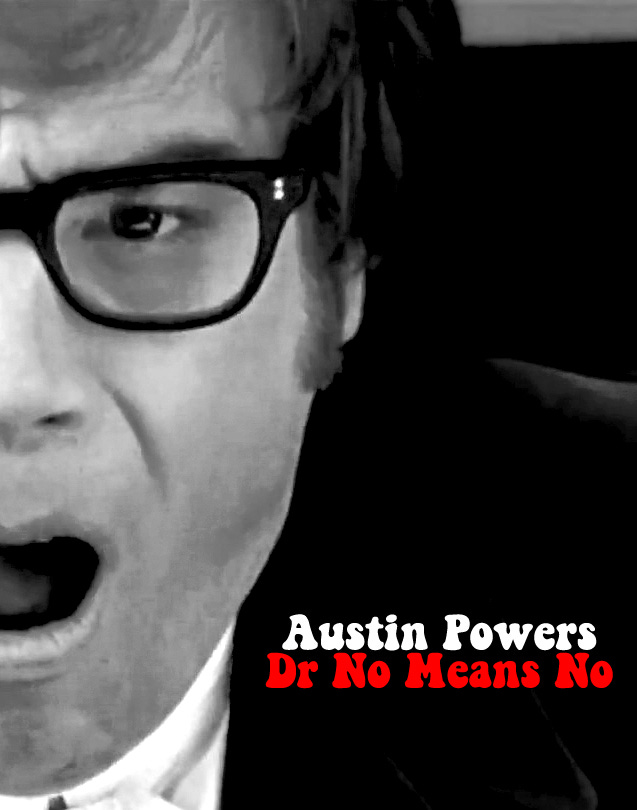 Austin Powers in Dr. No Means No — Austin has to come to terms with the #Metoo Movement. Austin is called out for being a product of a different age, Dr. Evil writes op-ed after op-ed in the New York Times revealing Austin's problematic past, turning the world against Austin. It's the end of the Austin Powers series because, I mean, come on. It's pretty accurate.
— Clayton Scrivner
---
CONTEST RESULTS
Last week, I received two amazing and uncomfortable entries to the Murder Hornet photoshop contest: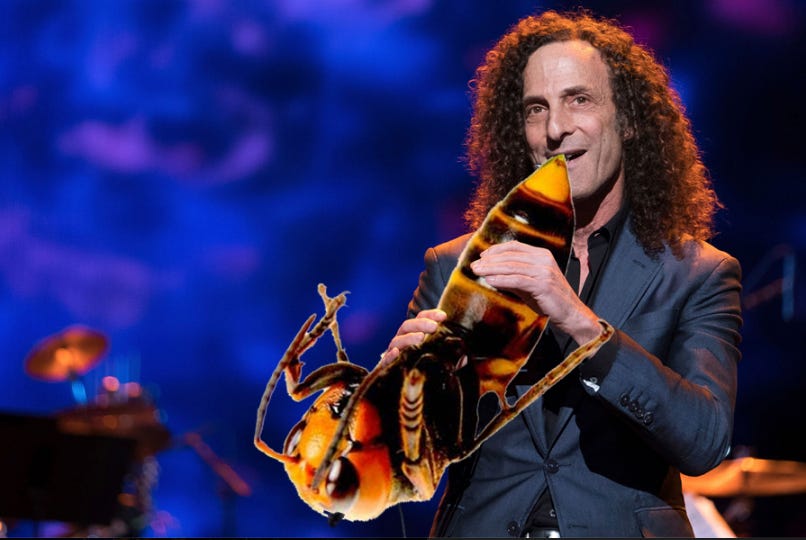 Jay Wertzler tapped into something really dark with this gem.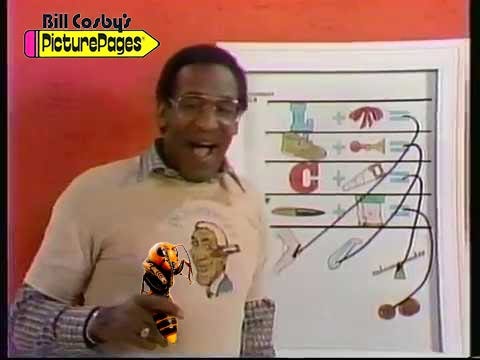 And I'll just let Jeff Sites explain this one: "I.... I'm sorry. Here's a little multifaceted nightmare "Murdermer Ichabod." Once the concept got in my head I was powerless to stop it."
Got a tip or wanna say hi? Email me at ryancraigbradford@gmail.com, or follow me on Twitter @theryanbradford. And if you like what you've just read, please hit that little heart icon at the end of the post.