Everything you're wearing during the pandemic is bad, actually
Your WFH attire is making me cringe. Good god, show some respect!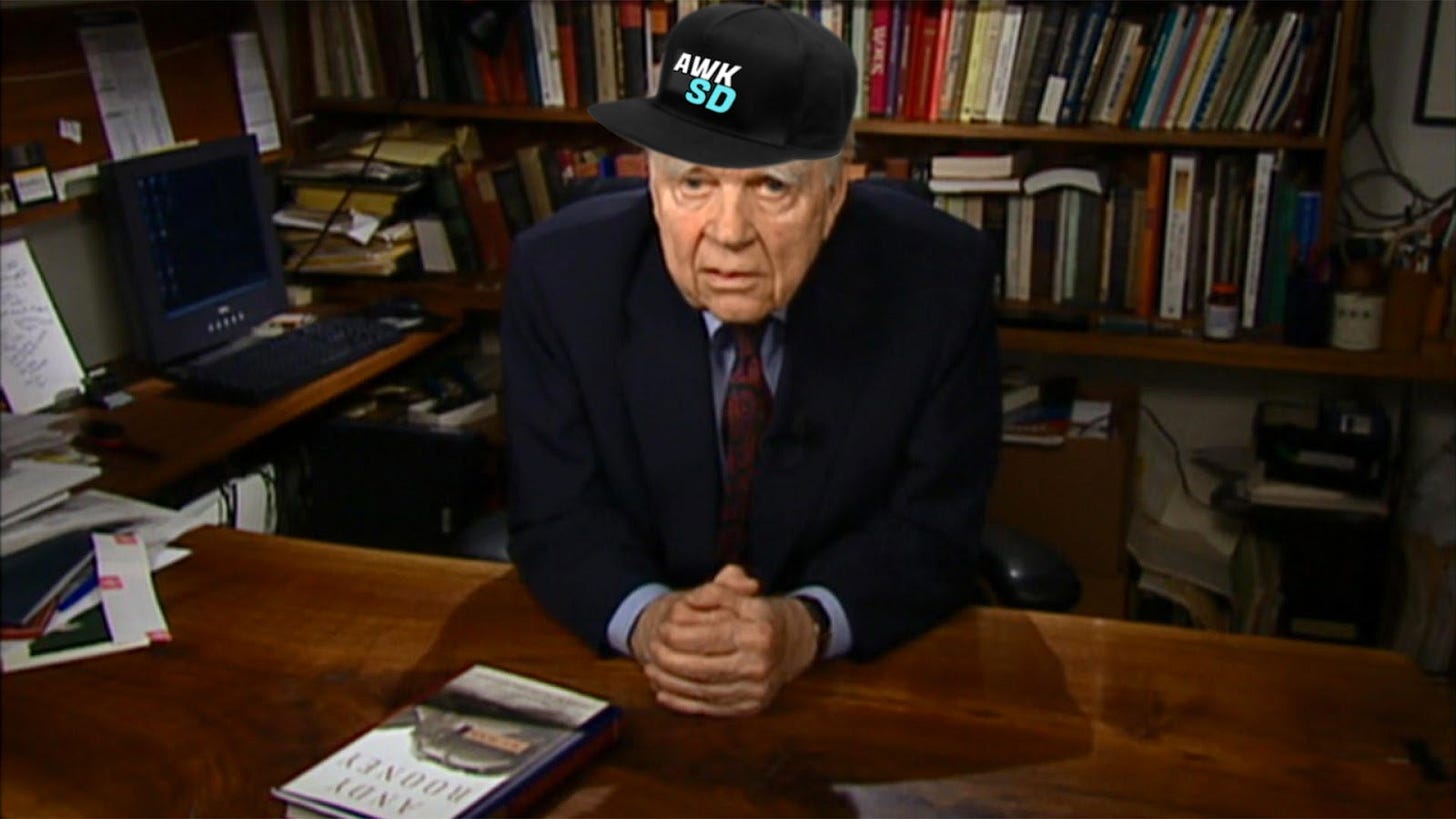 We [clap emoji] need [clap emoji] to [clap emoji] [clap emoji] [clap emoji] talk [clap emoji] about fash[clap emoji]ion!
Sorry for the excitement. It's rare that I have the opportunity to talk about fashion, even rarer for me to care about it. Basically, everything I know about the industry is stuff I learned from sorta watching The Devil Wears Prada once on an airplane, but from what I gather, fashion is a cutthroat industry. People are petty! They are relentless! Stanley Tucci! Meryl Streep! (if I ever end up at an upscale fashion event, I'm just going to yell the names of actors from that movie).
Also, once when I was living in New York, I met up with an acquaintance I knew from college a few years prior. Unbeknownst to me, she had become somewhat of an Upper West Side scenester, the type of person that can just show up at a social gathering in a handmade garment and bloggers (this was circa 2009, when bloggers still existed) would fall over themselves to take her picture. She had invited me to an art opening and I showed up in this zip-up sweatshirt with a splattery graphic of a spooky spider. I spent the entire night watching photographers politely angle their cameras so I didn't end up in the photos.
So, no, I don't know much about fashion, but I know a lot about opinions, and I especially know when someone's opinion is BAD.
A few weeks ago, the LA Times published a story titled "Enough with the WFH sweatpants. Dress like the adult you're getting paid to be" written by deputy fashion editor, Adam Tschorn. It's a headline that we in The Biz call "clickbait." And mission accomplished, because I clicked the hell out of that link, red-eyed and frothy mouthed.
Tschorn lays out his assault on comfortable work-from-home clothing by evoking three R's: Ritual, respect and reality. He argues that the ritual of dressing for success is a grounding practice that'll keep our minds acclimated to the work environment. He then argues that self-respect comes through looking professional. As for "reality," well, I think he argues that we need to keep the reality of our private lives away from co-workers. However, it's difficult to ascertain anything from the article except "I'm a narc and I like telling you what to do," which, in all honesty, probably makes him a great fashion writer.
Now, there's nothing inherently wrong with wanting to uphold the dress code from The Time Before, but Tschorn's arguments are weak. There's little value to the article, and just seems like a well-organized opportunity to talk shit about his co-workers, and by extension, all of us. I feel sorry for everyone that's had to endure a Zoom meeting with Tschorn.
Let's go through some of the "highlights" of the article:
I've waited, watched and bit my tongue during the last month of the pandemic-induced work-from-home era but I just can't take it anymore.
Tschorn begins his article with a long-burning admission, typed in what I imagine to be the same tone someone telling you they've actually never liked your Austin Powers impersonation. Normal people have the wherewithal to keep mean, innocuous opinions to themselves, but there's a certain brand of pettiness that some people actually revel in. Like, whoa, baby, settle down! It's not your bag! It doesn't make you horny—I get it! But you don't need to be a dick. Apparently, though, some people do need to be a dick, and they'll never miss out on the opportunity to be one. It's a power trip, baby! Shagadelic!
You're more than likely laughing at me right now, sitting there in your yoga pants and your zip-front Patagonia faux fleece thrown over a circa-2000 Coldplay concert T-shirt sourced from the bottom of the hamper — your bare feet swinging wild and free under your Ikea Skarsta worktable. Your slouchy henleys, underwire bras, nice jeans and dry-clean-only designer tops are now shunted to the back of the closet like enriched polonium.
A: Yes, we're laughing at you because how, indeed, could such an opinion exist?? It's just me and my simple-minded friends, laughing in our sweatpants, perhaps knowing somewhere in our little brains that what you've written could be construed as ridiculous, but not smart enough to pinpoint exactly what. So we just laugh. We laugh and laugh.
B: Patagonia rules.
C: Um. Why the specific mention of bras? At this point, I realized that Tschorn's essay is not so much about his problem with clothes, but his problem with people looking unattractive for him. "Underwire bras", "designer tops" and "nice jeans" all sound vaguely sexualized and definitely classist.
What I do know is that I'll be all armored-up and ready to go, and you're probably going to feel like you're shrugging into a straitjacket you won't be able to take off for five days.
So here we get the sense that Tschorn knows how uncomfortable professional work clothes are, yet still insists on wearing them because... it's just easier to continue suffering even when life throws you a bone? I can't decide if he's playing martyr or has so wildly confused the notions of pleasure with pain that he's starting the process of becoming a mutilated Cenobite from Hellraiser. Cut to Tschorn on the first day back in the office—his lips are pinned back with cufflinks, forming a grotesque smile: "We have such outfits to show you."
In a best-case scenario, deviating from your expected workplace dress code will lend you an air of calculated insouciance and devil-may-care individuality, but we all know those cargo shorts, second-skin jeggings with the ripped knees, camouflage-print "Duck Dynasty" hoodies, sports bras and NSFW T-shirts (yes, even that one with the photograph of Johnny Cash flipping the bird) aren't exactly going to telegraph calculated insouciance.
For the sake of transparency, I once wrote a big anti-cargo shorts screed over at San Diego CityBeat. It's since been lost in the annals of time, but it contained this point:
"First, let's identify the worst offenders: cargo shorts. There's nothing as repellent as tactically pragmatic clothing worn in everyday life. Are you bushwhacking through a South American jungle and need the extra pockets to store your antivenom? No, you're in line at the Starbucks with your phone ready for the barista to scan your linked account. You're on a golf course. You're at a craft beer festival drunkenly complaining about corporate beer."
That is, I too like to shit-talk cargo shorts, which makes Tschorn's misunderstanding of them so infuriating. I don't know in what world cargo shorts equals "calculated insouciance" (also, nice word, nerd!), but it seems to have constructed this image of an edgy fashion based on the 1995 film Hackers. Mr. Tschorn, are you sure you haven't confused Zoom with the film Hackers?
Also, GTFO with that other bra reference. We get it: you like staring at your co-workers.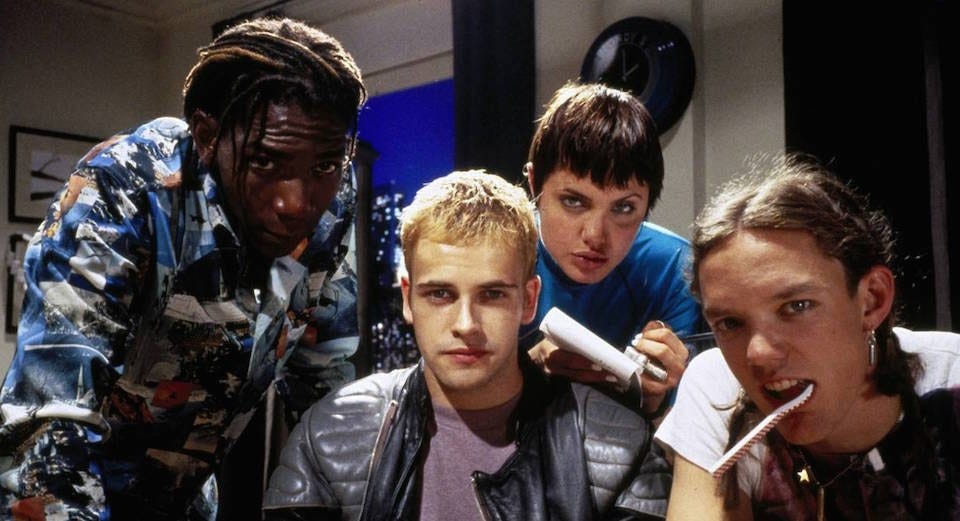 And then finally:
Must we also suffer the indignity — right now — of knowing which of our co-workers prefers to plod around the house in a fishing vest and pork pie hat?
By the end of the article, I think Tschorn is just making up outfits. Must we suffer the indignity of someone walking around in bell-bottoms and a Grimace outfit? No! Signed, Fashion Editor.
I think it goes without saying that you should wear whatever the fuck you want if you're working from home. I'm also aware that engaging so vehemently with the article is exactly the point of it. That is, yes, I've taken the clickbait.
But here's the thing with clickbait: clicks really aren't that valuable. I can't imagine that any publication—even one as prestigious as LA Times—would have an easy time converting the clicks on a single article like this into monetary gain. I mean, I worked seven years as a web editor, and we'd sometimes have stories blow up, but in the end, it's a devoted readership that really adds value to a website. And pissing off people with clickbait rarely equals monetary gain.
So really, an article like this is a show of power and control, which you've probably been noticing a lot during this pandemic. I know I've been seeing an uptick on social media of didactic posts by people telling others what to do. I saw one thread where someone was advocating the literal interpretation of stay-at-home orders while also offering to do grocery runs for others. Don't post any photos of nature unless you're prepared for pushback. Can you step out of your house without wearing a mask? The internet will be quick to tell you.
This is nothing new. People will always assert their righteousness as a means of control, especially during chaotic times. But I think it's good to remember that articles like Tschorn's aren't really about fashion.
But cargo shorts still suck.
---
AWKWARD COCKTAILS
By Kelly Davis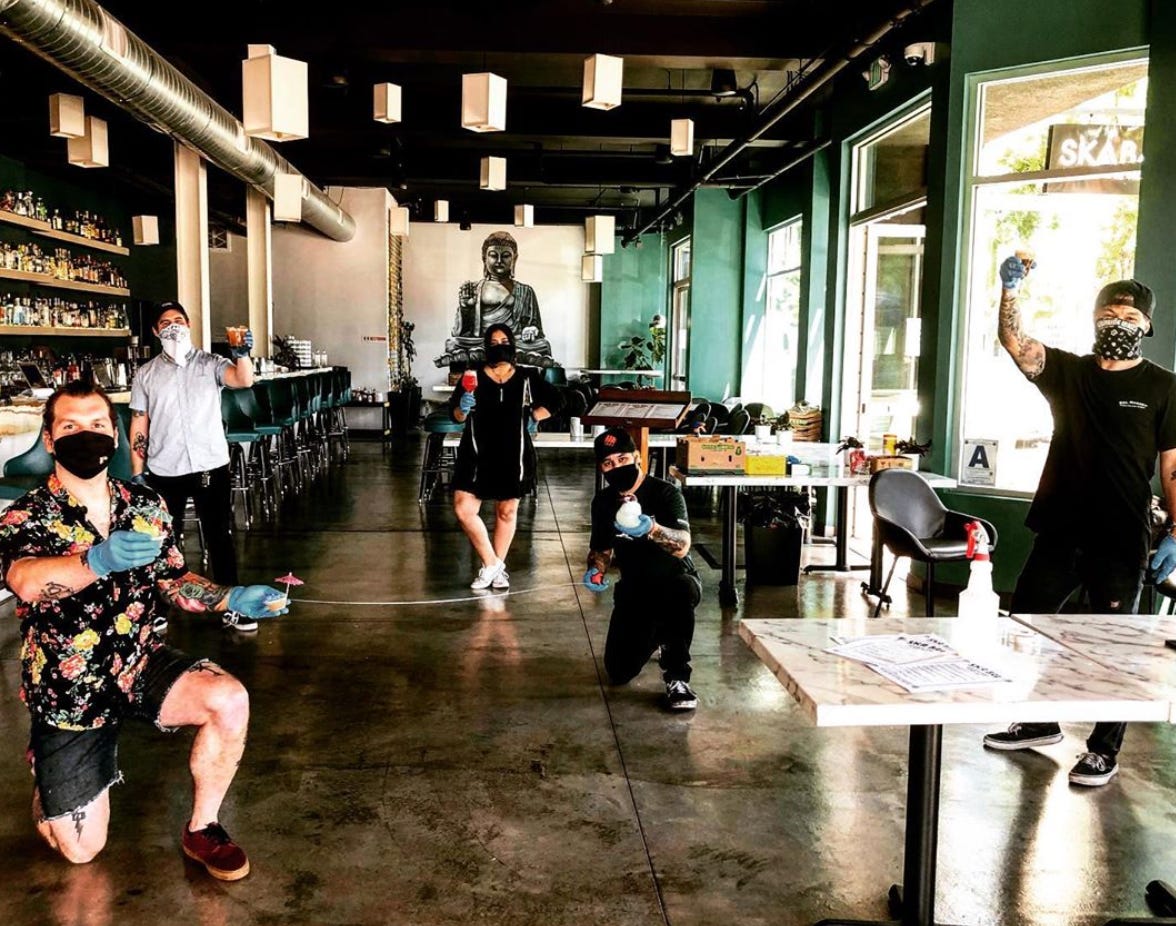 SKA Bar
Welcome back to another installment of Awkward Cocktails. Last week, I kicked things off with the recipe for one of my favorite cocktails, but I was remiss to not highlight where you can buy already made cocktails to support your favorite bars and restaurants. Thanks to U.S. Bartenders Guild president Stephen Kurpinsky for helping me put together a short list. Hit me up if I missed someone.
Fernside: Pick up a 12-ounce bottled cocktail to go with your food order. The eight-cocktail menu includes creative takes on classics, like the Aperitif Spritz (Luxardo Aperitivo, sparkling wine, coconut soda) and the Spicy Paloma (Cutwater tequila, El Silencio mezcal, Serrano bitters, grapefruit, lime, Squirt.
Underbelly North Park: Every few days, bartenders from various Consortium Holdings restaurants (Ironside, False Idol, Polite Provisions) have stopped by to make some pretty excellent takeout cocktails. Check UBNP's Instagram page for schedules and menus.
Kindred: The South Park vegan restaurant has a menu of eight cocktails, batched for multiple servings for your next shelter-in-place party. Highly recommended: The Gloom Coil and River Styx.
Crab Hut: Crab Hut's Convoy location is offering three batched cocktails (four to five servings each) as part of its take-out menu: Old Fashioned, Golden Sunset and a Hurricane.
Royale: Keep an eye on the Point Loma restaurant's Facebook page for their weekly pop-ups. This Saturday's includes a short menu of comfort food (burgers, lumpia, tamales) and quart-sized Royale farm-to-shaker cocktails.
Ska Bar: The Normal Heights restaurant just re-opened April 27 with a to-go menu that includes nine cocktails and Mai Tai jello shots made with their house rum blend (two for $6). [Editor's note: in the spirit of ska, when it comes to a takeout cocktail, I suggest you pickituppickituppickitup]
Metl Bar: The newish downtown spot has been serving free meals to folks in the food and beverage industry who've been laid off. Help support their good work by ordering some food and drinks to-go or one of their boozy frozen custards like the White Russian Oreo (Mr. Black coffee liqueur, Uncle Ed's Damn Good Vodka, Giffard Vanille liqueur, Oreo cookies).
Lockdown Liquor: Launched by a trio of friends Carte Blanche, Realm of the 52 Remedies and Campfire, Lockdown Liquor make cocktail syrups using fresh juices and herbs. All you need to do is add booze. Place an order via Instagram and pick up at either Home and Away in Encinitas or Bottle Craft in North Park.
The Lion's Share: On my to-do list is ordering one of TLS's four-course, curbside pick-up dinners. The to-go cocktail menu includes signature cocktails, like the Buffalo Stamp, and classics. Four dollars gets you a shot of either mezcal or tequila. Cheers to that.
You & Yours Distillery: The East Village distillery has been posting a rotating weekly food and cocktail menu ($35 for a bottle of four to five servings) with pick-up available Friday and Sunday evenings. This week's menu includes six cocktails highlighting Y&Ys excellent gins and vodka.
---
THE ONLY CORONA ACTIVITY CALENDAR THAT MATTERS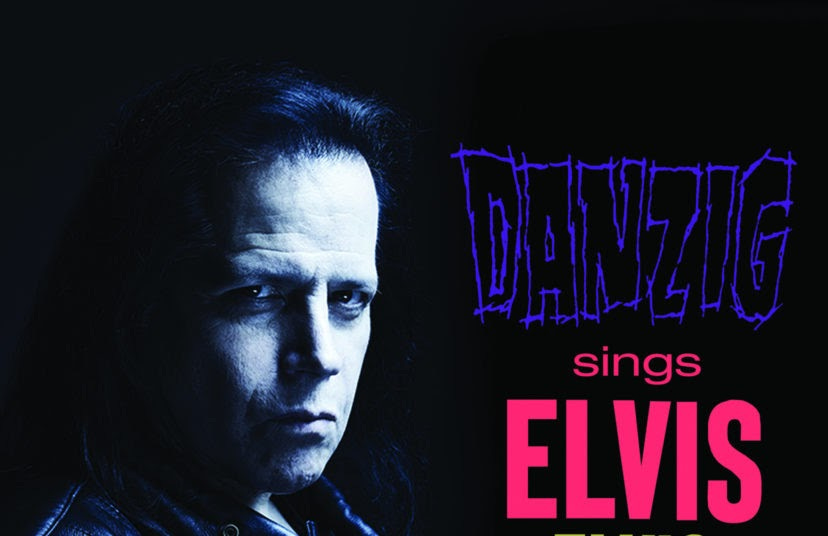 Wednesday, April 29
Letter writing time: How many of you have written a physical letter during this pandemic? What about a postcard? Last week, I lamented how poorly the USPS is doing right now, and with mail volumes dwindling, I suspect that it'll only be a matter of time before the essential service will have to change radically or become obsolete. So, tonight, why don't you send a letter to someone you love. It's difficult to start those things because we feel like we need to be profound, but there's beauty in the banal. I suggest describing what you had for breakfast that day. Imagine getting a letter describing an omelette—I'd cherish that forever.
Thursday, April 30
Story time: The beaches are open now and people are flocking to it as if they've never seen water before. I felt a surge of discomfort in my gut when I saw this NBC7 footage of surfers populating the waters like a swarm of skeeters. There's no way anyone there is social distancing. All of this reminded me of a short story by splatterpunk king Joe Lansdale called "Down By The Sea Near The Great Big Rock," which follows a family who lose their minds when they take a trip to the beach. It's a nasty little tale, and you can listen to it on this episode of Pseudopod. It's the first story on that episode, and only about 10 minutes long.
Friday, May 1
Movie time: Hey, so uh... aliens exist. This week, The Pentagon officially released footage of UFOs (although former blink-182 singer Tom Delonge revealed these all the way back in 2017 but we were too rage-filled with Trump to really care). To celebrate this revelation, forego the obvious Alien franchise and watch Fire in the Sky tonight. I would put money on this being the most traumatizing alien film ever made—despite the fact that it's pretty much just an extended episode of X-Files—and I will never forget the first time watching the surgery scene. I don't think I ever recovered.
Saturday, May 2
Tune time: I love Danzig as much as anybody can really love Danzig. He's an anomaly that exists in our current timeline while being completely separated from it. He's the opposite of woke and has written some fairly repugnant songs, and his big-headedness is legendary. But there's a soft center underneath that evil, brooding shell. Perhaps that's why I love his Sings Elvis albumso much. I was fully prepared to hate Danzig's album of Elvis covers—which he released last week—but I cannot stop listening to it. Maybe the pandemic has scrambled my ability to be critical, but hearing old Danzig croon along to the King's music gives me a lot of nice feelings. Give it a listen over on Spotify.
Sunday, May 3
Writing time: I've been reading the daily comics a lot. They're basically the first things I look at in the morning, and it seems to put my day on the right track. While I don't think they're always (or often) funny, I do admire how economical they are with their jokes—the artists basically get three blocks to make the reader laugh, and that ain't easy. Can you be funny in a short amount of space? For today's writing prompt, write a funny short story—it can be about anything, true or fiction—but it can't be longer than 100 words. Send me the results if you want: ryancraigbradford@gmail.com
Monday, May 4
Quiz time: Listening to Danzig Sings Elvis made me realize that I'm quite unfamiliar with The King of Rock 'n' Roll, so I made a quiz about him. How well do you know Elvis? Take the quiz.
Unrelated: Today is also "May The Fourth," which we all know is a nerd holiday. However, Disney+ issued a disheartening message on Twitter:
So, sorry if you were looking to just have fun with your Star Wars buddies or wanted to feel any sort of community, because Disney+ now owns that shit.
Tuesday, May 5
Comics time: Try your hand at writing the lines of dialogue in this comic where Garfield is replaced with my cat Harvey. As you can tell by Harvey's no-nonsense demeanor, he's much more of a dick than Garfield, and also probably has more sociopathic tendencies. With those character traits in mind, fill in the blank panels.

---
HEAR, HEAR
Sometimes I'll review albums, movies, or books in this newsletter because listen assholes I am a SERIOUS JOURNALIST lest you forget, and I am about to dose out seriousness and journalistness, and you're going to like it.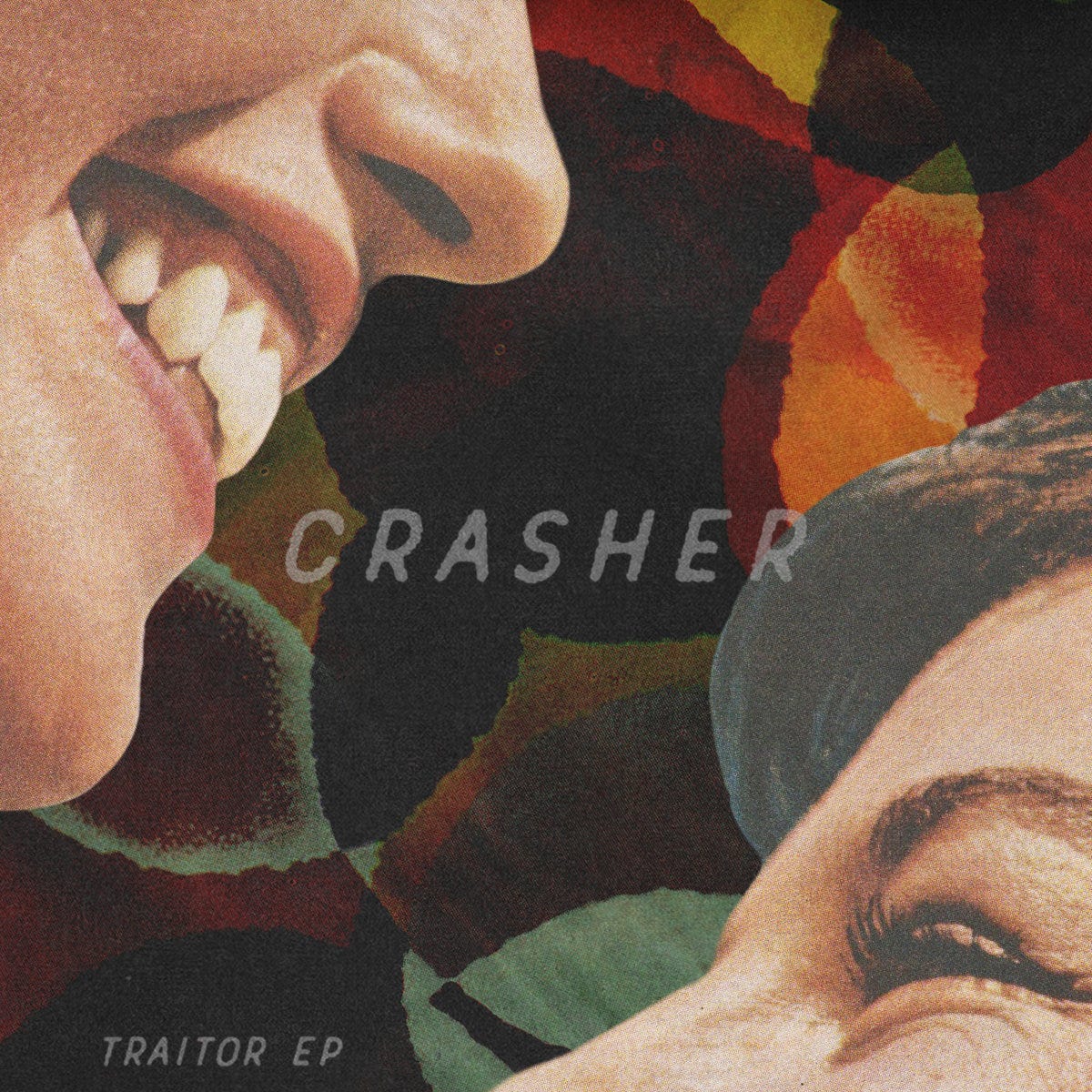 Crasher - Traitor EP
Here's a joke: What was the last thing the drummer said before he was kicked out of the band?
You wanna hear this song that I wrote?
Yes, the role of the drummer is a complicated one—essential yet chronically maligned. Less respect than a Rodney Dangerfield. It doesn't help that drummers, in general, are weirdos. I can say this because I'm a drummer (and some of my best friends are drummers!)—but we're always struggling with the seemingly-contradictory role of being the loudest in the band, yet resigned to the back of the stage.
A few drummers have broken free of this cage in search of the spotlight: Karen Carpenter, Ringo Starr, and most notably Dave Grohl.
Now, add David Mead to that list.
Mead—known for drumming in such San Diego acts Deadphones and Exasperation—trades drums for guitar for his new project, Crasher. In fact, the title Traitor was influenced by an earlier issue of AWKSD, in which I called Mead out for abandoning our craft.
Traitor continues San Diego's proud tradition of smart, dark and gritty post-punk bands. It's brash summer music, but this isn't the kind that blasts out of bros' boomboxes in Pacific Beach—Crasher's music is the type that perfectly suits a day smoking cheap weed and drinking 40s on your porch. Quite simply, it's dirtbag music that would fit perfectly on a mix with Parquet Courts and Protomartyr. Unsurprisingly, it's loud (what else would you expect from a drummer?); more surprising, however, is how pretty it can be.
"That Same Old Thing" opens the EP with The Walkmen's "The Rat"-like urgency. It's a thrill to listen to the guitar played like a double-handed high-hat. It's such a sprint of an intro that the first lyrics of the album—"I was tired"—almost feel like a punchline. But then there's a second wind. And then a third. Then a fourth. The entire song feels like it's gasping for air, which is the mark of a great punk song.
Yet it's "Whatever Dude" that offers the biggest surprise. There's a distinct lo-fi romance to it— perhaps not in the lyrics (which are generally downtrodden [typical drummer!])—but in spirit. It evokes the youthful feeling of bittersweet loneliness. This tenderness, of course, feels revelatory from someone who's spent a musical career hitting things with other things.
Despite producing and performing most of the instruments on Traitor, Mead shows a great deal of restraint. The EP is punk af, but it never becomes unwieldy. The best drummers know when to push and when to pull back. And for that reason, Traitor's excellencefeels like validation for all of us drummers who never felt understood.
Pre-order Traitor over on Crasher's Bandcamp.
---
POST-APOCALYPTIC MOVIES FOR THE PRE-APOCALYPSE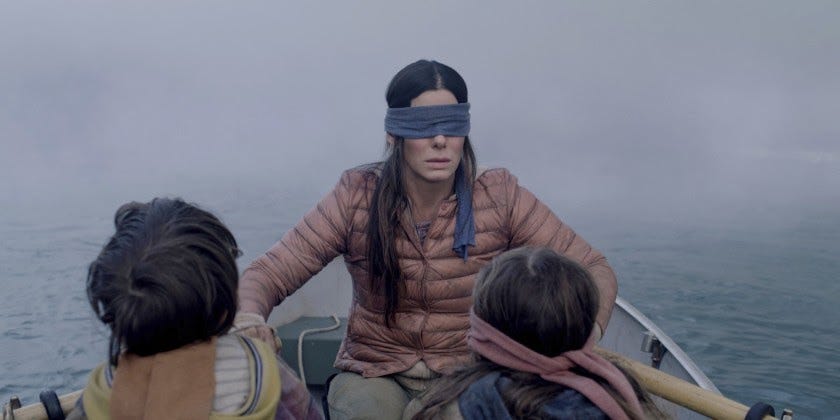 I wrote about post-apocalyptic movies for the San Diego Union-Tribune last week. Specifically, what they got right about our current situation. I'm very proud of this one, and it's still a thrill to see my work in our city's daily newspaper.
---
CONTEST RESULTS
Jordan Semingson wins last week's USPS quiz for her write-in answer to the question: In your opinion, why do dogs hate letter carriers?
She wrote: "Letters filled with beef. Also all letter carriers are cat people." Which is 100%, absolutely true. Thanks for playing, Jordan! I'll drop you your $1,000-prize check in the mail today!
Also, I asked people to fill in a blank face to express their mental state right now, and Jeff Sites sent me this: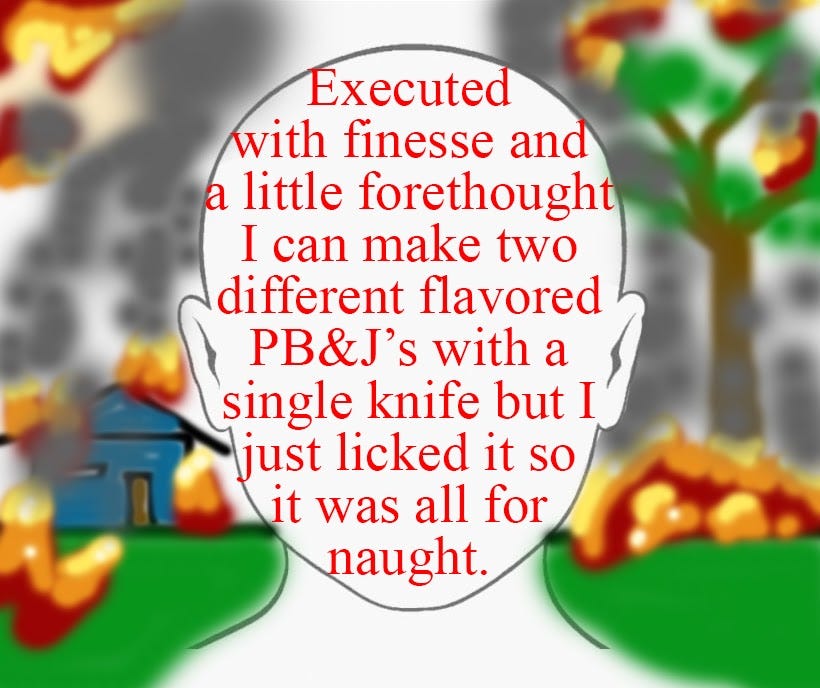 Please, someone check on Jeff to make sure he's okay.
Got a tip or wanna say hi? Email me at ryancraigbradford@gmail.com, or follow me on Twitter @theryanbradford. And if you like what you've just read, please hit that little heart icon at the end of the post.