Happy 3/11, everybody. May everyone's energy be amber today, truly the color of good energy.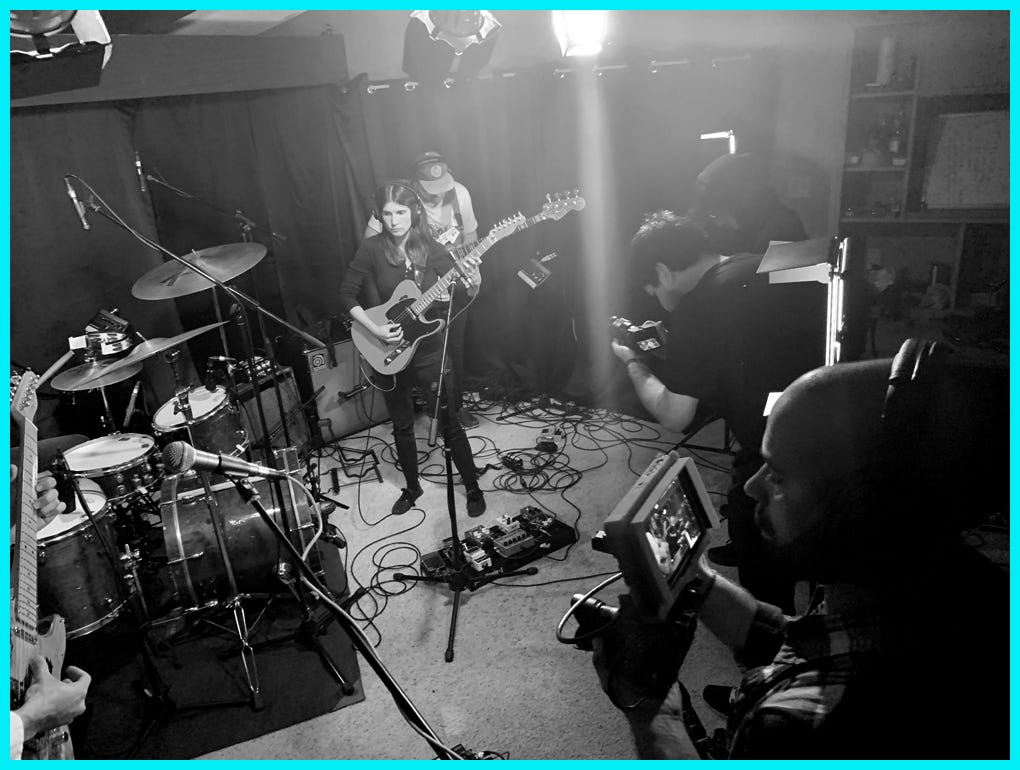 Hikes performing for Half Way Home

High in the hills of Solana Beach, in a well-manicured neighborhood overlooking Interstate 5, I pull off to the side of the road and double check the address given to me. Surrounded by gated communities and mansions, there's no way I'm in the correct place. The first thing I think is: This is the least punk.
But the address is correct. I aim my decade-old Toyota Corolla toward a private drive. A man bringing in his garbage cans eyes my car with suspicious contempt as I drive past. He knows I'm an outsider.
However, I'm certain I'm not the first outsider that has come looking for Half Way Home.
The live music video session showcase has quickly become a draw for bands locally and nationally, meaning that plenty of artists have driven delipidated tour vans through this luxurious North County neighborhood. And based on the live music performances I've obsessively consumed through their YouTube channel, my presence is far from being the most disruptive. Just watch a clip of local San Diego punkers Doc Hammer, whose singers/screamers swing from rafters, or Høurs, who push the boundaries of volume with their epic journeys of pysch-doom. Definitely not the type of stuff that would endear Half Way Home to an HOA.
Ever since the advent of YouTube, I've feverishly sought live music session showcases. Shows like the now-defunct Black Cab Sessions turned me onto bands like Sunset Rubdown and Lykke Li, and while I was already a fan of Idles, I didn't become enamored with them until I saw their performance on KEXP. Same goes for series like AV Club's Undercover, Audiotree's live sessions, NPR's Tiny Desk and San Diego's own Red Trolley Show.
I pass the main house and then the driveway narrows. I nearly hit a cottontail rabbit as it darts in front of my car. I then drive down a narrow, hedge-lined path before parking directly in front of the Half Way Home. Trevor Levieux and Shane Moylan step outside to greet me. Levieux recommends that unless I want to be blocked in by the arriving band, I should back up the hill. This turns out to be a little tricky with a stick shift, and I run over a few hedges in the process. Sorry. Good introduction, me.
Moylan and Levieux are immediately welcoming. They offer me a beer and coffee while giving a brief history of Half Way Home HQ, which is where Levieux currently lives. Bunk beds are pushed into corners. Black curtains hide the walls. Stains pockmark the carpet. Extra gear and cables litter every space. I was wrong: this space is punk. A little pocket of punk in the heart of luxurious San Diego. I like it.
The actual structure is a two-story back house on a property that Levieux's grandma has owned since before the construction of Interstate 5. As an active member of San Diego's music scene, Levieux originally envisioned the space as a studio to record his band, Miss New Buddha.
"We were just kind of demoing," Levieux says. "But nothing was really shippable. It's not like a recording space. People can go to [San Diego recording studio] Singing Serpent or other places to get a nice room and really good producer. Also, at the time I didn't have a lot of my equipment either." He motions to the impressive tech and soundboards in Half Way Home's control room.
"I woke up one morning was like, 'Let's just get bands coming through to do live sessions.' That's what I enjoyed the most."
Moylan, who takes care of Half Way Home's booking and is also very active in the music scene (New Miss Buddha, Weatherbox) was living at the Half Way Home at the time. He was instantly onboard with this idea.
"We know a lot of people, so it was easy to get bands," Moylan says. "The first show we ever did was this guy I knew from New York who was on tour. And you can tell it's the first one," he adds, laughing. "We didn't know what we were doing. The lighting is weird and there's a huge mic in front of his face."
"We went black and white on that one because we had so many different types of cameras and it was easier to make the shots match. That kind of became our aesthetic," Levieux says. "As we're progressing, getting all these sessions through, it's like kind of documenting where the San Diego music is currently,"
Their resident videographer Matt Kelly is largely responsible for the Half Way Home's distinct, largely monochromatic, cinematic look. As someone who's been documenting live shows for years, his involvement was a no-brainer.
"I'm obsessed with making the video look super slick," Kelly says.
"All of my old bands' live performances are on his YouTube channel," Levieux adds, referring to Kelly.
And yes: Half Way Home videos do look great, but that's not the only reason I'm obsessed with them. It's intimacy captured in high definition. Anyone can point their phones at musicians during a concert, but the result is never representative of the live experience. The sound is tinny, the focus is off—does anyone actually like looking at cellphone concert footage?
Shows like Half Way Home, on the other hand, capture the bands at their rawest. There's an unpolished intimacy that can't be found on, say, a traditional music video, but the high-production values retains the viewers' attention, unlike a grainy cell phone video. Most importantly, I think, these videos showcase the personalities behind the music, a visual translation of the humans who make the art, and an easy way to become acquainted with the strangers who write your favorite songs. This is especially true at Half Way Home, where they put so much work into making the band feel at ease.
"I imagine that we might leave more up to the band than maybe others do," Kelly says. "Sometimes we have to scoot them around in the room a little bit, but mostly we try to work around them so it's more relaxed."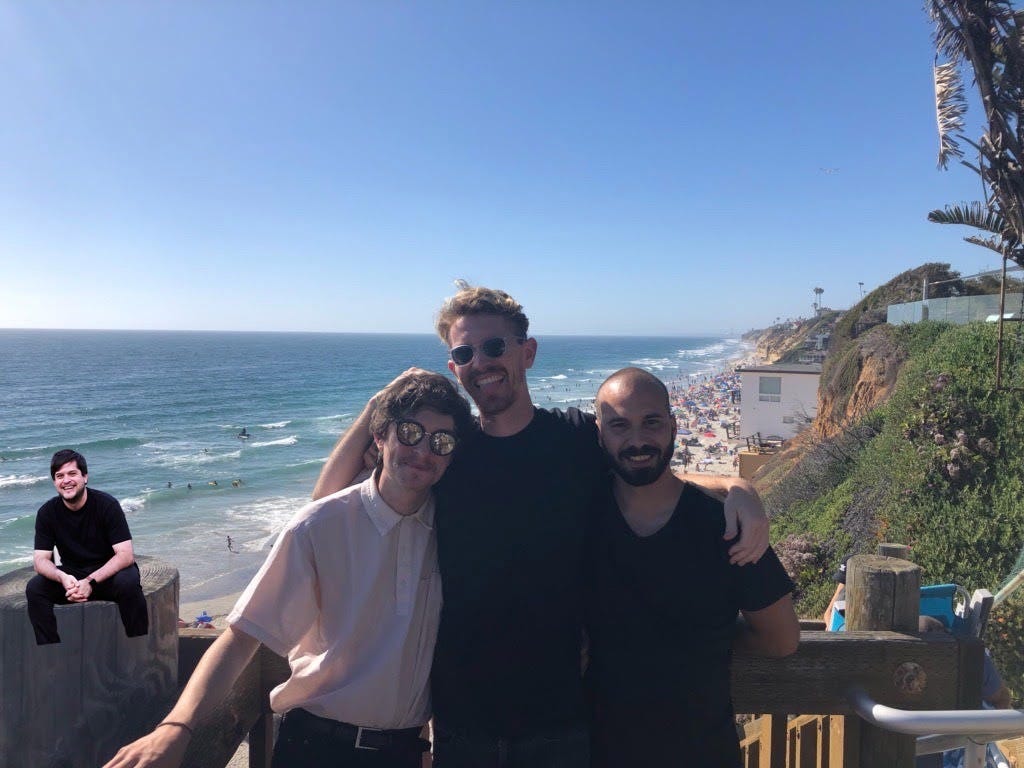 From left: Nick Lane (lol), Shane Moylan, Trevor Levieux and Matt Kelly

Ultimately, Half Way Home is a labor of love. Nobody makes any money from this ("Do you have any ideas?" they say when I ask if they've figured out how to monetize it). They're all just artists creating art to get people into art.
"I like the idea of people listening exclusively to our versions and then digging deeper from there," Moylan says. "It's kind of like a jumping-off point for this kind of music." Moylan then uses an example of how this show has broadened his own musical horizons: "This band Blind Mountain Holler. It was something I would definitely not have heard of if they hadn't reached out. They're just like a two-piece folk band. It was great. I mean it's super different than anything we had in here. I've actually listened to their music a lot after that."
"We'll usually do pictures out by this tree out there" Levieux adds. "And they just started singing because they brought their instruments with them. It was really nice, and then we just set up cameras and did a little on-the-spot video shoot."
But what about the neighbors? Namely, the one who gave me the stink-eye as I rolled up—do they give any grief?
"So this neighbor up here has never liked me," Levieux says. "He's called the police on us a few times. He has a special case of hearing really low frequencies. Even when we're playing something really soft, he can still hear it."
"So late last year, we had Weatherbox here," Levieux continues. "It was a really big session for us. Everyone's here, we're all set up and they started playing, and those guys are loud. Then this dude starts calling. No no no, I'm thinking. I sent Shane and Matt over because if I went he would have flipped his shit on me. But somehow they sweet talked him down."
The band Hikes—a four piece from Austin—arrives and Half Way Home springs into action. Kelly blocks out camera shots, while Moylan and Levieux mic everything up. They take great care to make the band feel comfortable and er...at home. Moylan suddenly appears with the coffee that he offered me when I first arrived. Nick Lane—the newest addition to the HWH camera crew—shows up and tells everyone about a paid photo gig he's scored.
"Give us some," Moylan says.
"We can all split the $30," Lane says.
"You're buying the bagels next time," Moylan says. Then to the band: "We usually have bagels." That was one of the first things I heard about Half Way Home: they give breakfast to the bands who play their Sunday shows, but considering this is a Thursday afternoon, it's ixnay on b-fay. Someone makes a disappointed sound about the lack of bagels. "Wait, forget I said anything!" Moylan says, laughing.
Soon everything is ready to go. Hikes play technically astounding and emotionally hard-hitting indie rock, with a little bit of emo added in. I become transfixed by the singer/guitarist's finger-tapping guitar method which makes each song feel like an absolute shredder. I don't even know what the drummer's doing, and I'm a drummer. Like, physically, how can he do what he's doing?
Hikes goes through one song. I stand in the corner while the three cameramen bob like cobras hypnotized by the music. Hell, I'm hypnotized, too. I feel an overwhelming sense of emotion from being so close to the band. Hikes are playing a private living room show just for us. Goddamn.
The song ends. Band members feel good about the performance, but not great. "Does the tempo feel good?" the drummer asks. "I felt a little hesitant on the quiet parts."
They perform the song three more times. I join Levieux in the control room and watch as the captured audio fills his computer screen. We're instant fans of Hikes' crazy, technical music, and every once in a while, one of us will utter a "holy shit" or some variant.
And then, while setting up for the next song, before blowing our minds all away with one of their beautiful songs, before blasting the fuck out of this quiet Solana Beach neighborhood, Hike's singer says "Hey, this is a really cool house."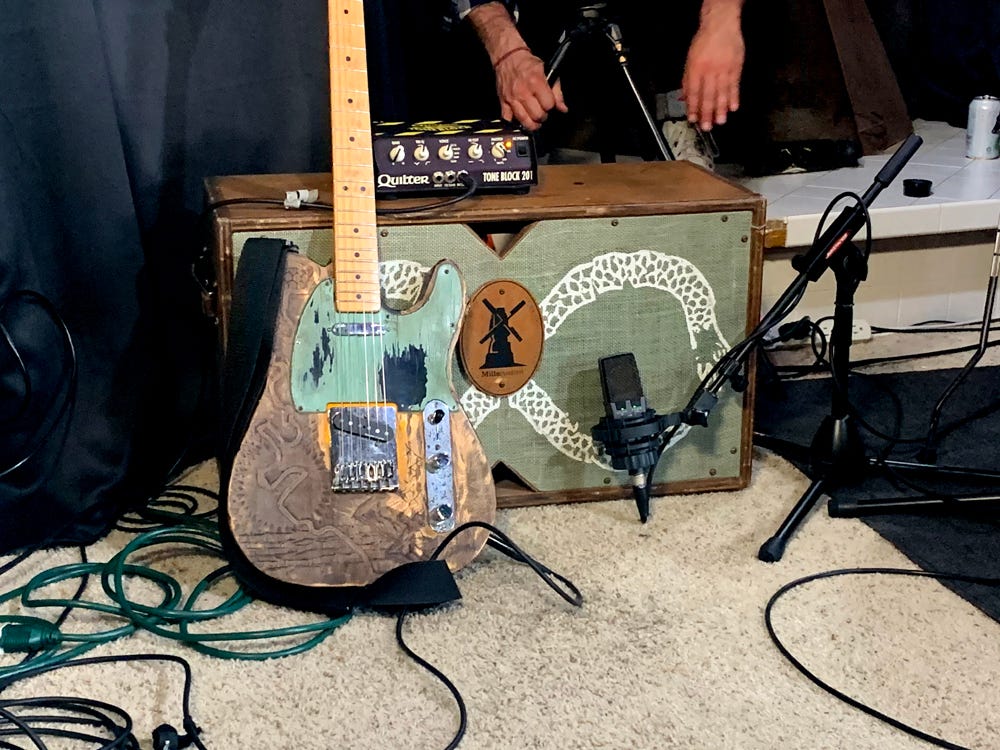 ---
INSIDE THE OUTSIDER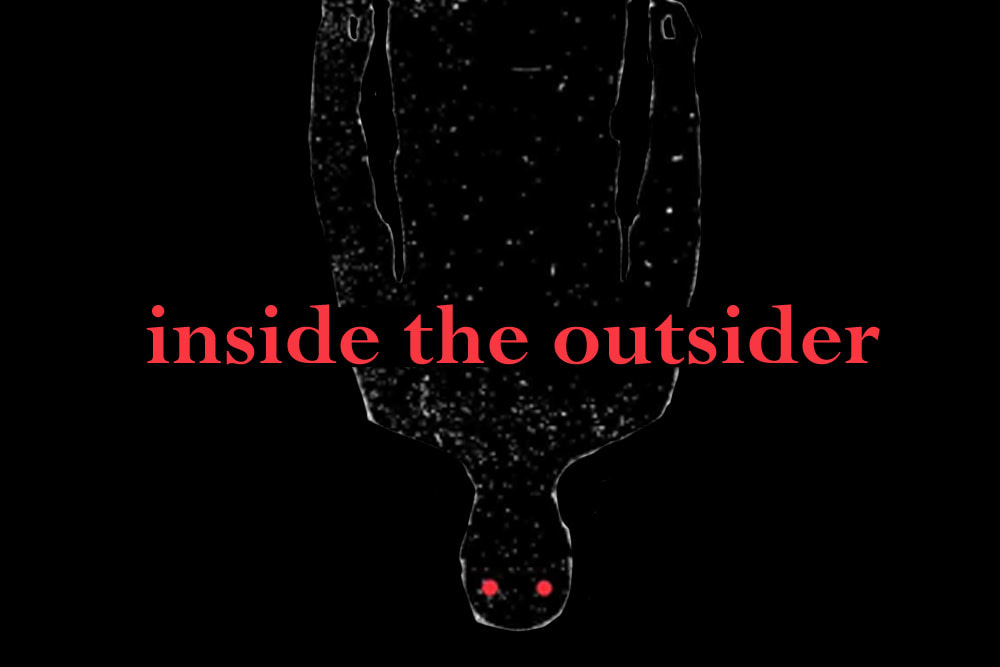 Head on over to Jim Ruland's newsletter Message from the Underworld to read our discussion about the last episode of The Outsider. It's been a fun ride with him, even though I've turned him off Stephen King novels for the rest of his life.
---
A GUIDE TO NOT GIVING ME CORONAVIRUS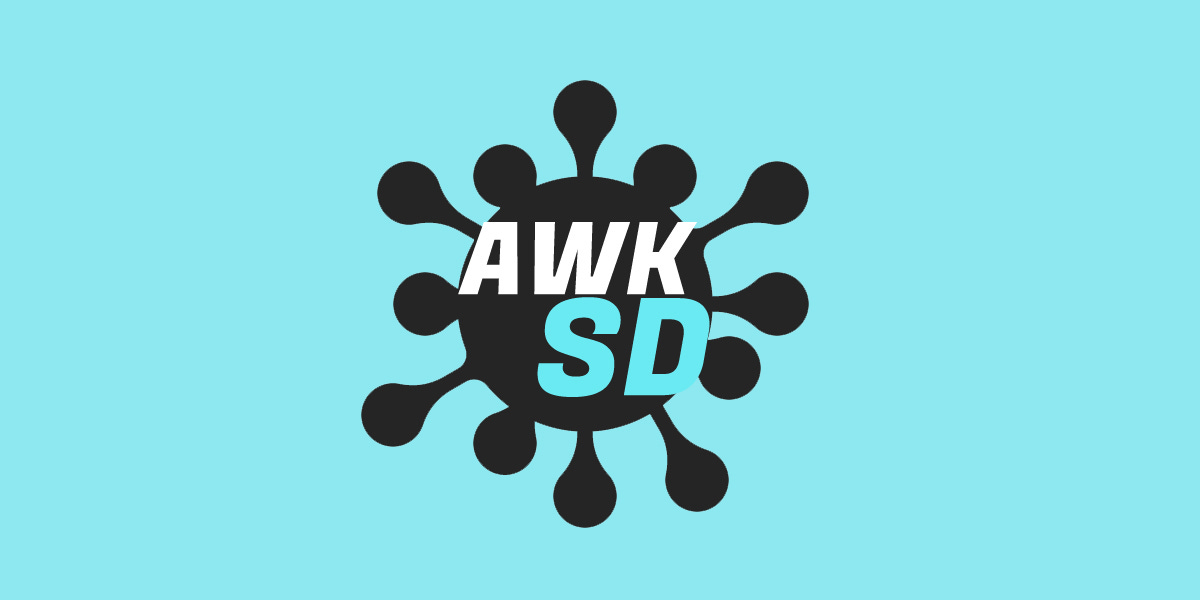 Everybody has guides on how to prevent the spread of coronavirus, which is all fine and good, but I think the most important thing to remember during these scary times is that you specifically shouldn't give it to me. So I made a little guide for you to follow to keep me safe. Thanks.
Wash your hands: Remember how cool it was last year when we didn't have to wash our hands? That was fun. Like, going to the bathroom and then high-fiving your bestie: what a blast! Don't even get me started on rummaging through the Sizzler salad bar with your unwashed paws. That iceberg lettuce feels really super good on the ole skin. Sadly, we must adapt to the times. Please wash your hands for at least 20 seconds, but ideally do it for five minutes just to be sure.
Don't talk to me: We now know that the coronavirus is spread through little spit particles that fly from your mouth and land on my tongue. For this reason, I ask that you abstain from talking to me, especially if it's in a loud, threatening voice, or if it's to critique my writing, election guide, or physical appearance. If you have a compliment for me, then that's fine. You may talk to me.
Don't email me: Unless it's a job offer or you want to send me money. The CDC hasn't said whether or not the virus istransmittable through email, but we should all play it safe nonetheless. Compliments are fine in this case too, too.
Invite me to places but don't expect that I'll come: Nothing boosts the immune system like the knowledge that people care about me and also don't expect me to go social things.
Buy a subscription to this newsletter?: Hey, it couldn't hurt, right?
---
THE ONLY CONCERT CALENDAR THAT MATTERS™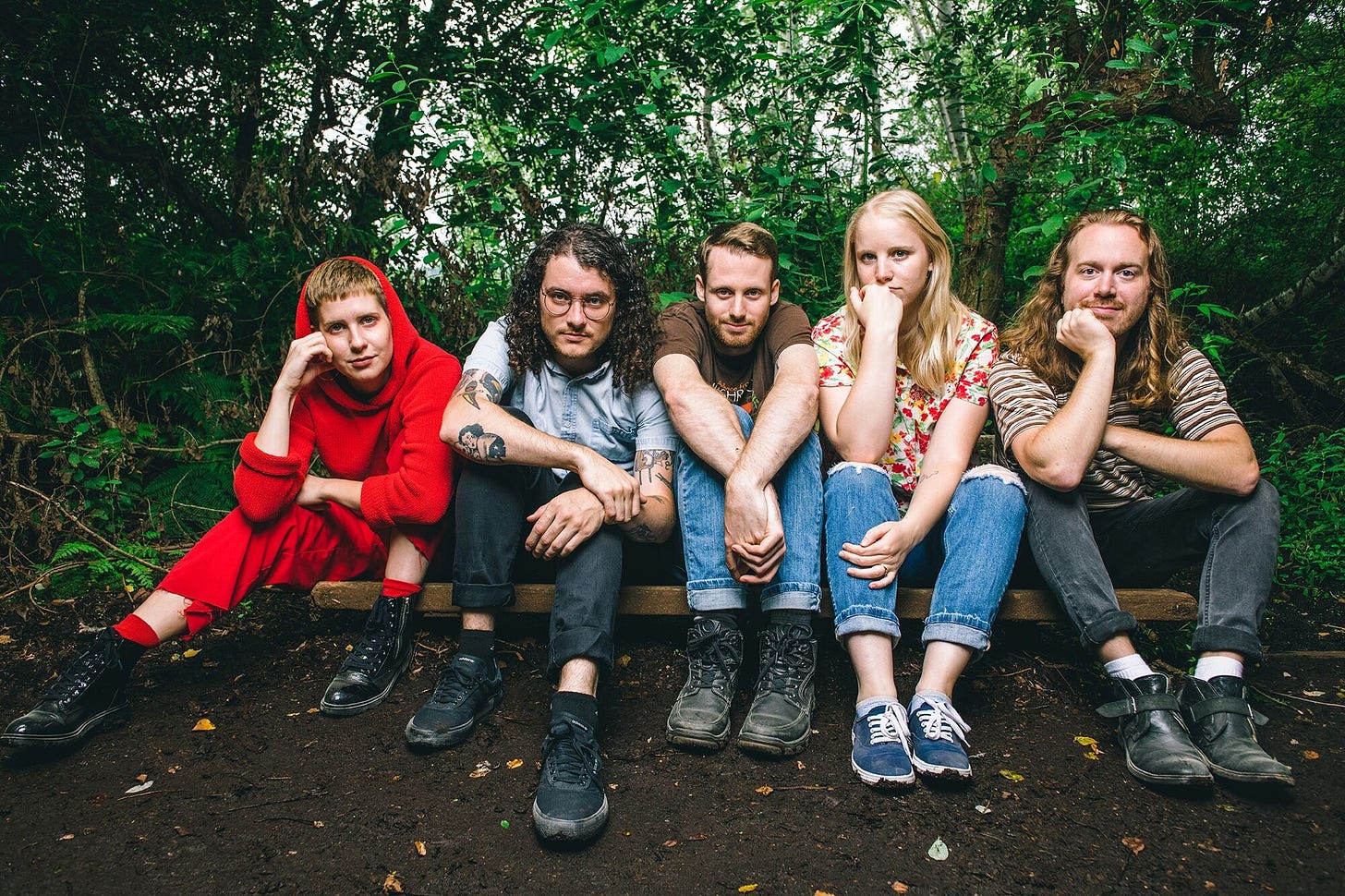 Great Grandpa
Wednesday, Mar. 11
OPTION 1: Cult of Luna, Emma Ruth Rundle, Intronaut @ Brick By Brick. This is a truly inspired lineup. Cult of Luna is a Swedish band that plays brutal post-metal in the style of Neurosis, but the real star of this show (IMO) is Emma Ruth Rundle. Rundle put out one of the best albums last year, On Dark Horses, which is a goth-folk masterpiece. Her haunting voice is simultaneously brooding and delicate, and it doesn't fail to send shivers down the spine. 'Tis a dark night night of smouldering, and then fire.
OPTION 2: Dan Deacon, Ed Schrader's Music Beat, Tenshun @ Music Box. I once saw Dan Deacon play in a big empty lot in New York underneath the JMZ train and it was one of the most insane shows I've ever seen (Future Islands opened up for him). The keyboardist/composer has evolved a lot since the electro-weirdness of his Spiderman of the Rings days, and his newest release Mystic Familiar is a thing of sublime beauty.
Thursday, Mar. 12
OPTION 1: Hot Snakes, Los Dug Dugs, Kills Birds, Harsh Mellow @ Belly Up Tavern. I know a lot of people get sad and nostalgic for Drive Like Jehu, but I'm gonna go on record and say that I like Hot Snakes better. I love Jehu, don't get me wrong, but their songs don't hit me in the gut in the same way as, say, "Plenty for All" and "10th Planet." And 2018's Jericho Sirens (plus their new song "I Shall Be Free") proves they still whip ass.
OPTION 2: The Pharcyde, B-TURN, Michael Gabriel. The Pharcyde has produced some of strangest, most psychedelic hip hop ever, and listening to it always reminds me of a dream that's on the verge of turning into a nightmare, but never does, which is strangely enjoyable?
OPTION 3: Static X, Society 1 @ Brick By Brick. In my later years, I've gained an appreciation of... I don't even know what this type of music is. Redneck techno? White trash industrial? A poor man's System of a Down? Think Rob Zombie, Orgy or Powerman 5,000. I'm sure this show will be rad. Break out the black trench coat and those mad-scientist goggles for this one, fam.
Friday, Mar. 13
OPTION 1: Fotocrime, Blood Ponies, Threadpuller @ The Whistle Stop. Fans of dark new wave (especially The Fixx) and post-punk are going to dig Fotocrime, but I'm also picking up slight AFI vibes in the songwriting. I'm sorry if this is not a favorable comparison to you, but it is to me. So if you like Fotocrime, you like AFI. I'm sorry, I don't make the rules. Also, Blood Ponies are playing this show, and if you haven't seen them perform music from their excellent album Hoax (which I reviewed in an earlier newsletter), then you're missing out.
OPTION 2: Soul Asylum, Local H, Wayne McFarland @ Belly Up Tavern. I'm just going to say it: Soul Asylum rule. Have you listened to Grave Dancers Union lately? It's a solid album all the way through, and carries the torch of great Midwestern rock in the style of The Replacements. Plus, remember that one episode of It's Always Sunny in Philadelphia when Dee gets drunk and makes that hitchhiker drive her car while she sings "Runaway Train" to him? Amazing.
Saturday, Mar. 14
OPTION 1: Great Grandpa, Alien Boy, Lucid Dream @ House of Blues - Voodoo Room. Mix folk rock with grunge, pop punk and a little bit of Cranberries vocal stylings and you got Great Grandpa. It's earnest, emotionally vulnerable music for earnest and vulnerable people, and it's fantastic.
OPTION 2: EST, Carrie Feller, Polyplastic (LA), Tie Game @ San Diego Content Partners. Darkness, synths and brooding is one of the best ways to spend a Saturday night. I swear I'm not a vampire.
OPTION 3: Magical Animals, Grand Curator, Wave Parade @ Black Cat Bar. This is the record release show for local shoegazers Magical Animals. The self-titled debut is a delicate, fuzzy ride with many beautiful moments. If you dig Swervedriver, you'll dig Magical Animals.
Sunday, Mar. 15
OPTION 1: Twin Ponies, VIS, Poor, DR3AmBr05 @ Soda Bar @ Soda Bar. Perhaps if you're feeling like you're brain isn't scrambled enough, head on down to Soda Barfor a night of shredding and math rock. I saw DR3AmBr05 a few weeks ago and I'm still trying to recover.
OPTION 2: Lords of Acid, Aesthetic Perfection, and Praga Khan @ Brick By Brick. Did anyone else have a weird sexual awakening to Lords of Acid? The alternative radio station in Salt Lake City used to play "I Sit On Acid" late at night, and to a 12-year-old kid, hearing that type explicit language over industrial music was nearly as shame-inducing and confusing as watching my first porno.
Monday, Mar. 16
OPTION 1: Dive Vibe, Love Ghost, Black Leather Couch @ The Casbah. A nice, eclectic lineup curated by Tim Pyles. Dive Vibe is the type of dirty surf punk that does so well in SoCal, and Love Ghost plays throwback to late-'90s rock. They're song "Dead Brother" reminds me a little bit of Filter's "Hey Man Nice Shot", and I don't know if that's a good thing or THE BEST thing.
Tuesday, Mar. 17
OPTION 1: Oh God it's St. Paddy's day. Stay @ home. I've had one (1) good St. Paddy's Day in my life, and that was when I was in Chicago with a bunch of Utah friends, and we ended up playing beer pong against some townies. After a tight game, we won and the whole bar started chanting "UTAH! UTAH!" and then Journey's "Can't Stop Believing" came on the speakers and everyone hugged each other and sang along. Truly a magical moment. Other than that, all St. Paddy's Days Have been dumb.
OPTION 2: Negativland, Thomas Dimuzio @ Soda Bar. If you are going to go out tonight, you should definitely hit up Negativland, an experimental group that's been making sound collages since the '70s. It'll be the least bro-y thing out there tonight (but maybe Soda Bar will still put some green dye in your beer if you ask politely).
Got a tip or wanna say hi? Email me at ryancraigbradford@gmail.com, or follow me on Twitter @theryanbradford. And if you like what you've just read, please hit that little heart icon at the end of the post.