The winners of the 2020 Awkwies
The people have spoken! These are the things that have made life in San Diego better during this bleak year.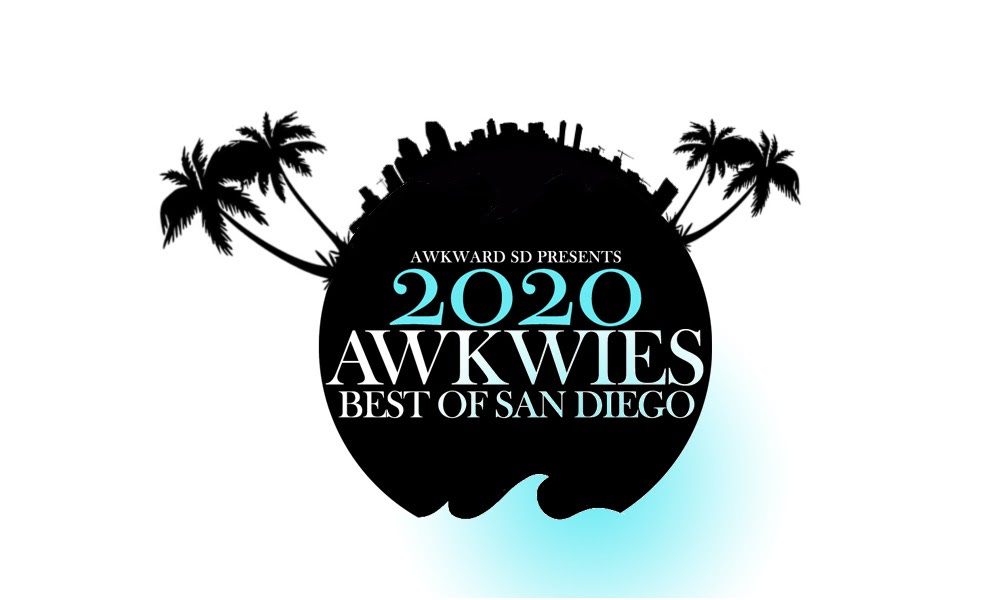 We're all thinking it: this year has been unequivocally bad, but only if you're stuck in the notion that current events are confined to the self-imposed, arbitrary measurement that humans created to track our planet's rotation around the sun.
But just like all that is bad, goodness is not cordoned off by a 12-month calendar. It's always existed, and will continue to persevere. It's not always easy to recognize if you spend all day reading the news, but acts of kindness, community and human decency have only flourished during the global pandemic. Artists, baristas, delivery drivers, servers, teachers, journalists, retail shoppers and more have all attempted to adapt to our rapidly changing world in order to create our lives better, and if that's not the definition of good, then I don't know what is. 
This year, The Awkwies celebrate the best of the best in COVID-era San Diego. These are the people, places and things that have stepped it up to make this year suck a lot less. Congrats to all the nominees — whether you won or not, your mere presence on the ballot is proof of your importance. 
(A little stylistic note: All of these winners were chosen by readers of AwkwardSD, and then I asked Julia Dixon Evans, Kelly Davis, Beth Demmon, Seth Combs, Jackie Bryant and Jeff Terich to help me write blurbs of their favorite categories. Every nominee was vetted by me or a member of this lovely team of professional writers, but ultimately chosen by you).
Without further ado, let's get to it. Love you, San Diego. Be good to each other.  
BEST PIZZA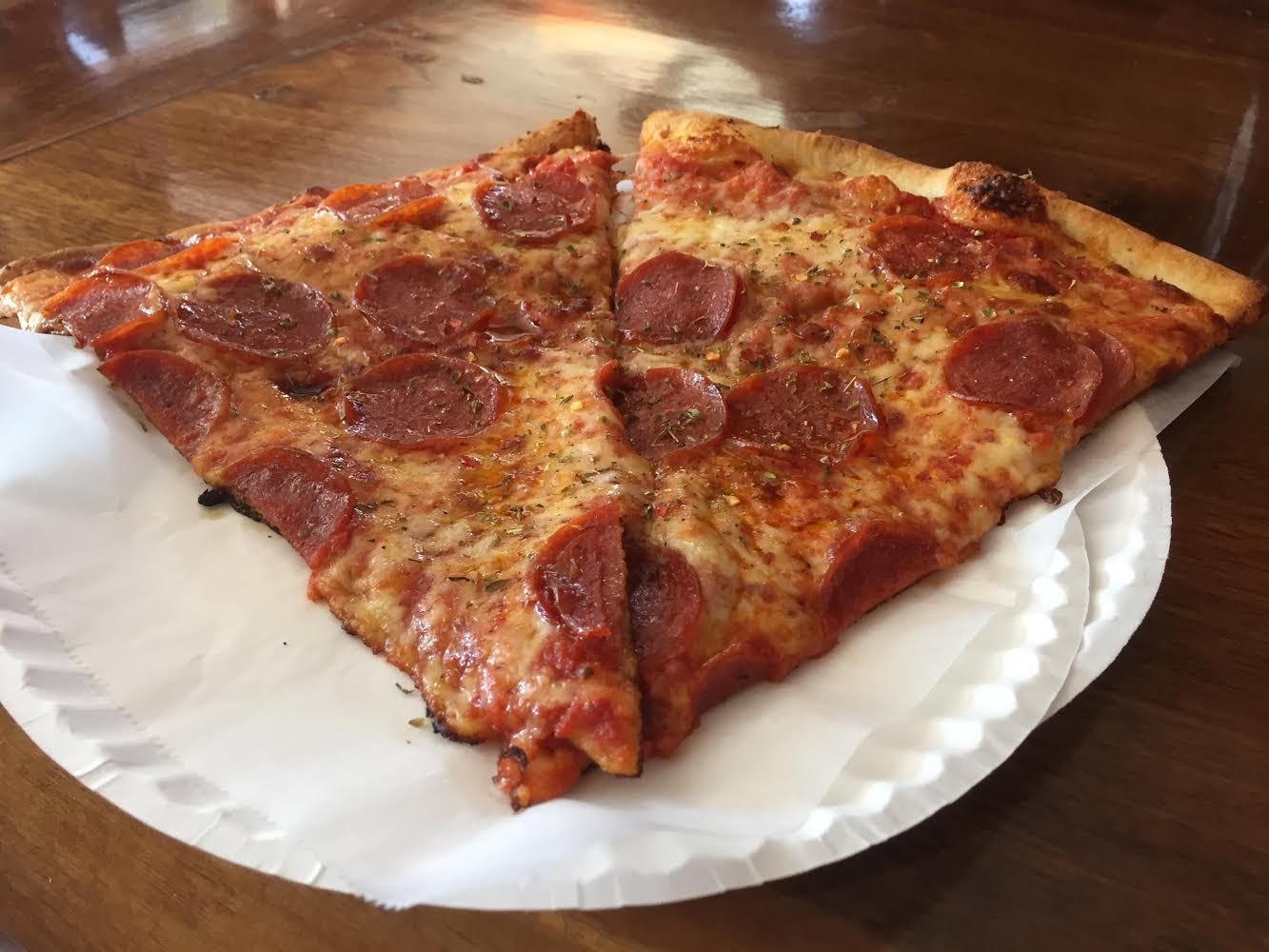 Pizzeria Luigi
Multiple locations
Luigi's is simply the best goddamn pizza in the city. There's a simplicity to their pies that feels simultaneously pure and effervescent, and eating a slice of their pepperoni (which I'd eat every day if I could) reminds me of the one year I lived in New York and enjoyed some of the best pizza of my life. What I found at Luigi's is better. 
— RB
BEST BURRITO
El Zarape 
4642 Park Blvd, University Heights
Throw a dart at El Zarape's burrito menu and you'll hit something good. As for me, I've been a house burrito fan since I moved to San Diego. When I die, bury me in that tortilla-wrapped mountain of chicken, beans, rice and mole. Make sure to pour lots of lime-cilantro salsa into my burrito grave while you're at it.    
— RB
BEST TACO 
Tacos El Gordo 
Multiple locations 
In a city increasingly filled with clever and often gratuitous takes on the taco, there's something to be said for traditionalism. Keep your fancy filet mignon tacos and pork belly whatevers, because Tacos El Gordo is still the best spot in town. Yes, less adventurous eaters can stick to carne asada fries, but it's definitely worth trying the lengua (beef tongue) and tripa (beef intestines) offerings, because, well, they're delectable.
— SC
BEST WINGS
Cross Street Chicken and Beer
4403 Convoy St., Clairemont 
There's a reason beer bros and heat-seeking spice enthusiasts have been flocking to this place since it opened in 2017. Served three ways (wings, boneless or drumsticks), Cross Street takes standard chicken wing flavors (lemon pepper, salt & pepper) and kicks them up a notch. But it's the original flavors that had me revisiting over and over. The "Seoul Spicy" flavor is a sweat-inducing take on the hot wing that's covered in gochujang (red chili paste) My other favorite, "The O.G." wings, are a meticulously battered and crisped take on the standard fried chicken wing that are so scrumptious they'd make Colonel Sanders jealous. 
— SC
BEST COVID TAKEOUT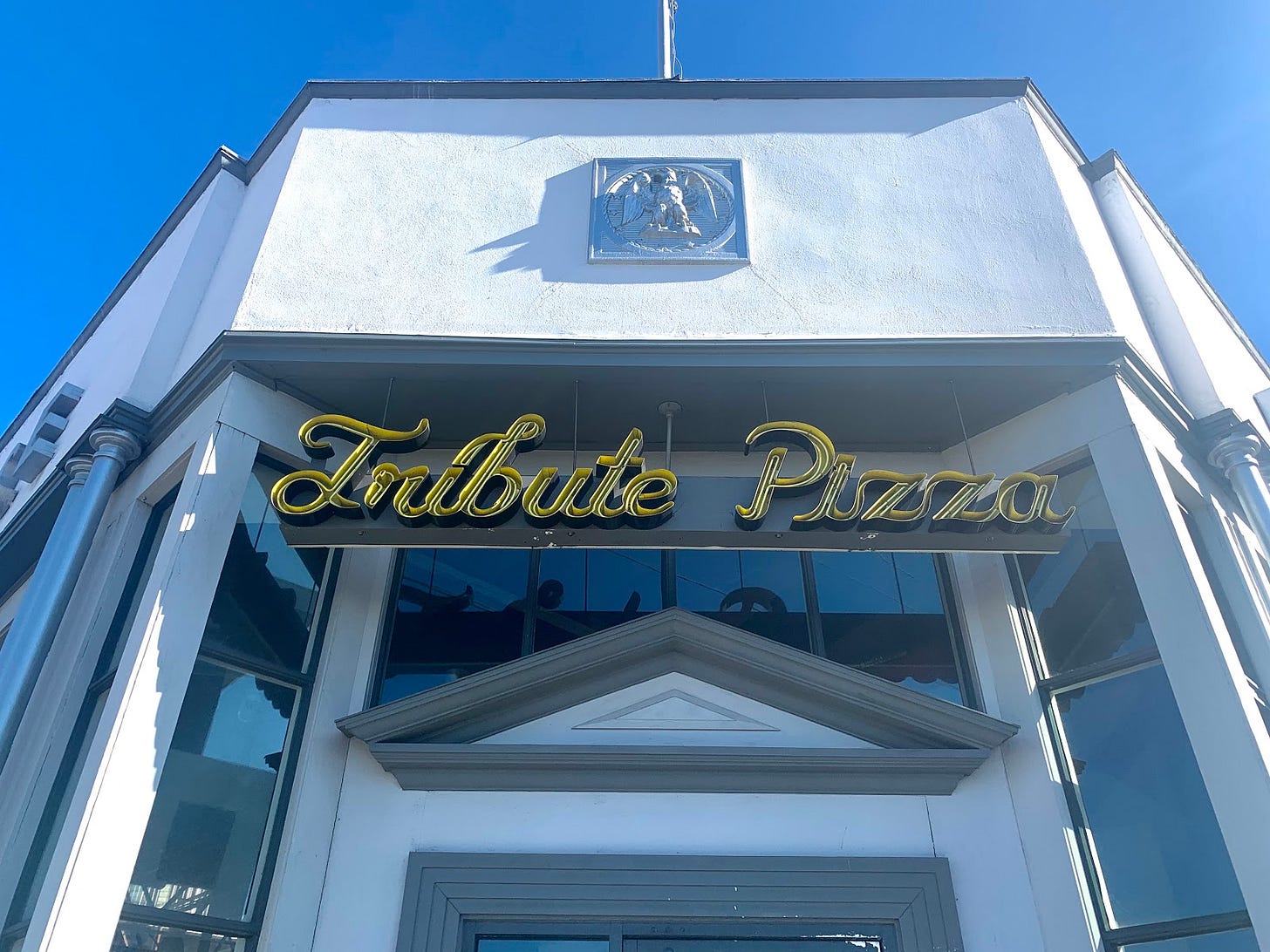 Tribute Pizza
3077 North Park Way, North Park
Finding parking outside of North Park's Tribute Pizza on a Friday night is a little like trying to park in the Gaslamp pre-COVID. But I'll gladly wait for my turn amongst the idling masses for one of Tribute's pizza maestro's to deliver a hot box of magic to my car, which is good since I've developed a rabid addiction to their Lady Diavola pie during the pandemic. 
— RB
BEST VEGAN
Kindred
1503 30th St., South Park
Kindred continues to level up vegan cuisine, with exquisite revisionings of comfort food and snacks. Kindred refreshingly doesn't pander to omnivores, but is magically unrivaled in town as a place where omnis would dine without batting an eye. Plus, the whole experience is a gateway drug to metal. Bonus: COVID takeout adaptations didn't skip a beat.
— JDE
BEST SUSHI
Sushi Ota 
4529 Mission Bay Dr., Pacific Beach
Don't let the PB strip-mall location fool you. The sushi at Sushi Ota is the real deal. Chef-owner
Yukito Ota, who learned his craft in Japan before moving to San Diego, opened his restaurant 30 years ago and has been luring people in with his elegant sushi and adventurous omakase tasting menu. Just be sure to make a reservation because lines can wrap around the corner.
— KD 
BEST LOCAL ICE CREAM 
TIE: Hammond's and Stella Jean's 
Hammonds: 3077 University Ave, North Park; Stella Jean's: 4404 Park Blvd, University Heights. 
Well, hot damn (I mean, ice damn?) we got ourselves an exact tie! And because we live in a democracy, I will honor this draw because both of these local ice cream shops deserve their respective wins. They each take bold steps in ice cream innovation — Hammond's with their brilliant ice cream flight offerings, and Stella Jean's with their impressive selection of small batch vegan flavors. Frankly, we should all be eating more ice cream during these stressful times. 
— RB 
BEST DESSERTS
Extraordinary Desserts 
Multiple locations
This year has been very, um, unsweet,to say the least. For that reason, Extraordinary Desserts is doing the lord's work. Are their desserts extraordinary? Obvs. They're currently offering take-out only, but photos of each splendid item are available online. Pro tip: You can't go wrong with any of the bread puddings.
— KD
BEST OUTDOOR DINING 
Panama 66 
1450 El Prado, Balboa Park 
Six years ago, when Balboa Park cordoned off the area in front of SDMA and turned it into the European-style pedestrian plaza, the masterminds behind Blind Lady Ale House and Tiger! Tiger! (RIP) quickly turned the adjacent space into Panama 66. Bringing their delicious food and great beer selection to the popular tourist destination, Panama 66 continues to give locals a reason to brave Balboa Park's crowds. 
— RB
BEST COFFEE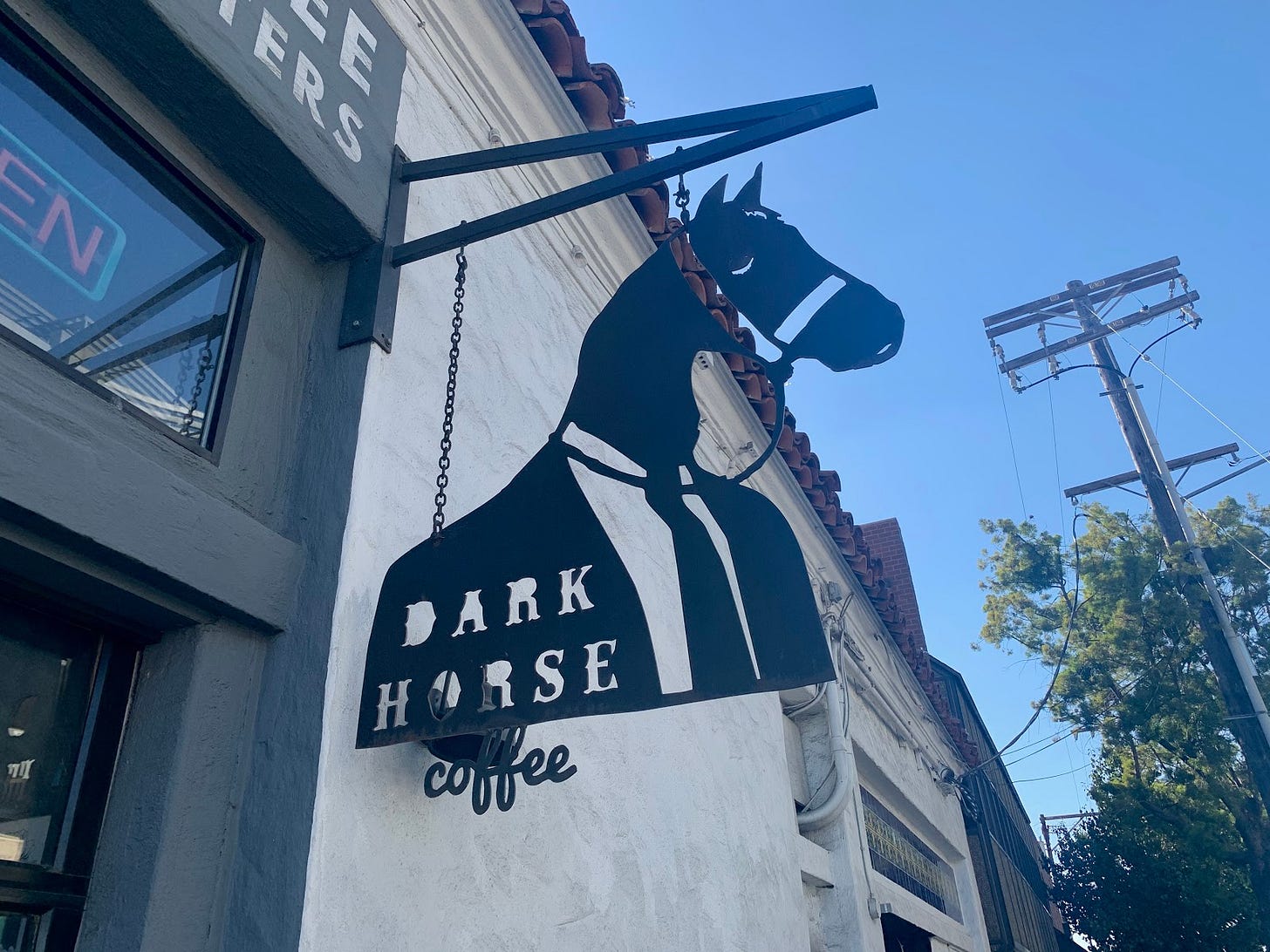 Dark Horse
Multiple locations
Dark Horse is everything I want from a coffee roaster. Honestly, you're not going to get a better cup o' joe in San Diego (I have no doubt that the cumulative amount of coffee I've had there would stop an elephant's heart), but what really makes them special is their punk attitude and lack of pretension. 
— RB
BEST COCKTAILS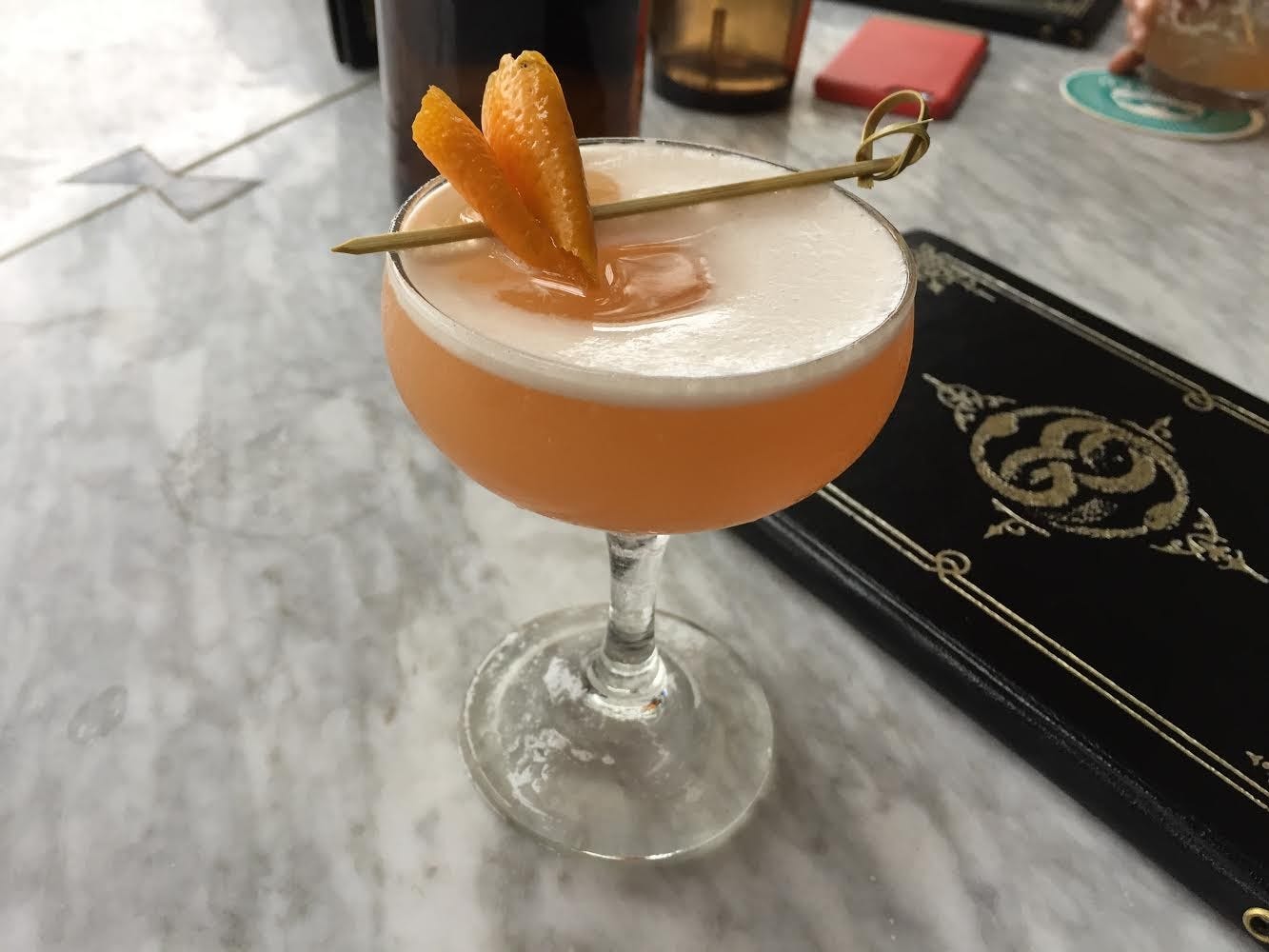 Kindred
1503 30th St., South Park
Kindred is as loved for its evolving cocktail menus as it is for the consistent faves (helloooo, River Styx). Gorgeous and delightfully goth tiki drinks, amazing twists on old standards and seasonal drinks share the table, all without being too precious about it. If I have to drink a cutesy drink please call it something deathy, thanks. 
— JDE 
BEST LAGER
Fall Brewing Company 
4542 30th St., North Park
It's easier to find a good lager than it was five years ago, but [gangster voice] IPAs still run this town! One can only take all the hoppiness before wanting something crisp and refreshing, and Fall Brewing's 86'd lager has been the perfect antidote to this hot and oppressive summer. We need all the brightness we can get these days, and drinking an 86'd is like flicking on a light bulb  inside your mouth. 
— Ryan Bradford
BEST LOCAL HARD SELTZER
Modern Times
Multiple locations
White Claw? More like borophyll. Hard seltzer isn't just for basic bros anymore. I'm a die-hard craft beer nerd, but my aging (and expanding) midsection can't resist the low-calorie temptation of the bubbly, boozy beverage. Plenty of breweries have gotten into the game and I've tried them all. If you're ready to go heltzer seltzer, there's a great chance that Modern Times' Bubble Party variety pack will suit your fancy.
— BD
BEST BEER PATIO  
Eppig Waterfront Biergarten
2817 Dickens St, Point Loma
Even before COVID's cruel arrival, the great outdoors was clearly the superior venue for knocking back a few. And if the patio just so happened to include a waterfront view, so much the better! Eppig's epic Waterfront Biergarten marries the best of it all: breezes, boats, and beer. What's not to love?
— BD
MOST INCLUSIVE BREWERY 
AleSmith 
9990 AleSmith Ct., Mira Mesa
When I posed the question, "who is the most inclusive brewery in San Diego?" in a local Facebook beer group to get ideas for nominations, the lack of replies left me feeling a little glum. It's easy to post a black square one day a year in solidarity with social justice movements, but what about the real, long-lasting work? The handful of changemakers are all due credit, but between its refugee hiring program and financial support of those facing food insecurity, AleSmith is easily at the vanguard of the equitable revolution.
— BD
MOST PLEASANT DISPENSARY EXPERIENCE
March and Ash
2835 Camino del Rio S, Mission Valley
March and Ash in Mission Valley is widely considered one of the best dispensaries in San Diego. Apart from its top-shelf selection, it's a very beautifully designed space, which is important for stoners who like to look at pretty things. I've found that its well-trained staff is more knowledgeable than at most dispos. More good news: they also recently launched their own delivery service!
— JB
BEST LOCAL SPOT TO GET STONED AF
Sunset Cliffs
I was delighted to learn that the rest of San Diego agrees with me that, as one of the most accessible oceanfront slices of land in our fine city, Sunset Cliffs wins as the ideal place to park and spark. Pro tip: bored with sunsets and the ubiquitous pictures and crowds they inspire? Head there to wake and bake, instead.
— JB
BEST WAY TO GET FROM CITY HEIGHTS TO HILLCREST
El Cajon Blvd to Washington
There are a lot of ways to get from one side of Balboa Park to the other, but AwkwardSD readers picked the most scenic. Driving through the many neighborhoods that line El Cajon Blvd. is not only a dream (at least if you're not in a hurry), but it's a visual tour of the amazing diversity that can be found in uptown San Diego. 
— RB
BEST BOOKSTORE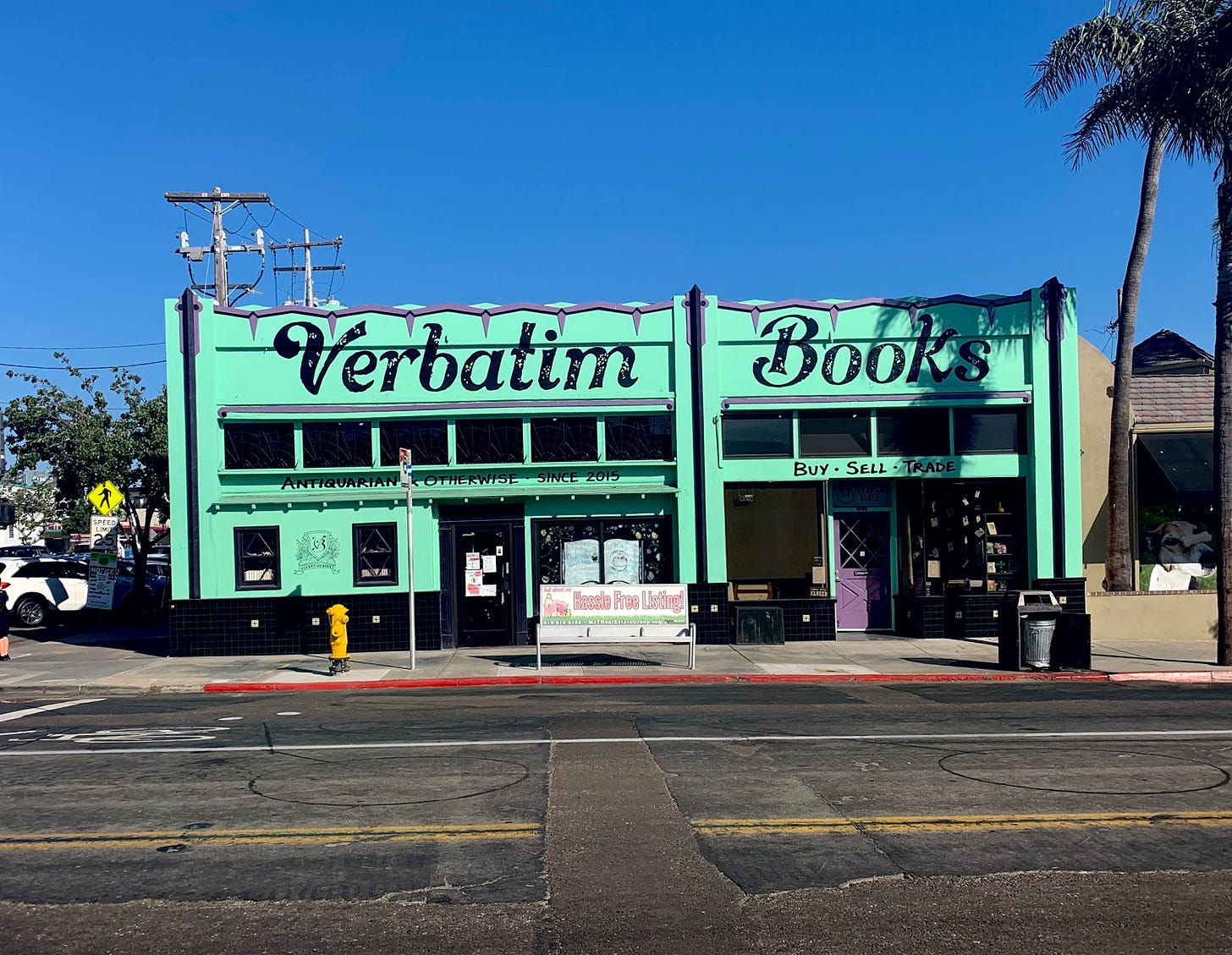 Verbatim
3793 30th St, North Park
It's both a blessing and also kind of a miracle that Verbatim survived in the city's most increasingly gentrified 'hood. Not only has it survived, it's thrived. With their focus on building community, plus a well-curated collection of books and super friendly staff — who also run the zine publishing house, Burn All Books, in the back of the store — Verbatim has become an irreplaceable asset to this city.
— RB
BEST RECORD STORE 
Vinyl Junkies Record Shack
2235 Fern St., South Park
Already one of the best record haunts in town before (gestures) all of this, thanks to their well-curated selection, Vinyl Junkies has been a source of much needed musical comfort, offering mail-order, window service and socially distant (and masked!) visits to keep crate diggers safe. With their safety precautions and customer service, they've also provided one of the most comforting record shopping experiences—which is really what we need most right now.
— JT
BEST BIKE SHOP
Adams Ave Bicycles 
2602 Adams Ave, Normal Heights
When COVID hit, it seemed like everyone decided to ditch their cars for a bike. Visit any bike shop around town and they'll tell you how slammed they've been over the past few months. Hopefully, this is the start of turning San Diego into a more bike-oriented city, and there are few better to lead that revolution than Adams Ave Bicycles. Since the late '70s, AAB has been the destination for cyclists of all experience levels, and their reputation for friendly, non-judgemental service sets the bar high. 
— RB
BEST GIFTS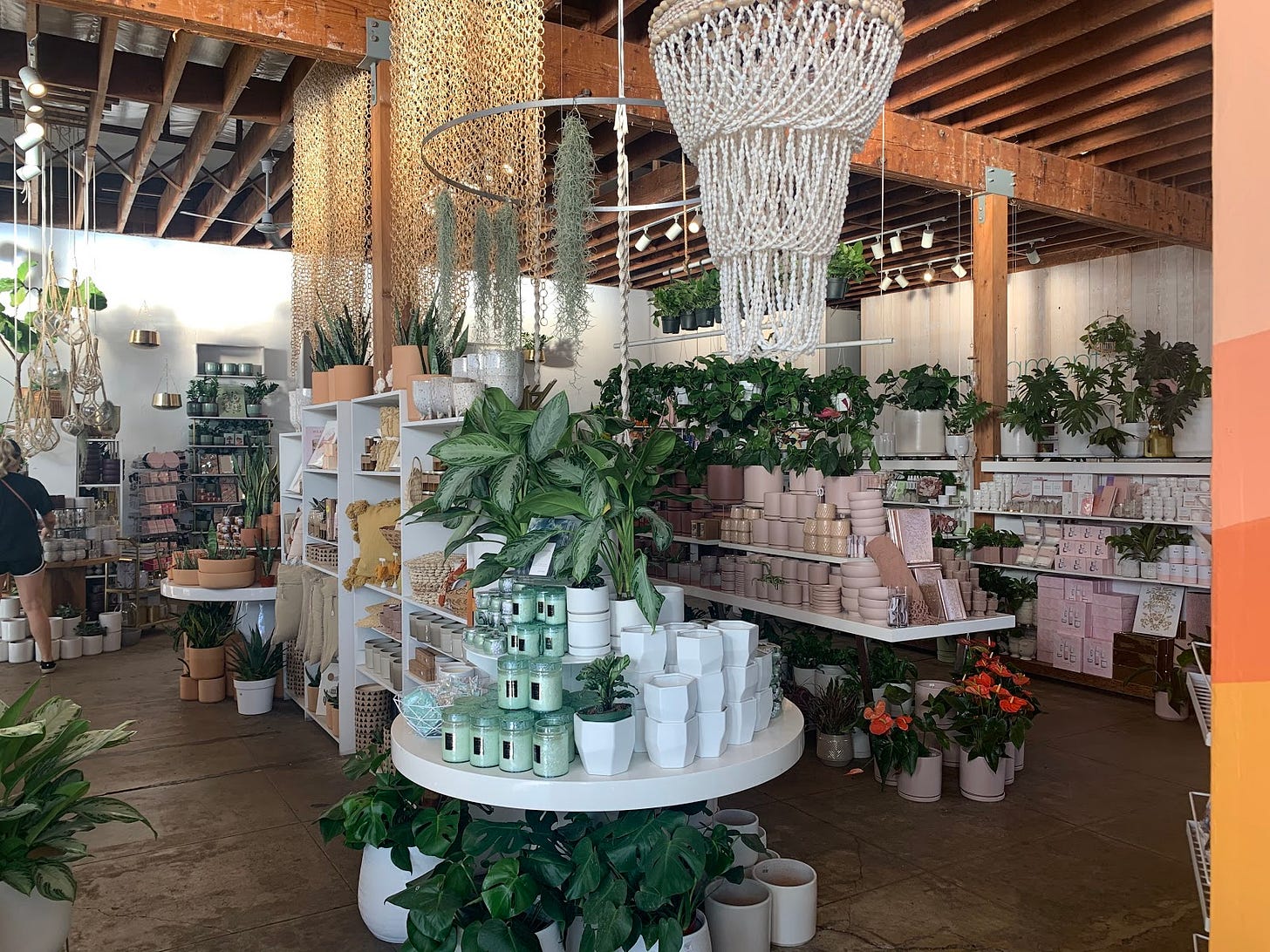 Pigment 
Multiple locations
Years ago, before The New York Times deemed North Park cool, Pigment took a chance on the neighborhood, opening a small storefront along 30th Street before moving into its current, larger space at the corner of 30th and North Park Way (a second spot opened in Liberty Station a couple of years ago). Got a gift to buy? Seeking retail therapy? Or just an Instagram influencer looking for a good wall to pose in front of? Go here.
— KD
BEST MUSIC VENUE 
The Casbah 
2501 Kettner Blvd, Little Italy
While The Casbah's remained closed for in-person shows during the past seven months, the legendary venue has been hosting regular live stream performances, DJ sets, playlists from local artists and more, helping to keep our local music community as active and healthy as possible even when we can't walk through the metal-flame door, grab a tall boy and make a new friend of whoever's rocking out next to you. 
— JT
BEST MUSEUM
The Nat 
1788 El Prado, Balboa Park
The Nat wins our hearts the same way it wins the hearts of all their four-year-old wannabe paleontologist visitors: taxidermy and skulls. Plus, while closed, they've made amazing scientific and conservation advancements, and ramped up education work out in the community. Just hope they've been polishing all the skulls! 
— JDE
BEST ART GALLERY
Bread & Salt 
1955 Julian Ave., Logan Heights
This multi-use indie art haven has spent the pandemic putting the arts community's needs first. Bread & Salt held virtual artist talks, online art sales, residencies and most recently, the phenomenal San Diego Art Prize exhibition. Plus Panca's ice cream mural is part of the San Diego skyline now, we don't make the rules. 
— JDE
BEST STATUE TO THROW INTO THE SEA
"Unconditional Surrender" (the kissing one)
55 Tuna Lane, Seaport Village
A few months ago, I wrote about all the statues in San Diego that should be thrown into the sea, and this monstrosity was the first to go. Back then, I wrote: "Throw this shit right into the murkiest of waters. It's just a tribute to entitled males and sexaul assault...'Unconditional Surrender' is an idiot's idea of what heroism and romance looks like." I still feel that way, and I'm glad readers of AwkwardSD feel the same. 
— RB
BEST HIKE (AVOIDING COVID CROWDS)
Torrey Pines Extension 
Tucked away across the lagoon from the state park, Torrey Pines Extension is a little series of short, well-maintained trails that begin in the Del Mar Heights neighborhood. Perfect for a quiet, misty morning stroll, take in the diversity of native flora and the stunning views of the ocean and the cliffs (and the crowds) (suckers) across the way.
— JDE
BEST POLITICIAN
Todd Gloria 
eaders of this newsletter know my affinity for Todd Gloria (I endorsed him in this election and the primaries) but I am only one voice. The sheer amount of public support for Gloria is both staggering and heartening. During the past decade, Gloria has been an intelligent, thoughtful, progressive voice in both city and state government, and his stint as interim mayor proved just how good of a leader he is. San Diego is definitely a better place with Todd Gloria in it. 
— RB
BEST COMMUNITY ORGANIZER / PLANNER / ACTIVIST
BLM SD 
This summer was hard on the human soul. After witnessing so much violence enacted upon the Black community by law enforcement and empowered racists, it's easy to just become numb. But Black Lives Matter San Diego reminded us that silence is complacency. Local BLM organizers were — and still are — responsible for the most important protests this year. Don't get complacent. Keep listening to BLM. Black lives matter, now and forever. 
— RB
BEST NEWS OUTLET
KPBS 
Nothing like a worldwide crisis to remind you of the importance of a reliable media, and COVID has proven how essential KPBS is to our city. By providing radio, TV and online coverage, the   nonprofit news outlet is basically all you need during these Unprecedented Times™ (I mean, second to AwkwardSD which wasn't on the ballot because it is the best, obvs). 
— RB
BEST NEIGHBORHOOD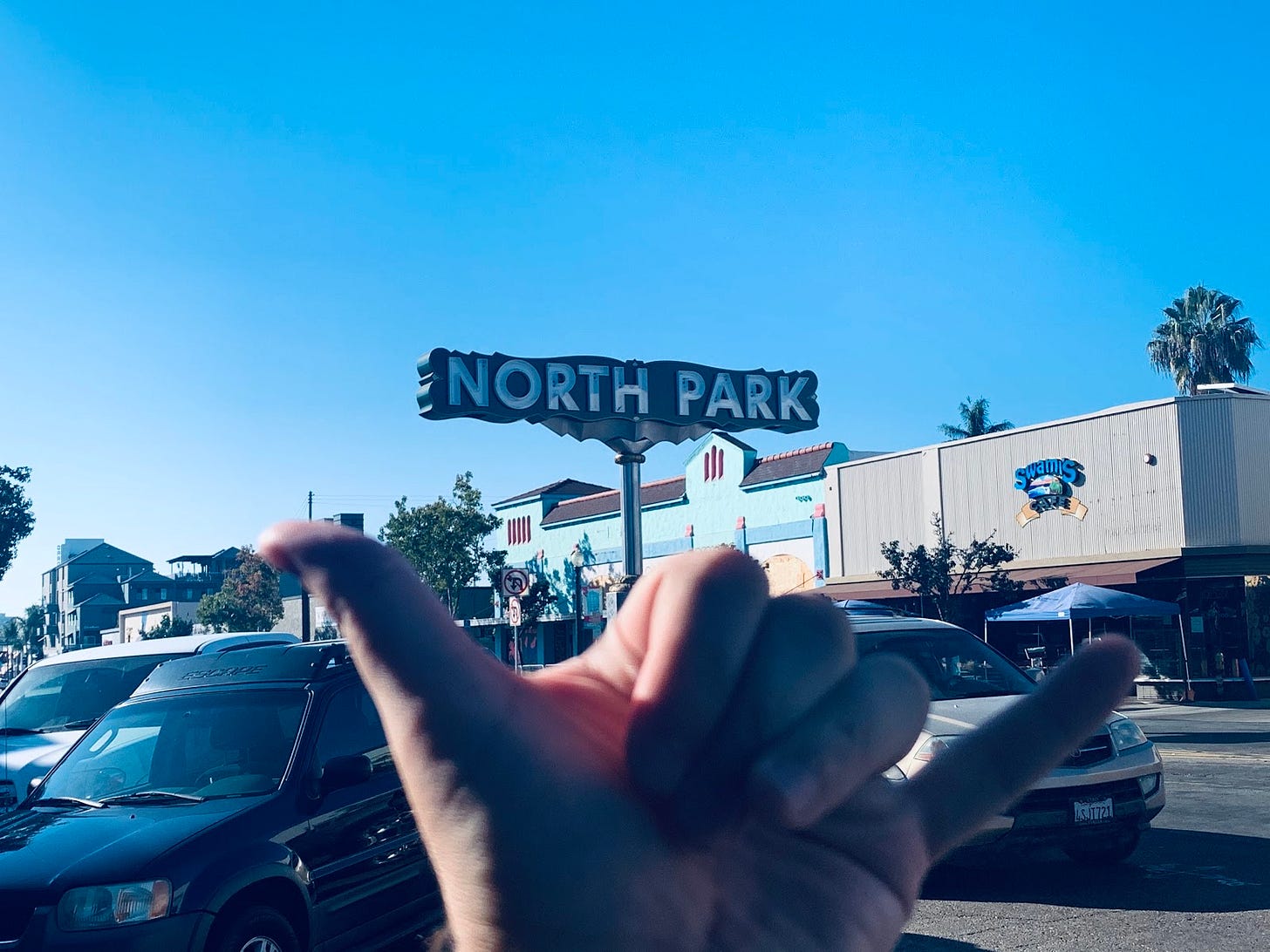 North Park 
A lot of people talk about the way North Park used to be — a gritty area brimming with punk shows and goth bars. But no matter how many faddish restaurants or precious bars move in, there will always be a renegade, artistic spirit lurking underneath. Most importantly, however, is the community found in North Park. For those who are lucky enough to spend extended amounts of time there, it begins to feel like a small town within a city. Stay golden, North Park. 
— RB
---
Got a tip or wanna say hi? Email me at ryancraigbradford@gmail.com, or follow me on Twitter @theryanbradford. And if you like what you've just read, please hit that little heart icon at the end of the post.
Julia Dixon Evans edited this post. Thanks, Julia. Go follow her on Twitter.
---