Department of Oopsies: I got high and accidentally ate a rare candy bar
Plus local media blows it, and some San Diego punk bands are too punk for public safety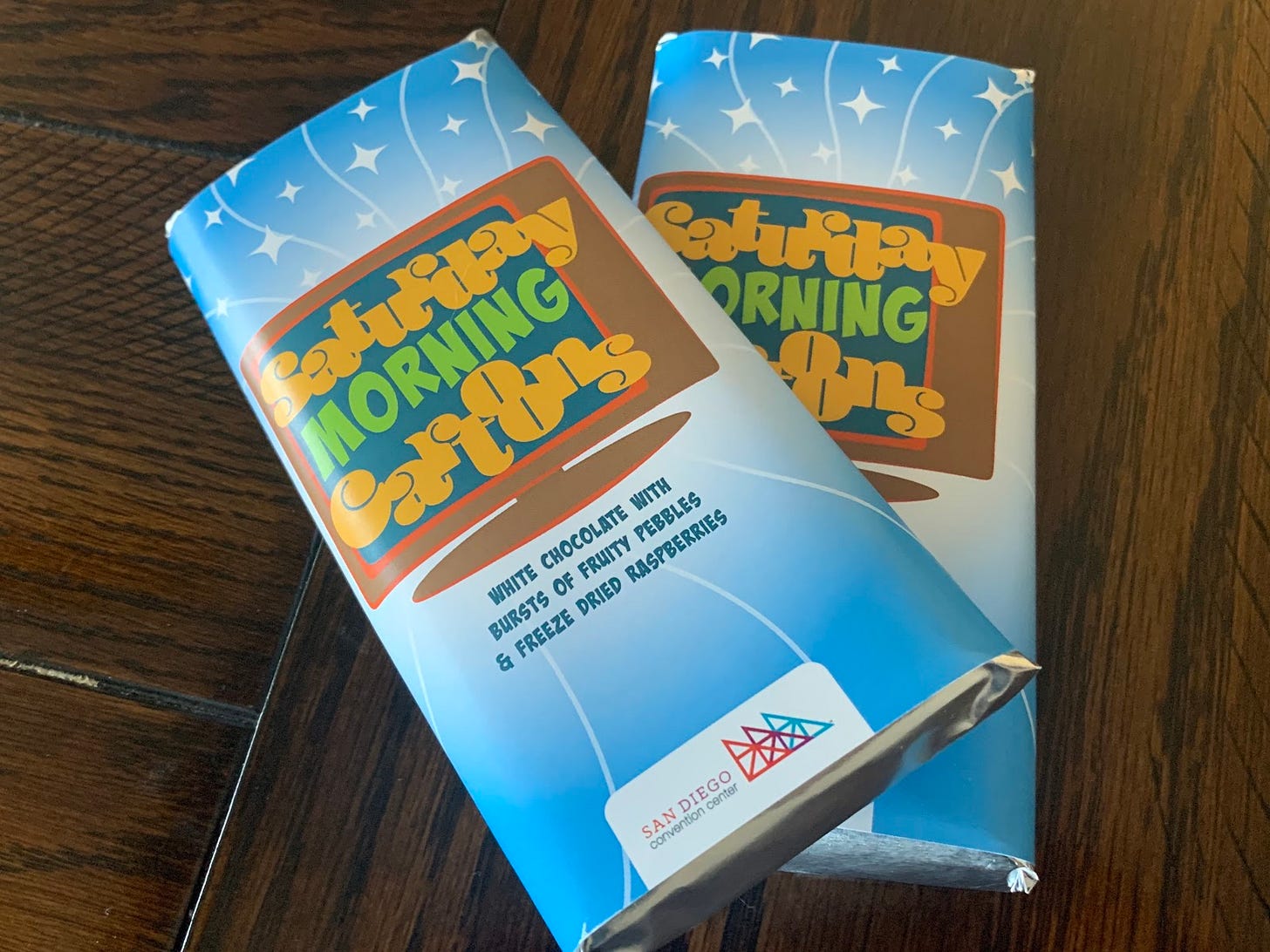 In the immortal words of Billy Corgan: the world is a vampire.
Case in point: I didn't realize how much I looked forward to my inbox flooding with zany press releases during the weeks leading up to Comic-Con. Starting around the end of June, I usually wake up with a skip in my step and feather in my cap, ready to see which companies are hocking large-headed action figures or enticing me into some esoteric experience (Last year, I went to a Top Golf activation where I hit balls off the USS Midway. Hell yeah, trashing the ocean).
But now that Comic-Con this year has rightfully been cancelled (or, I guess it's been liquidated into the free-for-all, online-only Comic-Con@Home), my inbox has been bled dry (like a vampire!). I don't even really like Comic-Con, but I like when strangers make me feel wanted.
So imagine my rabid, unabashed joy (which actually looks no different than my dead-eyed resign these days because, you know, 2020) when this email falls into my inbox:
SD Convention Center to Produce Limited-Edition Chocolate Bars to Celebrate Comic-Con@Home
Like, who is even thinking about candy these days, let alone "Limited-Edition Chocolate Bars"? My god, I think, can sweetness still exist in such a world?
I read through the press release and anticipate some sort of let-down: the candy bars have walnuts, the candy bars will give you Covid, the candy bars are not real and you're actually on shrooms, Ryan. But no. Unbeknownst to me, Centerplate — the convention center's food and beverage partner — has been making special candy bars every year, and they wanted to keep at least one physical aspect alive.
There's a video included in the press release that shows a glimpse of this year's candy bar, In the video, Chef Matthew mixes white chocolate, Fruity Pebbles cereal and freeze-dried raspberries. The kaleidoscopic mix is meant to represent the vibrancy of Saturday morning cartoons, but the first word I think of is: anarchy. White chocolate?? Not since I watched Joker has my faith in order been this shattered.
I immediately reach out to Maren Dougherty, Director of Marketing and Communications at San Diego Convention Center, to see if I can try one. She kindly says yes, so I drive downtown and meet her in the driveway in front of the Marriott. The hotel — adjacent to the convention center — is eerily empty, so it makes our transaction feel super cool and illicit. "Turns out, white chocolate is a bit controversial," Dougherty says as she hands over two paper-wrapped bars.
How controversial? I wonder. Like, are we in danger right now? If there's anything you shouldn't take lightly these days, it's the fervent expectations of nerds. They hate newness and risks. I imagine most people involved with The Last Jedi are at the bottom of a ravine right now.
I take the candy bars. "We only made about 150 of these," Dougherty tells me, which — as I had read in the press release — is way fewer than the 4,000 the convention center normally produces during Comic-Con. I feel a surge of superiority when I hold the bars. If there's one thing I love more than people paying attention to me, it's people giving me rare things, and suddenly I covet this candy in a Biblical sense.
I ask Dougherty how things are going otherwise. Like, how else has Covid affected her job? She says that most of her time is focused on the 1,300 people experiencing homelessness who are now sheltered at the convention center. Oh, I think, and my obsession with the chocolate bars now feels pathetic.
Back home, I unwrap one of the bars. It looks like a Pollack, or a first grader's art project, or alien skin that's hemorrhaging multicolored blood. And for those reasons, it looks incredible. Not necessarily edible, but that only adds to the allure. If there's anything I like more than people paying attention to me and giving me rare things, it's proving that non-edible-looking things are, in fact, edible.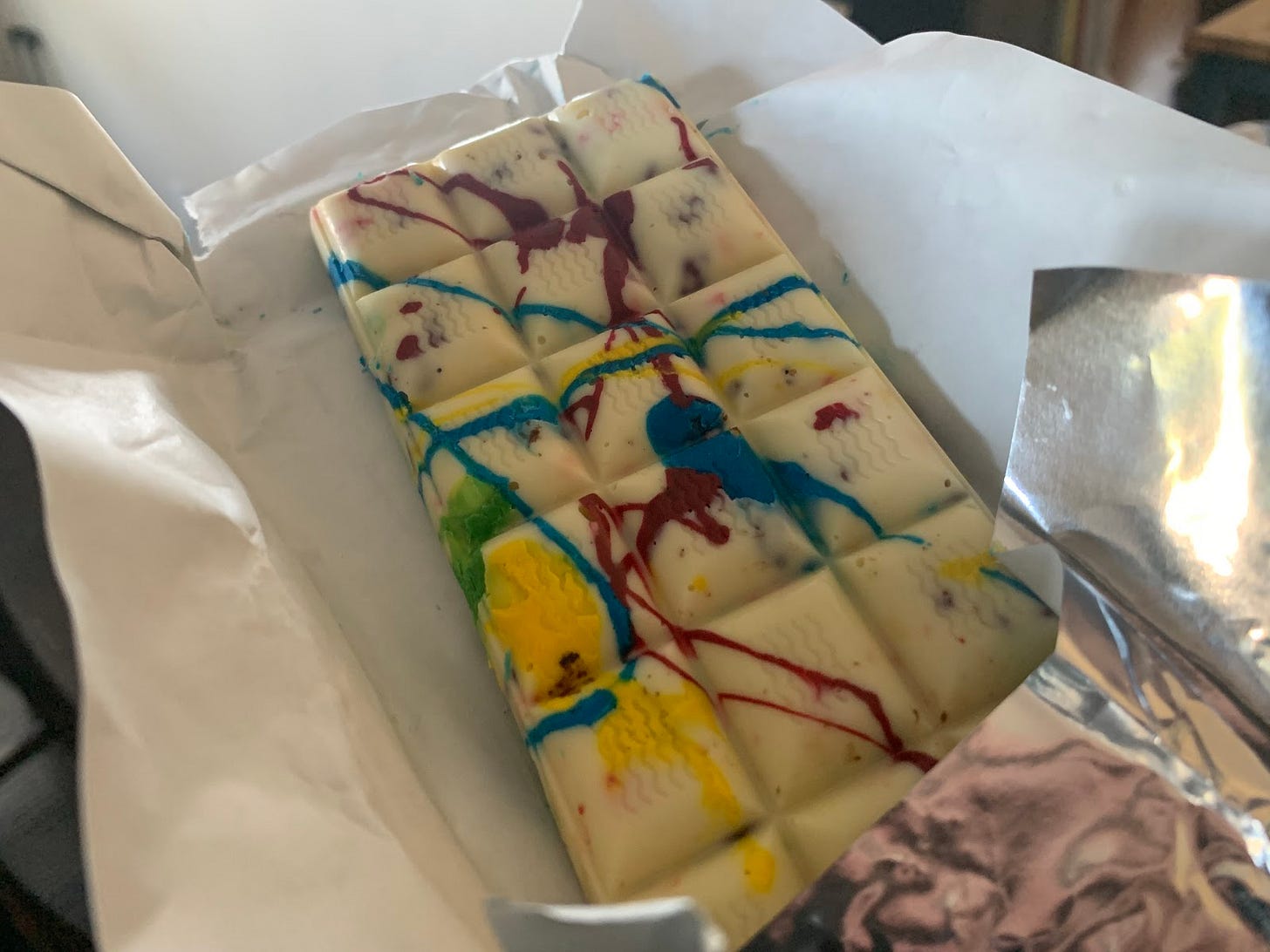 I bite off one of the squares. It's... good? I think I like it, but it's certainly an acquired taste. I can't imagine it's gonna win over the white chocolate-haters, but it's a reminder sometimes you just have to forge ahead in art, haters be damned.
I rewrap my rare treasure and put it in the fridge. Like any good connoisseur, I decide this is something I need to take my time with. After all, there's only 150 of these babies, and my judgement cannot be rushed with something so precious!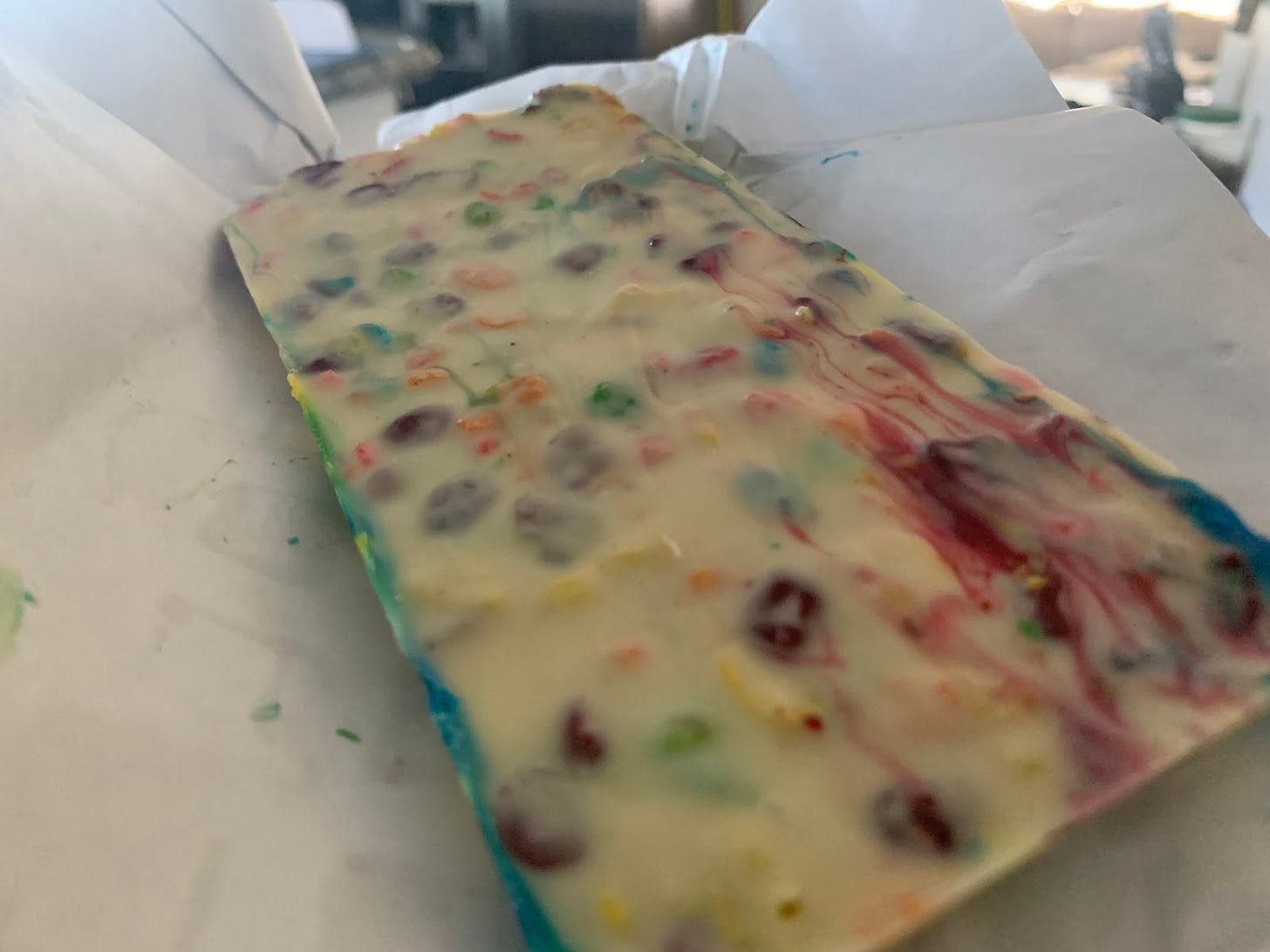 Later that evening, I'm watching The Sopranos whilst in the throes of a cannabis gummy. The episode is intense, and at one point, Tony does a very Tony thing and someone dies violently and the episode ends and I feel like I've lost hope in human goodness. I need some emotional soothing stat.
I open the fridge and behold the white chocolate angel. Hark!
I break a piece off the bar and lay it on my tongue. The chocolate melts, the fruit zings. It tastes like the universe. I don't know how else to explain it, but the sweetness arcs across my tongue, hitting all my tastebuds. I get it now, I think — but what it is, I have no idea. I break off another piece and wonder what white chocolate is, exactly. Can chocolate be chocolate without being brown? Cocoa seems like a really funny word. Or is it Cacao? Ka-kow, I think, saying it in the voice of a crow.
I wonder if Italian-Americans think The Sopranos is offensive.
I wonder if all the people experiencing homelessness housed at the convention center are adhering to social distancing protocols. I hope they're staying healthy.
I look down. The candy bar is gone. I've eaten the entire goddamned thing, and the only indication that it ever existed is a faint tartness in the back of my throat from the raspberries. For a brief second, I'm overcome with disappointment in myself. Tony Soprano would be so mad at me. "You blew it," I say to my reflection in the window.
But in the morning, I still have the taste on my tongue, and it's good. I give myself props for forgetting to brush my teeth.
I emerge from bed. I feel good. Once again, there's a skip in my step and feather in my cap. I'm like a rat that has busted out of my cage, and the world feels less vampirish —- all because I have another candy bar to eat.
You too can experience the glib superiority of scarfing down a rare candy bar — the Convention Center is holding daily giveaways on their Facebook, Twitter and Instagram accounts.
More oopsies: Local media blows it
It's been a while since San Diego Reader wrote something cringe-worthy enough for me to notice — I often forget that they still exist — but last week they put out a doozy.
"Unexpected views from some San DIego African Americans" is exactly how you would expect the city's dumbest weekly publication to cover race in the wake of protests: by publishing a white man. But don't worry, everyone, because the author is totally cool with Black people. In fact, some of his best friends are Black!
"I've experienced the bond of friendship with many African-Americans and was often treated with fondness — even by my middle school social studies teacher, who frequently taught us how evil "the white man" is. I quietly wondered if she realized I was a white male."
After his extremely self-centering and All-Lives-Matter-ish intro, the article focuses on two Black East County residents who spout a lot of reactionary stuff like how Planned Parenthood is a bigger threat to Black lives than police. The author ends the piece by cherry-picking statistics about Black-on-Black crime. It's 2,000 words of yikes, to say the least, and the exact type of story that caters to the feelings of rich, white readers.
Also, there's a Nazi that's been driving around all over east county with a swastika flag tied to the back of his jeep, and NBC7 decided that it was a good idea to get his perspective. The result was disturbingly sympathetic, which caused rightful outrage. It seems that NBC7 has since removed the segment and edited the news story to better reflect the community outrage.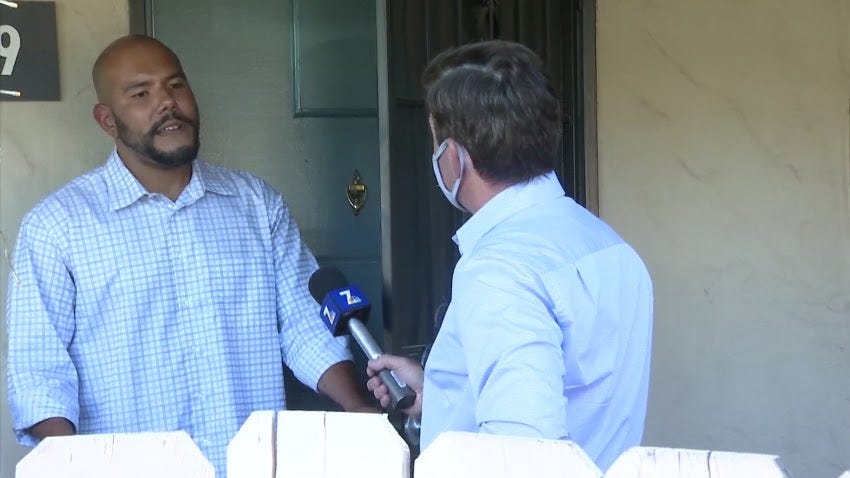 Let this be a reminder that Nazis are never worth covering except if they're getting punched in the face. I understand there's a morbid curiosity — especially for journalists — for those who want to stare into the absolute nadir of free speech, but there's never any gain with a stunt like that, except for the Nazi, who now has a platform. It's not unbiased reporting — it's coddling Fascism.
Yet more oopsies: San Diego punks are too punk for public safety
There are some people who confuse being a punk with being a shithead. This seems to be the case with a slew of San Diego bands who have been throwing house parties and underground shows. They're even making light of the deadly virus through "edgy" names like "Coronavirus Vibe Out!"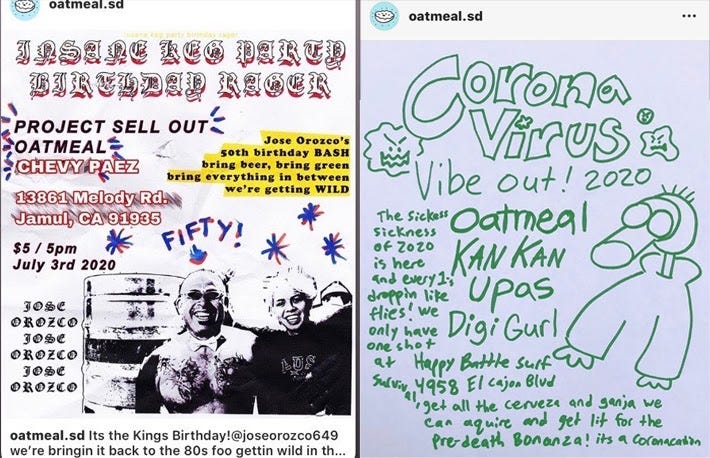 Cool flyers, bro.
These little shows have been going on since the early days of lockdown, and it appears that they're still going on despite all we know about how the Coronavirus spreads. It also seems like the same bands are making the rounds at these shows, with a group called Oatmeal acting as the ringleader/promoter.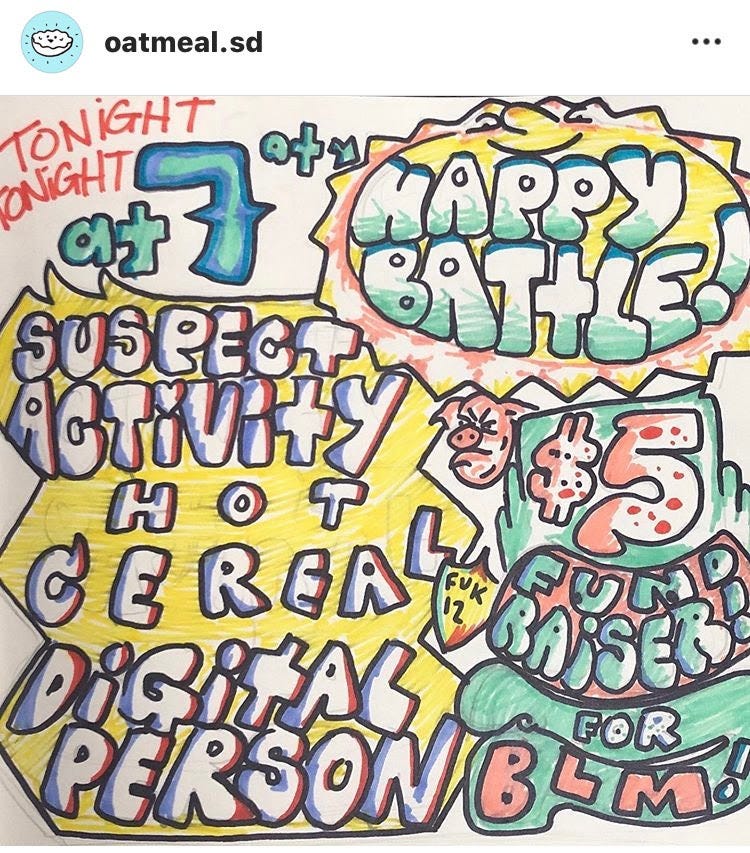 I mean, shitheads gonna shithead, and nothing I can really do except call it out on this lil newsletter. Plus, they're the kind of trolls that thrive on this kind of pushback (as demonstrated by the below screenshot from the now-deleted account of Oatmeal's drummer). I mean, I can't see any difference between this and the MAGA fucks who won't wear masks at the grocery store or throw lake parties in the Midwest. It just sucks to know there are players in the San Diego community that show this much disregard to public safety.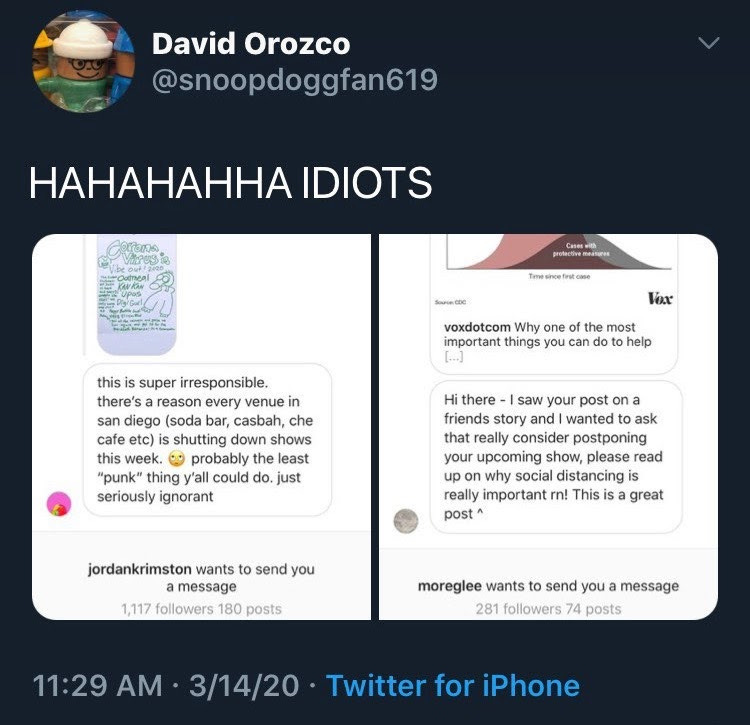 ---
AWKWARD COCKTAILS
By Kelly Davis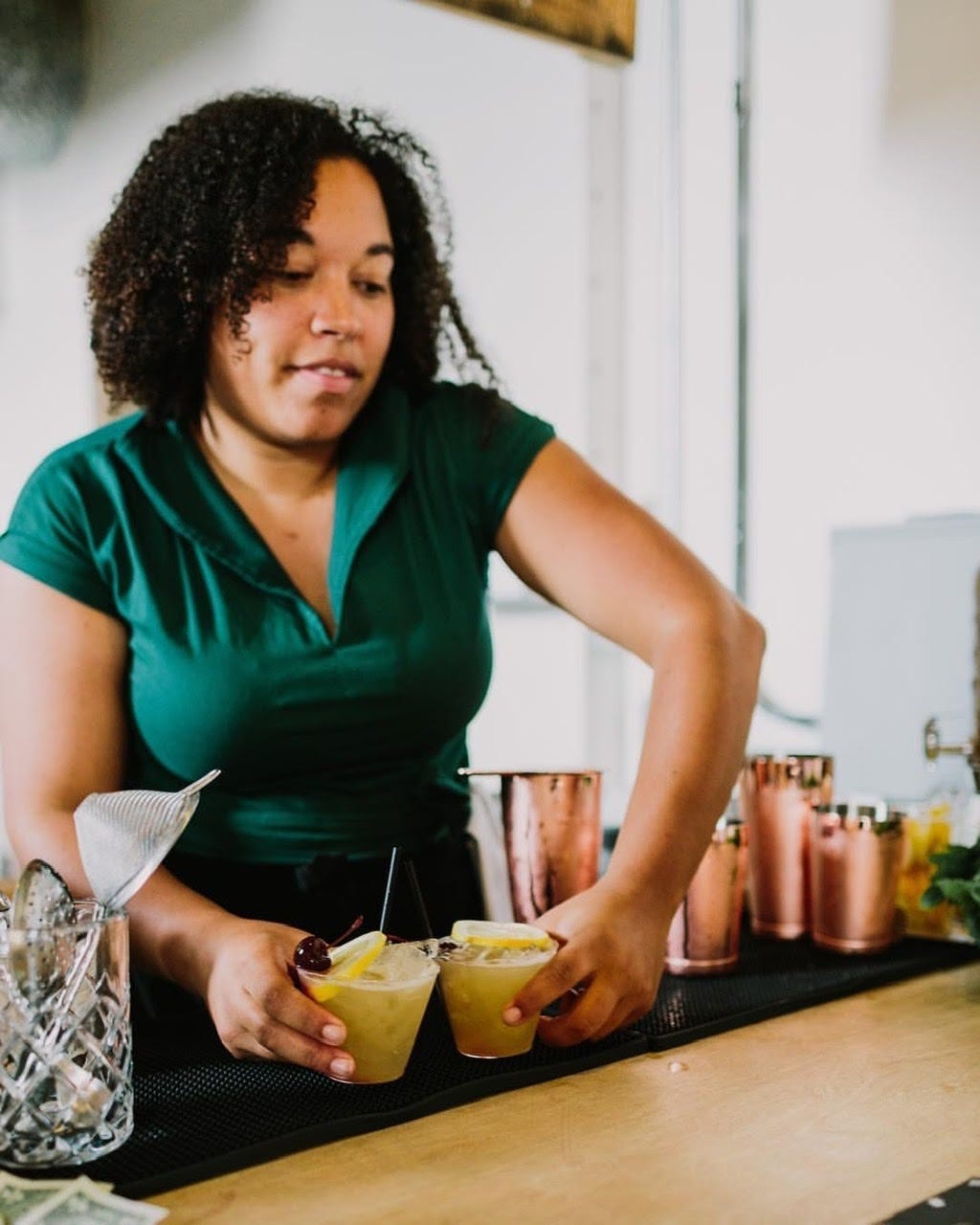 Lauren Mapp // photo by Jasmine Fitzwilliam, Let's Frolic Together

A few weeks ago, San Diego celebrated the gentle re-opening of bars and restaurants — and then people fucked it up.
It's not OK. While I'm sure Awkward readers are wearing masks, social distancing and all that, I hope y'all will take an extra step and be evangelists for responsible behavior. Because it's all interconnected, folks.
In happier news, pineapples are in season. Lauren Mapp, a talented journalist who writes about caregiving for the Union-Tribune, recently shared some recipes for pineapple-inspired dishes. Lauren is pretty amazing—just check out her Instagram page to see beautiful, inventive dishes that'll inspire you to, at the least, buy a waffle iron. She's a former bartender, so I figured I'd hit her up for a fun, easy pineapple cocktail recipe. She was traveling and didn't have access to her notebook of ideas, but shared a recipe for a pineapple mojito off the top of her head. The warm weather demands you try it.
2 oz. Malahat White Rum
1 oz. pineapple juice
3/4 oz. fresh squeezed lime juice
1/2 oz. simple syrup muddled with six mint leaves
Shake with ice, then double strain into a Collins glass over fresh ice. Top with Fever Tree soda water, stir, then garnish with a pineapple wedge and a mint sprig.
---
HEAR THIS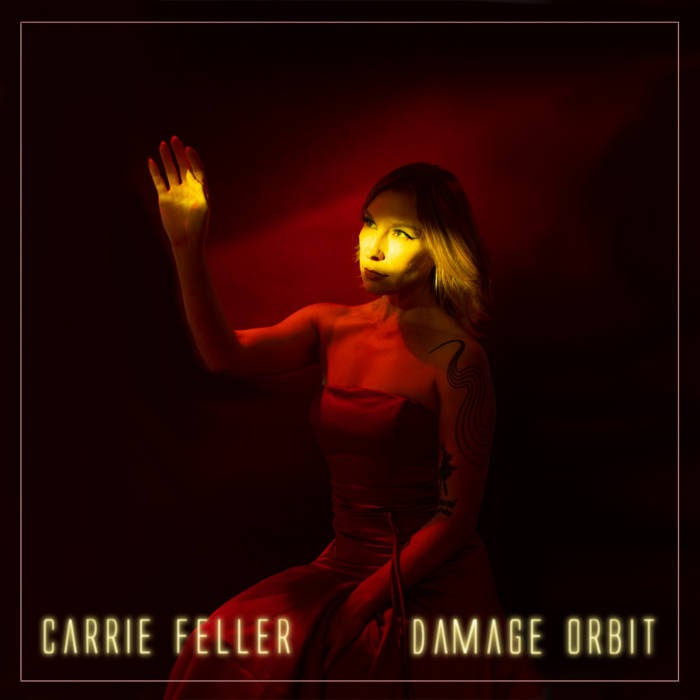 Carrie Feller - Damage Orbit
There's lots of power in returning home. In films and other narratives, the hero's return is usually when the story ends, which, unfortunately, ignores how the very fabric of their life has changed. They've grown; they're more learned. They are fundamentally a different person. Not only that, but their home is now different, too.
Music can also follow this narrative, namely, when a band returns to its roots.
The first time I saw Hexa, it was the solo project by vocalist/musician Carrie Feller. The show was at Low Gallery, a now-defunct art space in the heart of Barrio Logan. Armed with just a keyboard, synth beats and her voice, Feller unleashed a haunting and immersive performance — dread-inducing in all the right ways, much like watching a Lynch film.
Over the years, Hexa flourished into a fully-realized, dynamic four-piece that specialized in hypnotic invocations of darkwave. Before announcing their indefinite hiatus last year, Hexa solidified themselves as one of San Diego's all-time greats.
Now, Feller's back as a solo performer, and her new E.P. Damage Orbit showcases the exciting ways in which she's grown and changed as a songwriter, as well as a person.
Much like Hexa's music, these songs are unrepentantly dark, the only difference is that the darkness now comes from the inside. It's an introspective record, full of sadness, gloom and complicated emotions. There are times that almost feel like we've found a diary that we weren't supposed to.
For example, the first verse in album opener "Universal Harvester" is laced with loathing for both oneself and someone else, and it perfectly captures the stagnation that rests between desire and inadequacy:
Sick from cigarettes
Fake friends and idiots
Want to lay in bed with you
But I don't know what to do
Feel like an animal
Small and uncomfortable
Fearless and fearful
Pretend I don't know you
The instrumentation throughout is bleakly-rich, full of Giallo-esque synths, which provide a heavy foundation and allow Geller's ethereal voice to soar. Even when she turns up the tempo during Damage Orbit's title track, the bleakness still prevails. It's the soundtrack to a dance party where it's too dark to see anyone's faces.
Carrie Feller is no doubt a different person from the solo performer I saw at Low Gallery all those years ago, and Damage Orbit showcases a new willingness to be vulnerable. Despite the starkness of the record, it's not entirely a return to form, but something exciting and new. And it's difficult to read the last lines of the E.P. — "I'm ready, do see me yet? I'm ready, am I real yet?" — and imagine that anyone can really go home.
---
Got a tip or wanna say hi? Email me at ryancraigbradford@gmail.com, or follow me on Twitter @theryanbradford. And if you like what you've just read, please hit that little heart icon at the end of the post.