Who has the right to move without running? Who has the right to live without hiding?
A water drop with Border Angels is a reminder of our nation's inhumanity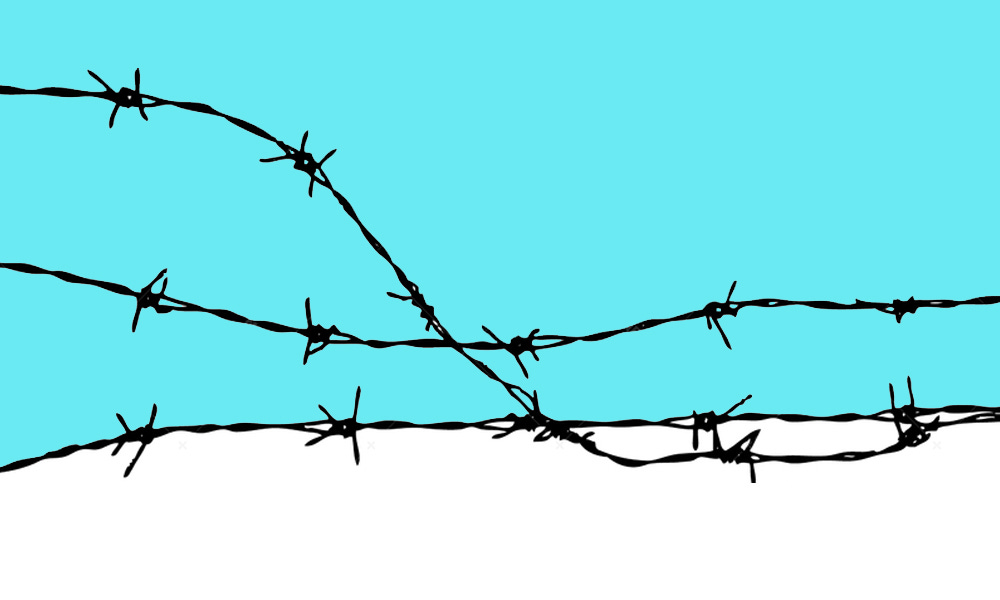 Jacqueline Arellano, a Water Drop Director with Border Angels, asks our group—about 18 of us—what the difference is between a hiker exploring the deserts of Southern California and a migrant walking the same path.
"It's skin color," she says. "Skin color and socio-economic standing."
In a few minutes, we're all going to drive out to the desert to leave water, clothes and food for migrants crossing into the United States. This drop is co-organized by Alan Lilienthal, one of the members of San Diego hip-hop group tulengua (who've donated album proceeds to Border Angels in the past) and host of KPBS's Only Here podcast.
Nobody in our group has done a water drop before, so Jacqueline not only prepares us for what we're going to do, but why we're doing it.
The very concept of the United States' border patrol, she says, is founded on racism, having stemmed from the Immigration Act of 1924, which sought to preserve America's white ethnic homogeneity. This, of course, resulted in the first southern border patrol station built in El Paso, Texas—an area that had been stolen from Mexico less than one hundred years prior.
The southern Border Patrol, Jacqueline argues, is not about national security, but about upholding our nation's imperialist, commercial and racist interests. This is why the checkpoints are often empty when the weather's nasty, Jacqueline says. "I guess we don't need protection when it's raining?"
As much as we like to blame Trump for the border crisis, Bill Clinton signed some of the strictest anti-immigration laws in history thereby throwing gasoline on the zealotry that had been percolating since Reagan. Make no mistake: The border has certainly become more militarized since 2016, but racism is largely a bipartisan ideal.
I think about what security and safety mean to me. I could probably count the times I've ever felt unsafe—like, actually physically unsafe—on my fingers and toes. This, for sure, is a privilege of being white, straight and male in the United States. It's only luck that I was born this way, and I've certainly never had to flee my home in order to feel safe.
"Every living thing has the right to move from a hostile territory to a safer one," Jacqueline says. "You wouldn't ever tell a whale that it couldn't move." Some of us chuckle. "It sounds silly, but what's the difference? Nobody would tell butterflies that they couldn't migrate. Nobody would build a wall to keep out butterflies."
"This is what I want you to think about," Jacqueline says. "Who has the right to move in our country? Who has the right to move without running? Who has the right to live without hiding?"
****
We drive east. I've volunteered to drive. The conversation in our car is pleasant and mostly centered on the best places to eat in San Diego. I have little to add to the conversation because my favorite place to eat in San Diego is a 24-hour taco shop. We see a sign for Jacumba and I say "I think a lot of sex offenders live in Jacumba." And everyone hhhmmms awkwardly. No more talking for me, I mentally declare.
We pull up to our desert rendezvous area. I've been following James Cordero, another Water Drop Director. He has a magnificent beard and drives a new Jeep that looks rugged and built for hostile environments. Despite having just met, I really want to impress him—both James and Jacqueline are so inspirational and outdoorsy and everything that I'm not.
James pulls his car off to the side of a dirt berm and our caravan stops behind him. The vast emptiness surrounds in every direction except south, where a jagged mountain range awaits. It's at once beautiful and ominous.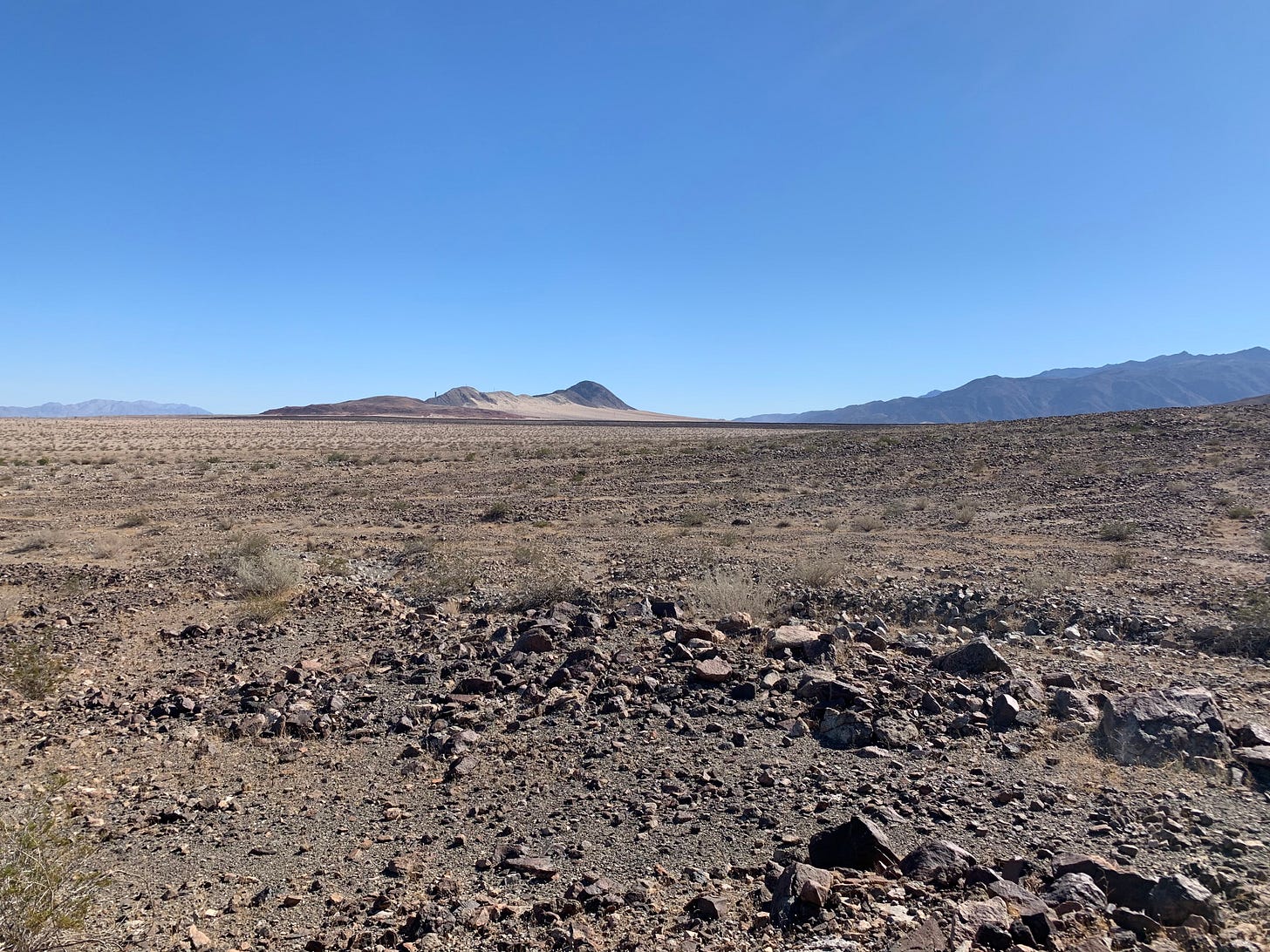 The first thing I hear when I get out of the car are not-so-distant gunshots. We are on BLM land, which allows people to come out here and do whatever, and since this is America, of course people are going to shoot guns out here. The effect is immediately chilling. Dry pops echo across the landscape. A machine gun blasts somewhere in the distance. Empty shells litter the dirt under our feet. The Southern Californa desert is one of my favorite places in the world but here it feels like a warzone.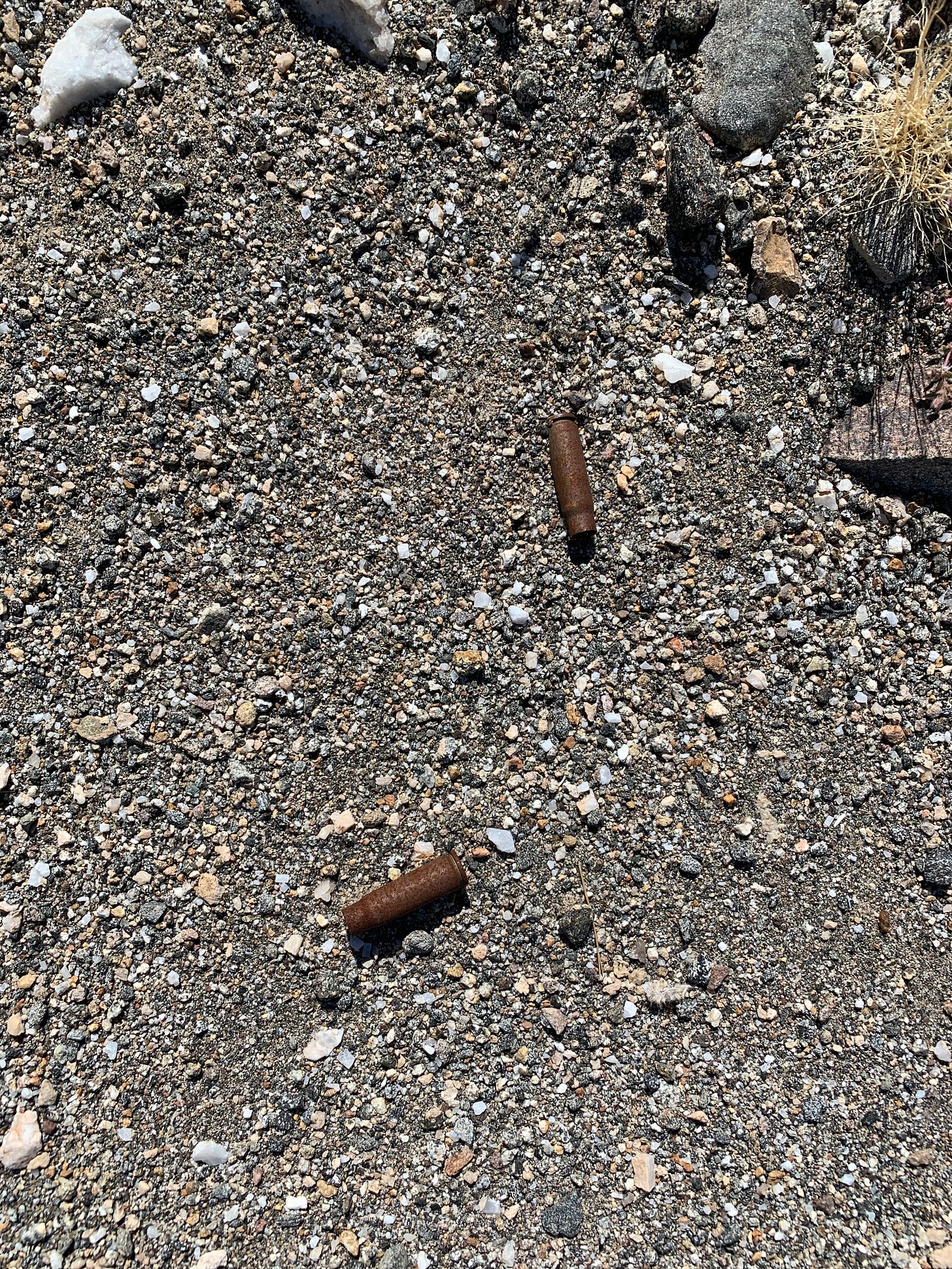 We grab our backpacks loaded with the water and supplies for the migrants. My bag has a gallon of water, a bag of warm clothes, my lunch, a liter of water for me and a gatorade. It sits bulky on my back, and it feels like I'm in fifth grade again with my clarinet case and library books shoved in. I know this isn't about fashion, but I can't help but feel that I look super dorky and also way out of my league.
Our group sets out toward the foothills. There are no hiking trails to follow—just sunbaked dirt, shrub, and car tracks. As we get closer to the mountain, dirt becomes rocks and it takes every bit of concentration to scramble from boulder to boulder. With 30 lbs of supplies on your back, it's easier said than done. It's not long before a member of our group has to go back to the car. His insufficient food and water intake has left him dehydrated and shaky. It's another reminder that even with supplies, this is a harsh and unforgiving environment.
I still love the desert, but looking at it through the eyes of someone who has to flee through it—often at night—changes the beauty. Objectively, this is a dangerous, mean place. In fact, that's why there are large portions of the border where the wall doesn't exist—the government wanted an ally to do it's dirty work, the desert is as unforgiving as it gets. (In fact, as I write this this, U-T story pops up in my Twitter feed about three migrants who die near the Golden Acorn Casino).
We enter a canyon. Jacqueline and James have been here before, and they pick up empty, discarded bottles from previous drops. The sight fills my heart. We're doing good out here. It's not like I had any doubts about what we're doing, but those empty bottles makes it real.
James reaches behind a rock and pulls up what I think is a dead dog and I feel the breath catch in my throat. It turns out to be a stuffed dog toy, a casualty of a cross border migration. Not a real dog, but the implications are just as heartbreaking. Kids shouldn't have to be making these journeys. No one should.
The canyon walls become steeper. When we can't go any farther, we make our first drop. We place five bottles in a flat patch of dirt and cover the caps with orange tape which prevents sun damage and bees from finding their way in. People write the date and messages on the bottles: "Bienvenidos." Jacqueline says that she's seen an uptick in bottles slashed and emptied by the border patrol. It strikes me that we now live in a world where someone would slash a bottle with "Bienvenidos" written on it. Cruelty abounds.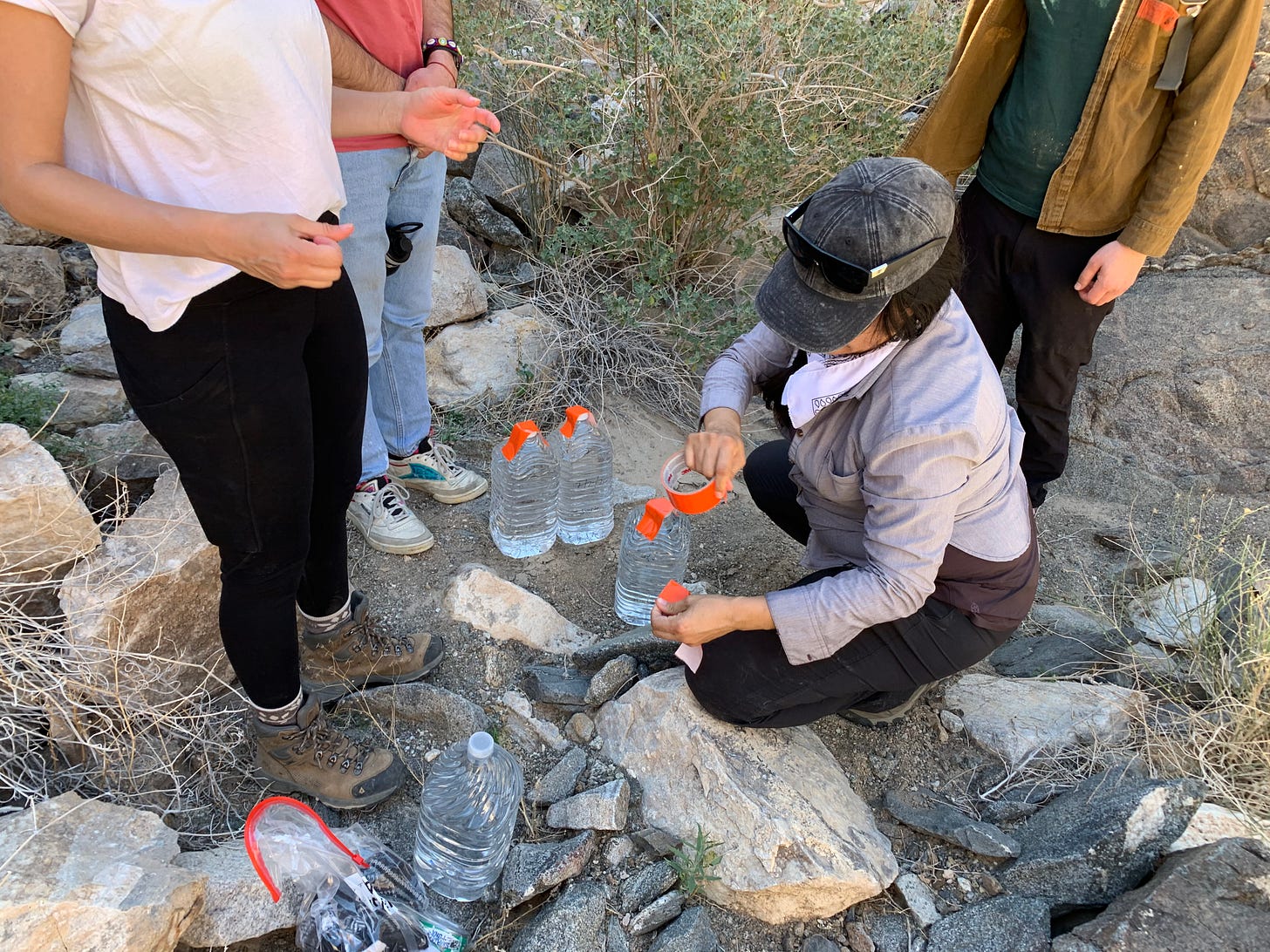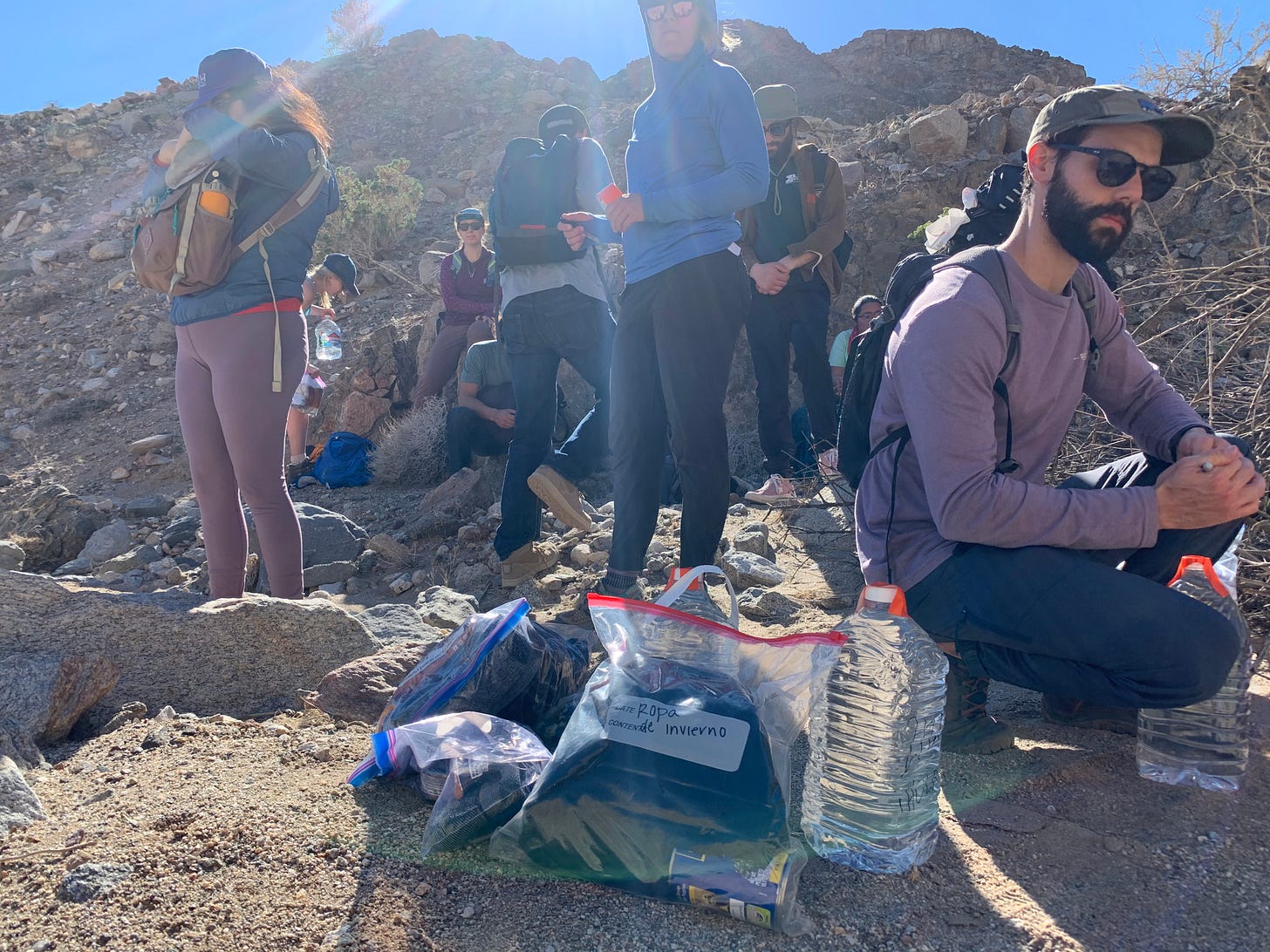 We turn and make two more drops, effectively unloading all our supplies. Jacqueline points to a fresh shoe imprint near the mouth of another canyon. It's that of a sneaker—not likely left by a hiker. Another sign of how frequently these routes are used.
As we head back to the cars, we pass by a white family of five. They have set up a tailgate-like area in which they shoot guns toward the mountain. Their brightly colored lawn chairs are straight out of a Lynchian nightmare. What if this was the first thing you saw after crossing into the U.S.? It seems simultaneously fitting and shameful.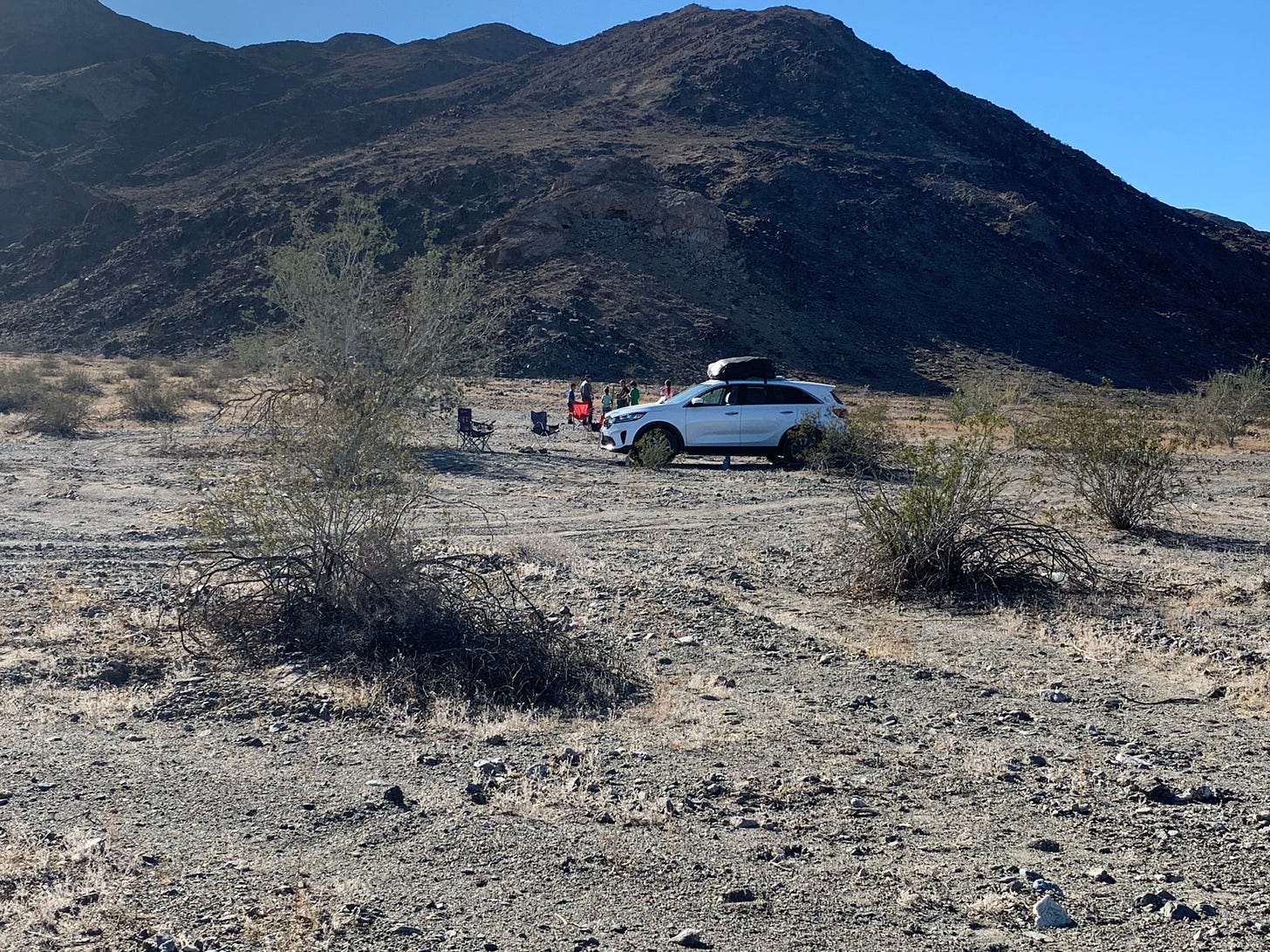 As we drive back to San Diego, everyone else falls asleep in the car. I briefly wonder what I'm going to tell the Border Patrol agents when we get to the checkpoint—should I lie and just say that we were out hiking? Or should I say that we were dropping water with Border Angels, which is very much within our American rights? Would they give us shit? Can they do anything to us?
But when we approach the checkpoint, there's nobody there. Oh yeah, Super Bowl Sunday. I guess they figured we were safe enough.
---
THE ONLY CONCERT CALENDAR THAT MATTERS™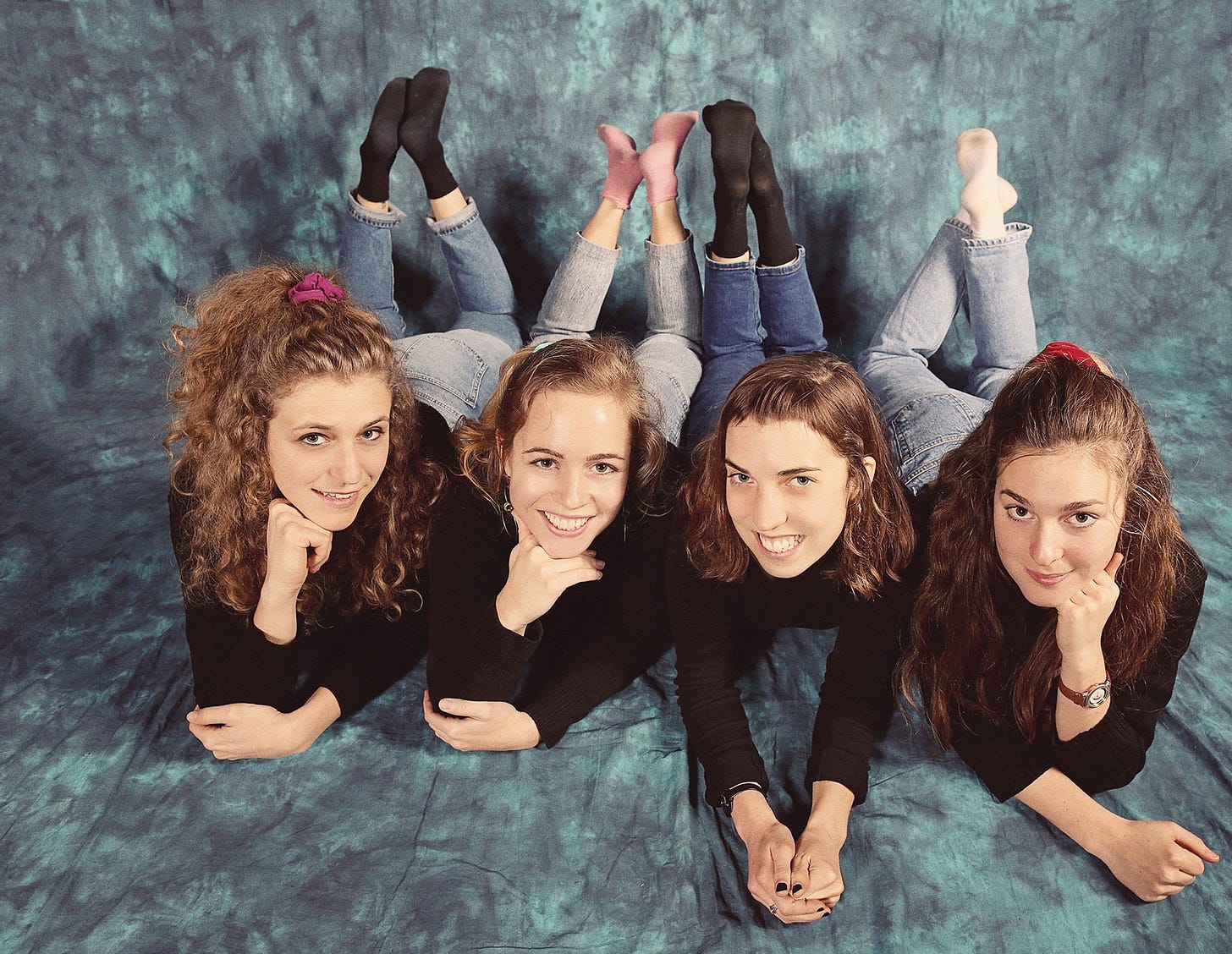 Chastity Belt
Wednesday, Feb. 12
OPTION 1: Make Yourself at Home: A night of emo, pop punk, & hardcore @ SPACE. This week started off pretty emo for me (don't worry Susan Myrland, I'm okay!!), so there are few things I want to do more than sit in a bar and listen to the nostalgic music of my youth. Can I request "I'll Catch You" by The Get-Up Kids?
OPTION 2: That 1 Guy @ The Casbah. People who make their own instruments are endlessly fascinating to me (see: Author & Punisher). That 1 Guy, the moniker of Mike Silverman, performs an eccentric array of Primus-esque nightmares on homemade pipe instruments that look like steampunk navigation tools. This video of him performing "The Moon is Disgusting" (a sentiment we've all felt) is incredibly captivating.
Thursday, Feb. 13
OPTION 1: Høurs, A Deer A Horse, Dream Burglar @ The Whistle Stop. Hey Grim, it's your cousin... MARVIN REAPER! You know that new sound you've been looking for? Well listen to this! But seriously, this show is going to be good and evil. Plus, San Diego's Høurs are back with a brand new song, and it's very dark, creepy and awesome, and guess what: I GET TO PREMIERE IT RIGHT HERE ON AWKSD. Scroll down give it a listen.
OPTION 2: Murder By Death, Saintseneca @ Belly Up Tavern. Murder By Death writes music to commit revenge to. Most of their songs have death sunbaked into them, like if Nick Cave wrote country music.
OPTION 3: Part Time, Gary Wilson & The Blind Dates, Bryson Cone @ The Casbah. I could never understand the appeal of Ariel Pink or anyone who sounds like him—which Part Time arguably does. But unlike AP, Part Time is pretty straight-forward, and their song "Night Drive" has a little bit of an M83 vibe. The real reason to see this show, however, is legendary local weirdo Gary Wilson, who every San Diegan should see at least once in their lives.
Friday, Feb. 14
OPTION 1: Chastity Belt, Total Heat, Hugh F @ The Casbah. Sad, lo-fi dream pop? Just hook it to my veins. Admittedly, I slept on Chastity Belt's self-titled 2019 album, but it's gorgeous, and reminds me of a more precarious, delicate version of Alvvays.
OPTION 2: Keepers, Sixes @ The Whistle Stop. I feel like it's been awhile since San Diego's Keepers thrashed the stage, so I'm stoked for this. Their music is like if Steve Albini played in a classic punk band like Agent Orange or The Damned—a cool mix of abrasive and catchy. OPTION 3: REO Speedwagon; Sir, Please @ Harrah's SoCal. I once read a story about Ryan Gosling meeting Drive director Nicholas Winding Refn for the first time and it didn't go well. Apparently, Refn was very standoffish due to being sick out of his mind with the flu. But being the perfect guy, Gosling offered to drive the sick director home. During the ride, REO Speedwagon's "Can't Fight This Feeling" came on the radio and suddenly Refn just started singing along, and it wasn't long before they both were belting along with the classic ballad, and then became friends. Considering how much Drive rules, I think we all owe it to REO Speedwagon for making it happen. I like this story because 1) Ryan Gosling listens to the radio! and 2) it confirms that REO Speedwagon rules.
Saturday, Feb. 15
OPTION 1: The Frights @ Spreckels Organ Pavilion (Balboa Park). This is really cool. Local tropical-punks The Frights have worked hard for their massive following, and they're now big enough now to play a free show at Spreckels Organ Pavilion. This will be the most punk thing that's happened there since Drive Like Jehu rocked the place six years ago. Game sees game.
OPTION 2: Metalachi, Geezer @ The Music Box. The name explains it all: a mariachi band tackles metal classics like "Crazy Train," "Sweet Child o' Mine," and more. When I first heard of Metalachi, I thought it was gonna be gimmicky af, but hearing the songs sifted through such a heartfelt genre reveals how emotional they can be.
Sunday, Feb. 16
OPTION 1: Alexandra Savior, Pearl Charles @ Soda Bar. If there's an heir to Lana Del Rey's throne of sultry sadness, it's Alexandra Savior. Vulnerability laces her new album The Archer, but there's also something cool and sinister hiding under all those wrought feelings.
OPTION 2: Tracy Soto, Squarecrow, Le Saboteur, Cigarette Machine @ Tower Bar. So, a few weeks ago, I saw the bassist of Le Saboteur at Chinatown bar in City Heights. Then a few days later, I saw Le Saboteur perform at The Casbah, and after the show, I went up to the bass player and was like "I saw you at Chinatown!" and he obviously was very weirded out. I realize now how much of a stalker thing that was to say. I'm sorry for being a weirdo. I really like your band.
OPTION 3: Spin Doctors @ California Center for the Arts, Escondido. Haha jk.
OPTION 4: Jason Mraz @ Spreckles Theatre. Haha jk again.
Monday, Feb. 17
OPTION 1: Devon Baldwin, Olivia Grace, WENS @ Soda Bar. Devon Baldwin's songs sound as aspirational as Sia's, but there's just enough experimental production to keep it from feeling too commercial. There are also dashes of Purity Ring and HAIM in Baldwin's music, so that's cool.
Tuesday, Feb. 18
OPTION 1: Sarah McLachlan @ San Diego Civic Theatre. Anybody who claims to have not enjoyed "Building a Mystery" is lying to themselves. The late '90s were bleak, and that was one of the few good things we had, damnit.
OPTION 2: The Spiritual Motels, The Banduvloons, Touchtone @ The Casbah. Spiritual Motels play sad, no-frills alt-country. If listening to emo bands at the beginning of this week didn't sooth your burning, sad soul, then The Spiritual Motels surely will.
---
HEAR, HEAR *EXCLUSIVE*
Sometimes I'll review albums, movies, or books in this newsletter because listen assholes I am a SERIOUS JOURNALIST lest you forget, and I am about to dose out seriousness and journalistness, and you're going to like it.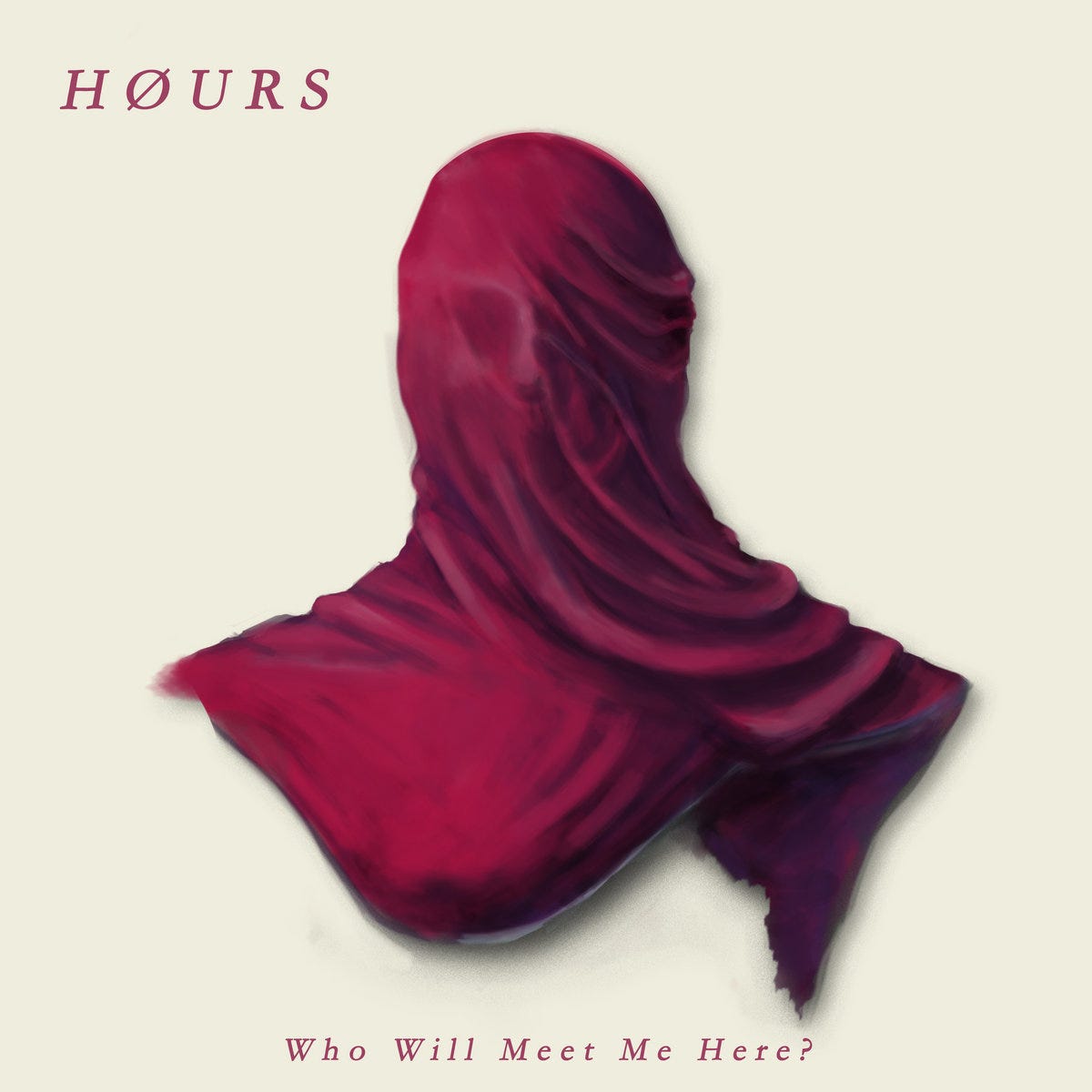 Høurs - "Small Spaces"
Høurs make the type of music that the Grim Reaper would play for its children. The San Diego doom outfit's songs are pitch-black and epic in scope, but possess a swirling, psychedelic heart that keeps them from falling into despair.
After taking a few years off, I'm stoked that Høurs are back, and I'm very honored to premiere their first single from their upcoming album, Who WIll Meet Me Here. "Small Spaces" leans into the band's evil prowess. The swaying time signature feels makes it feel like a lullaby for demons, and the quiet/heavy dynamic hits both physically in the gut and spiritually in the soul.
Give it a listen.
---
TWO MORE THINGS
Friday is Valentine's Day. Yay. I wrote about some of my more awkward VDs (heh) over at PACIFIC Magazine. Click here to read them. You should click it. Do it. Please.
I also rounded up a few out-of-the-box, unorthodox films that tackle the messy complications of love. Forget watching a romcom this Valentine's Day, watch these instead.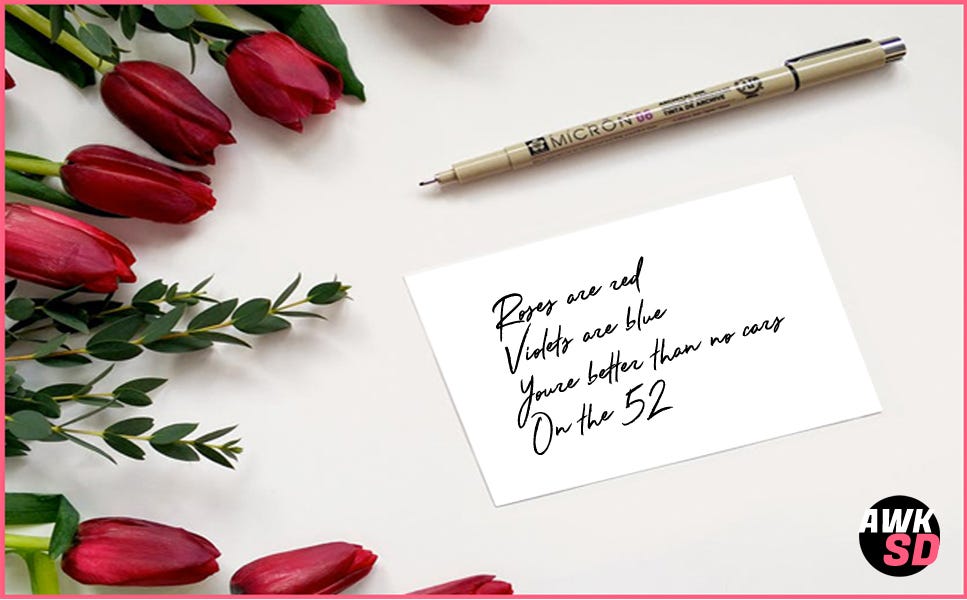 Got a tip or wanna say hi? Email me at ryancraigbradford@gmail.com, or follow me on Twitter @theryanbradford