This is a sad one, but please don't worry about me. I'm not looking for sympathy. The point of this is to just say that it's okay to not be all right all the time. And I think it's important that we can openly write or talk about not being okay right now. Sorry if this disclaimer seems presumptuous, but I've written enough online to know what will draw concern and it's stuff like this.
Also, vulnerable writing doesn't mean I won't be an ace employee pls hire me :D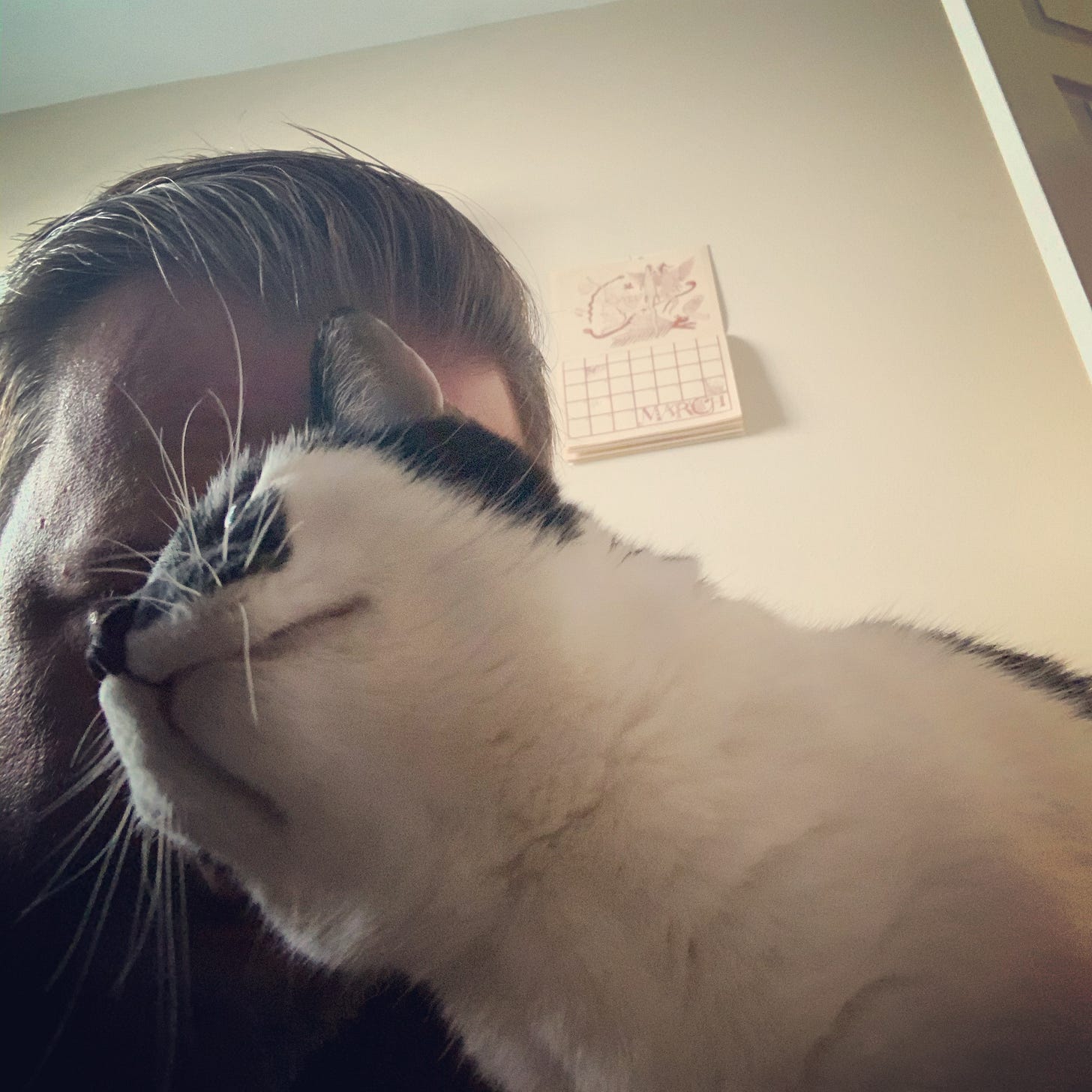 My most recent pandemic-related breakdown happens quietly when I'm in bed. The room takes on a different type of light—something simultaneously duller and brighter. I scroll through my phone to distract me from the world ending. I open Instagram, where one of my favorite authors Ben Loory has been doing live-story reading every day. Today he's reading one of his own stories about a moose, and I can't listen to him without crying. There's no controlling it. It's just a story about an anthropomorphized moose, but it reminds me so much of what it's like to live in the world and to have hope and it's beautiful and so awful at the same time.
It's a breakdown, but I don't yet know that it's a breakdown. It's far from the first time this has happened but I'm still not good at recognizing it in the moment. Right now, I'm just a smear telling myself to get it together. Get it together. Get it together. The world is not really ending. We're only staying inside for a few months. Get it together.
My cat crawls up the bed, navigating over the blanket carefully like a person high-stepping through snow. He rests his little head in the crook of my arm. A purr rattles through him and it calms me down. What a master at human empathy, this guy.
We fall asleep. When I wake up an hour later, I feel better. If you haven't had a breakdown yet, I highly recommend it. Really takes the edge off, evens things out.
"Okay, okay" I say, and we get up.
****
I always hate talking about a zombie apocalypse in a group setting because it inevitably turns to one's fundamental usefulness in dire situations. I will always get assigned a historian of some kind. "We're going to need you to document what's going on," someone will say.It's never hunter/gatherer, it's never fighter. It's never essential.
When the pandemic started, I felt strangely comfortable. I had no prospects, no sense of direction, no job to make ends meet. When people started losing theirs, it felt like the world was coming down to my level. Suddenly we were all in the same boat.
But now, weeks into it, I fear that when the world goes back to normal (if such a thing can still exist), I'll have nothing to go back to. All my talents feel nonessential. Might as well just turn into a zombie.
And then, when I'm at my lowest, my cat will come into a room and look me in the eyes and meow. He wants me to clean his litter box.
And I say all right, all right.
****
I feel for parents right now. I imagine having to take care of someone smaller than me—feeding them, entertaining them, making sure their world remains intact.
But part of me envies the fullness of a task, the purpose it creates. If I just had something to care for—a little body to keep alive, maybe this heaviness in my face, heart, and throat would go away. But probably not.
Then I feel a sharp, little paw touch my lower back. I turn around and Harvey is sitting there. He meows. I'm right here, motherfucker, he seems to say. Dinner time. Chop chop.
And I say I know, I know.
****
It's impossible to get anyone on the phone to discuss my unemployment benefits, or more specifically, the lack thereof. I listen to automated option after option, the voices at the other end are now my friends. I've stopped feeling anger when the system hangs up on me when I've reached the end of my options. "Okay bye!" Click. I'll try back later, if nothing else but to hear a familiar voice.
I fill out an online application to deliver pizzas for Domino's. When it asks me for references, I wonder whose names to fill in. I know my friends would be unequivocally supportive, but still, my mind plays out unflattering scenarios and digs up internalized insecurities. I imagine friends on Zoom calls, saying things like "Did you hear about Bradford?"—a statement that conveys both pity and bewilderment at the state of the world.
My cat jumps on my desk and sits right in front of the computer screen. He says meow. I don't move him, but rather slide the browser window to the edge of the screen where I can see it. I hit the "submit" button on the application. My cat then climbs up on my chest and puts his forehead against mine. This purr is so loud. I know he just wants treats, but it feels like support or love or telling me it's going to be okay.
"All right," I say.
All right.
---
HERE ARE SOME RUBIK'S CUBE RELATED VIDEOS I MADE
A few weeks back, I said that I'd hold an online lesson on how to complete a Rubik's cube, but then I forgot and nobody brought it up, so I got the hint!
But here are some Rubik's cube videos that you may like.
---
THE ONLY CORONA ACTIVITY CALENDAR THAT MATTERS™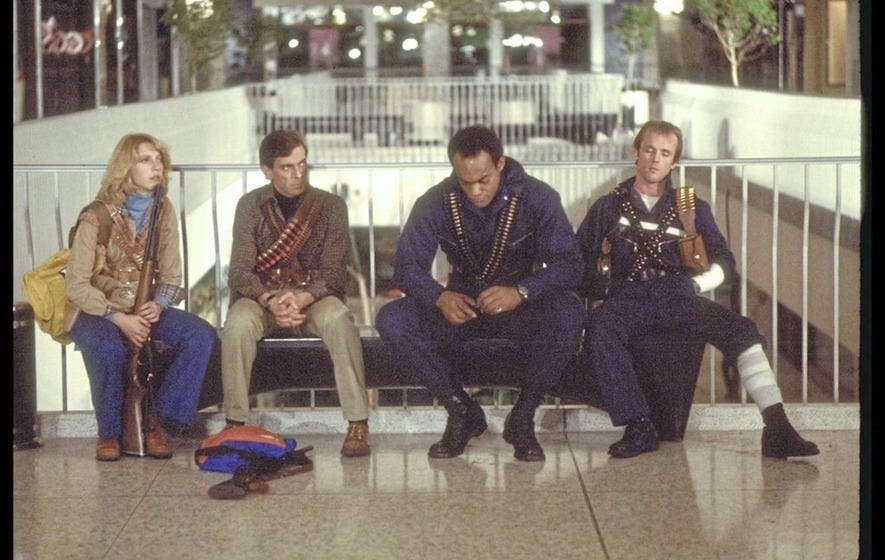 Wednesday, April 8
Reflection time: Ahh the satisfaction of making it to another hump day. Yes, this is now the middle of the week. Take pleasure in the fact that you're still here. Stick your head out of the window and take a deep breath. Remember that there is fresh air still outside. These are all good things.
Okay, now that that's out of the way, let's stew on something petty. As for me, I'm going to think about fifth grade when a kid named Chad Carrol told me he could get me any CD for a dollar. I gave him $5 and a list of CDs I wanted (I can't remember everything I wanted, but I know Tom Petty's Wildflowers was on the list). Surprisingly (!), Chad was full of shit, and I never got my CDs. Wherever you are, Chad, fuck you.
Thursday, April 9
Music time: In case you couldn't tell by my depressing af newsletter, things aren't super great right now! I know that's hardly a unique perspective. If you're still having a good time taking mask selfies and getting lots of work done, then I'm happy for you.
For the rest of us, we may need a little kick in the ole positivity gland. That's partly why I've increasingly turned to Neutral Shirt's latest album, Daisyworld. It's earnest, lo-fi psych rock with a noted edge, like if Mac Demarco gave a hug to blue album-era Weezer. Listening to it is like a warm, hazy bath, and just what I need when the days feel extra hard. Listen to the track below, but make sure you buy it from their Bandcamp.
Friday, April 10
Movie time: I know I recommended a George Romero film a few weeks ago (The Crazies), but I think his 1978 masterpiece Dawn of the Dead should be required pandemic viewing. If you aren't familiar with the plot, it's about a small group of people who barricade in a mall during the zombie apocalypse.
Watching it now, I'm struck by how progressive it is i.e. George Romero was hating capitalism before you were probably even born. It's also a damning indictment of toxic masculinity, as well as an unblinking condemnation of police racism and brutality. Probably not a great movie if you're not into gore, but there really is no zombie movie better than this.
Saturday, April 11
Photoshop time: I'll offer newsletter fame to the person who does the funniest photoshop with this photo Ben Affleck staring out into the great beyond. Send it to me by noon on Tuesday, April 14th to qualify: ryancraigbradford@gmail.com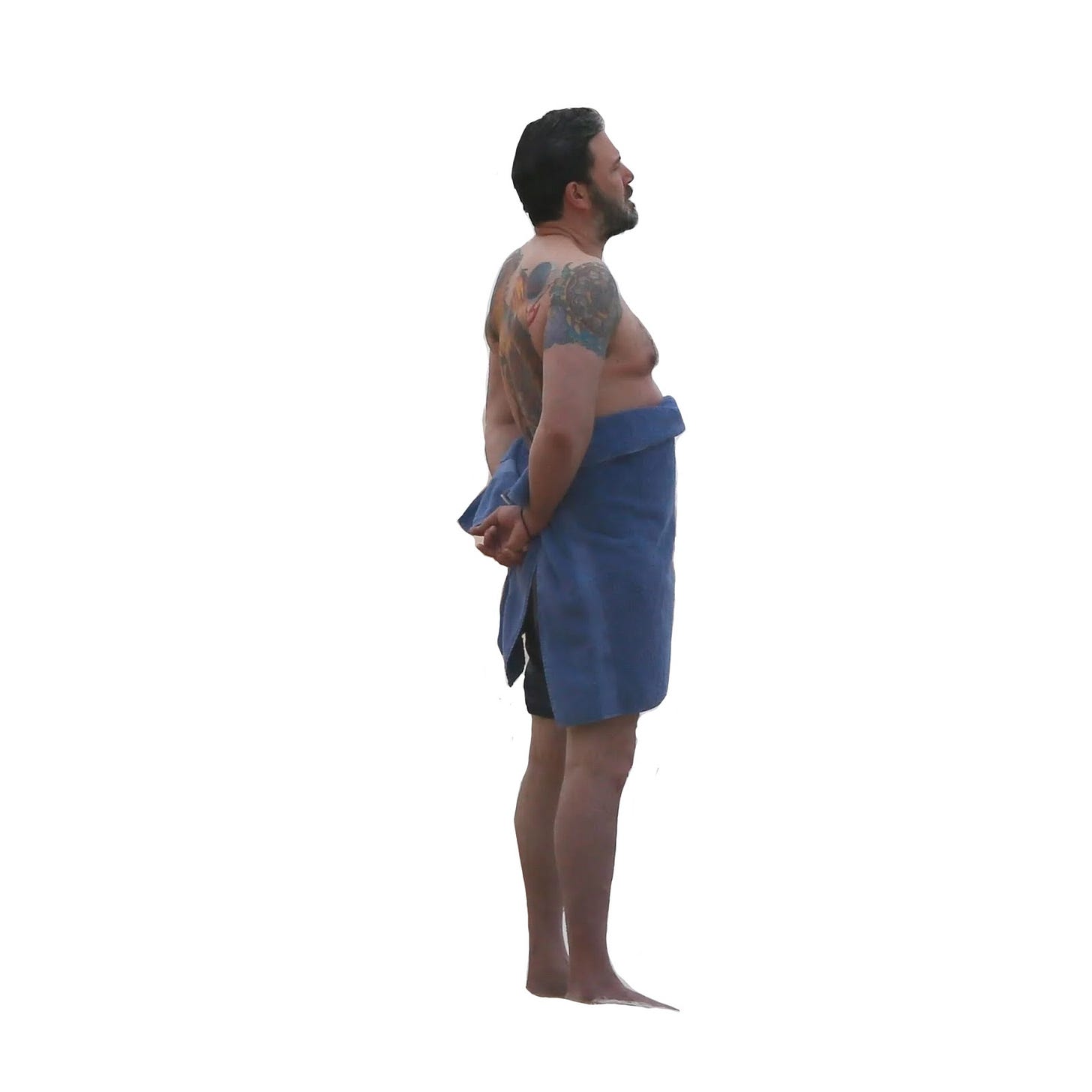 Sunday, April 12
It's Easter, bitches. What do people do on Easter normally? I can't remember. Brunch? Do that. Make yourself a brunch. Zoom with your pals. Drink a mimosa. Hide an egg from yourself and then look for it later.
There's one bright spot in all this: at least you don't have to look at all the creepy "He is risen" crosses in Coronado on your way to the beach.
Monday, April 13
Quiz time: A reader emailed me last week and said they were disappointed that my 1994-themed quiz didn't have any questions about LA's Northridge earthquake, and then San Diego experienced a little tremor on Friday, so I decided to make this week's quiz about earthquakes. It's actually kind of hard! Click here to take the quiz.
Tuesday April 14
Writing time: Write about the first time you did something illegal. How old were you? Why did you do it? Did you get caught? Hell yeah, crime. Send it to iamnotacop @ hotmail dot biz. Jk, send it to ryancraigbradford@gmail.com
In all seriousness, if you missed Sam DiSalvo's beautiful essay "You're in Reno both times the world ends" from last Sunday—inspired by a previous writing prompt—I highly recommend going back and reading it. It choked me up.
---
CONTEST RESULTS
I'm sorry to report that there were no winners for last week's 1994-themed quiz because no one picked The Mask as the movie that should've won Best Picture in 1994. I'm not mad, just disappointed.
Last week, I asked you to have some photoshop fun with a pic of a cat's peeking eyes, and you guys sent in some beauties. Let's take a look.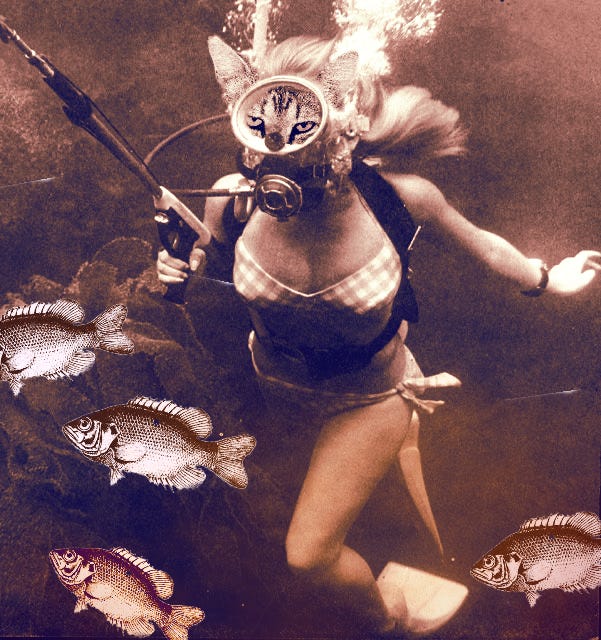 Stunning work by Sara Morrison.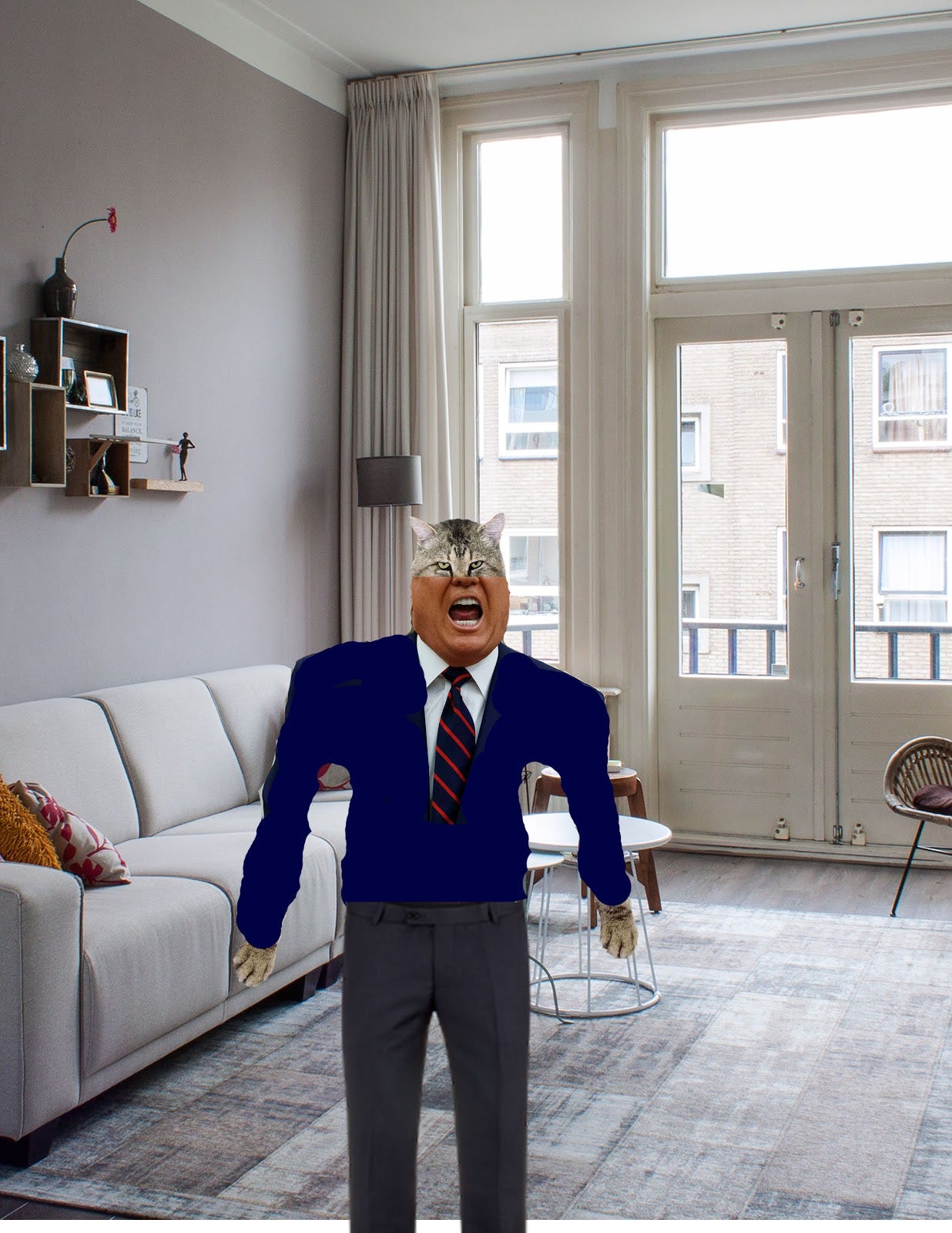 Sara's son Thomas made this terrifying Trump cat—his second ever photoshop! The kid's already a natural.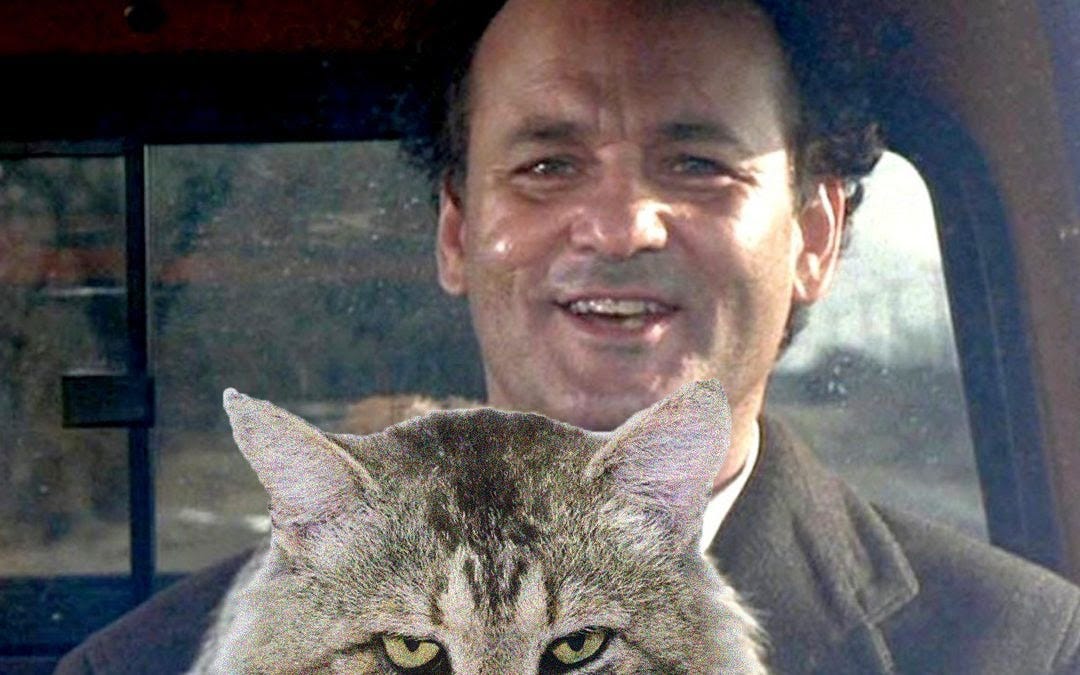 Carrie Ann Hudson created a perfect encapsulation of how all our days are feeling right now.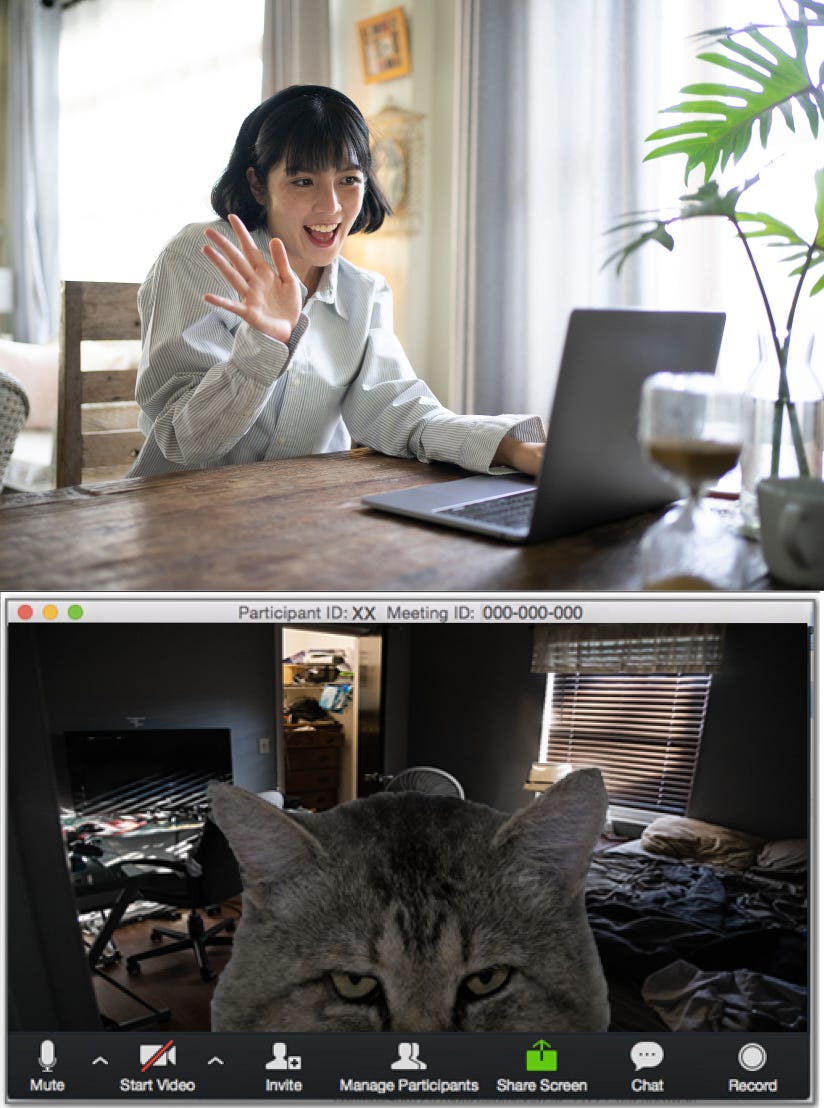 Adriana Heldiz also tapped into the zeitgeist. I can't tell if this situation would be a horror film or my absolute favorite Zoom experience.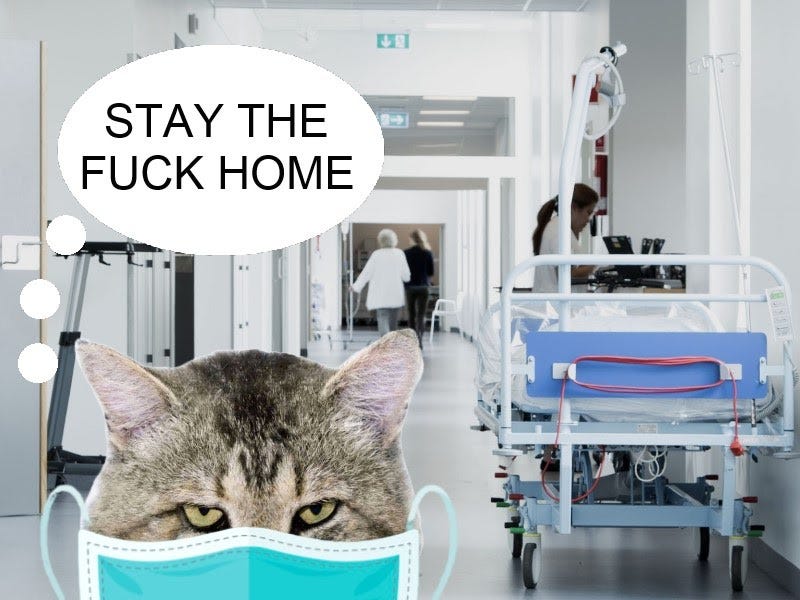 I'm not sure if Carolyn Osorio has cats or not, but I can't stop thinking about making little corona masks for mine after seeing this. Cuteness can still exist during the apocalypse!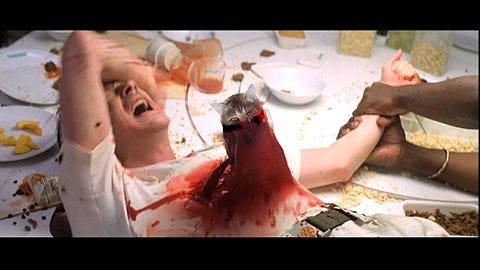 Alien is a perfect film. I had previously thought that there was no way one could improve upon it, but Jay Buys did.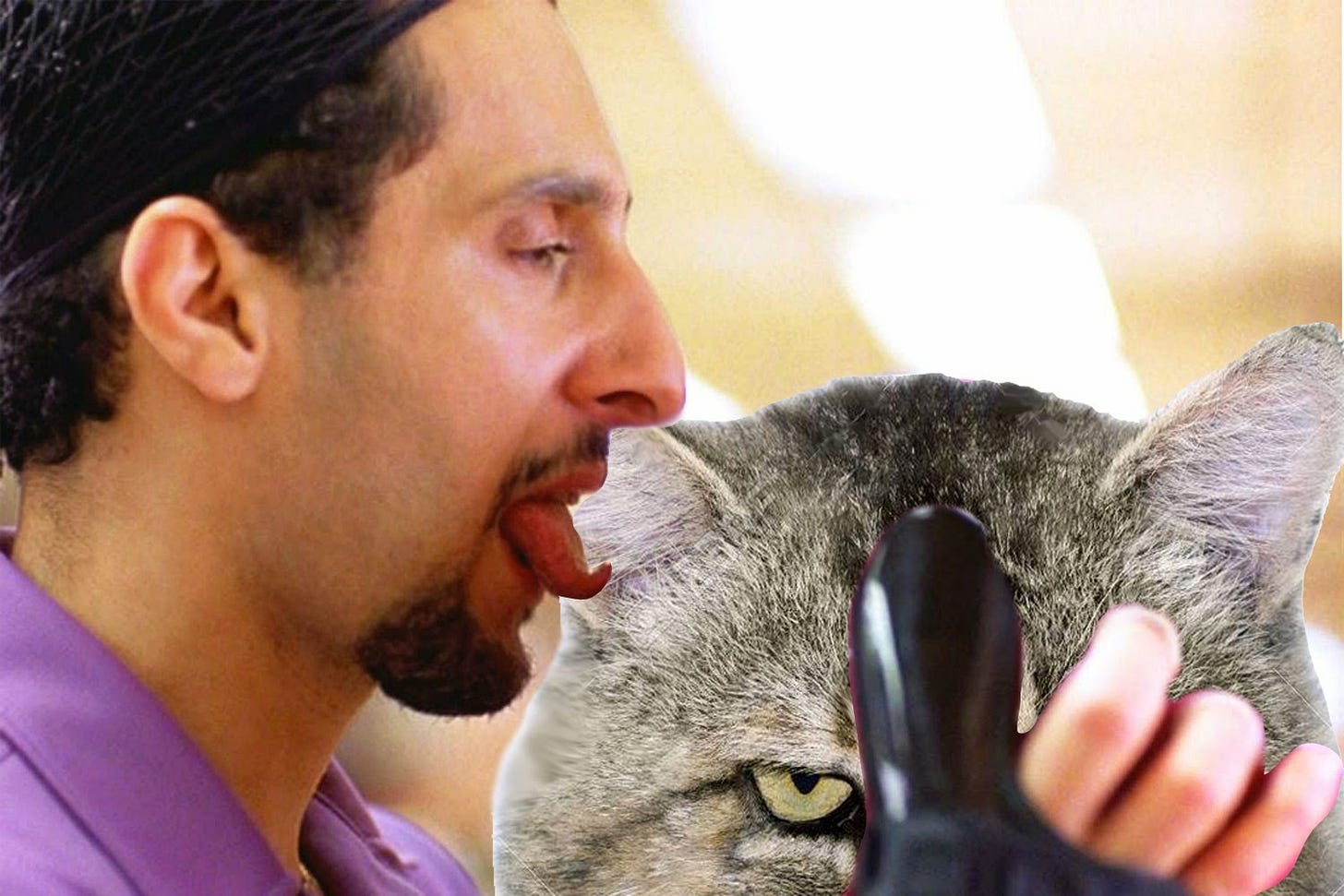 Finally, here's the one I cooked up. Jesus from The Big Lebowski. I even upset myself with this one. Sorry.