We are living in a hell of corporate campaigns
Is it worth selling your soul for a free chili dog at Wienerschnitzel?
Thank you for reading AwkwardSD. This is a free newsletter—and will always be—but please consider subscribing. Also, my birthday is next Monday. Just wanted you to know. Oh look, a subscribe button…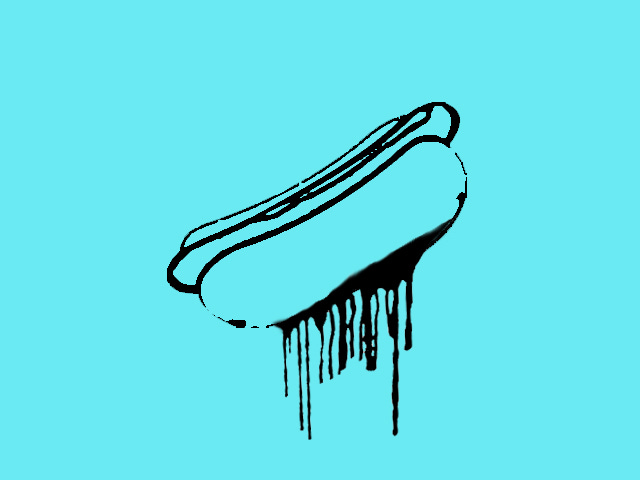 I'm finished trying to figure out the universe. I've lost the mental wherewithal to think about fate or free will. I no longer know what's real or not. Just put an astrology chart or a grainy photo of a UFO or the bible in front of me and I'll shrug and say, "yup, sure, whatever."
Because, Dear Readers, in what universe besides the most chaotic one would it seem normal to receive an email from Wienerschnitzel?
"CELEBRATE NATIONAL WIENERSCHNITZEL DAY WITH AMERICA'S FAVORITE CHILI DOG"
I read the email subject line and feel my sanity immediately slip in the same way as characters in Lovecraft books when they see unnamable, sublime horrors. It's not so much terror I feel, however, but the aforementioned untetheredness that one experiences when the void finally stares back.
Perhaps I'm overly sensitive. Afterall, we live in a world where brands interact with each other on Twitter, and we applaud when they gain enough self-awareness to deliver spicy burns. Stan culture relegates us to picking sides in these little fast food skirmishes—a wet dream for every social media manager (probably named Nate/probably makes more money than me/probably not old enough to remember Batman the Animated Series). We now love brands like we love TV characters. It's sad that I could probably recognize corporate "personalities" based on their twitter voices.
And no, I'm not as familiar with Wienerschnitzel as some of the other brands, but just the mere fact that someone had to send this email on behalf of the company is mind-blowing. That is, someone had to type up a press release for National Wienerschnitzel Day, proofread it, fill the "To" fieldwithunwilling recipients, think yes this is a good decision I'm happy with my life, hit send.
The press release goes on:
Wienerschnitzel, the world's largest hot dog chain, is celebrating "National Wienerschnitzel Day" on September 9 by offering guests a free Original Chili Dog with any purchase. The team at Wienerschnitzel is well aware that this national food holiday isn't referring to their legendary chili dogs, but they couldn't miss out on the chance to have some fun with their fans.
"Have some fun with their fans," seems more of a threat than a promise. I look further down the email and find the signature: Julian Paolino, Media Relations to Wienerschnitzel.
Julian, I think. You're in hell. It's not your fault. But you are in hell.
I respond:
Wow, this sounds like a lot of fun, Julian! Definitely gonna try to hit up a Schnitz (do you ever call it that?) on Monday. Can you briefly describe what to expect?
I've never been to a Wienerschnitzel, and generally steer clear of hot dogs. Not because I don't love them (fact: hot dogs, in most cases, are better than burgers), but I don't like condiments and the shame of ordering a plain hot dog is a hurtful reminder that my palate has yet to go through puberty. Chili dogs, however, are a different story. Something about slopping the world's most aesthetically displeasing food on top of the world's most morally displeasing food seems very punk to me.
Julian responds:
We hope you can make it! If shortening Wienerschnitzel, we tend to opt for the first part of the word instead [winky emoji]

The Delicious One (Schnitzel's mascot) will be making some appearances, so I hope you get lucky. Remember to use the mobile coupon in-store, and let me know if you have any questions after your visit!
Oh no. The playful banter, the winky face. This is certainly a cry for help. Is The Delicious One watching over you right now ike some eldritch god? Wink once for yes, twice for no.
With shaking fingers, I type back:
Is...is he a big hot dog?
Julian's response chills me.
Yes, here he is in all his glory!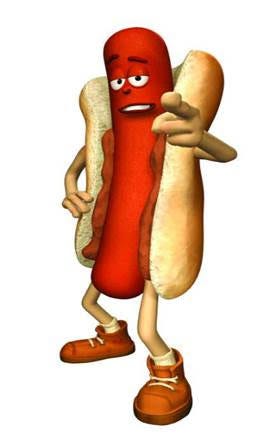 I don't know how you feel about nightmares, but me? Not a fan. Look at those dead eyes, the drunken swagger, his pointing finger. I'm certain this is the exact way every man appears to women at last call: terrifying and overly confident in their substance.
I picture poor Julian attaching low-res hot dog jpgs to emails, and feel twisted with guilt. It's our fault that people like Julian has to do the job he does. He could be out living life, anything besides convincing me to eat $2.25 worth of meatstuff molded into the shape of a hot dog
I hit up the Wienerschnitzel at 45th and El Cajon Blvd, which practically shares a parking lot with Hoover High School. I've driven past this location many times, and have always wondered whether its placement is a social experiment titled something along the lines of "how fast can we break our employees."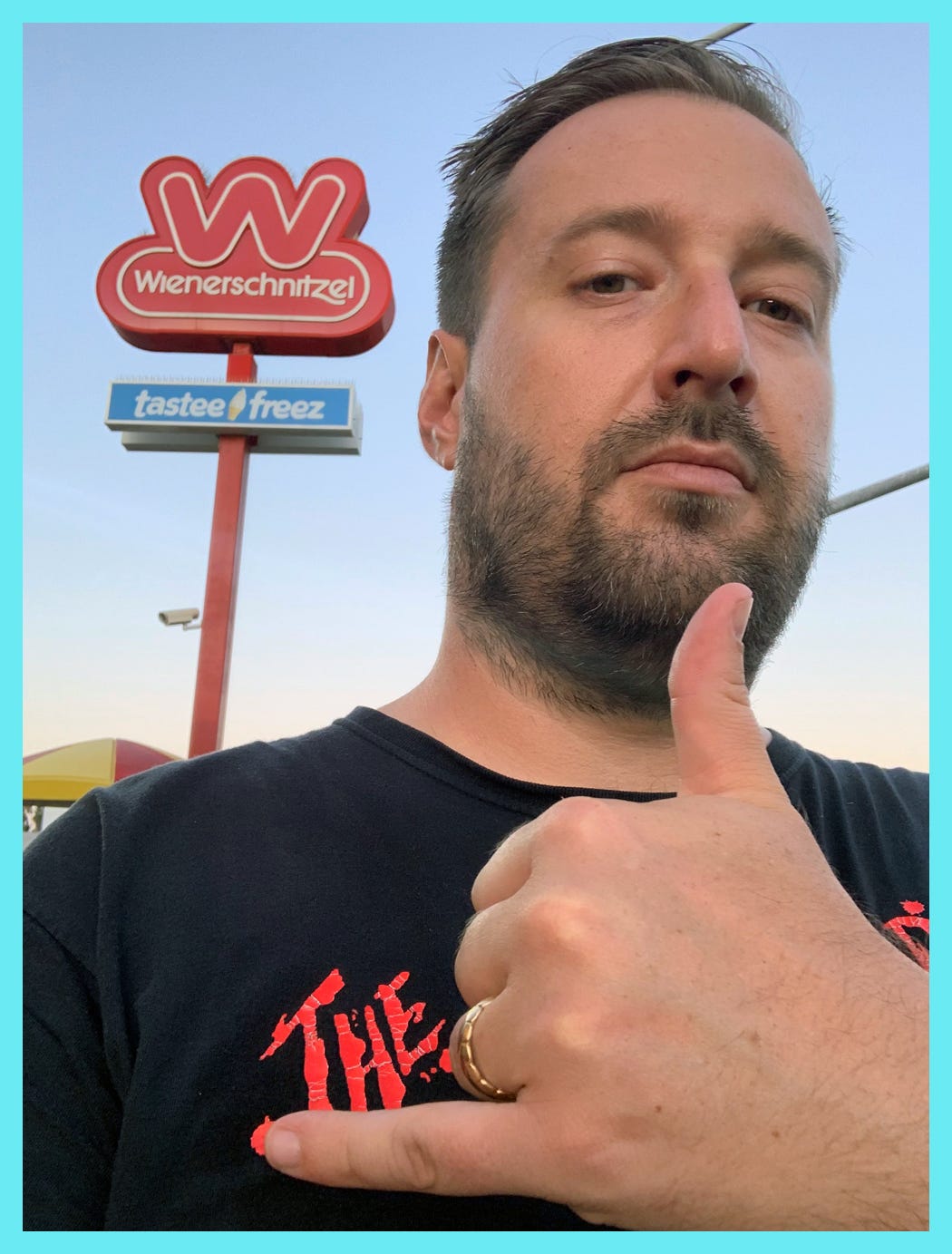 The moment I set foot in the Wienerschnitzel parking lot, my despair-o-meter kicks in, an internal gauge that measures the my despair present at any given moment.
There's no indoor seating at this Wienerschnitzel, which is made to resemble a Germanic yurt or something—which is normal, but still an upsetting contrast against San Diego's palm trees and a pastel sunset. However, smooth jazz plays through unseen speakers in the outdoor eating area, which adds a touch of je ne sais quois romance? to the excursion. Despair level: lower than I thought it'd be!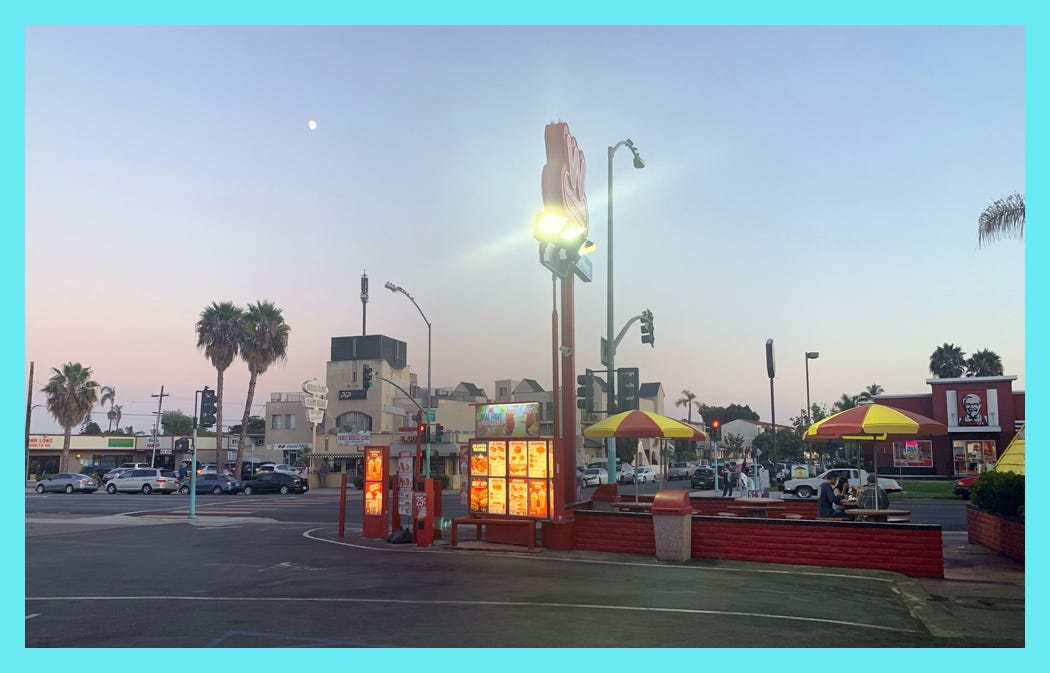 The coupon advertises a free chili dog with the purchase of any other item. For some reason, I buy another chili dog. I show the man my coupon, and he doesn't seem to know or care that today's National Wienerschnitzel Day, but he shrugs and knocks $2.25 off my total. This whole interaction makes me slightly optimistic about the human race, because matter how asinine a corporate campaign is, it's only as good as the workers willing to implement it. Despair level: normal.
I sit down with my sack of chili dogs. There's a family sitting at the table next to me enjoying a nice, quiet meal amidst the twilight. It's all very serene, and makes me happy. Despair level: low.
I unwrap the chili dogs. Despair level: Skyrockets.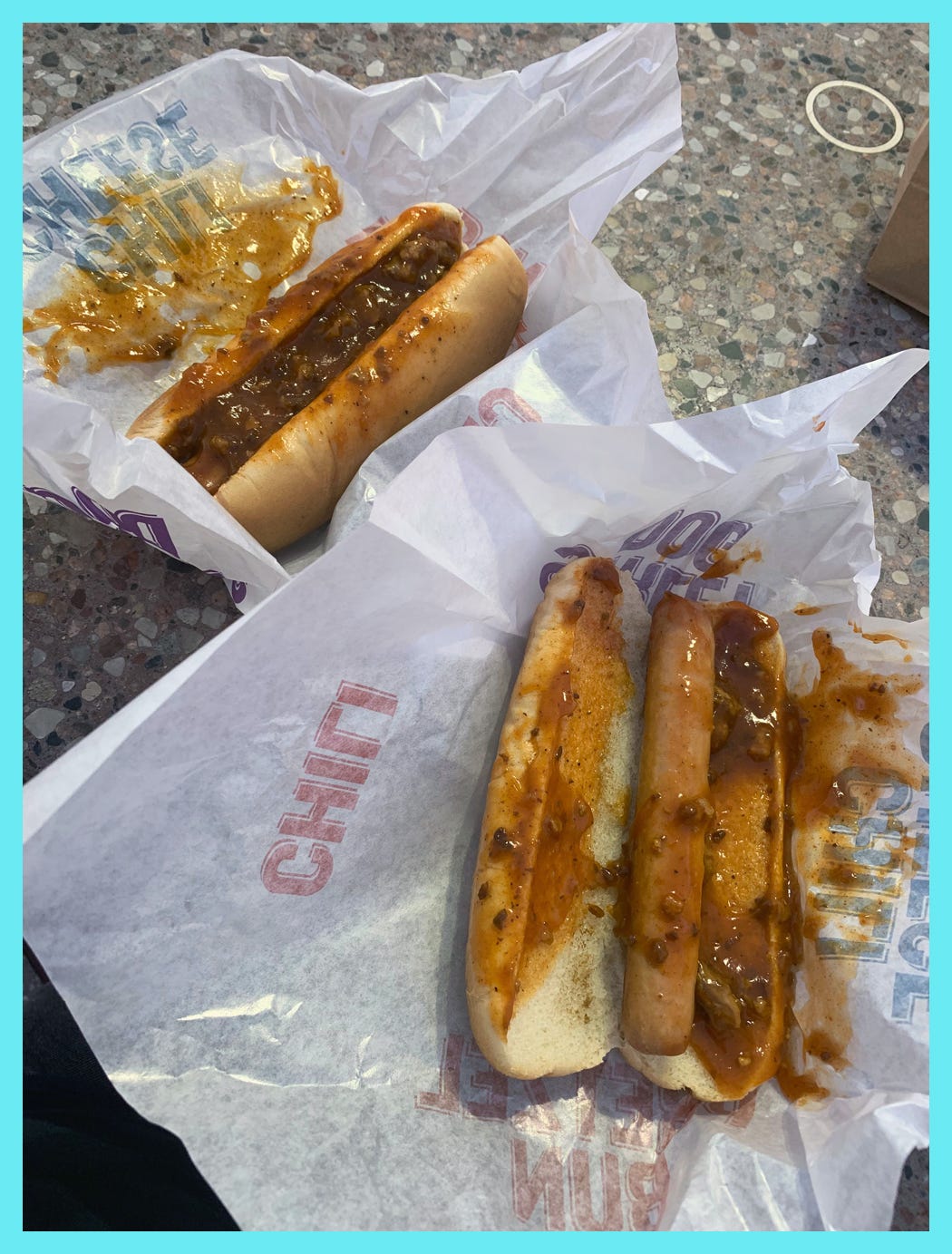 I eat a lot of gross things, but these are the most horrific things that I've ever considered putting in my body. The chili dogs look like wounds. They require a NSFW tag. What am I doing with my life? Julian, what hast thou wrought? Why did I buy two? Despair levels: Werner Herzog levels. Everything is pointless. Chaos reigns.
Who wants to live forever, anyway? I think. I take a bite. Surprisingly, it's not bad. The chili is a little sweet, but it contrasts well with the gray-yellow meat it covers. The flavor is audacious in a so-crazy-it-just-might-work kind of way. I have to give props to the courage it takes to sell this product. Despair level: slightly less.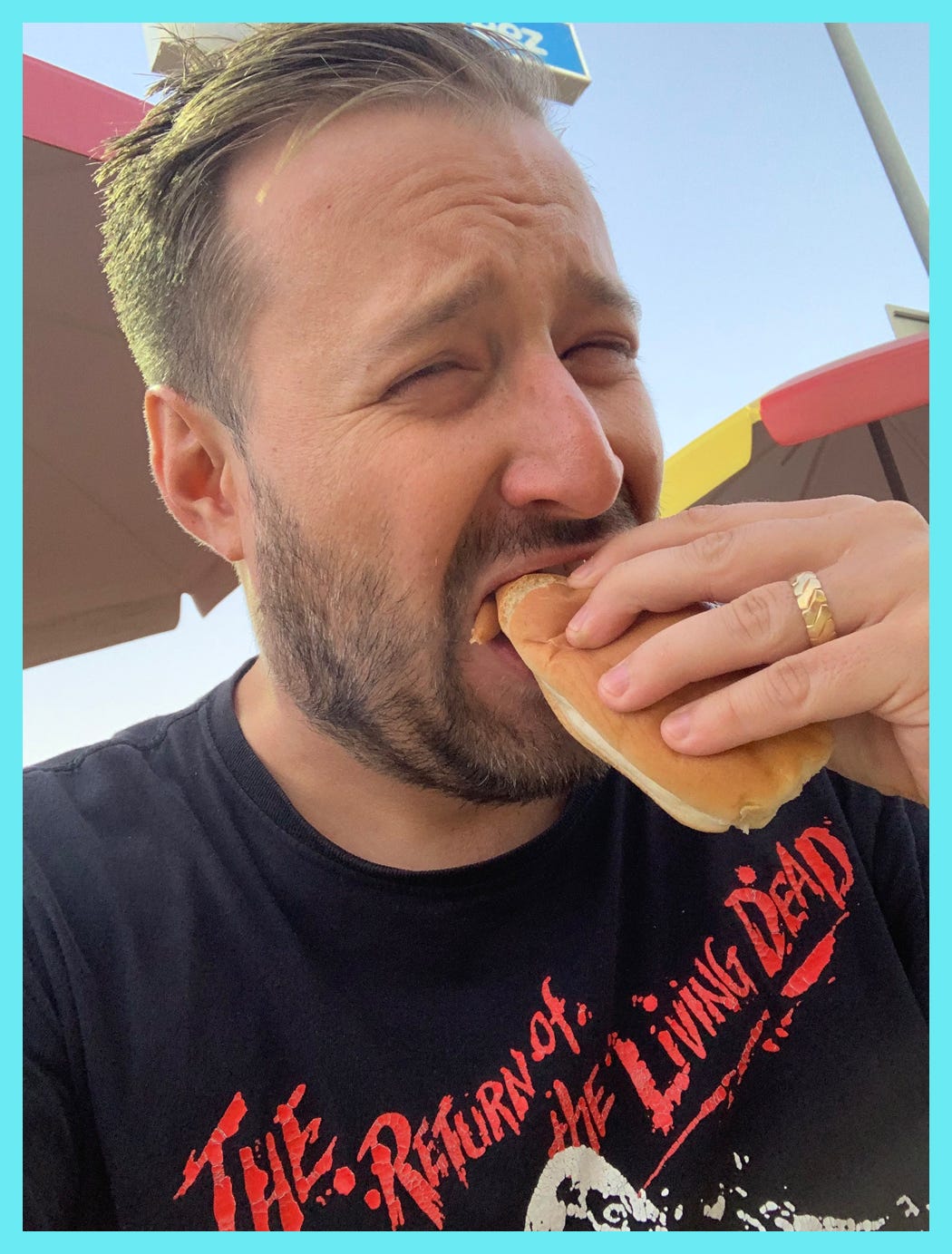 Three bites in and the novelty has worn off. Stomach, taste buds, and general sense of self-worth are starting to catch on, as if they realize I'm playing a practical joke on my own body. That's how they get you, I think—a phrase to which I often refer when the world seems unusually cruel, unwieldy and chaotic. I finish the chili dog, nonetheless. I eat the second one, too. Despair level: Numbed acceptance of life's futility.
I leave the Wienerschnitzel with a feeling that's the opposite of accomplishment. I've done something, and it's changed me, but not for the better. I've certainly gotten got, but it's not Julian's fault. Like me, he's just participating in one of the insaties of modern life that have become normalized through corporate playfulness—in this case, a capital-e Event.
The next day, I email Julian and ask what it's like doing Wienerschnitzel's PR. He responds:
Working PR for Wienerschnitzel is a blast. The stories truly do write themselves. They're always doing something clever like their 58 cent hotdog campaign for their 58th anniversary in July. Or even better, sometimes they do really awesome things like provide funds and labor to a non-profit building backyard playgrounds for kids with cancer (story here). We're actually doing 3 builds next weekend on September 19, 20, and 21 in LA and you're welcome to come and cover it, but I imagine that's a bit of a drive for you.

They also have a really fun marketing and advertising team we get to collab with on the regular. Have you seen their ad campaign for the World's Most Wanted Wiener?
I have yet to watch the video for World's Most Wanted Wiener because the universe is already chaotic enough.
---
THE ONLY CONCERT CALENDAR THAT MATTERS™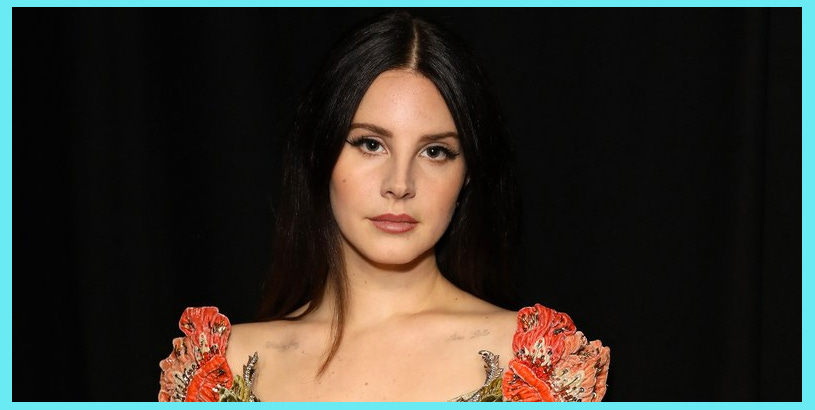 Lana Del Rey
Wednesday, Oct. 9
OPTION 1: Cass McCombs, Farmer Dave Scher @ The Music Box. Cass McCombs' psych/punk/folk/Americana is timeless. It sounds like it could've been made at any point in rock history, yet it feels strikingly contemporary. In the grand scheme of things, it'll probably outlast the cockroaches and sharks.
OPTION 2: Dropkick Murphys, Clutch, Hatebreed, and Russ Rankin @ Petco Park. Even though I assume that Dropkick Murphys' fanbase is largely made up of cops and racists, I still love their first two records. And they've always been vocal proponents of the unions, which is rad.
OPTION 3: Stone Temple Pilots, Rival Sons @ Cal Coast Credit Union Open Air Theatre. Who among us hasn't put a bullhorn to our lips and shouted "I AMMMM... SMELLING LIKE A ROSE ON MY BIRTHDAY DEATHBED"? I know it won't be the same without Scott Weiland (RIP), but that kind of lyrical genius transcends this mortal coil.
Thursday, Oct. 10
OPTION 1: Swervedriver, Milly, DJ Ian Utero @ The Casbah. I love a band that can be simultaneously loud and pretty, and the vastly influential Swervedriver have been churning out that exact dose of noisy beauty since the '80s.
OPTION 2: Nebula Drag, Drug Hunt, Call of the Wild @ Soda Bar This is the release show of San Diego's Nebula Drag's new album, Blud, which is a heavy mix of metal and stoner rock. Every week needs a show that'll require some aspirin afterwards, and this is that show.
OPTION 3: Live, Our Lady Peace @ North Island Credit Union Amphitheatre. I think it'd be worth it just to see if Live singer Ed Kowalczyk still has his rattail. Wait, maybe I don't want to know. Best not to ruin the magic.
Friday, Oct. 11
OPTION 1: Lana Del Rey @ Cal Coast Credit Union Open Air Theatre. Did you see that Lana Del Rey's newest album Norman Fucking Rockwell ranked, like, nineteenth on Pitchfork's 200 best albums of the decade? That shit's only a few weeks old. While I don't know if it's that good, I've always loved her music, even if all her bad-girl idolization is now tainted due to the fact that she's dating a cop. She contains multitudes!
OPTION 2: Schitzophonics, Loons, Deke Dickerson & the Whippersnappers @ The Casbah. Some people really like seeing people on stage jumping around. If that's you, this show is for you.
Saturday, Oct. 12
OPTION 1: Patton Oswalt @ California Center for the Arts (Escondido). Not a concert, but, hey, sometimes I'll put comedy in here. Patton Oswalt is not only consistently funny, but he's built an entire career on punching up. I pray every day that he'll never be exposed as a creep, like most male comedians.
OPTION 2: Death Cab for Karaoke @ Soda Bar. If you're like me, you probably spent a lot of time in high school singing along to sad emo songs in your parents' basement. Well, now you can be that singer, ferrealz. Sing songs by blink 182, Jimmy Eat World, My Chemical Romance with a live band backing you. Dredge up all those devastating memories and let that mascara run.
OPTION 3: Chromeo (Horizon Beer & Music Festival 2019) @ Embarcadero Marina Park North. I always felt bad that LMFAO got massively famous and Chromeo didn't.
Sunday, Oct. 13
OPTION 1: The Backseat Lovers, Foxtide @ Che Café. The Backseat Lovers are a very pleasant indie band from Salt Lake City, and since that's where I'm from, I'm legally obligated to recommend every SLC band that rolls through town. Fun fact: they have a song called "Kilby Girl" which is cool because Kilby Court is a great all-ages venue in Salt Lake City and— hey, where are you going, this is a good story.
OPTION 2: Morcheeba @ Belly Up Tavern. Remember trip-hop? Is Morcheeba trip-hop? Whatever they are, it's good, and based on the number people who were stoked about the Massive Attack show a few weeks ago, maybe trip-hop is making a comeback? I hope so, because it's way better than most musical genres from the '90s (except ska).
Monday, Oct. 14
ONLY OPTION: Making Headlines: How to Write Powerful, Accurate Headlines @ San Diego Central Public Library (6 p.m.). Not even going to recommend a show tonight because I'll be speaking on a Society of Professional Journalists panel about headlines and shit cuz I write good. It's going to be moderated by the very great journalist and my former CityBeat colleague Kelly Davis. Oh, tonight's also my birthday! Come party. (PS: a great gift would be for you to subscribe to this newsletter if you haven't).
Tuesday, Oct. 15
OPTION 1: The Obsessives @ Che Café. Indie pop with a touch of Pinkerton-style emo. I dig it, but I also dig bands where the singer sounds like they're constantly about to cry, which I know is not everyone's cup of tear-filled tea.
OPTION 2: Godsmack, Halestorm @ Cal Coast Credit Union Open Air Theatre. I feel that Godsmack got too big too fast, and we never really had the chance to settle down and think of how funny the name "Godsmack" is.
---
Hear, Hear
Sometimes I'll review albums, movies, or books in this newsletter because somebody's gotta have an opinion. Listen assholes I am a SERIOUS JOURNALIST lest you forget, and I am about to dose out seriousness and journalistness and there's no gross food texture descriptions, and you're going to like it. Buckle up.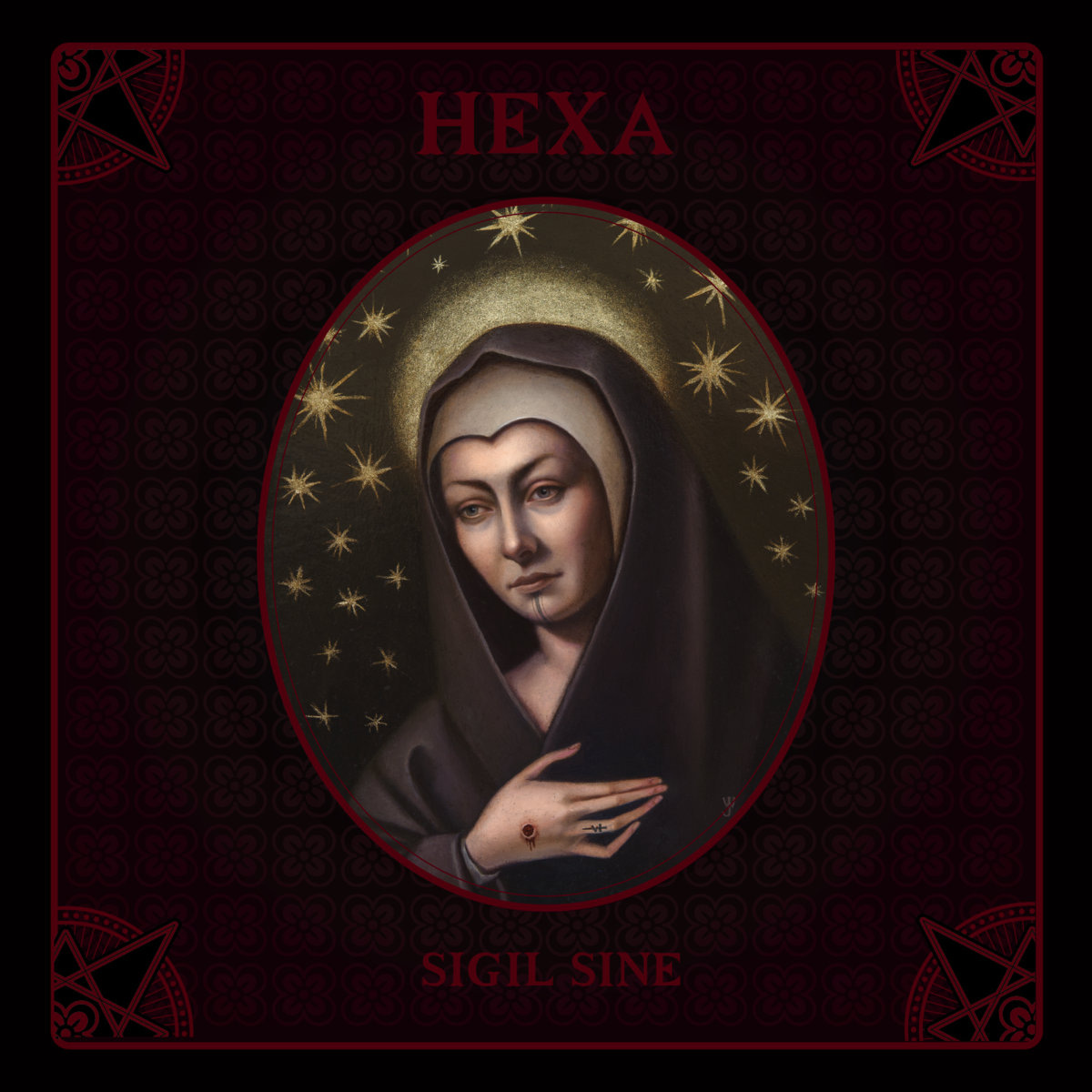 Hexa
Sigil Sine
To practice witchcraft is to toe the line of magic and tragedy. Inflicting pain, asserting dominion, and steering emotion are just some of the glorious, seductive powers relegated to witches. To devote one's soul to that darkness is—as Satan says in The VVitch—to "live deliciously."
But anyone with just a remedial knowledge of history knows what has befallen those who've been accused of witchcraft. To wield such power often ends in tragedy.
San Diego's pysch-goth band Hexa specializes in dark magic, and their first full-length Sigil Sine is a cauldron of rich compositions and dark textures. Cold, droning keyboards and driving tom-heavy drums provide the groundwork for each of the six songs—a heaviness that's often counterbalanced by shimmering post-punk guitars. Frontwoman Carrie Gillespie Feller's voice rises above it all like an invocation—not to a bigger power, but to something within. And that's where the tragedy comes in: Hexa's songs feel deeply personal, with an underlying sadness that runs the length of the record. "Teach Me", for example, toils in the self-condemnation we all experience, but in Hexa's hands, it feels like damnation. Self-flagellation has never sound this beautiful.
Sigil Sine is loaded with delicate moments that balance between darkness and light. There's a finality to "Nothing But Love" (which features guest vocals from Mexicali band Silent's frontman, Jung Sing), which might be the most blissfully evil song on the album—a gleeful march toward death.
Wielding dark powers is heavy work, but Sigil Sine feels like a product of a band that aimed for and cleared the rafters. The album soars. Or, like a coven, it floats. And it's not afraid to burn.
---