The thin blue deadline
San Diego Union-Tribune crime reporter Alex Riggins discusses the obstacles of writing about police and the darker side of society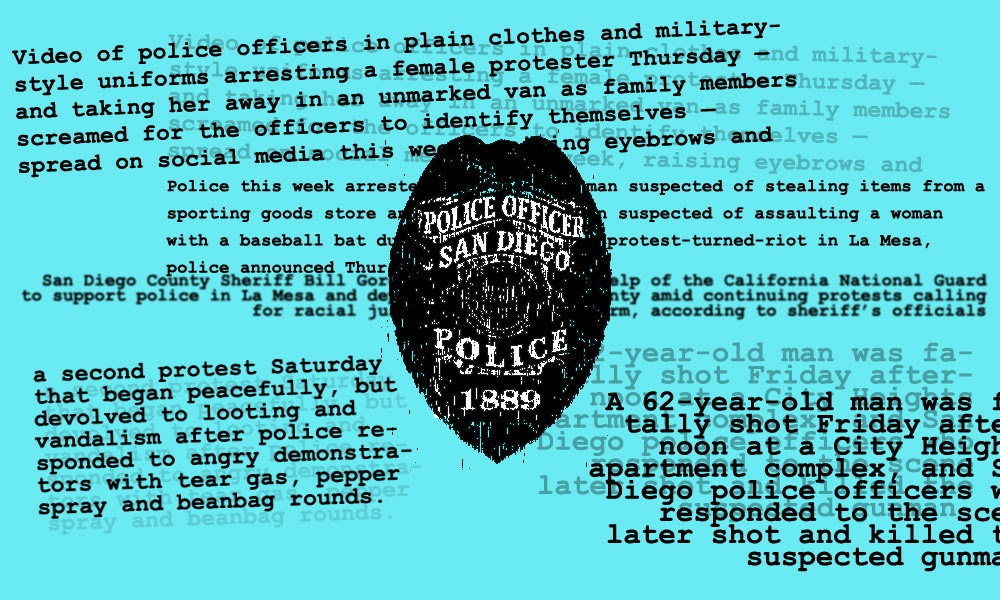 "I start my days having no idea what I'll write," says Alex Riggins, crime reporter for The San Diego Union-Tribune. "Some days it can be one little crime story, and sometimes it can be 10 little crime stories. It just kind of depends."
He tells me this during a phone conversation May 28th—before there were worldwide protests sparked by George Floyd's murder at the hands of white cop, before such a protest in La Mesa turned volatile when LMPD gassed the nonviolent gathering, before La Mesa's banks and businesses burned.
I imagine Riggins had no idea that that's what he'd be covering that day.
Suffice it to say, Riggins' profession is steeped in the unknown. No one can predict crime, but crime is always happening. It's a constant that's strangely grounding. Before the protests, I would skip through the deluge of The Union-Tribune's Coronavirus coverage to read crime reports to feel a sense of normalcy. I confess this to Riggins early in our conversation.
"I can read, like, maybe one Coronavirus story a day and then I'm done," Riggins says, commiserating, and showing his diplomatic skills as a talented crime reporter. As part of San Diego Union-Tribune's public safety team, Riggins has to distill San Diego's ugly side for a wide audience. Not an easy task. Crime reporters have to be quick on their feet, take no bullshit, but also be compassionate. And as far as crime reporting goes, the Union Tribune's is top-notch.
But it was sports that got Riggins into journalism. Born and raised in La Mesa, Riggins remembers being young and poring over the box scores in the U-T's sports pages, which instilled in him a love for our city's paper of note.
"I guess I was kind of a nerd," he says. "But I loved the paper and I wanted to be a sports journalist. I went to college for journalism, but I wasn't really paying attention to the important stuff because I was like, 'I'm just gonna be a sports journalist. I don't need to know how to talk to city government officials and, you know, get public documents and stuff like that'," he says.
A few internships eventually led him to a job at City News Services—a wire service that feeds information on fires, crime, and police to publications in San Diego and Los Angeles. Around this time (circa 2014) the downtown police department had a dedicated press room where CNS writers could work in order to be close to the action. The windowless office was located two floors above the watch commanders' offices, and was anything but hospitable to press. There, Riggins got his first taste of the tense relationship between journalists and law enforcement.
"One of my first days, I hop on the elevator, I go down and walk up to some watch commanders, and they look at me like, who is this alien? I say 'What's up guys? What's going on?' And they go, 'What are you doing down here?' Oh, I'm just checking in to see what's going on. And they're like, 'You can call us for that.'"
Anyone who's been following the news lately shouldn't be surprised about this kind of police dismissiveness and animosity toward journalists. During the protests, reports flooded social media of reporters getting attacked or detained by police even after identifying as press (Police shot the U-T's own Andrew Dyer with a bean bag after he identified himself as press). While these incidents shouldn't take the focus off the harm endured by the Black community, it illustrates an increasingly widening divide between authority and public scrutiny.
And that diminished accountability, Riggins says, has dramatically worsened in the relatively brief period since he started covering crime. Rigins recalls stories about "the good old days" parlayed to him by now-retired U-T crime reporter Pauline Repard.
"There's just so much secrecy now, so much cop talk. It's crazy," Riggins says. "[Repard] would tell me that she'd hop in the car every once in a while with a detective heading over to the scene. And the thought of doing that now is so absurd."
Gone are the days of the embedded crime reporter, and communication with law enforcement is relegated through a barricade of spokespeople and whatever they put out on social media. We no longer live in an age where David Simon-esque crime reporters could share a drink with an off-duty cop while busting their balls for information — that sort of access simply doesn't exist. Riggins has to build most of his stories on what he catches on the police scanner.
"Now it's like they'll just tweet out the location of a press conference for a big incident. You'll go out and try to talk to a street cop out there, they're not going to say shit to you."
When asked why the relationship between press and police has become so strained, Riggins says: "I think it's probably because police departments got burned by reporters. Police departments don't like to be criticized and that's a fairly regular part of our job — you know, covering them critically. This isn't San Diego specific. It's nationwide and it's been happening for decades now where that relationship has eroded."
And it's not just the police who've put up a wall. California state laws make it incredibly difficult to ascertain public records, especially those involving police. This isn't the case in states like Idaho and Florida, where arrest records are open to the public and fairly easy to obtain.
"In San Diego, and all of California, you can't get police reports of an incident," Riggins says. "In Idaho if a crime happens and they arrest someone, the day that they're arraigned, you can go and get the police officer's affidavit that says: this is the crime, this is the person who committed it, and why we arrested them. They go through all the details, basically."
In fact, Riggins' theorizes that the idea of "Florida Man" is more a result of accessible public records, that the same kind of outlandish shit is probably happening in San Diego, but there's no way to know about it.
"In Florida, you can get a lot of the police reports and court documents. You can find out stuff like, oh this person was arrested for armed robbery, and then you find out his weapon was an alligator. Here, unless the police department says this guy went to the drive-thru with a python as a weapon or something, you just won't hear about it. There's no way to know it unless you get tipped off or you're sitting in court and you hear that detail."
Despite having little access to details, Riggins says that there have been a few notable crimes during the age of coronavirus.
"During the first few weeks of lockdown and stay at home orders, I think there was just less crime. It seemed that there were a lot less homicides and robberies and all that kind of stuff. But, in the last month or so, it just kind of picked right back up. It's been a boon for stick-up artists just walking into a gas station or whatever because everyone's wearing a mask."
Also noteworthy: "There have also been three or four convenience store robberies done now by women. There are a few reports with a similar description of the subject, and then one who said [the robber] was a totally different race, so it probably wasn't the same person."
As much as the job has changed during Riggins' career, crime reporting is still essential to a healthy democracy, and I'll argue that exposing the readers to society's dark sides is actually humanizing in ways that few other editorial departments are not. How can we grow and fight for growth and change — within ourselves as well as society — if we can't see our own faults and the faults of those we've entrusted to protect us?
"Last year, there was a story of a father who shot his estranged wife, their four kids and then himself down in Paradise Valley," Riggens says. "I went and talked with his family. To sit in a room with friends and family of a guy who killed his wife and his children — if you don't feel something in that moment, you're not human."
****
Epilogue
As stated above, I spoke with Alex Riggins before the protests in La Mesa escalated into riots and looting. The morning after, I reached out and asked if he had anything to add. Here's what he said:
...it was surreal covering that kind of police violence and subsequent rioting and looting in my own city. When I meet people not from this area, I say I'm from San Diego, just because it's easier. But I'm born and raised in La Mesa. I left a few times in my 20s, but I always end up back here (sometimes by choice, sometimes by coincidence). But La Mesa is my home.

On Saturday night, I watched La Mesa police officers (and other cities' officers and sheriff's deputies) fire tear gas and bean bags at protesters next to the library where I take my son for story time.

I watched protesters start a fire in the same City Hall where I attended my first city council meeting in order to earn my Citizenship in the Community merit badge for La Mesa's Boy Scout Troop 370.

I watched protesters burn a flag outside the American Legion Post 282 that used to host Friday night dances where my Helix classmates would grind on each other to 50 Cent and other early 2000s rap.

As my colleague and I were making our way from one part of Spring Street to another – from where heavily-armed San Diego Police Department riot cops just showed up in an MRAP, to where heavily-armed San Diego County Sheriff's Deputies were firing on a man in a wheelchair – I knew a shortcut he didn't, because it goes by my favorite sandwich shop (shoutout Trolley Stop Deli) and my son's dentist office.

It was and remains fucking surreal.
---
AWKWARD T-SHIRTS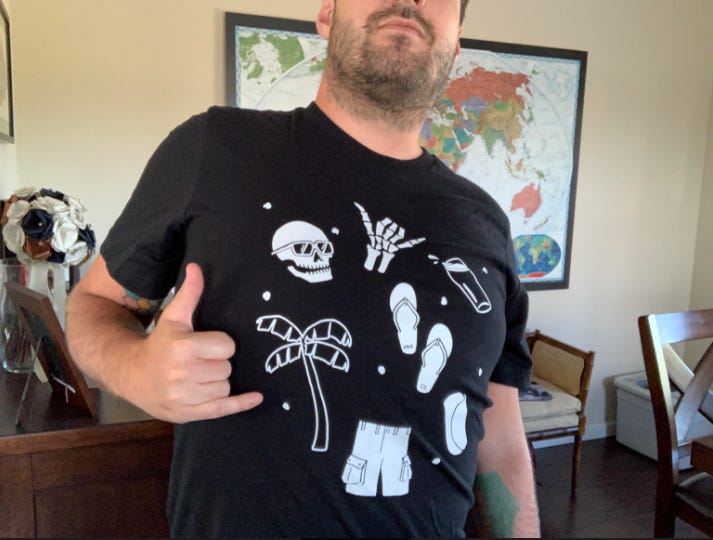 Oh hey, I have t-shirts now! Show off your San Diego awkwardness by these beauties designed by Carolyn Ramos and silk screened by Javi Nunez at AKA (who are open for business and I highly recommend you hitting them up if you need any sort of design/printing work done). The shirts are Bella-Canvas brand and very soft. I only made a small batch to gauge interest, so get them while they're hot. If you want one, venmo me at @Ryan-Bradford-2 with your size and address (I have a few women's cut shirts, too — S, M, L — just ask!). $15 for paid subscribers and $20 for normies. Shipping included. All proceeds will go to DeDe McClure Memorial Community Fund.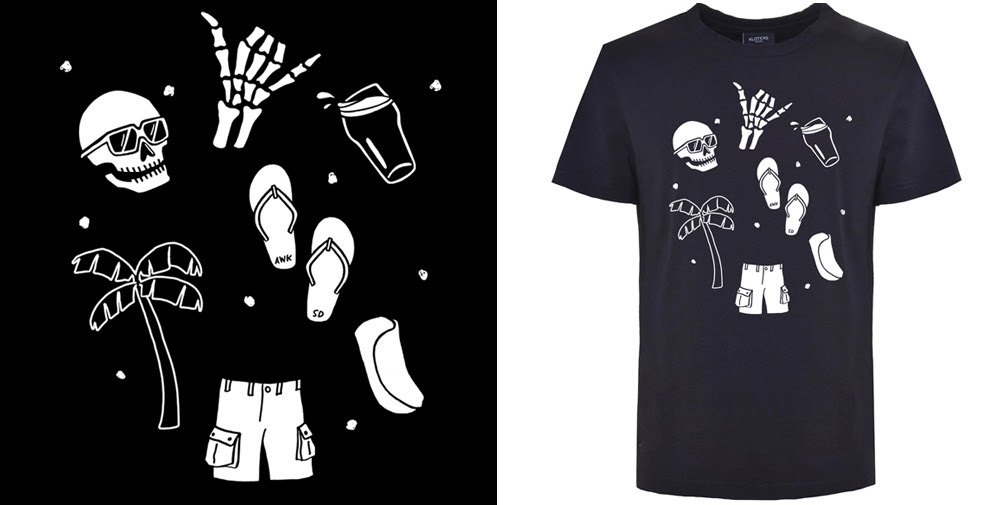 ---
THE WEEKLY GOODS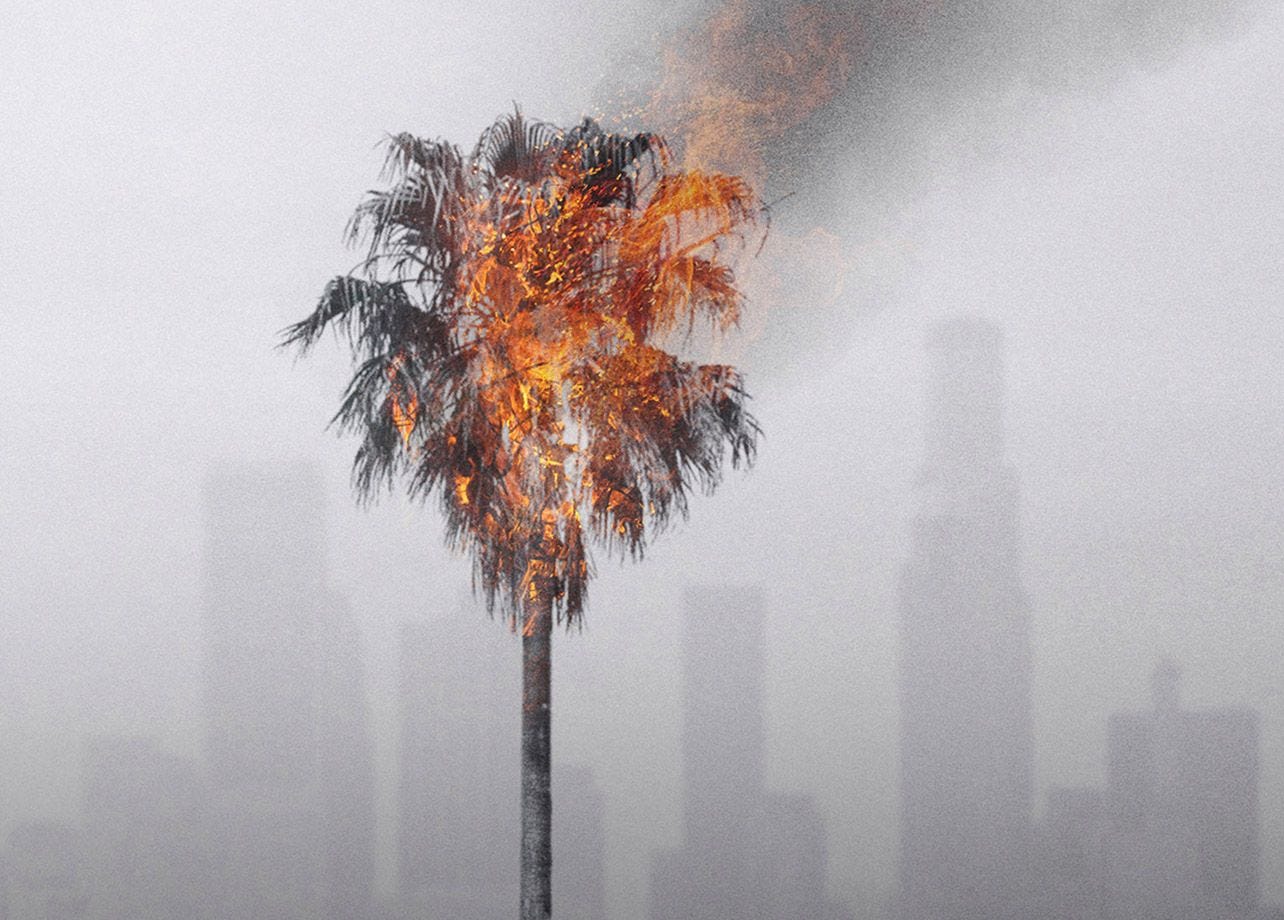 LA 92
Watch this
Near the beginning of the National Geographic-produced documentary LA 92, a TV reporter covering the 1965 Watts riots interviews a man on the street, asking "What would make it better? What would make the world of rioting stop?" The man, looking out at his neighborhood, says: "I don't think it'll ever stop, really... It might not be like this, but it'll never stop." It's an incredibly powerful and heartbreaking scene, and — as we've seen — prophetic in its accuracy. LA 92 is a masterful look into events surrounding Rodney King's beating at the hands of white cops, and the riots that occurred afterward. Intercut with footage from 1965 as well as scenes from Ferguson in 2015, it's despairing to see how little progress we've actually made. LA 92 should be required viewing for those who say things like "this is not our country." (You can watch the whole thing on YouTube).
Listen to this
San Diego psych-stoner rockers Drug Hunt recently put a out "Live from Quarantine" video which features the band ripping through a few of their songs in full HAZMAT gear. Cut together with footage from the San Diego protests, the video is a jarring document of our unique, tumultuous moment in time. The band is also using it as a fundraiser for a bunch of noble causes, so make sure to throw them some money if you have the means (information about that in the Youtube description).
Do this
The night is always darkest before dawn, and even during these very dark times, beacons of hope can exist. From massive protests to youth-led activism, there are lots of people doing inspiring things right now, and that gives me hope for the future.
Antifa duck also gives me hope for the future.
Antifa duck fights for everyone. She fights for equity. She hates Nazis. Antifa duck gives the middle feather to racist/capitalist systems that suppress POC. Her quacks sound like "ACAB!" Antifa duck is mostly peaceful, but is not afraid to stand up for what is right.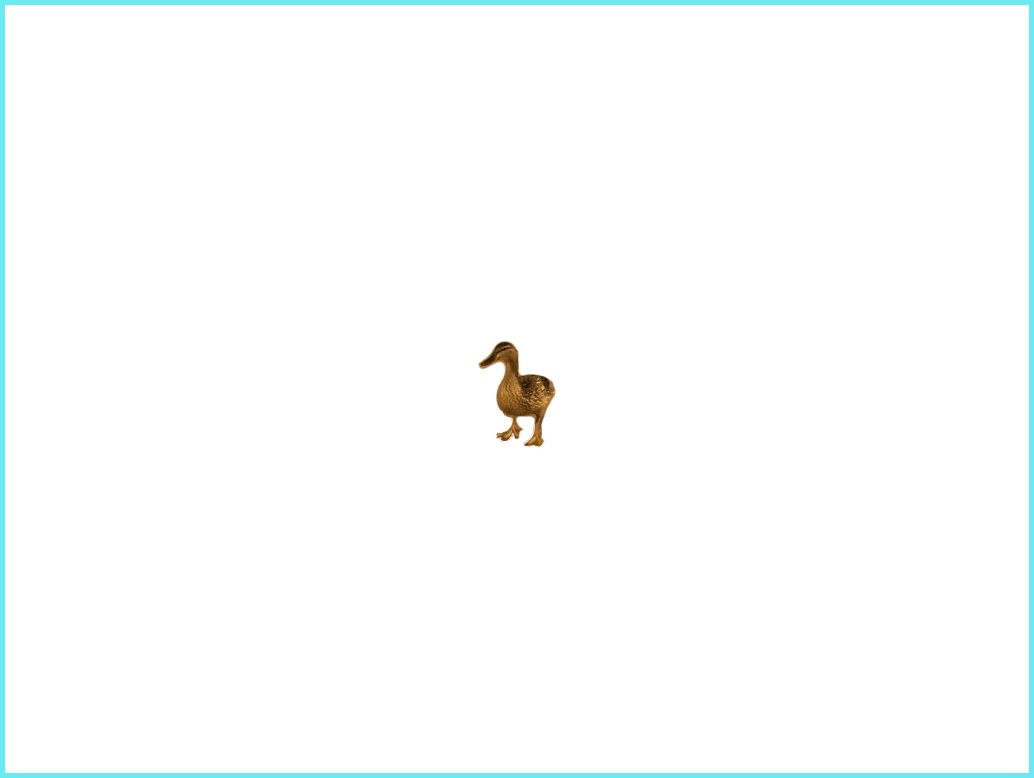 Your job is to photoshop Antifa duck into a scenario where she can enact further justice. Is Antifa duck infiltrating a white supremicist gathering? Is she deescalating police violence? What injustice will she be fighting next? That's up to you to decide.
---
Got a tip or wanna say hi? Email me at ryancraigbradford@gmail.com, or follow me on Twitter @theryanbradford. And if you like what you've just read, please hit that little heart icon at the end of the post.
Julia Dixon Evans edited this post. Thanks, Julia. Go follow her on Twitter.