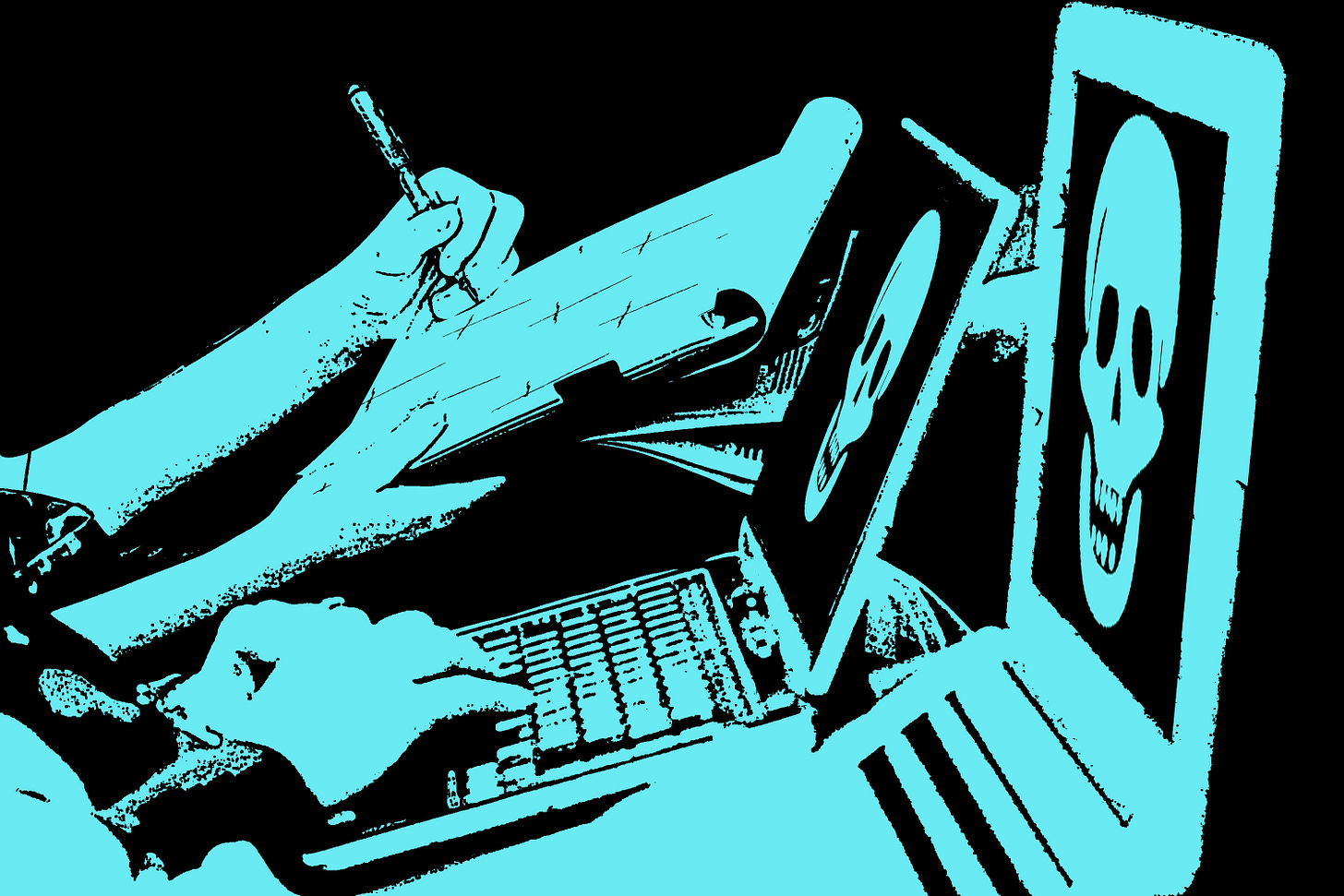 "What's the scariest movie?"
I never know how to answer this question, which may surprise people given how much I love horror movies. I think some of the standards—The Exorcist, Halloween, Jaws, The Shining, etc.—are totally acceptable and warranted answers because, yes, they're all-around scary and formally great pieces of filmmaking.
But the question that interests me more is: "What scene scared you the most?" Our brains aren't well equipped to memorize two hours of cinema, but they are fantastic at capturing the moments, flashes, sequences that we wish we could unsee, and then packaging them up as full-sensory traumas that you get to keep for the rest of your life. Whoo.
I also like the question because not every scene that scares or scars us comes from horror. I would say that maybe four of the top 10 scariest things I've seen have been in films by David Lynch—who's a master at banal, peripheral horror, but I'd hesitate to call Lynch a horror director. I was also pretty terrified of the first Simpsons Treehouse of Horror episode, as well as the one where Homer makes Bart a clown bed. Hell, even the Seinfeld episode with Mr. Marbles scared the shit out of me. You get the idea.
So, in honor of All Hallows Eve, I turned the tables on the people that scare us every other day of the year—the San Diego m-m-media!—and asked what scares them.
Nina Garin
Editor-in-Chief, Pacific San Diego
I do not like being scared and I hate horror movies. Aside from that clown in "Poltergeist," I've lived a relatively trauma-free movie life.
Until 2011: the year of Melancholia.
I thought it was going to be study on depression by gloomy director Lars von Trier. And sure, Melancholia is about depression, but it's also NOT AT ALL about depression. Basically, a family waits for rogue planet Melancholia to crash into Earth and end humanity. And (spoiler) that does happen in a beautiful, glorious golden glow.
But that's not the scene that freaked me out. It's the one where John, the father who is mostly optimistic that Melancholia will not hit Earth, realizes he's wrong and commits suicide in the horse stables.
This scene reveals my own inner cowardice. I relate to John. I also do not want to be around for Earth's final beautiful golden glow. I want to sleep it out, forever. Abandon everyone and take the easy way out. And thanks to overpopulation, dead bees, trash islands and melting ice caps, it's something that regularly haunts by bedtime thoughts. Is this who I am, is this who I will be?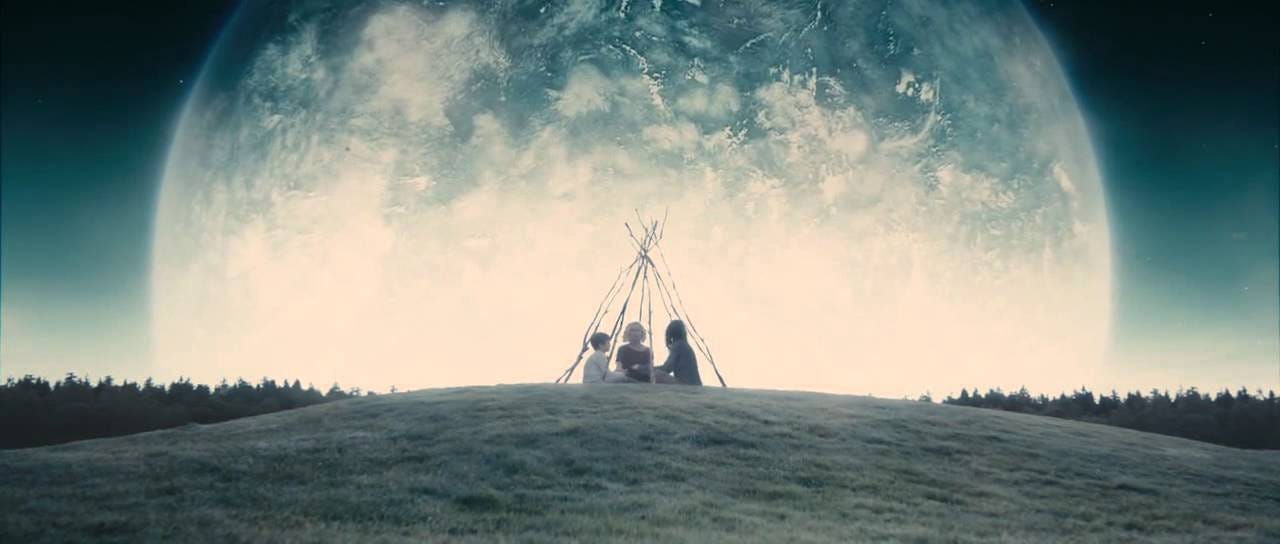 Scott Lewis
CEO, Editor-in-Chief, Voice of San Diego
The Exorcist. The fucking Exorcist. I don't even believe in heaven or hell but that movie scared me so, so deeply. I resented the people, our neighbors, who let me watch it at age 13. I mean, I guess I was old enough, but I felt like while I was watching it that I was definitely not capable of watching it and everyone around me was acting so cool about it and I was intensely afraid. I felt like I was a different person after seeing that, like a genuine trauma had changed my brain.
I hate it so much. I have never watched it again. The scene where she stabs herself with the cross. I just can't.
I think people who have gone crazy or sociopathic are the things I fear the most. More than any monster or goblin or supernatural force. But while The Exorcist is the tale of a supernatural-type force, at its heart is the story of people who we think have gone crazy, or it's an attempt at an explanation of what actually has happened to people we thought were just crazy. This is extremely not politically correct and I do not mean I feel this way about mentally ill people.
A runner up is the scene where you first see Zelda in Pet Sematary. Jesus fucking Christ she was scary.
Finally, the first time a movie truly scared me was when I was five and saw Ghostbusters in the theater. The moment the gargoyle comes alive and its paw breaks out of the concrete kept me up for weeks.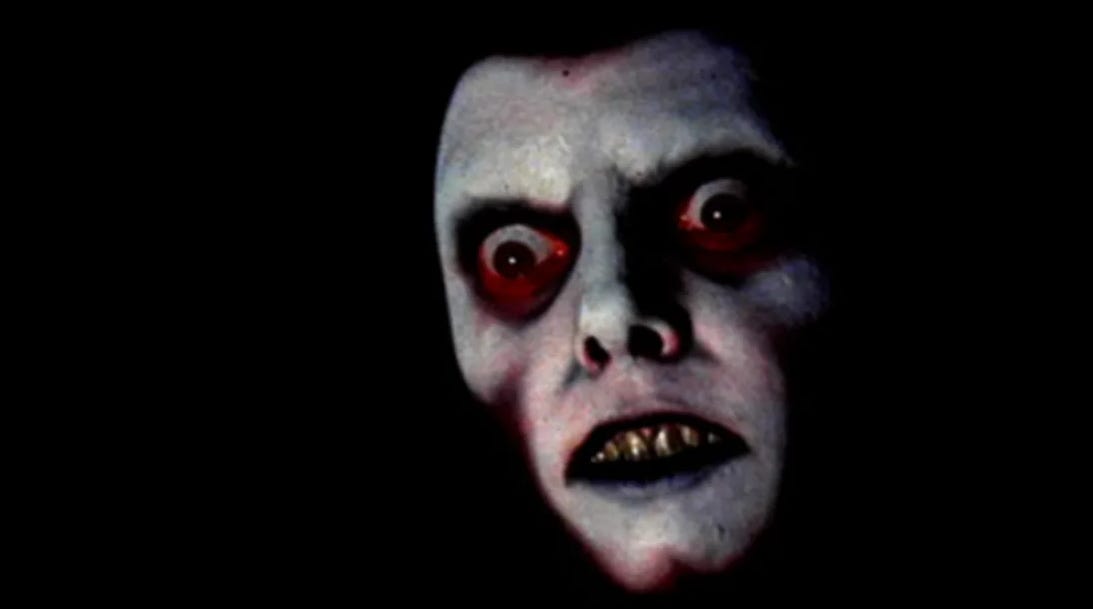 Julia Dixon Evans
Culture Report Writer, Voice of San Diego
I love how this is more of a question of memory than horror, and it really made me examine — and honor — my own incomplete and pretty dumb recollections of things that scared me as a kid. It'd be easy to say Poltergeist because, Jesus, that was the first scary movie that really felt like it could absolutely happen to me. It'd also be easy to say a particular scene I can see vividly but can't remember where it came from or even really describe anything else about the plot. My search history for the last week has been bleak, fruitless variations of some vague query like "80s movie creature under the bed hand dangling off." I want to say it was a scene in a Gremlins movie, which I watched way too young. Whatever movie it was, I still think about that scene whenever I wake up with an arm or foot hanging off the side of the bed.
Which is why I think I'm going to go with comedy. A Fish Called Wanda — which I also watched too young — specifically, the scene where (beloved, British hero!) Michael Palin gets beaten up and then has to sit there, tied up, with fries (chips!) shoved up his nostrils and watch while Kevin Kline nonchalantly eats live pet fish straight from the tank. It physically repulsed me, terrified me and was possibly the first time I realized that being a grown up doesn't mean you can escape bullying. Also, I've never touched a fish's scales, probably because of that movie. I think about that scene a lot.
Andrew Keatts
Assistant Editor and Senior Investigative Reporter, Voice of San Diego
Return to Oz.
For days after you asked, I could only curse my stupid memory for its inability to recall the scene that had for years flashed behind my eye lids when I tried to sleep. I remembered very specifically that there was a scene I couldn't shake, and yet like finding the right word two beers into a conversation I could not for the life of me figure it out. I went so far as to ask my mom if she had any memory of my trauma and, amazingly, as I was asking her I found myself explaining "it's not necessarily something from a horror movie, like it could be that scene from Return to Oz where Dorothy combs a pumpkin while staring out the window of an insane asylum."
And yes, that is the scene, although I have not seen it in at least 30 years and can't even be sure it exists at all. I'd like to request that no one fact check this memory, or in any way attempt to question my lived experience. We're all agreeing to proceed as though there was definitely a scene in the 1985 Wizard of Oz sequel in which Dorothy has been confined to a white room with one window, a desk and a nice round pumpkin sitting on the desk. At one point a very sad Dorothy sits at the desk and uses her comb to part imaginary hair on the pumpkin while staring somberly out the window. Just writing this haunts me still. There's some really fucked up stuff in that movie, but it's combing that pumpkin and staring out the window that is stuck in my brain.
I'd like to offer some convoluted psychological reasoning for its impact on me, something about the fleeting nature of triumph or whatever. But I think she just seemed very sad, and I did not like the idea of it.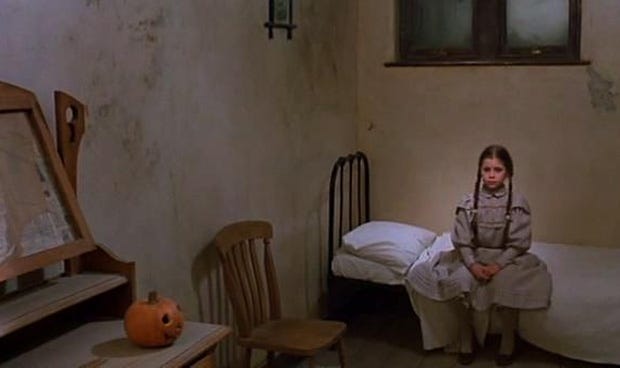 Kelly Davis
Investigative reporter, independent journalist
The final scene in Haunting of Hill House's episode "The Bent-Neck Lady." (What follows is purposely vague for those who haven't seen the show.) The limited-run Netflix series, released last year right before Halloween, won me over with its lingering aura of sublime creepiness punctuated by legit what the fuck moments (the floating guy in the bowler hat, amiright?). This particular scene is horrifying and heartbreaking — heartbreaking because you love Nell and you want her to find redemption; if anyone else in Hill House deserves it, it's her. Horrifying because instead of finding what she seeks, she's instead pulled (yanked? dropped?) into a dark place, and then darker places, again, and again, and again, and again and again. (I had to re-watch the scene twice to get the correct number of agains.) For days after watching this episode, I could think of nothing else but this scene. For folks who like slasher films, this is the slasher-film equivalent of your favorite character being sliced to bits.
Spoiler alert: If you haven't seen Haunting of Hill House, don't watch this video.
Jesse Marx
Associate Editor, Voice of San Diego
I've never seen the scene that scared me the most, because I couldn't bring myself to view it. I don't even remember the name of the monster, let alone the movie. But I can still envision its stupid ugly face.
I must have been six. I was flipping through my older brother's collection of Fangoria magazines and there it was — a buff dinosaur with a crew cut. Its flesh was greenish, rotting, and its eyes were pulsating in tobacco tones. The worst part, though, was that it looked an awful lot like that depressed donkey from Winnie the Pooh, only in the midst of a psycho-demonic blood lust. It didn't help that the creature's head was hoisted on a stake. Clearly someone had bested this unholy beast in the end. Or had they?
I panicked. I tore the photo in half and tossed what was left of my brother's magazine in his closet and shut the door. I went running downstairs to rejoin the living and hoped to never think about that imagine again.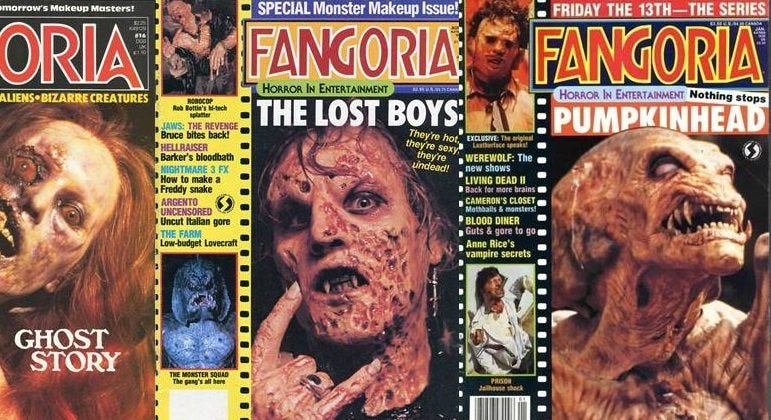 Andrea Lopez-Villafaña
Reporter, San Diego Union-Tribune
The Fourth Kind, 2009.
I've tried to erase the exact details of the scene from my memory but I'll do my best to describe it accurately. I tried a quick Wikipedia search to make sure I was right and I'm 100 percent sure I will have trouble sleeping tonight from reading the first paragraphs of the plot.
The Fourth Kind by Olatunde Osunsanmi was not a movie that I was dying to watch but my best friend in middle school was. She told me it was based on real stories. It's not.
The movie is about some doctor who hypnotizes people who had or believe they had encounters with aliens. But the scene that still haunts me is where the doctor hypnotizes one of her patients and his body shoots up and he floats. I think it's pretty early into the movie. I remember I felt my stomach drop and my body freeze. I hate when movies make characters move in unnatural ways as if they are possessed. It was horrible to watch and to this day I would never watch that movie again. I closed my eyes, turned off the TV and never looked back.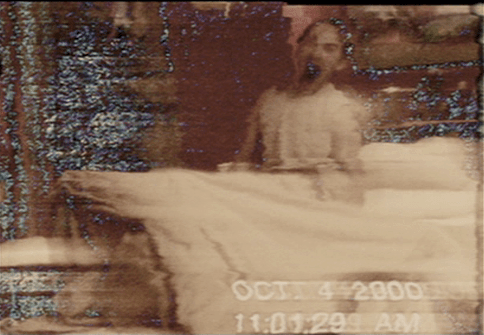 Matthew Hall
Editorial/Opinion Director, San Diego Union-Tribune
Without question, the movie scene that scared me the most when I was a kid was the scene in "Flash Gordon" when Sam Jones has to stick his hand several times inside a hollow stump with a bunch of passageways – AND THEN PULL IT OUT EACH TIME WITHOUT GETTING STUNG BY THE WOOD BEAST – which was like a scorpion that the moviemakers created to scare the living hell out of 9-year-olds. Well, it worked. I must've seen that movie 6-8 times in theaters as a kid, and that scene always made me cringe. Now I get nervous every time a movie character sticks his or her hand in a tree stump, even when it's Winnie the Pooh looking for honey. You never what lies in wait….
Scariest movie, btw? "The Witch" and "Hereditary" are up there for me, for recent scary movies. The OG "Halloween" gave me nightmares for weeks. My fav might be "The Cabin in the Woods," for how it just twisted the genre. Also a big fan of zombie movies with "Train to Busan" and "28 Days Later" right up there.
---
THE ONLY CONCERT CALENDAR THAT MATTERS™

Wednesday, Oct. 30
OPTION 1: The Spill Canvas, The Juliana Theory, Cory Wells @ Soda Bar. I don't know too much about The Spill Canvas, but you bet your sweet ayuss that I played the hell out of Juliana Theory's Emotion is Dead in high school. Take it from me—it's the perfect soundtrack for being vaguely sad at the world whilst driving around in a '94 Mercury Tracer. Even though it's pop-punk emo that makes Saves the Day look hard, it still has the power to soothe my inner 17-year-old.
OPTION 2: OK Go @ California Center for the Arts. [Milhouse voice] When are they gonna get on the treadmills!? [cries]
Thursday, Oct. 31
💀 OPTION 1: Halloween Party @ Whistle Stop. I don't use the word "spooktacular" lightly, but Whistle Stop's Halloween party is so spooktacular I might even throw in a "boo-dacious." Tonight a revolving cast of San Diego's spookiest musicians are going to put their own spin on The Cure covers. Members of Hexa, Hours, Forest Grove (ahem, the band for which I drum), Silent, Blood Ponies and many more will be invoking Robert Smith's moodiness.
💀 OPTION 2: Halloween Party @ SPACE. Same deal as above, but this time, spooky musicians are doing Stooges covers. This includes members of Bosswitch, D.Wrex, Havnauts, and Therapy. Be careful and try not to roll around in broken glass at this one. Maybe bring some band-aids.
💀 OPTION 3: Halloween Party @ Pour House (Oceanside). Another cover night! Awooo! More Stooges covers, but there will also be a set of Misfits covers. It's illegal not to hear at least one Misfit cover on Halloween, and you don't want to go to jail, do you?
💀OPTION 3: Smashing Pumpkins @ your neighbors' house. GET IT? HAHAHAHH ahhh... the world is a vampire.
Friday, Nov. 1
OPTION 1: Captured! By Robots, The Gay Agenda, Speculum @ Brick By Brick. I don't know why we haven't elected Captured! By Robots as president yet. Any man who can program two robots to play grindcore on live instruments is certainly a king among men. This show may be the best spectacle you'll see all year.
OPTION 2: Dinosaur Jr., Easy Action @ The Observatory. Have you ever watched an interview with Dinosaur Jr frontman J Mascis? The guy is so awkward and quiet that it's like pulling teeth. And I find that incredibly inspiring, because it's a reminder that you don't have to be a loquacious extrovert or have good people skills to make beautiful art.
OPTION 3: Cults, Weatherbox, Positioner @ Soda Bar. Soda Bar is celebrating their 10 year anniversary this weekend (congrats, Soda!) with two consecutive nights of Cults. Not only does the bar consistently book strong and diverse acts, but the support it provides to San Diego musicians has been invaluable to the local scene.
Saturday, Nov. 2
OPTION 1: Cults, Jacob Turnbloom, Beating (fka Beaters) @ Soda Bar. My former colleague and music writer Peter Holslin used to talk about a drink he'd get at Soda Bar called a "Christpuncher," which is a mix of coke, whiskey, and wine. I don't know if Soda Bar still does this or if it was the invention of a rogue bartender, but I've concocted one myself and... it's pretty good. I can't think of a better way to celebrate Soda's 10-year anniversary than watching Cults and knocking back a few Christpunchers.
OPTION 2: Dia De Los Deftones 2019 feat. CHVRCHES, Deftones, Gojira, jpegmafia, Hum, Youth Code, Brutus @ Petco Park. Not gonna lie, this lineup is pretty, pretty, pret-tay great. Brutus put out my favorite album this year, and Hum's Downward Is Heavenward is one of the best, heaviest albums of the '90s. Admittedly, I'm a latecomer to Deftones—I had previously lumped them in with nü metal—but I now know they're much more complex and vulnerable than I thought. Kudos to them for curating such an eccentric lineup.
Sunday, Nov. 3
ONLY OPTION: Savage Master, Silver Talon, Call of the Wild, Forest Grove, Troll @ Tower Bar. This is your only option tonight because I play drums in Forest Grove (remember when I said that up above?), but also because Savage Master rules. Frontwoman Stacey Savage has the pipes of an '80s hair-metal crooner. Dio fans will not be disappointed.
Monday, Nov. 4
OPTION 1: Making Movies, Los Rakas, DJ Ethos @ Soda Bar. Making Movies plays an intriguing mix of indie, Latin, Afro-Cuban and psych, and the overall effect is simultaneously lively and haunting. Nary an ass will remain unshook tonight.
OPTION 2: Hammered Satin, Babydoll Warriors @ The Casbah. '70s-inspired glam rockers Hammered Satin are a hoot, and totally remind me of Sweet. I imagine if you're sober their schtick could get old after a few songs, but on a three-to-four beer buzz this could be the best show you'll ever see. Oh, and hey! This show is sponsored by three San Diego breweries that make good beer that's not eye-rollingly precious or pretentious: Burning Beard, Fall, and Thorn.
Tuesday, Nov. 5
OPTION 1: Craig Finn & The Uptown Controllers @ Soda Bar. As far as I'm concerned, Hold Steady frontman Craig Finn is one of the great American storytellers. And even though The Hold Steady put out a great album this year, Finn's solo album I Need A New War—also released this year—does a better job of addressing the paradoxes and deeply personal anxieties of our culture. Also, I can't think of a perfect portrait of American sadness than Finn's song "God In Chicago."
OPTION 2: Matt & Kim, Beach Goons @ The Observatory. We all kinda hate Matt & Kim, even if we like them, right? Like, good job being both adorable and successful, you two.
OPTION LOL: Twenty One Pilots @ Pechanga Arena. Suburban reggae + hip-hop + oogie googie baby-voice vocals = over a billion listens on Spotify. I don't know, guys. I just don't know.
---
ONE MORE THING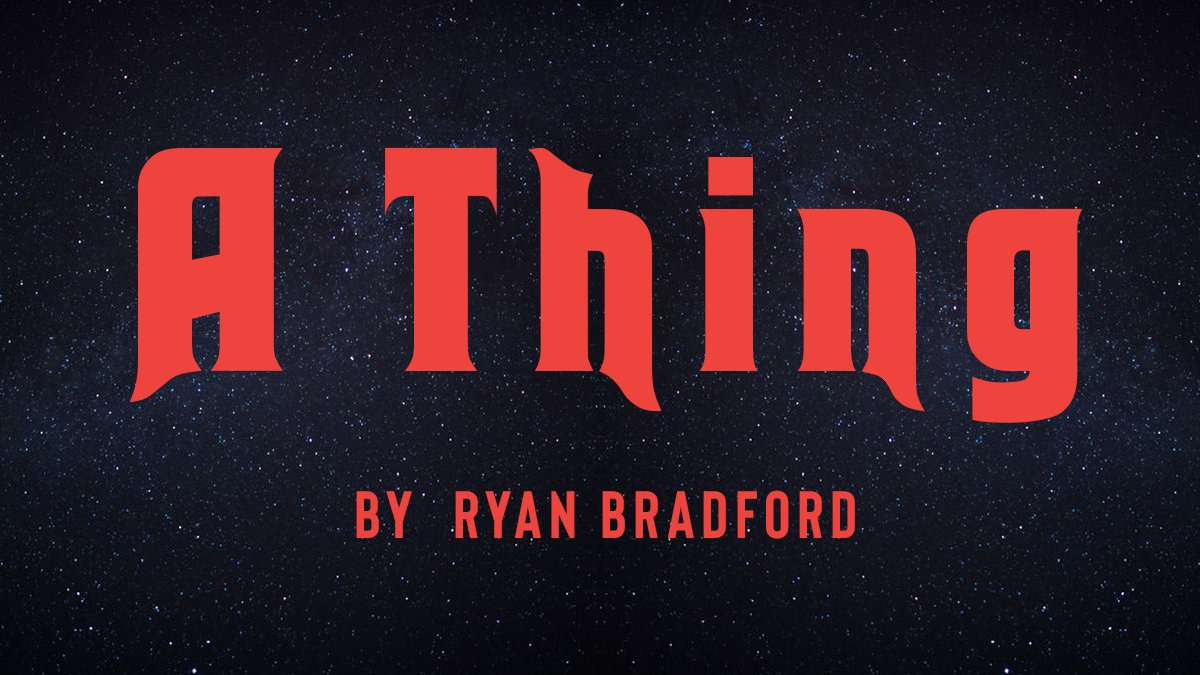 I have a new scary story out today in Paper Darts, which is the most beautiful lit magazine out there. I think this is the fifth year that they've let me spook up their site for Halloween, and I'm always incredibly honored to do so. The story's called "A Thing" and it's a revisionist take on one of my favorite films, John Carpenter's The Thing. But I think my version is more realistic in that an all-male crew would not be heroic in the midst of a paranoid alien invasion—just insecure and very, very horny. Enjoy!