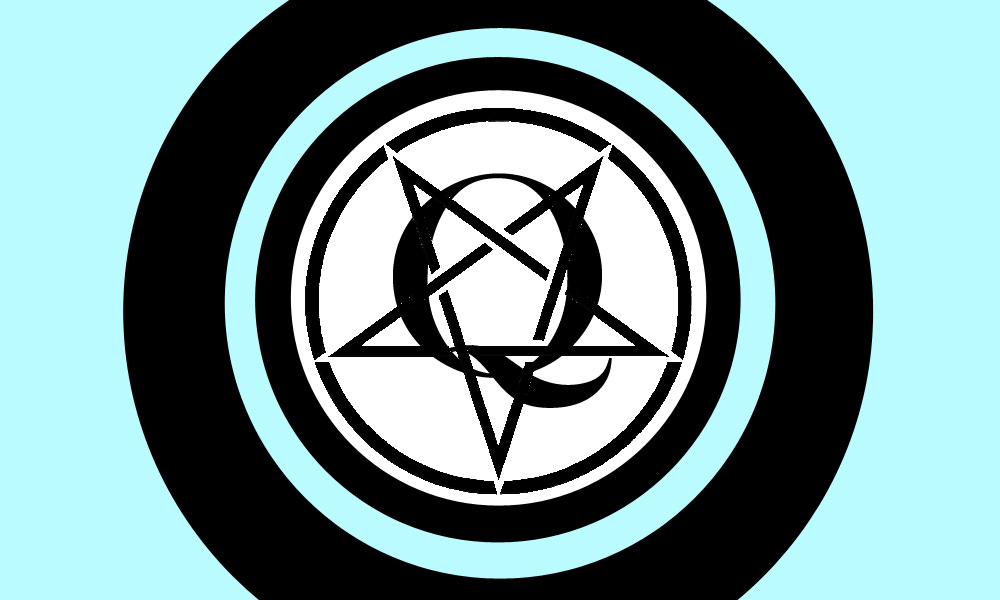 In April 1954, psychiatrist Fredric Wertham published Seduction of the Innocent, a book that proposed comic books were largely responsible for the rise in juvenile delinquency. Despite the biased research methods and questionable facts — including data that was ultimately revealed to be falsified — the book immediately sparked a moral panic amongst parents (many of whom were already burning comics based on Wertham's research).
A few months later, Wertham testified before the Senate Judiciary Committee's Subcommittee to Investigate Juvenile Delinquency about his findings. Although Wertham's criticisms extended to all comics (including the "psychologically homosexual" content of Batman comics), he focused his wrath exceedingly on EC Comics, which put out crime and horror titles such as Tales from the Crypt and Crime Suspenstories. These titles were particularly popular among kids due to their lurid, gruesome (i.e. awesome) illustrations.
Rightfully incensed by the prospect of censorship, EC's publisher, William Gaines — who was only 32 at the time — testified in front of the subcommittee. Although Gaines spoke passionately about the freedom of speech and the intellect of children, the publisher's anxiety, lack of diplomatic experience, or just plain weirdness (he went on to found Mad Magazine, after all), did not do his industry any favors.
This now-famous exchange between Gaines and Chief Counsel Herbert Beaser regarding a cover of Crime Suspsenstories would prove to be ammo for anti-comics crusaders for years: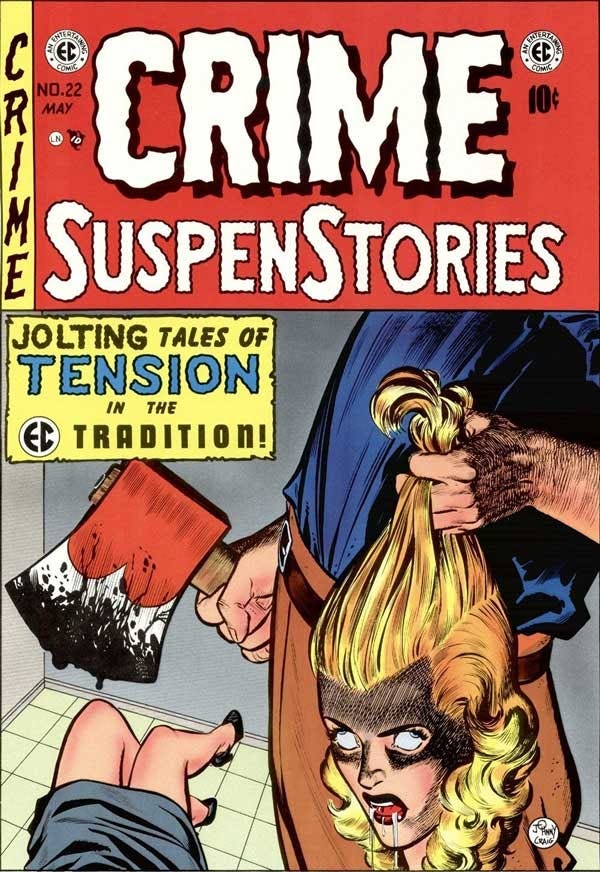 Beaser: "Then you think a child cannot in any way, shape, or manner, be hurt by anything that the child reads or sees?"

William Gaines responded: "I do not believe so."

Beaser: "There would be no limit, actually, to what you'd put in the magazines?"

Gaines: "Only within the bounds of good taste."

Sen. Kefauver: "Here is your May issue. This seems to be a man with a bloody ax holding a woman's head up which has been severed from her body. Do you think that's in good taste?"

Gaines: "Yes sir, I do — for the cover of a horror comic. A cover in bad taste, for example, might be defined as holding her head a little higher so that blood could be seen dripping from it and moving the body a little further over so that the neck of the body could be seen to be bloody."

Kefauver (doubtful): "You've got blood coming out of her mouth."

Gaines: "A little."
Shortly after, fearing the government regulation, the industry created the Comics Code Authority, a self-imposed regulatory coalition that prohibited gore, violence sexual innuendo, and all the other qualities parents considered unsavory. The CCA was in effect all the way until 2011.
Nearly 60 years of moral panic.
In 1974, the debt-ridden Ronald Clark O'Bryan intentionally gave his son potassium cyanide-laced Pixy Sticks on Halloween. He murdered his own child for the life insurance payout.
For years after that, dangerous Halloween candy became a hot take for the media, who was more than willing to fan the flames of hysteria. Razor blades in candy became the seasonal horror that terrified parents every October — an urban myth so prevalent that a scene depicting it made it into Halloween II. This unfounded threat persevered into even my childhood. I can't remember who told us to check our candy for razors, but I remember doing so.
To date, no child has been intentionally harmed by Halloween candy from a stranger.
In 1980, Canadian psychiatrist Lawrence Pazder published Michelle Remembers, a book that's largely responsible for kicking off the era known as The Satanic Panic. The book is a falsified biography of one of Pazder's patients, which chronocles a childhood of ritualistic abuse and Satanism. Michelle Remembers had an indelible impact on gullible parents who now — after comic books and poisoned candy — had the ultimate entity to protect their children from: Satan. After the book's publication, scared parents suddenly found the devil everywhere, from Ouija boards to heavy metal to backwards-spinning records.
Despite Michelle Remembers' discreditation, the Satanic Panic endured. Fear always endures.
In 1993, we saw what happens when unfounded hysteria runs amok when three teens West Memphis, Arkansas were convicted of mutilating and murdering three boys. The West Memphis Three became infamous via newsmedia that painted them as devil worshipers. Even the trial focused extensively on the teens' fascination with the occult, which played a major part in the prosecution's assertions that the murders were Satanic rituals.
If we lived in a sane, rational world, The West Memphis Three would've been the end to the Satanic Panic, but like those satanic records, history continues to spin backwards. Nothing has changed since the West Memphis Three, and the Satanic Panic-type of hysteric groupthink has only mutated. We've created a new boogeyman worse than the Devil himself: pedophiles.
Anyone who's at least tangentially aware of the discourse has probably noticed conservatives' increased obsession with pedophiles. QAnon — the right-wing conspiracy theory which posits that high-ranking liberals and Hollywood elite are part of a deep state, cannibalistic cult of pedophiles — has gained astonishing traction over the past two years (54% of Republicans believe in parts of it, apparently). The hysteria has infected both the physical and online realms. In San Diego, QAnon rallies are threatening to dilute the real fight against child sex trafficking. (Jesus Christ the amount of insanity from rally attendees quoted in that article makes my soul hurt), and anti-pedo crusaders have been stoking fears online for the better part of the decade, which should've ended when Edgar Maddison Welch walked into the Comet Ping Pong pizza parlor with a gun and opened fire, yet here we are.
Search for the hashtag #SaveOurChildren on social media and you'll find thousands of people frothing at the mouth to cancel Netflix for its decision to stream Cuties, the debut from French-Senegalese filmmaker Maïmouna Doucouré about an 11-year-old Muslim girl who yearns to join a group dancers, but ends up caught between her traditional upbringing and the internet-savvy dancers whom she wants to impress.
The Cuties controversy is most definitely one of the dumbest to emerge in the age of pedophile hysteria.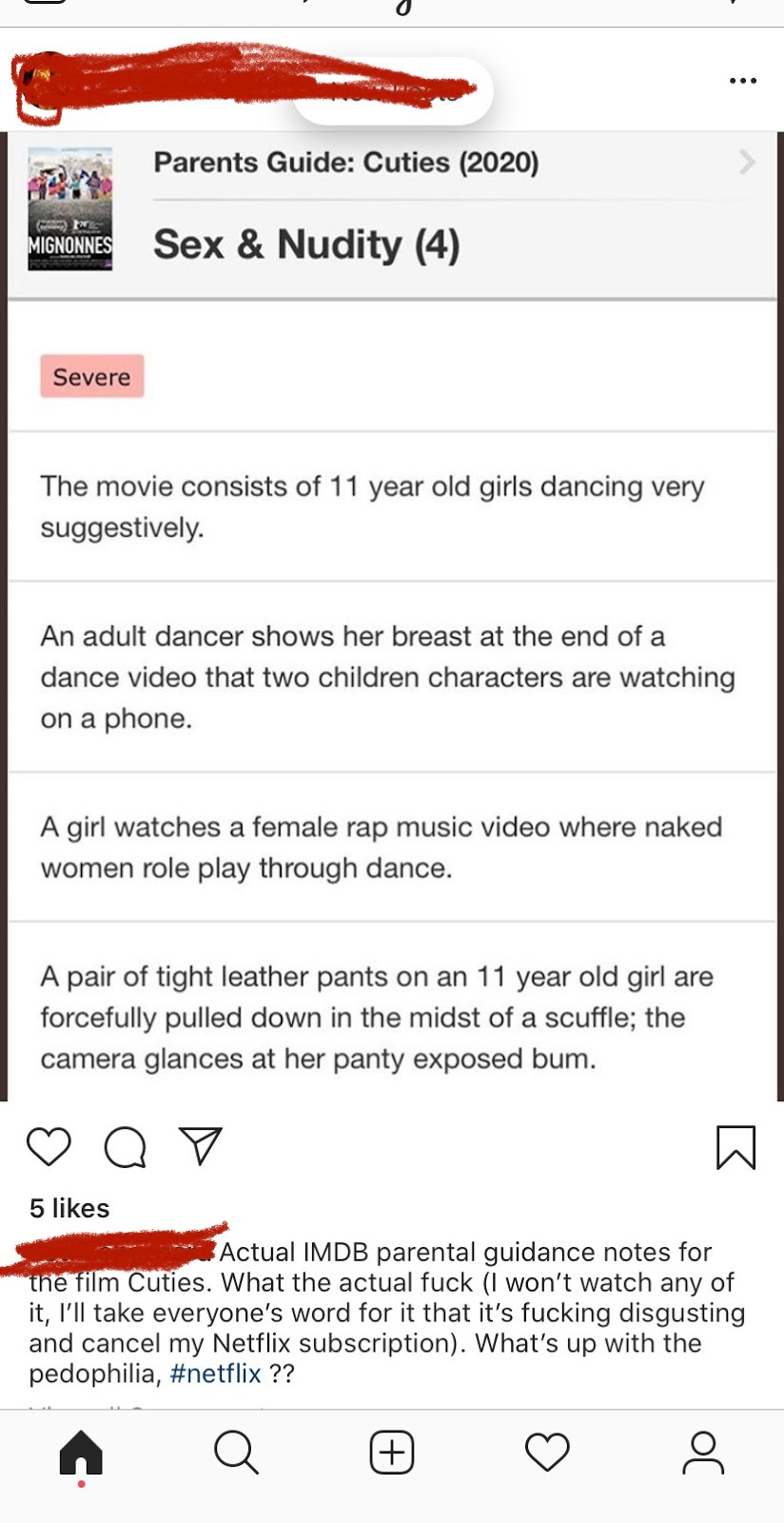 Granted, Netflix certainly didn't do themselves any favors with their marketing, but Cuties is not a pedophile film. Rather, it's a well-made, somewhat gritty indie film that does an admirable job of broaching difficult subjects — race, religion, and the objectification of underage dancers — while still being poignant and smart. Yes, there are scenes that cringe-worthy, but that's the filmmaker's point. Its depiction of children consumed, exploited and sexualized by the dance world are really no different than the crowd-pleasing dance sequence from Little Miss Sunshine or what's been shown on Dance Moms for the past decade, it's just that Cuties isn't played for laughs. The only people who think that Cuties sexualizes minors are the ones who think minors are inherently sexy, which is the most troubling aspect about the widespread #SaveOurChildren hashtag. If you have pedophilia on the brain, you're going to see it everywhere.
Since the #cancelnetflix hashtag emerged, both Democrats and Republicans have come out to voice their opinions. Senator Ted Cruz wrote a letter to the Department of Justice to investigate Cuties filmmakers (although, if he were truly a useful politician, he'd spend that energy investigating the exploitation in the porn industry, which we know he's a fan of), and even Tulsi Gabbard, the Democratic congresswoman from Hawaii, participated in the hashtag, calling the film "child porn," while also saying that it'll (ugh) "whet appetites" (way to out-perv your target, Gabbard).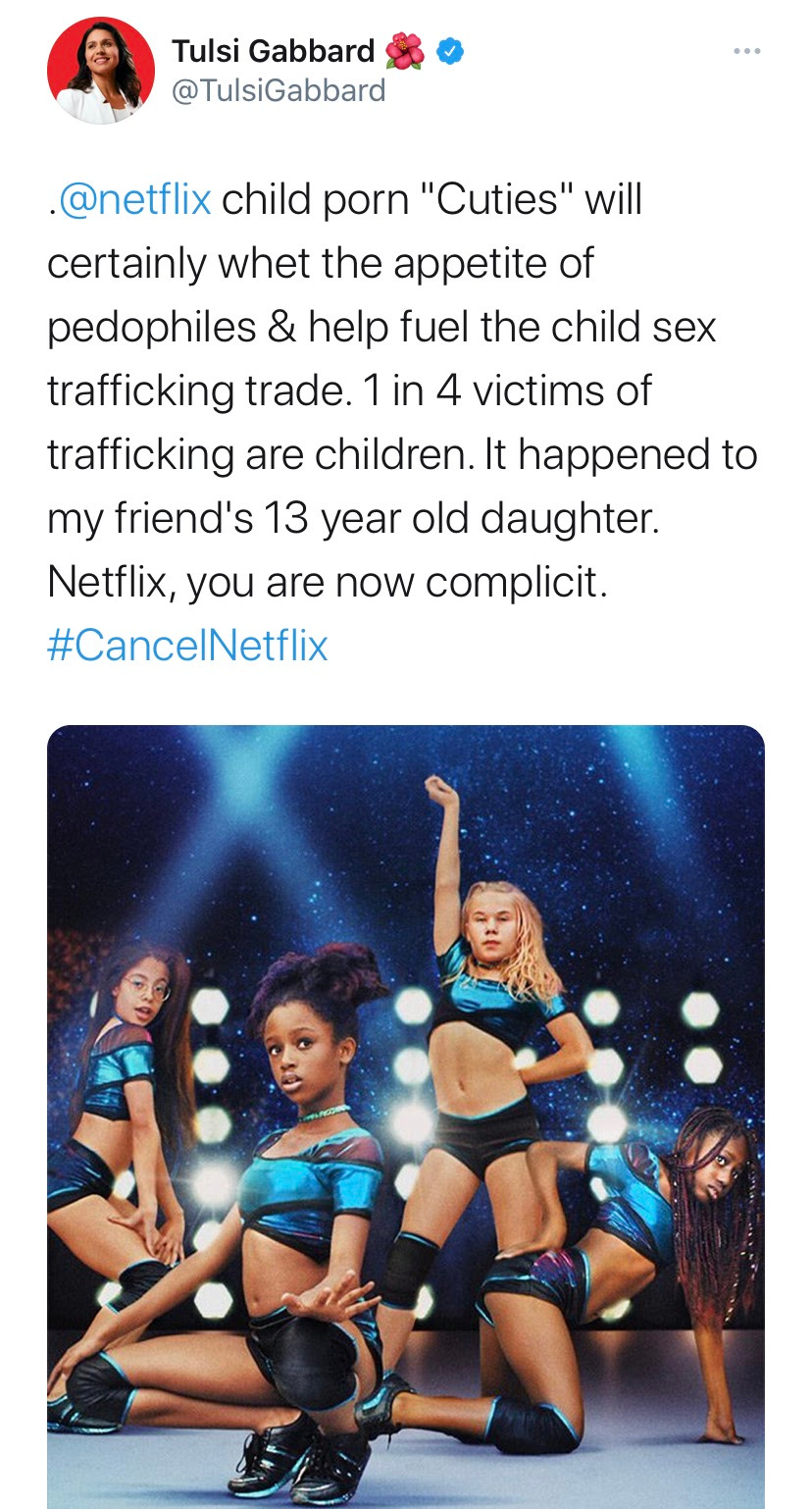 It's probably fair to say that neither Cruz nor Gabbard nor the legion of people cancelling Netflix have seen the film. They'll insist that they don't need to, that they don't need to watch it to know it's a pedophile movie. That is how misinformation gains traction, and how hysteria spreads.
And it looks like it's not going to stop.
Over the weekend, San Diego's Mayor Kevin Faulconer tweeted that he was "appalled" by a bill signed by Governer Newsom that maintained "a 24-year-old can have sex with a 14-year-old and it not be considered predatory." This is not true. The bill, which is an update to a law that has been in place since 1944, allows a judge to consider leniency when encountering an illegal relationship between, say, an 18-year-old and a 17-year-old. Previously, such leniency could only be considered when vaginal sex was involved, and the new bill includes oral and anal sex, and therefore less discrimintory against LGBTQ folks.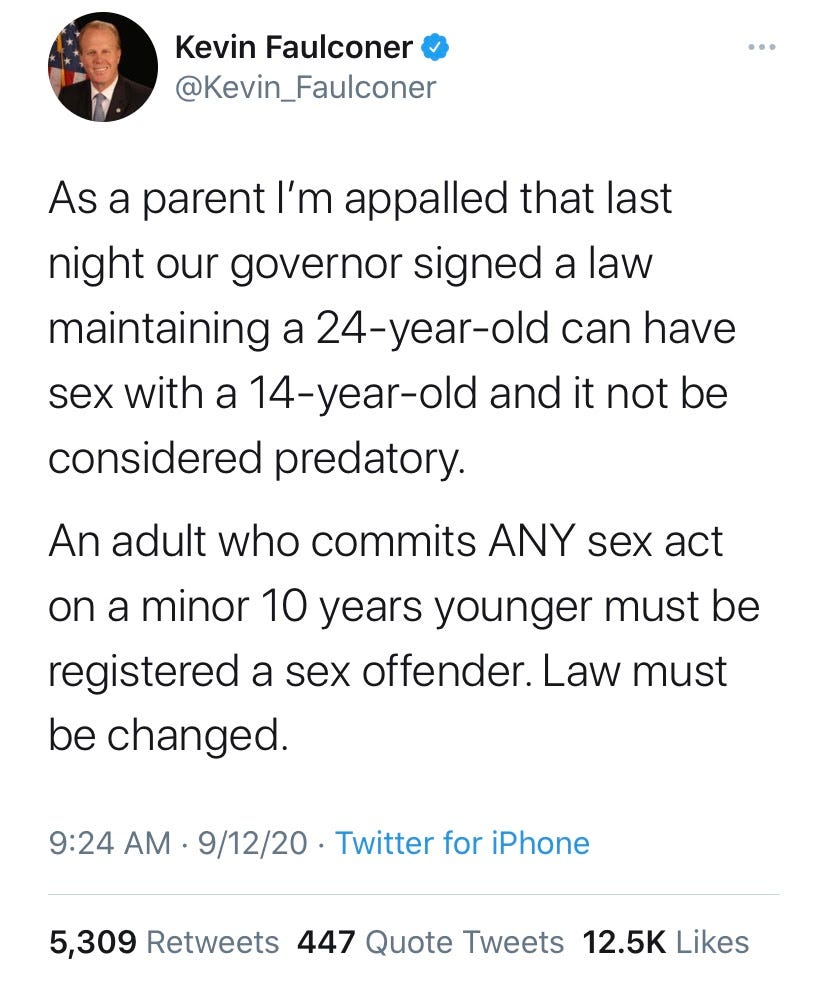 But when you have your pedo lenses on, everything looks pedo. Faulconer's blatant spread of misinformation will surely resonate with the Republicans, but it's surprising to see Assemblymember Lorena Gonzalez, a relentless progressive, echo this falsehood: "I cannot in my mind, as a mother, understand how sex between a 24-year-old and a 14-year-old could ever be consensual. How could it ever not be a registerable offense?" Gonzalez said.
When we look back at history, the right's obsession with pedophila should not be a surprise — it's just a continuation of all the ideological boogeymen that unites parents with unfounded fear. As for Republicans, I imagine that they see it as an olive branch, a unifying atrocity that no Democrat could defend. Or perhaps it's the final taboo from which they can absolve themselves, considering they're fine with state-sanctioned murder (Black deaths at the hands of law enforcement) and a president that lies, cheats and steals.
The ultimate concern with the new Satanic Panic is that once everyone's a pedophile, then nobody's a pedophile. Child sex trafficking is a real and horrendous crime, but flinging unfounded accusations undermines the work of finding actual predators. QAnon's extreme demonization of pedophiles is also a disservice — how can any real progress be made when people approach it like a literal witch hunt? Just like EC Publisher William Gianes, we're sitting in front of a tribunal that cannot and will not listen to reason. We're sputtering, deflated, trying to invoke rationality, but it's hard to quell this panic. Heightened hysteria can only result in increased retaliation, and if history has taught us anything, Pizzagate won't be the last act of violence caused by this sort of misinformation.
---
DISC-GO IN-FERN? NOOOOO!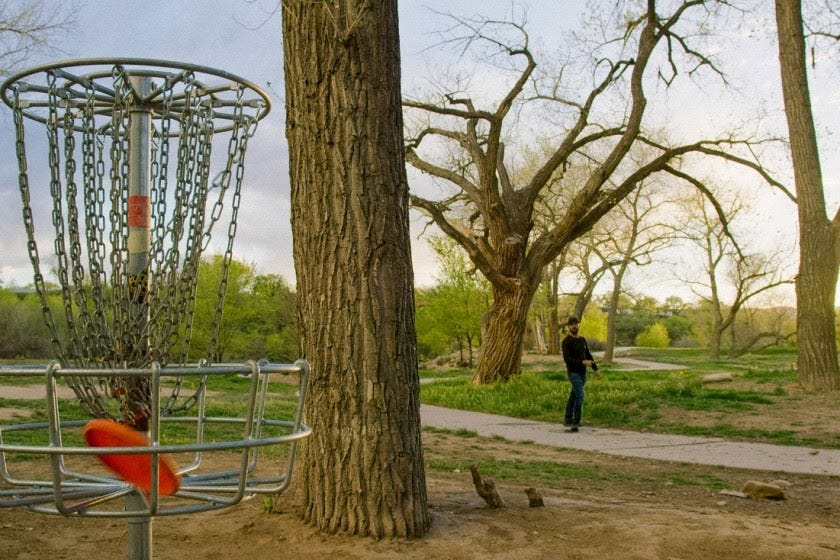 Consider me a disc-head! Over at PACIFIC Magazine, I wrote about my first time playing disc golf, and you should read it.
---
THE WEEKLY GOODS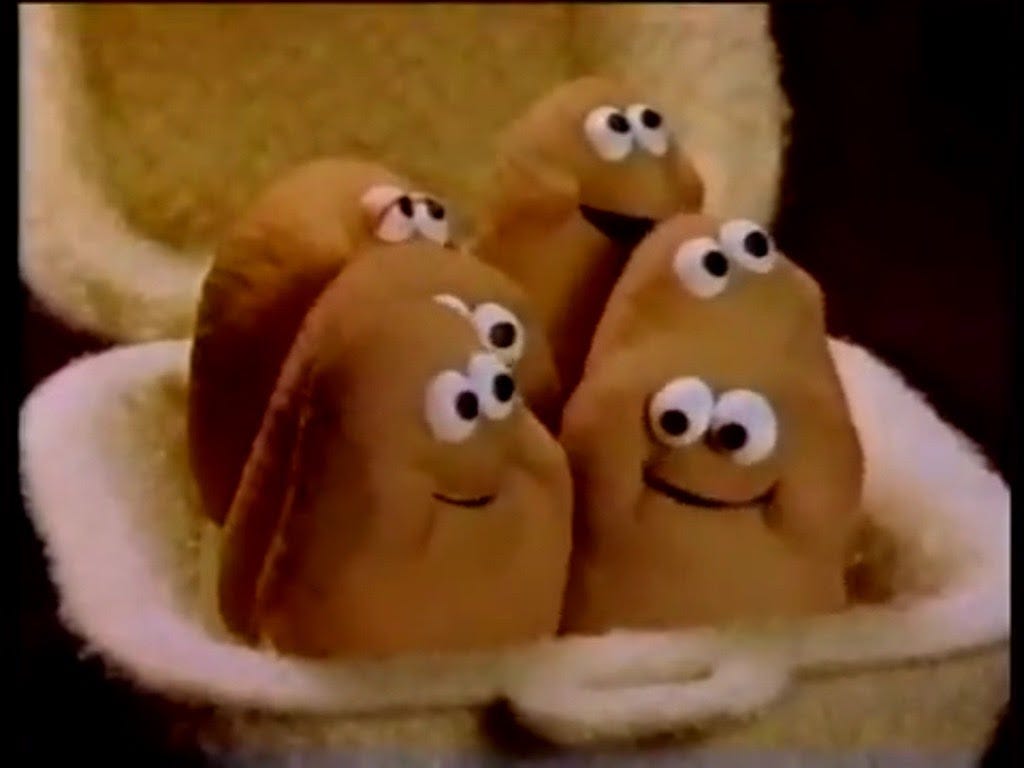 Eat this
Today, McDonald's put out their new spicy McNuggets. Not to sound like a shill for Big Fast Food, but I'm stoked. I'm always down for a nugg, and IMO, this is the most exciting thing McD's has done since putting their Coke Floats in genuine glass.
Listen to this
Last March, I told you to vote Wendy Wheatcroft for City Council District 7, because I appreciated her views on gun legislation. Although she didn't make the runoff and won't appear on the ballot this November, Wheatcroft is still doing important work as a vocal advocate for gun control and COVID safety regulation.
But until recently, I had no idea that Wheatcroft's daughter is a rockstar. As the lead guitarist in The Fluorescents, she fills the indie punk with shimmery riffs that remind me of my favorite pop-punk bands from the 2000s. The band's self-titled EP came out in May of this year, and it's a delight from start to finish.
Listen to The Fluorescents. They're very good.
Do this
My friends over at the music site Treble are raising funds in order to be able pay writers and contributors. As more music sites become consolidated or dissolved because, well, that's the industry, independent sites are essential to music journalism. I don't know of any outlet that consistently strives for diversity of coverage like Treble, and I'm proud that they've allowed me to sully their site with my byline (I recently wrote this piece about Rancid's ...And Out Come the Wolves for Treble, which I'm super proud of). Throw some support their way if you can.
---
ONE LAST THING
My boi Harvey (aka Harvey D. Cat aka Harv-Harv aka Harv) was diagnosed with chronic kidney disease over the weekend. The doc said it's very early stage, and that Harvey has many more years left with a high quality of living, but I'm still very sad about it. He's a very good friend (when he's not being a dick), and here's a pic of him. Why can't cats just live forever? If you have any words of encouragement, feel free to send them along! <3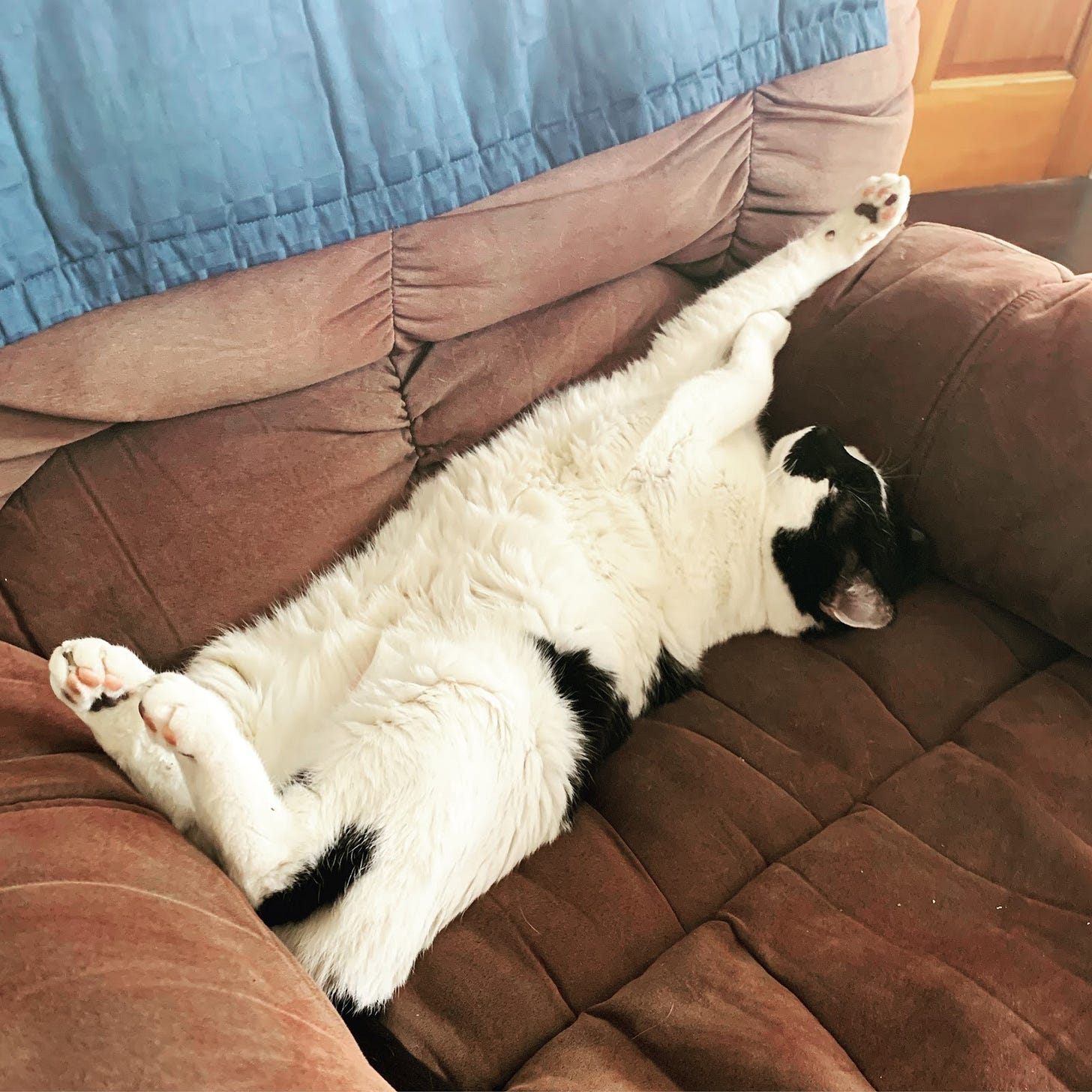 ---
Got a tip or wanna say hi? Email me at ryancraigbradford@gmail.com, or follow me on Twitter @theryanbradford. And if you like what you've just read, please hit that little heart icon at the end of the post.
Julia Dixon Evans edited this post. Thanks, Julia. Go follow her on Twitter.
---