The free things people send to me
When you're you're part of the media elite, people just give you things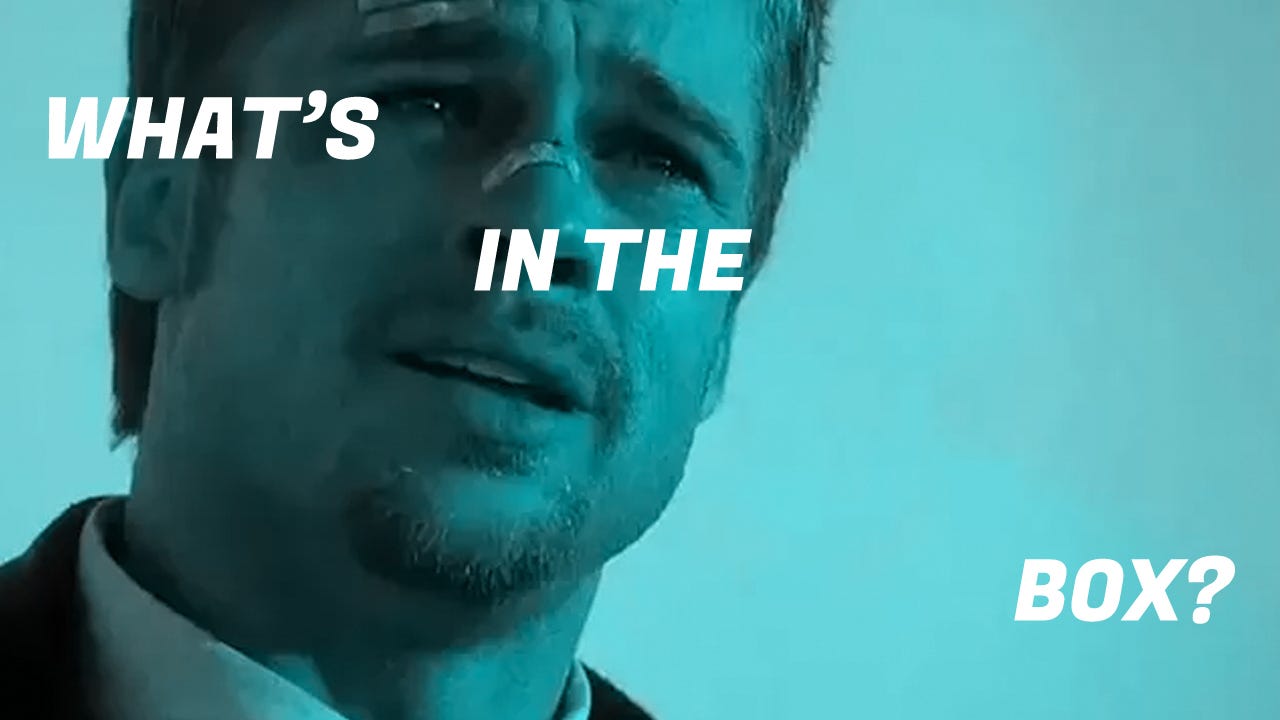 During my final days at CityBeat, I just start saying yes to everyone who wants to send me things. Before that, there was a gauge in my head—a conscience, perhaps?—that sometimes questioned the ethics of accepting hand-outs, but mostly just stopped me from accumulating useless shit. Do you really need a mojito muddler? it would ask, to which I'd respond with a meek "no." I generally do what my brain says because it's kept me from doing a lot of dumb stuff (voting for Bob Filner, getting into Morrissey, eating "shrimp" flavored Top Ramen).
However, during those final days, the sweet-sour scent of DGAF permeates those dank, sad CityBeat offices, and the little voice in my head just kind of shuts up.
When a company called Baby To Love reaches out to see if I'm interested in reviewing some baby toys called Dooballs, I shrug and reply yes. In what world do I have any business with baby toys? Who knows. But we'll all probably be dead in 20 years, crawling through the desert sands of Antarctica, so YOLO.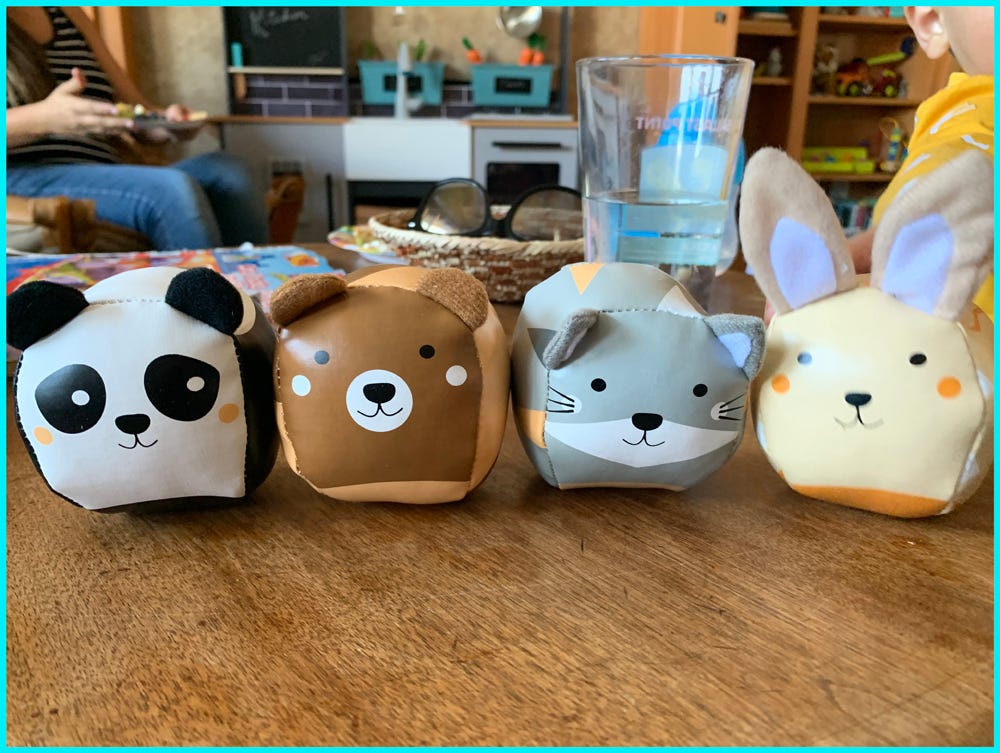 The Dooballs arrive and the obviousness of the situation suddenly dawns on me: a childless, middle-aged man receiving baby toys.I feel like I belong on some evil man registry just for holding the box. The little faces that adorn the Dooballs—bear, panda, cat and bunny— stare through the plastic window with accusatory eyes. If I am to die in my sleep, please, loved ones, dispose of the Dooballs before alerting the authorities.
Immediately, I know I'm the wrong audience for these things. What I'm I supposed to do with them? There's no screen to touch. No bright lights. They don't contain that ingredients alter my mind to make the world seem easier. They're not really things I can Instagram to instill FOMO in the rest of my friends. Without any of those aforementioned qualities, I'm at a loss to see how something would be enjoyable.
But in the rare instance that my opinion is wrong, I decide to reach out to some actual babies for their takes. I get in touch with three kids—Zoey, Zinnia and Dasia—all under the age of two. We schedule a playdate. I offer to bring beer.
I arrive nervous, feeling the Cool Uncle effect kicking in. Despite my own misgivings about the Dooballs, I suddenly want to impress the babies. I suddenly wonder if my apathy toward the toys were just an internal defense mechanism against the potential disappointment if the babies hated the them. I don't know much about kids, but I do know that a jingly set of keys or crinkly piece of paper could derail any interest in the Dooballs, ergo psychologically destroy me.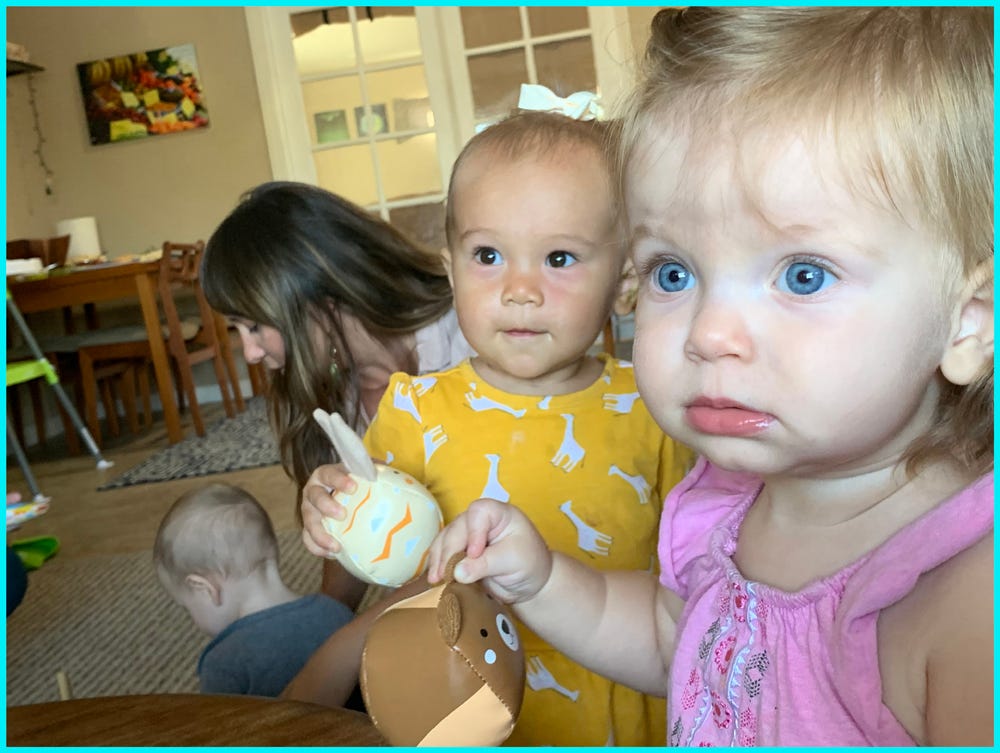 From left: Zoey, human adult mom, Zinnia, Dasia

The babies are chilling when I arrive, doing cute baby shit like sorta walking. I never know how to greet a baby, so I just place my thumb in their hands, and it feels like a teeny-tiny handshake.
"Shall we unleash the Dooballs?" I say. I open the box and bring them out. It's the first time I feel the soft vinyl coating and it's a very satisfying sensation. Each toy also has soft, crinkly ears, which I also dig. I pick up a Doobal andl—hark!—hear the muted sound of a bell inside. I'm starting to understand the appeal.
I place all four Dooballs a coffee table. I mentally decide panda as my favorite because of its vivid black and white contrast. I don't say this aloud out of fear of creating bias or competition among the little ones, but I also don't want to look desperate for approval. Keep it cool, old boy, I think.
Zinnia is the first to attack. She goes for the bunny first. It's not a bad choice, but it's no panda.
Zoey picks up the bear and puts in her mouth. Zoey's mom comments that the bunny's ears probably have good mouthfeel. I nod, scientifically, and jot that down in my notes.
Dasia finally grabs the panda. I make brief eye contact with her and give a slight but definitive nod of approval.
As the babies continue to play, their parents clue me in on all the toys' great features: they're made for children aged 0+—which is rare for a baby toy. The Dooballs also present no obvious choking hazard, which I guess is what you want in a toy? Again, I'm not a parent, so I just thought if it's not a knife, gun, or box of matches, it's cool.
Dasia slams the bunny into Zoey's head, and it doesn't even phase her. "Bounces right off the head!" Zoey's mother exclaims. Another admirable quality. I note it down for my review: "good head bounce."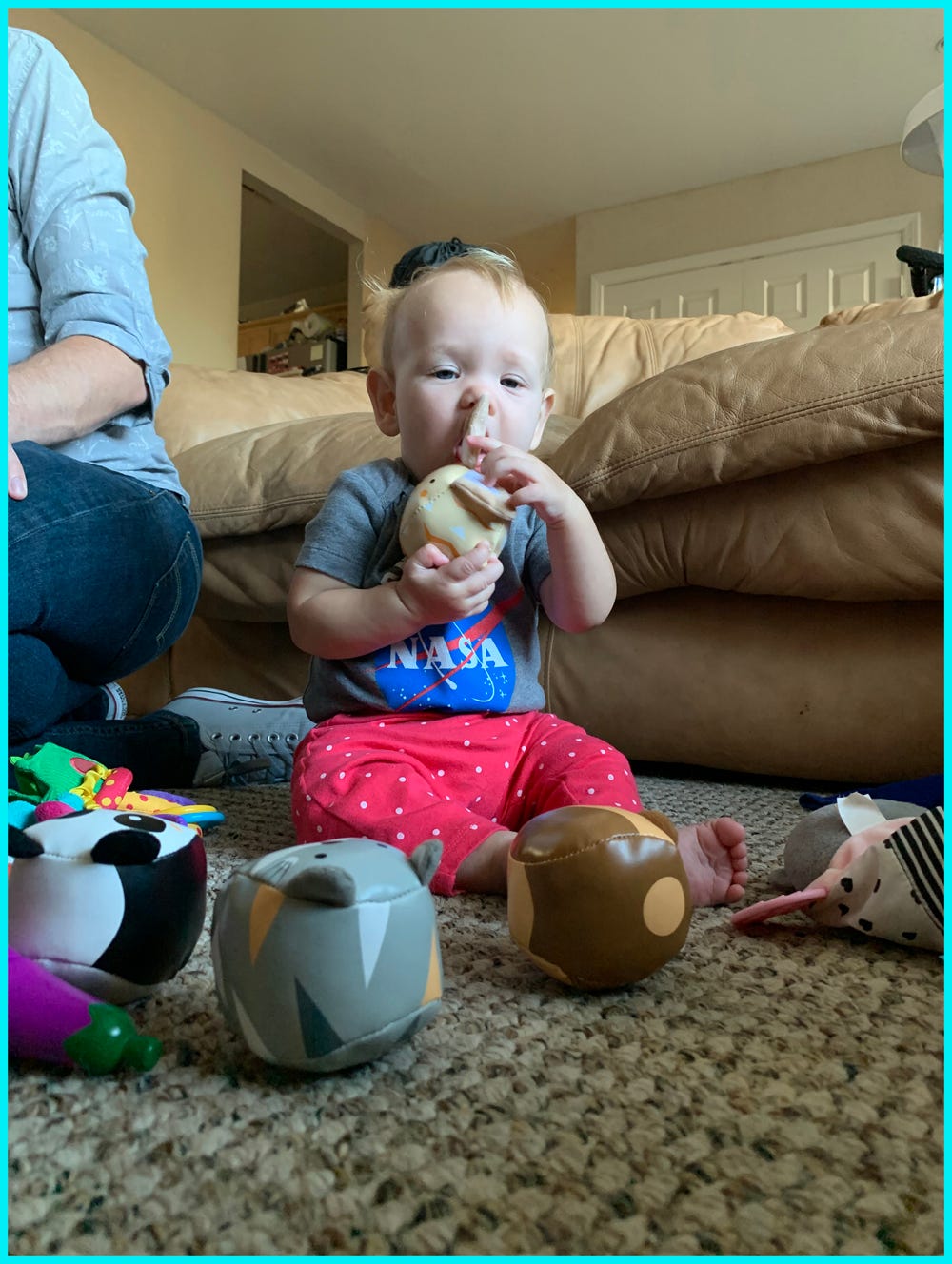 I watch the babies repeatedly try to shove the Dooballs in their mouths and wonder if they're onto something. Certainly, baby toys are rated on taste, right? I take the bear—everyone's least favorite Dooball—and bring it to my mouth. I don't yet have the technique down of shoving it against my face, so I kind of stick out my tongue and lick the Dooball in a very grotesque manner. The taste isn't anything to write home about—just a little plasticky. However, there's an undeniable freshness to it. The Dooball doesn't taste edible, but it's slightly refreshing and energizing. The equivalent of baby's first chew?
After an hour or so, I realize that we—the seven grown-ups in the room—have been staring at these kids with varying degrees of blissed-out stupor. Our conversations are half-hearted and distracted. This is definitely my kind of party. There's no pressure to be "on" or discuss things that adults usually talk about. I can be as dumb as I want because everybody's focusing on the babies. I crack open another beer. Baby party lyf.
The babies gradually lose interest in the Dooballs. Zinnia returns to her doll and Dasia opts for a lawnmower that makes clacking sounds when she pushes it. I don't want to come off as, like, a Dooball freak or anything, but seeing these babies play with toys that I didn't bring kills me dead.
Before heading out, I place the four toys in a row and let the babies decide which one they're going to take home. In a surprising twist, Zinnia swoops in first and grabs panda. Hell yes, I think. Good choice. Dasia goes for brown bear and Zoey gets bunny. I decide to keep the cat. I get in my car and drop the Dooball right in the cup holder. It fits perfectly—the little eyes stare up at me as I pull out of the neighborhood. I imagine it saying, Now what?
Now, we take a nap, I think. I've learned a lot from the babies today, but when it comes to nighty-night time, I'm way ahead of those kids.
Big thanks to Scotty and Julia Hoopes; Tony Gidlund and Renita Ip Gidlund; and Jessica and Dave Kort-Manley for letting me exploit their children.
Now here's a review of a lot of hard kombucha someone sent to me, which I wrote after drinking a lot of hard kombucha. You know the old saying: "write drunk, edit sober"? Well, here's "write drunk, don't edit."
When I crack open third consecutive JuneShine, I've decided that I fucking love hard kombucha.
Since writing about the alcoholic beverage (ironically, for CityBeat's Beer Issue) earlier this year, I've been inundated with requests from booch companies, rabid to thrust their products into my word count. And there's a lot of them in San Diego. Two heavy hitters in the booch world—Boochcraft and JuneShine—started in San Diego. I don't know if it'll ever take off in the same way that craft beer has, but it's certainly winning over the big hat-wearing influencer types.
Despite its tweeness, however, I can't say no to free booze. So when a rep from JuneShine reaches out to see if I'm interested in trying their new flavor: Hopical Citrus, I'm like: doi.
Hopical citrus. I don't know those words, but after drinking three of them, it tastes like a cool, honey treat. Like, honey drizzled over a grapefruit or something. A little sour but muted, if that makes sense.
When JuneShine reached out, I said "sure I'd love to try one (1) of your products." And then they sent 12. Not complaining!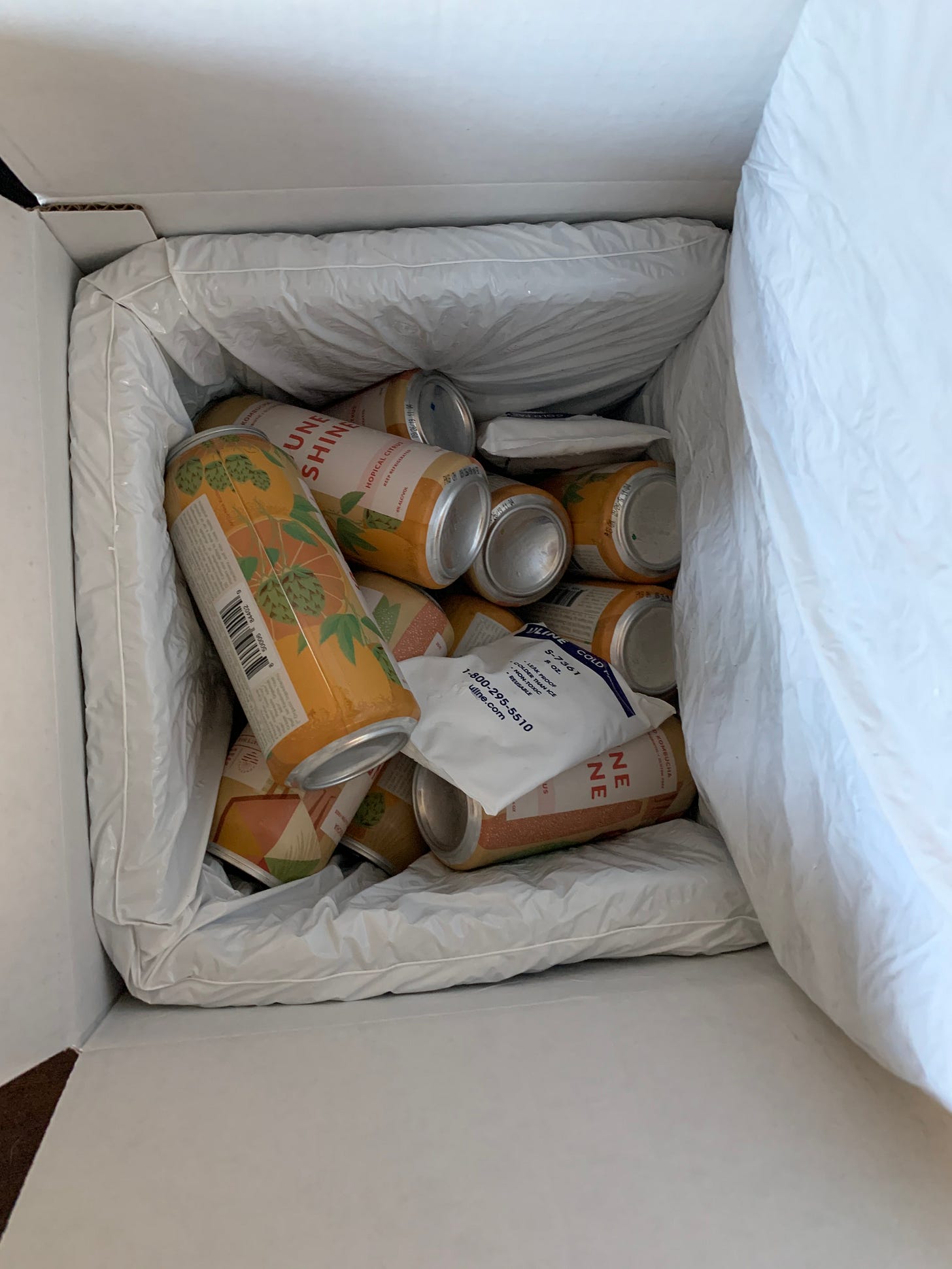 Kombucha is it's healthy right??
Tonight, I set upon finishing the rest of the JuneShines that I'd pushed to the back of the fridge. I tackled it with the same gusto as someone set on finishing the mysterious Michelob Ultras that always find their way in the back of the refrigerator. Don't get me wrong: JuneShines are way better than Michelobs but you get the idea. I imagine most booch fans have the wherewithal to drink their booches in a timely manner too, so I imagine not many people binge on the booch, but not me, baby.
Anyway, it's a Hopical Citrus is a little like brushing your teeth after drinking citrus, and I'm into it. Maybe that makes me a pervert, who knows. Anyway hard kombucha is here to stay. Welcome to Ryan's Kombucha Podcast brought to you by stamps dot com.
---
THE ONLY CONCERT CALENDAR THAT MATTERS™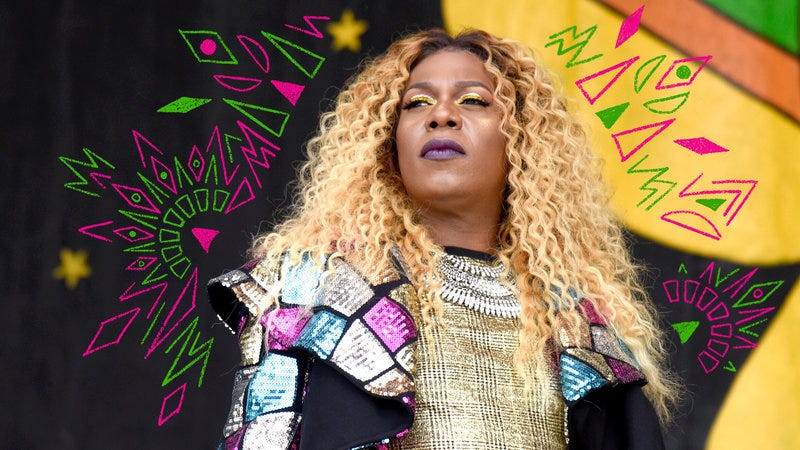 Wednesday, Nov. 20
OPTION 1: Ami Dang, Kilikili @ The Whistle Stop. Ami Dang creates ambient, sonic landscapes punctuated by her virtuoso sitar playing. Her music's incredibly compelling, immersive, and strangely narrative despite the fact that there are no lyrics. It's the type of stuff that makes you feel high without having to use drugs.
OPTION 2: Ghostland Observatory, MUNYA @ Belly Up Tavern. Ghostland Observatory are hella cheesy (c'mon guys, at least ditch the wizard capes), but they've written some solid dance jams. "Sad Sad City" is especially good. If all else fails, at least there will be plenty of lasers at this show.
Thursday, Nov. 21
OPTION 1: Deep Sea Thunderbeast, Beekeeper, D. Wrex @ The Casbah. Holy shit, this show is going to be a bruiser. Deep Sea Thunderbeast, one of San Diego's premier doom/sludge/stoner groups are releasing their new album tonight, which is a pummelling delight (review to come). Arrive early to catch Beekeeper and D. Wrex, too. 'Tis a solid night of some of the best and hardest San Diego bands.
OPTION 2: Big Freedia, Low Cut Connie, Boyfriend @ Belly Up Tavern. Holy shit, another bruiser of a show (even though it's totally different than what's going down at The Casbah). Big Freedia is a pioneer of bounce music, which is like hip-hop, EDM, and Latin mixed into one. I have a feeling that everyone going to this show will wake up sore the next morning.
Friday, Nov. 22
OPTION 1: New Skeletal Faces @ SPACE. I once described New Skeletal Faces as "a cross between Misfits and hair metal" and "they could easily be cast as the evil band in a Battle of the Bands scene from an '80s horror movie." Their shows are dark, theatrical, and scary. Tonight, they're also celebrating the release of their debut album "Celestial Disease," which is bound to damn some ears (in a good way).
OPTION 2: Wonderfront Music Festival @ Downtown San Diego. As much as I want to hate on Wonderfront for booking lame acts like Ben Harper and Slightly Stoopid, there's no denying that it's one of the most diverse festival lineups I've ever seen (at least for a big, commercial thing). Plus, it's going to turn Downtown San Diego's waterfronts into a huge, citywide music festival, and it's always so heartening to see the city pull together to organize things that aren't beer festivals. (There will probably be a beer festival at Wonderfest).
OPTION 3: Cherry Poppin' Daddies, Dark Alley Dogs, Shake Before Us @ Belly Up Tavern. Have you ever considered that "Cherry Poppin' Fathers" would've had a completely different ring?
Saturday, Nov. 23
OPTION 1: The Get Up Kids, Kevin Devine, The Whiffs @ Soda Bar. So this show is sold out, which should negate mentioning it here, but Something To Write Home About was so important to me when I was in high school. I mean, "I'll Catch You" was the first our song I ever had with a girlfriend. Even if you don't have tickets to this show, you can still stand outside and listen through the window whilst crying (which is actually probably the most appropriate way to enjoy a Get Up Kids show).
OPTION 2: Wonderfront Music Festival @ Downtown San Diego. Oh, when I was talking about this music fest above, I only mentioned the stupid bands, but there's some great performers, including: Vince Staples (!), MGMT (yes, they're good), Migos, Parquet Courts, Japanese Breakfast, The Vandals, The English Beat and more. Support this festival so San Diego can be known something other than that other festival that sounds like a sneeze.
OPTION 3: Washed Out @ Bang Bang. If you watch Portlandia, you know the music of Washed Out, who provide the show's theme song. Chillwave is not usually my fave (dibs on making putting that on a T-shirt), but I can get down with Washed Out.
Sunday, Nov. 24
OPTION 1: Death Valley Girls, Crocodiles, Kate Clover, Daggers 86 @ The Casbah. Death Valley Girls' music is the sonic equivalent of the schlocksploitation film Faster Pussycat! Kill! Kill!: dark, wild and fun.
OPTION LOL: The Chainsmokers, 5 Seconds of Summer, Lennon Stella @ Viejas Arena. I have no idea what The Chainsmokers sound like, but when Twitter started doing promoted ads, it seemed like Chainsmokers were doing relentless Twitter ads. So now I just conflate them with angry Gamergaters and neo-Nazis.
Monday, Nov. 25
OPTION 1: Meager, Threadpuller, Infinity Eyes, Poor @ Soda Bar. Slim pickings as far as local shows tonight, so let's all rally around Meager, which is the new project from Gloomsday's Justin Cota and Lori Sokolowski. I have no idea what they sound like, but everything they touch turns to gold, so this is bound to be rad.
Tuesday, Nov. 27
OPTION 1: Eddie Spaghetti, J.D. Pinkus @ The Casbah. Supersuckers' live album was recorded at The Casbah, so I'm guessing that bassist/singer Eddie Spaghetti holds the venue dear in his heart. I also imagine watching him play there always feels like a homecoming of sorts.
OPTION 2: Jeremy Enigk @ someone's living room. Another sold out show. I don't even know where this show is going to be (these Living Room shows don't disclose the location to non-ticket holders) so there's really no use to bring this up apart from the fact that Sunny Day Real Estate singer Jeremy Enigk is playing in someone's house and you're (probably) not there. Hey, if I'm going to be miserable and sad for not getting tickets, so are you.