Running with the devil
A cancelled Ragnar race—due to the Kincade Fire—reveals the devastation and luxury to which Californians have grown accustomed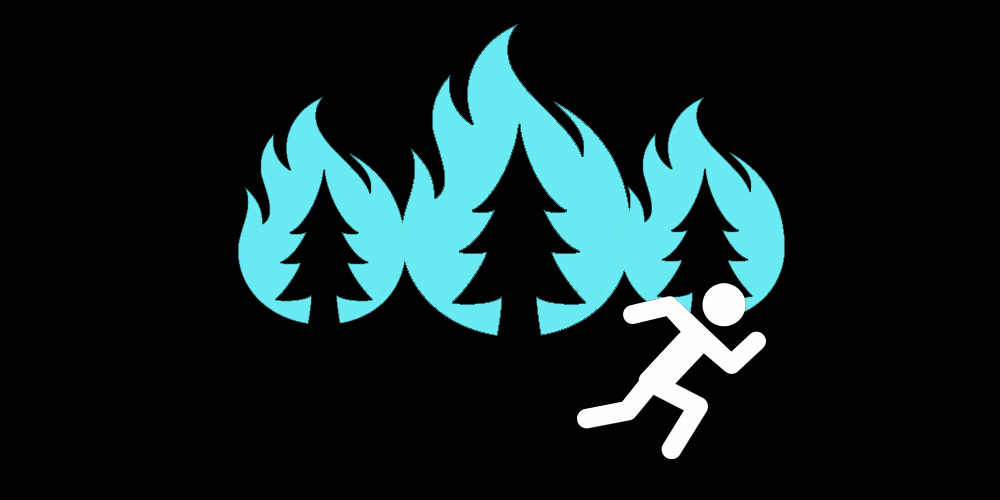 I never wanted to be a runner until I moved to California. It's funny how this state does that to you. It's not even the self-consciousness that comes from being surrounded by fit, tan, attractive Californians (although, there is that), or the sunshine and temperate climate. The draw is a result of something deeper. An escape of some kind. I think all Californians are looking for an escape, and that's why we live here.
Or, that could just be me. All I know is that I'm a runner now, and it's somehow California's fault.
****
I have a feeling that Ragnar Napa is going to be cancelled on the morning before I'm supposed to run. I lie in bed in an Airbnb in San Francisco, scrolling through my phone, and it's telling me that everything is on fire. The Kincade Fire, which broke out the previous night, is rapidly tearing through Sonoma County at a rate that would terrify Cormac McCarthy. And it's headed right for our race route.
For those unfamiliar, Ragnar is a long-distance relay race held multiple times throughout the year, in various locations around the world. Runners from each team complete multiple legs during a 48-hour period, which adds up to about the distance of a half marathon for each runner. Between legs, we get little-to-no sleep, so it's not just a physical test, but a mental and emotional one too. Like marathons, or Tough Mudders, or Ironman races, Ragnar's one of those things that capitalizes on our collective need to carpé diem, demanding that we rise above our presumed physical limitations, and prove something to ourselves.
As a guy who suffers from a perennial existential rut, and whose diems often go uncarpéd—Ragnar seemed like the exact thing I needed to pick myself up by the bootstraps, fix the attitude, get into shape, be part of a team, [other army slogans], etc., etc.
But now—after months of serious training, miles documented in fitness apps, and a groin strain that I wouldn't stop talking about—Kincade is burning up the Ragnar course.
I text Lewis and Karen, my brother-and-sister-in-law, to tell them the news. They're the ones who invited me to join their 12-person team. I'm one of three members that has never done a Ragnar before, and I take that into consideration when I text about the fires. Get a load of the new guy racesplaining, I imagine them saying.
"I wouldn't be surprised if they rerouted the course," I text, nonchalantly, as if I'm an expert on both Ragnar and fire. Then I'm quick to send a gifs that reinforce my steadfast dedication to the team: The Terminator, emerging through a wall of fire. I send another: Jim Carrey's character Fire Marshall Bill, grotesquely scorched and laughing in the face of tragedy.
Around noontime, we receive the official email. Ragnar has been cancelled.
****
California has burned almost every fall since I've lived here. The Santa Ana winds tear through every September and October, drying us out while spreading termites and flames that devour our houses. It seems to be getting worse. The land might as well be made of newspaper. I'm not a scientist, but I've heard that the climate is changing, bitches, and soon we won't have anywhere to hold these destination races.
In fact, this exact same Napa Ragnar was cancelled back in 2017 because of wildfires. It'd seem like someone would've learned a lesson. Maybe someone will this time, but California has a little tunnel vision when it comes to these things.
My sadness upon hearing about Ragnar's cancellation is selfish, and for that reason, seems uniquely Californian. People are losing their homes, their property, everything, but I trained for this. Remember the miles I tracked? The sweat I sweated? The GROIN STRAIN (for god's sake, remember the GROIN??). Now, I can't help but think it was all for nothing. And what makes everything worse is that there's nothing to blame except fire, and I don't know if you've ever tried to get mad at fire before, but it's not really receptive to anger.
On the morning when we're supposed to start, our team captain organizes a run across the Golden Gate Bridge. It's hard to feel like this isn't some attempt to inject some morale into our collective corpse, but the day turns out to be beautiful, hot even, which seems freaky for the Bay Area during late October. Besides some whips of brown smoke in the sky, this is the exact type of weather that makes me forget about global warming. Bring on Napa Ragnar 2020, I think, showcasing some patented Californian short-sightedness. Certainly this year—as well as 2017— were flukes.
We make it to the other side of the bridge, turn around, and head back. Lewis runs alongside me, and even though I know he's slowing down for my sake, I feel great. I get Van Halen's "Running With The Devil" in my head because, well, we're running and there's fire in the distance.
We pass other Ragnar runners, and for a little while it feels like everyone on the bridge is part of the same team, unified in our dejection. I breathe deeply and feel the lactic acid wash through my legs. The kink in my groin is behaving well. I look out over the bay and see Alcatraz, dull and severe in the shimmering bay. This bridge! I think, crossing under the first support. So many people have killed themselves on this bridge. Wow.What a marvel. For the next few miles, I don't think about the ravaging flames, or the dreadful symbol of American incarceration out in the water, or how many people who have jumped off the Golden Gate. I just think about how good it feels to be a Californian and to be running.
****
After our Golden Gate run, our team stops in Sausalito on the way up. I've never been to this city and am enamoured with its quaintness. When I was in college, I worked at a pizza chain called Pier 49, and all the speciality pies were named after San Franciscan landmarks ("The Lombard Street" = barbecue chicken, "Embarcadero" = chicken pesto, "The 49er" = double pepperoni dear god stop me before I go on), so basically all my knowledge of San Francisco come from a gimmicky pizza menu, and I'm surprised to see that Sausalito is lovely but not at all offensive like the zesty chicken and Cajun sauce pizza that had I associated with it.
We eat at a brew pub, stinking up the place in our sweaty running shirts. I order an (1) oyster—not because I love oysters, but because they're fun to eat and I justify it as a fun little belated birthday treat, and there's a chance we'll be scorched to ash before the weekend is over. Our server overhears that it was my birthday recently, and he brings celebratory champagne. I suck both the oyster and champagne down while people less than 30 miles away evacuate their homes.
****
We have hotel and Airbnb reservations in Napa, and, by hell (literally), we're going to honor them. Months of planning have gone into this Ragnar trip. Our team is from all over the country—some even as far away as Baltimore. Karen and Lewis have a newborn, and I can't even fathom the kind of preparation required to plan a trip with a 5-month-old. We're going to drive toward the fire. The hubris of humans cannot be understated, and that's what makes us great as a species.
Some of the wineries are open during the wildfires. The team buys me birthday blanc de blanc at Domaine Chandon. When we go to Mumm's winery, I can see billows of smoke just over the horizon from the parking lot.
That night the power in our Airbnb goes out. The hotel where Karen and Lewis are staying kicks everybody out because they won't have electricity for four days. The power's out all over Napa as part of PG&E's scheduled outages—a cowardly and seemingly greed-fueled effort to dodge blame for the wildfires (PG&E was ordered to pay $1 billion to 14 local governments after courts determined last year's deadly Camp Fire was the utility provider's fault). I sit on the toilet in a pitch-black bathroom and watch video clips of fire ripping through Soda Rock Winery. The wifi's out, and soon the cellular speed slows to nothing. Tweets stop loading, I can only send iMessages as texts, Netflix won't stream. It's the end of the world and I feel peeved.
Could this be the apocalypse? I think. It makes sense in that not-with-a-bang-but-with-a-whimper sort of way. A slow decline of everything. Wouldn't it just make the most sense if the end of the world happened during a destination vacation with a stomach full of nice wine? I can't tell if—as a human Californian—I've earned this or if I've had it coming all along.
****
On the way back from Napa to San Francisco, we drive through Sonoma County. The smoke here is so thick that it gets in the car and burns my eyes. I can taste it. Everything is draped in a suffocating veil of brown and yellow. There's no way anyone could run in this, but I see people going about their work. A man rides a bike along the highway. I see another man unloading lumber. Just another day, it seems.
I guess that's the trick to living in California: ignore the danger. Pretend like it's not there. Enjoy the beauty that this state has to offer and all the unequivocal privileges. And then when the danger gets too close, you run.
---
THE ONLY CONCERT CALENDAR THAT MATTERS™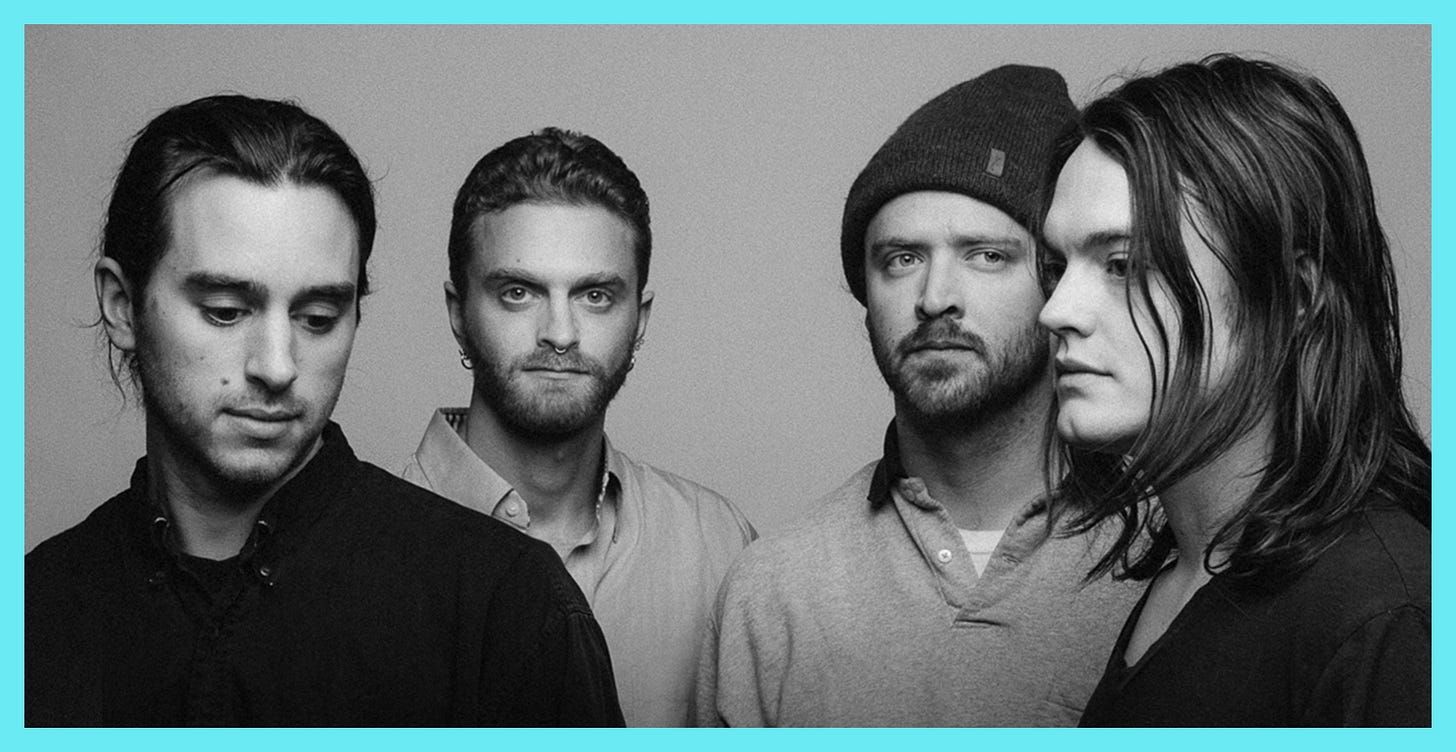 Wednesday, Nov. 6
OPTION 1: Tobe Nwigwe @ Music Box. Whoa, I don't know what happened to San Diego's live music scheduling tonight, but it seems that everywhere has booked a show that would please Anthropologie-wearing influencers who wear large hats. There's a band with a ukulele at Soda Bar, one of those neo-folk Edward Sharp-ish bands at Casbah, and a Bon Iver-esque, pop-folksy gospel thing at Belly Up. No shade to any of these venues or artists, it's just odd. Anyway, hip-hop artist Tobe Nwigwe will be your best bet tonight if you want to steer clear of the influencers.
Thursday, Nov. 7
OPTION 1: The Locust, Creepy Creeps, Silent @ Music Box. I wonder if The Locust are mirroring the behavior of actual locusts, in that they emerge every seven or so years to completely chew up, destroy, and ravage everything in their paths. I hope so. Anyway, San Diego's premier noise/grindcore band is back... for now. Better check them out tonight before they go back underground.
OPTION 2: Helmet @ Belly Up Tavern. I have a soft spot for Helmet. They're metal without any bells and whistles, as if blue collar bros decided to try their hand at the genre, and I dig that lack of pretension. I don't know if this equation makes sense to anyone but me, but Helmet : metal :: Pennywise : punk.
Friday, Nov. 8
OPTION 1: Snow Tha Product, Vinnie Caruana, and The Thieves About @ House of Blues. This should be your only show option tonight because Snow Tha Product is endlessly inspiring and rad. The San Diego native (she grew up in Mira Mesa) spent a lot of years fighting against a record industry that was unsure of how to market her, finally said fuck it, got out of her Atlantic Records contract, and embarked on her own music career. Now the pioneering LGBTQ rapper is finding success on her own terms. Oh, and it helps that her songs are absolute bangers.
Saturday, Nov. 9
OPTION 1: Liturgy, JC Meyers, Seizures @ Soda Bar. It's too bad that when Liturgy's 2011 album Aesthethica came out, metal fans were so distracted by arguing whether it was metal or not that they overlooked the sheer genius of it. Yes, the polarizing mix of math rock, techno, metal and rock—paired with black metal vocals—can be difficult to get into, but in my book, it's as ambitious and revolutionary as Refused's A Shape of Punk to Come. (And I absolutely love this hypnotizing video of Liturgy singer Hunter Hunt-Hendrix covering Shellac's "Prayer to God")
OPTION 2: Kate Bush Night with Baby Bushka @ The Casbah. Baby Bushka, San Diego's Kate Bush fantastic tribute group, does the one-of-a-kind, innovative songwriter justice with their transcendent live performances. If you haven't seen them yet, don't miss this.
Sunday, Nov. 10
OPTION 1: Tom Morello @ House of Blues. Now that Rage Against the Machine announced their big Coachella reunion, seeing Tom Morello by himself might not be as enticing, but I saw him play Riot Fest a few years ago. They did a lot of RATM covers, and it was really fun. Seeing "Killing in the Name" very much satisfied my inner angry 14 year old.
OPTION 2: 1349, Uada, and Cloak @ Brick By Brick. 1349 are solid, theatrical black metal. If you're more of a purist who disagrees with my assessment of Liturgy, then you'll probably be at 1349.
Monday, Nov. 11
OPTION 1: Kllo, Claire George @ Soda Bar. Kllo make bubbly electro-pop that's kinda sweet, kinda sexy with a hint of sadness underneath. If you watch the show Euphoria, this is like the musical equivalent of that.
OPTION 2: Stonecutters, Call of the Wild, Graveyard Witch @ Brick By Brick. Stonecutters are metal and they will destroy you, but I recently saw San Diego's Call of the Wild and was completely blown away. No-frills here, just some straight-up face shredding.
Tuesday, Nov. 12
OPTION 1: Sleater-Kinney, KAINA @ The Observatory. It bummed me out when Sleater-Kinney drummer Janet Weiss quit earlier this year. We want to think of the legendary bands we grew up with as tight units, and Weiss's departure felt like the band favored a contemporary, marketable sound more than keeping the unit together. That is, Weiss's departure just kind of revealed the financial motivation that fuels a lot of these reunions. Anyway, I'm sure this show will rule, but it's still sad.
OPTION 2: Built to Spill, Slam Dunk, The Hand. Built to Spill's There's Nothing Wrong With Love is one of my favorite albums of all time, and I'd pay the price of admission just to hear them play "Car."
---
UNEMPLOYMENT LIFE HACKS
No job? No future? No worries! Ryan Bradford from Awkward San Diego dishes out fun, easy, and affordable ways to keep life's futility at bay.
In this episode, I explain how to make an pizza roll on the cheap.
---
SEE, SEE — A spotlight on San Diego art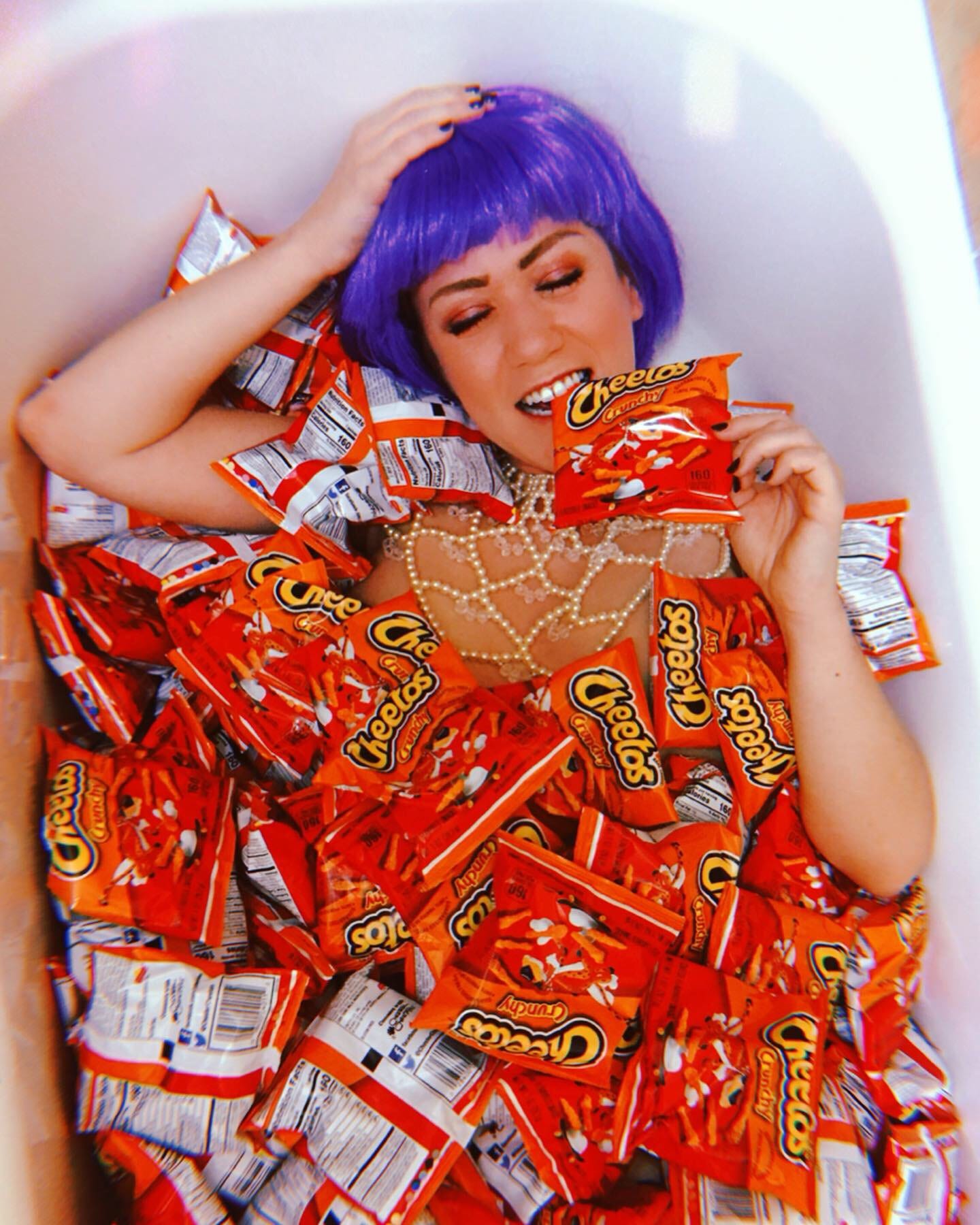 Foxine Jay
CHEDD-ART
It ain't easy... being an artist. The pay's shit, no one understands your artistic vision, and you'll likely die alone (just kidding?).
With so much stacked against you, it's easy to forget that art should be fun, weird, bonkers and all those qualities that got us into art in the first place. And the Cheetos-themed art show Cheetos FEST 2019 certainly checks off all those boxes.
The show features over 15 artists who produced works based on the cheesy, white shirt-destroying snacks (caveat: I have a piece called "Edward Cheetohands" in this show).
Cheeto FEST 2019 mastermind Foxine Jay (aka Alexandra Pratt) is no stranger to San Diego's cultural scene. In addition to curating Femme Form, a platform for women and female identiftying artists, she's been in a number of local bands, including Mermaid, The Very, Soft Lions, and has performed with Wild Wild Wets. Jay also writes and produces her own music as Ba Bête and ALX.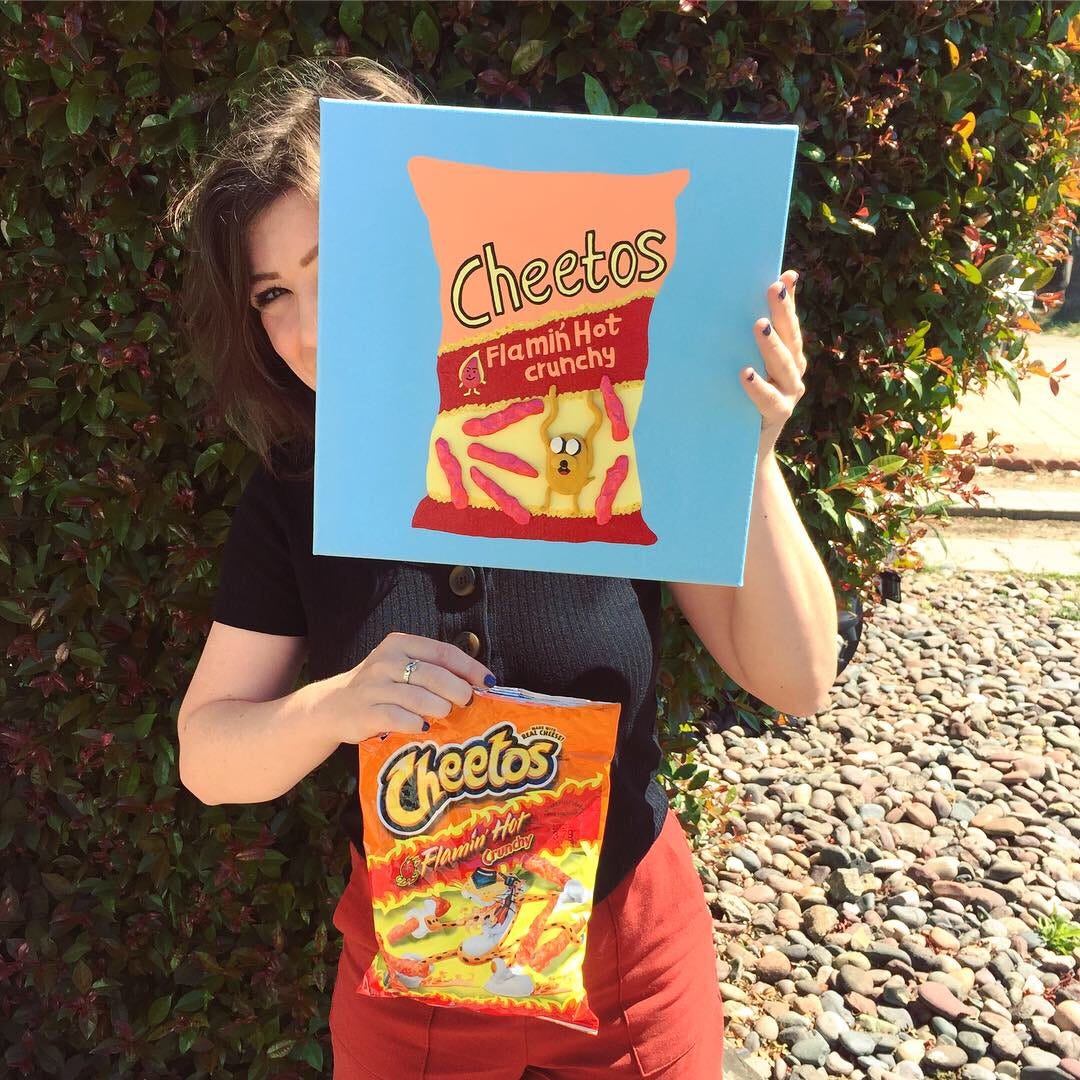 But even with Jay's diverse and wide range of artistic experience, Cheetos FEST 2019 still feels surprising, bold, and out-of-the-blue (out of the orange?), because who's ever heard of a Cheetos-themed art show before?
"It all started with a painting I made as a gift for someone this year," Jay says over email. "After painting this, I created another Cheetos inspired piece and then another."
"When I started formulating the idea to actually throw a show, I began to reflect on Cheetos more existentially. To me, it represents something American that can be celebrated by most without dividing lines of religion, politics, age, sexual orientation etc. I find extreme artistic properties in the normalization of this brand for us, the packaging, Chester the Cheetah's persona, the act of eating them. I started to conceptualize the brand as a cultural icon."
An interest in Cheetos is not a unique thing, but it's rare for anyone to consider the existential and artistic implications of the crunchy snack, which is why Jay was so delighted to see how the theme connected so deeply with other artists.
"It's been amazing to see the concepts that the artists are coming up with," she says. "Most of the pieces portray a conceptual meaning and symbolic theme. For example, the artist Kind Weird Wild is creating religious style artwork representing the duality and balance, with a light and dark style. Another artist named Pacificyo, is using mythology in his multimedia pieces; such as Sisyphus and the Cheese Puff and Icarus and the Flaming Hot Sun."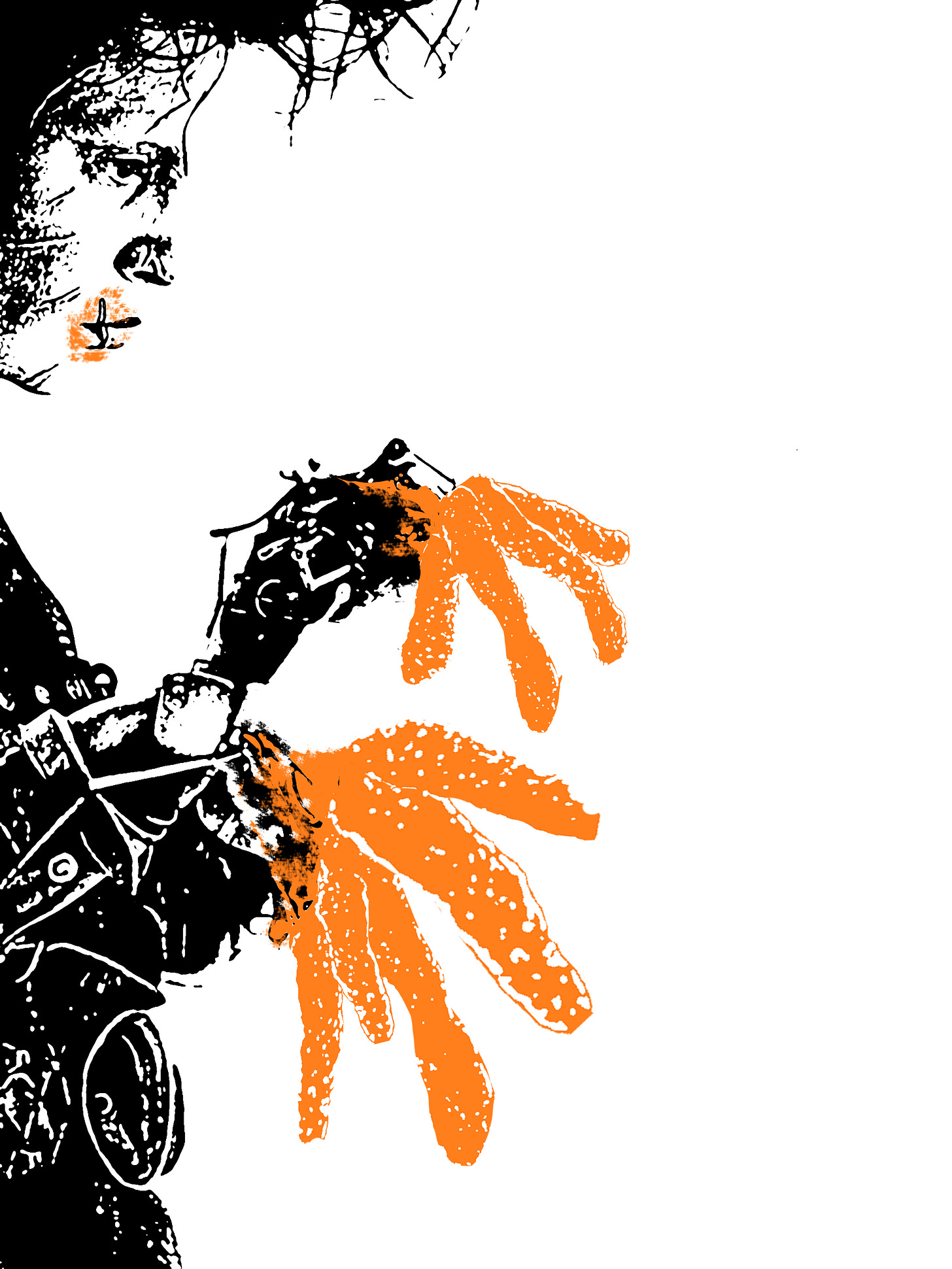 "Edward Cheetohands"

Jay eventually caught the attention the Cheetos company who graciously sponsored the event by donating 100 bags of chips (NOT ENOUGH IMO) and some dope swag.
"I sent them a message on FB explaining my show and asking if I could get something fun to share at the event. It took a week but when Chester finally responded asking for my address, I was blown away...They included a hand-written note with kind words about the show that I will save forever. It was beyond anything I could have imagined."
Cheeto FEST 2019 goes down at SPACE on Saturday, Nov. 9 from 2 - 7:30 p.m. All ticket sales and proceeds go to the San Diego Food Bank.
---