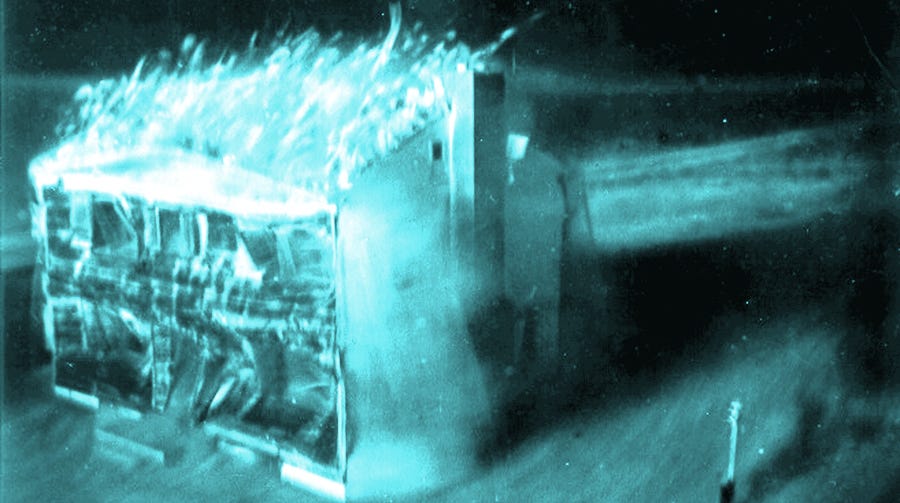 It's the first of the month and rent is due. Of course it's due. It's always due. The world could be burning and rent is due. The world is burning and rent is due. This is your world and it is burning and your landlord is standing there, silhouetted against the flames, holding out a hand because rent is due. There are banks behind your landlord engulfed in flames, but hands are sticking out of the bank's windows and doors—skin melting, bones blackening—because your landlord's mortgage is due. And above it all, there's a big hand outstretched, swishing its thumb against the other fingers, because the money is due.
****
Even if you're reading this on the second or third or fourth of the month, it's still the first of the month, and rent is still due.
Rent is due because that's the system that we've always known, but if this pandemic has shown us anything, it's that our systems are failing. I'm far from the first person to write about how COVID-19 is exposing the brokenness of our society, but it can't be overstated how ill-prepared we are. There are no contingencies for a societal or economic system collapse. When a human twists an ankle, they rest; when the economy twists an ankle, it continues to run.
The immune system is fighting something it's never fought before. And we give it space. We accommodate the people developing a cure for it. They are heroes.
But what about the system that determines where and how we live? How will landlords collect rent when there's no rent to collect? Who can still pay a mortgage when 3.3 million filed for unemployment last week? How do we accommodate for an economic system that is also fighting something it's never fought before? Where are those heroes? (These are rhetorical question btw)
(rent is due btw).
*****
While writing this, both tenants and landlords shared their stories with me. I've included a few of them throughout.
Hi Ryan,
I came home yesterday, and the Management company that oversees my property had put a note (which I've attached) on every door of the complex. The first thing that stood out to me was that these people say we have an obligation to pay them rent so they can pay their mortgage, when mortgages have been suspended from 5 major banks and from Fannie Mae and Freddie Mac, but instead of extending renters the benefit they've been granted they expected us to pay, and it damn well better be on time. Because, as you might have noticed right after the part where they say they'll work with us they also say they won't give us a break from any late fees. Gee thanks for the favor....The kicker for all this is that the property I live on is an investment property, there isn't a mortgage as far as I know or can tell from looking at the online deed records. It was just rhetorical throwaway designed to justify the greed of the management company, these people know a government check is coming and they want their piece....
For April I'll be able to pay rent, but I'll start the month extremely low on cash. I'll be unable to make May's rent if the work stays this slow. I've also been having run-ins with the management company (I've been here 11 years, they've been managing the place for 3 or 4), every time I've asked for improvements to be done they suddenly find something to complain about with me. I asked them in Dec to replace the carpet that's been in the place since I moved in and they sent me paperwork that they were going to kick me out because I had living plants on my patio.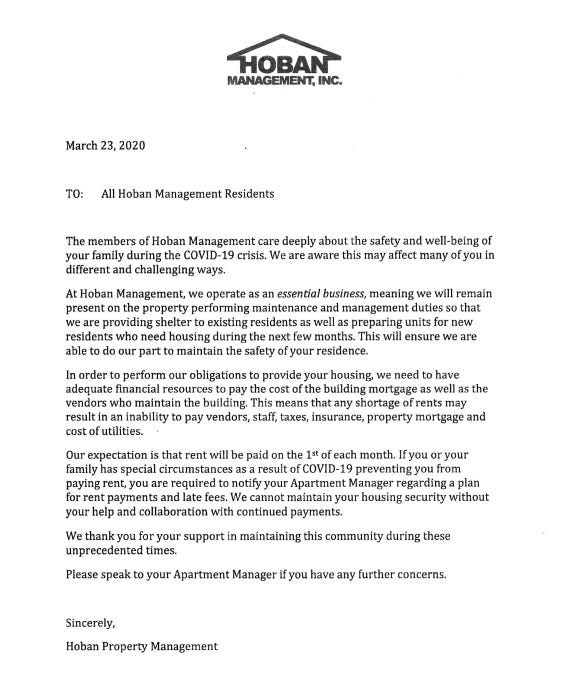 ****
On March 25, the San Diego City Council adopted a temporary ban on evictions, which prohibits landlords from evicting a tenant if they cannot pay due to any financial effects of COVID-19. Two days later, Governor Newsome enacted a statewide ban on evictions. For now, the ban will last until May 31, unless the City Council chooses to extend it.
Despite good intentions, It's a Band-Aid on a dismemberment.
"The average rent in San Diego is $1,850 a month," says Cecile Estelle, an organizer with San Diego Rent Freeze 2020. "There's no way for someone not working for four months—no matter how smart you are, no matter how much you saved—there's no way to keep up with that."
As the name suggests, a rent freeze would mean that landlords wouldn't collect rent, and banks wouldn't collect mortgages until the end of the crisis, and then it would simply start up again with a clean slate. No one owes anything.
It's a radical idea, and certainly a hard sell for people who consider the act of living as inherently tied to financial means. People just living for free? Not on my watch.
Rent freeze is also a more humane alternative to the eviction ban, which doesn't account for the negative emotional tolls. To qualify, tenants must provide written documentation of financial hardship within one week of alerting their landlord that they cannot pay rent, which...ugh. If you've ever had to apply for benefits of any kind, then you know the humiliation that comes with it. It's basically the same as saying: Here's my documentation of how I've failed and then you can determine exactly how hard I've failed.
This ban also fails to address the subjectivity of what qualifies as "financial hardship." What if someone can pay rent, but that's 90% of their income? I can imagine property managers scrutinizing ways of life to justify "financial hardship." (i.e.: Oh, you have a Netflix account but you can't pay rent? As if people who can't afford rent don't deserve entertainment or indulgence and must live their lives perpetually showing humbleness and contrition).
Let's not forget the contentious relationships that often exist between tenant and landlord. "The person who works in the office here is very difficult," Cecile Estelle says, referring to her apartment complex. "We've been given late notices when we weren't late. We've been threatened with late fees, even after proving that we did pay on time."
Estelle also points out the precarious situation that a large chunk of America's workforce has suddenly found themselves in. "I think undocumented workers are probably the most afraid because they know they're not going to be getting any of this assistance that is supposed to be coming."
Finally—and most contemptibly—the eviction ban is only a deferment plan, which means tenants need to repay all rent by September 25, 2020. And, of course, this doesn't account for the fact that the shutdown could potentially last longer.
Estelle argues that rent freeze is the only way for our country to not fall into economic despair when this is all over. Based on the average price of housing in San Diego, it's unlikely that a person living paycheck to paycheck (which, ostensibly, is who this ban is meant to assist) will have a cool $3,700 lying around. And that's if the shutdown only lasts until May, which, based on our nation's general unwillingness to flatten the curve, looks increasingly optimistic.
"We don't want more people in the streets right now," Estelle says. "But if you do evict people, are you going to be able to rent that apartment to somebody else right now in this crisis? Rent freeze is the only way to lift us all up and also not crash the economy. We're all in crisis. We're all in this together. That's what I want to fight for."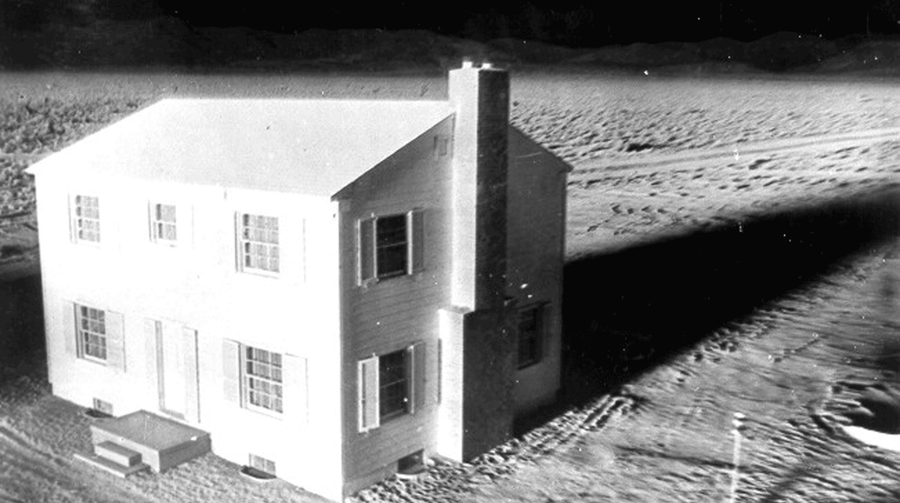 ****
An email:
Mine gave me a "sweet discount". What will I do with all the savings?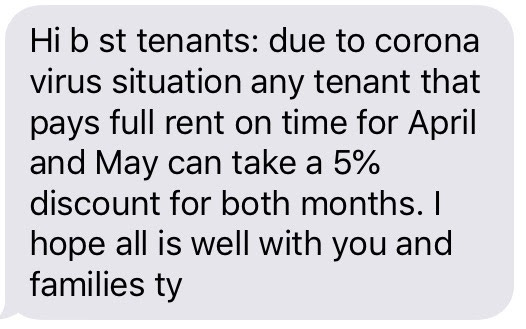 ****
An email from someone who rents a single room:
I was out of town and returned March 16th to find myself quarantined to my room. [My landlord] placed a dog gate running from the front door to the hallway that leads to my room and bathroom. She equipped my room with a mini fridge, microwave, coffee maker, chair and TV tray. I luckily have a TV. I've lost access to the living room, dining room, back patio and kitchen. I can go into the garage to do laundry through a separate outside door, not through the house.
Now maybe this is whining to you since she did provide me with appliances. But if you're so high risk shouldn't YOU go somewhere or not even have tenants? Most people that are quarantined or staying home I assume are both with loved ones and have the full run of their homes.
If things aren't bad enough, it's difficult to live with her paranoia. "I can't touch anything you touched! What if one of us gets sick? I can't go in the garage for three days!"
I doubt I'll see a reduction in rent and for the record, I am not sick and have no symptoms or temperature.
****
In case you've forgotten or are too busy navigating your living situation like an adult-size hamster maze, your rent is due.
****
A Facebook message:
My husband and I have 2 small homes we rent. They were our separate homes before we bought a house together, we kept the houses as investments seeing them as our retirement plan. We honestly can't support them without rent at this point since they both still have mortgages. So I have been worried about the rent situation, but as a proactive and kind person I reached out to my tenants to see if they have been able to work, or if they need financial assistance. My plan was to take out a small business loan to cover my mortgages if they couldn't pay. Lucky for me both of my tenants are still working (and lucky for them they are working from home) and said they could pay and thanked me for reaching out. My point? Not all landlords are money grubbing corporations. Some are just people, like me, a high school teacher, who also happens to rent 2 houses, who are also worried about their jobs, bills, and just life in general.
****
Just for one second, pretend rent isn't due. Outside the world's burning, but the fire will pass us. It will pass right by the window. Is it really worth stepping into the fire to pay rent? It might be uncomfortable for a while, but humans are highly adaptable. We don't have to resort to barbarism yet. So, please, kindly, respectfully: just act like a fucking human.
Okay, now stop pretending, because rent is due.
Thank you to everyone who shared their stories. Due to length, I had to edit some and couldn't include everyone. However, I've compiled all of them in a Google doc, which you can read here.
---
THE ONLY CORONA ACTIVITY CALENDAR THAT MATTERS™
There won't be any live music for the next few weeks, so here are a few things you can do instead.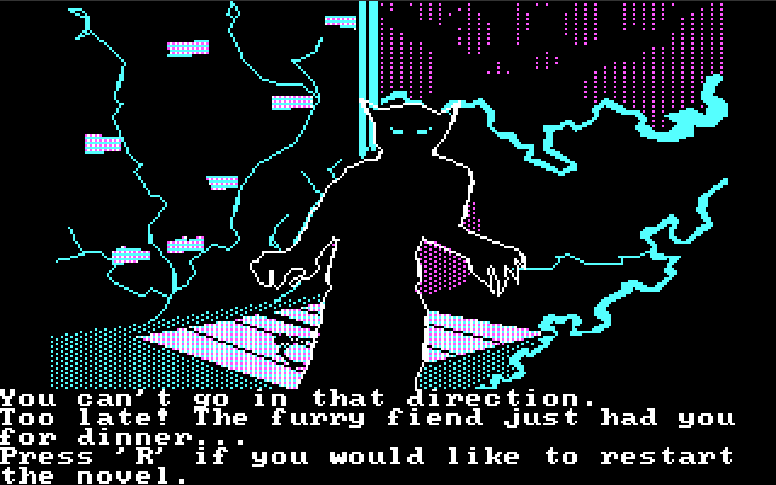 Transylvania
Wednesday, April 1
Game time! When I was very little, my family had an Apple II computer, which was my introduction to the sweet, sweet pixels that my brain now craves every goddamn second. I remember we had a case of games on floppy disks (which were actually floppy), but the one my brothers and I always played was called Transylvania.
Transylvania is a text-based adventure game that's extremely hard. You have to type all your movements into the game like "north" (the direction you want to go) or "check out the wagon" (when you want to check out the wagon).
I found an emulator of Transylvania here, and I dare you to try to complete it (just remember to hit "Return" once the game play begins in order to see the cool graphics). After you give it a solid try, watch this walkthrough and imagine trying to figure that on your own, let alone when you're five years old.
Thursday, April 2
Reading time!: A few years ago, I co-edited a horror anthology called Black Candies: See Through, which featured a story "Miasma" by C.A. Schaefer. The story is about a plague doctor who wears those bird masks that are suddenly all the rage (what, you don't have a plague mask yet? Get with the times!). Schaefer's story is an unsettling mix of old school dread and modern grotesquery, and it's the perfect story to read right now. And by perfect, I mean existentially terrifying—there's a reason that horror icon/critic Ellen Datlow shouted this out as one of the best horror stories of 2013.
Friday, April 3
Movie time!: After this is all finished,I'm not sure how I'll be able to communicate with people if it's not through a screen and/or visually arranged like the opening to The Brady Bunch.
Zoomito, ergo sum; I Zoom, therefore I am.
This is why the horror film Unfriended feels so poignant right now.
I was wary of Unfriended when it first came out, as everybody should be in regards to found-footage horror. But the execution of a real-time ghost story told through video chats is really something to behold. Five years since it came out, some of the apps already look a little dated, but the impact is still the same. Unfriended serves as a reminder that our online experience is always teetering on the edge of a nightmare, and it only takes an unknown user to tip it over.
Saturday, April 4
Photoshop time!: I'll offer newsletter fame to the person who does the funniest photoshop with this photo of a sneaky cat peeking out of something. Send it to me by noon on Tuesday, April 7th to qualify: ryancraigbradford@gmail.com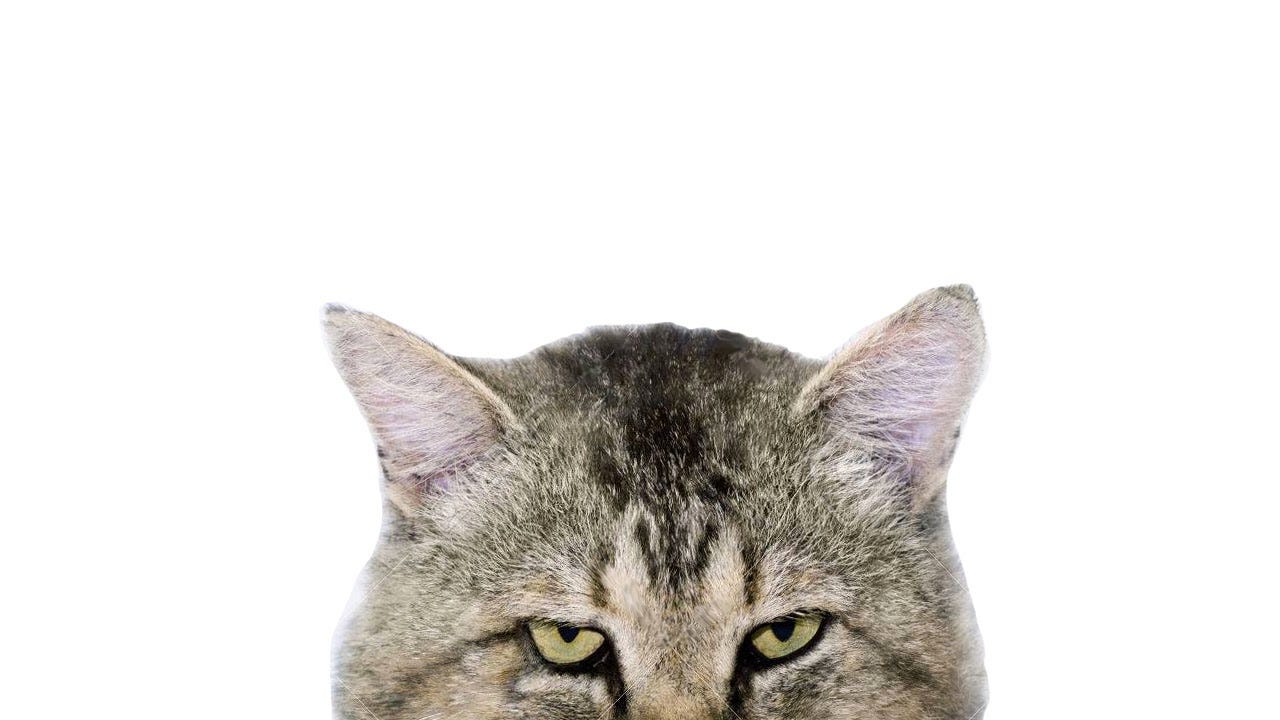 Sunday, April 5
Outside time!: Here's a quick workout that you can do in your backyard or driveway that'll probably get you real swole. I expect each and every one of you to return from quarantine as full-blown jocks.
Make sure you have a timer handy.
1 minute high knees / 30 seconds rest
1 minute jumping jacks / 30 seconds rest
1 minute push-ups / 30 seconds rest
1 minute crunches / 30 seconds rest
1 minute mountain climbers / 30 seconds rest
1 minute squats / 30 seconds rest
1 minute alternating leg lunges / 30 seconds rest
1 minute burpees / 1 minute rest
1 minute butt kicks / 30 seconds rest
30 second plank / 1 minute rest
Now do it two more times, you sweet, lovely jocks.
Monday, April 6
Quiz time!: For some reason, I've had the year 1994 on the brain. What a year, amirite? So I made a quiz around it, which you should do by clicking here. [Samuel L Jackson voice]: Look at the big brain on you! I'll send the winner a copy of Black Candies: See Through, which features the C.A. Schaefer plague doctor story that I told you to read on Thursday.
Tuesday, April 7
Writing time!: As the days go on, it seems like people are becoming less inhibited from showing their frustration and sadness on social media. It kind of feels like the "Everything is awesome!" mentality is melting away, and people are actually being emotionally honest right now. I don't know if that's a good thing or not, but it's a change nonetheless. For this week's writing prompt, write about a time when you had to hide your emotions. What age were you? What were the circumstances? Do you regret it? Send me the results if you want: ryancraigbradford@gmail.com
---
PHOTOSHOP CONTEST RESULTS
Last week, I told you to have some photoshop fun with former Utah Jazz player Mark Eaton, but it seems like everyone was too chicken to send me anything!!
But, as they say, lead by example. Here are are the three that I cooked up: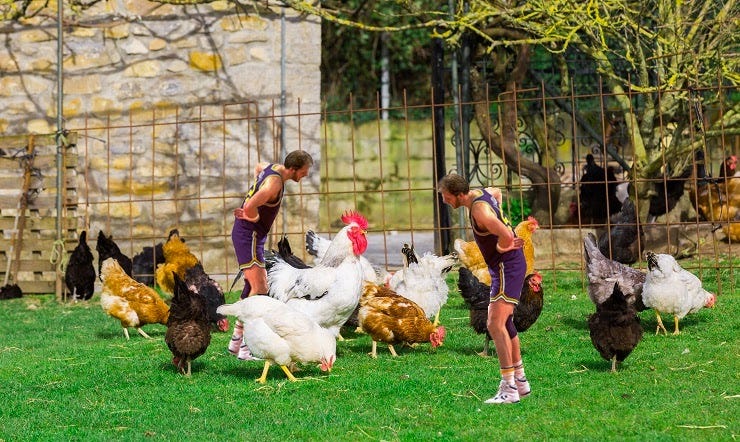 Mini Marks hanging out with a flock of chickens.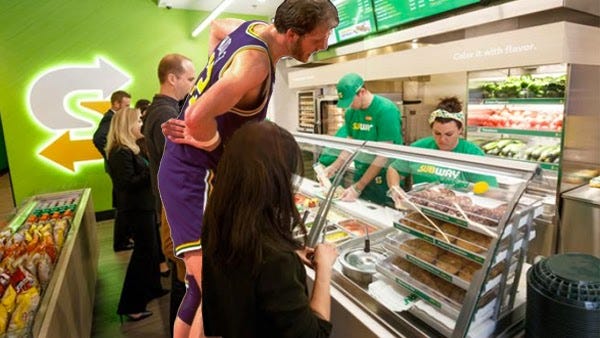 Mark Eaton watching his Subway sandwich being made.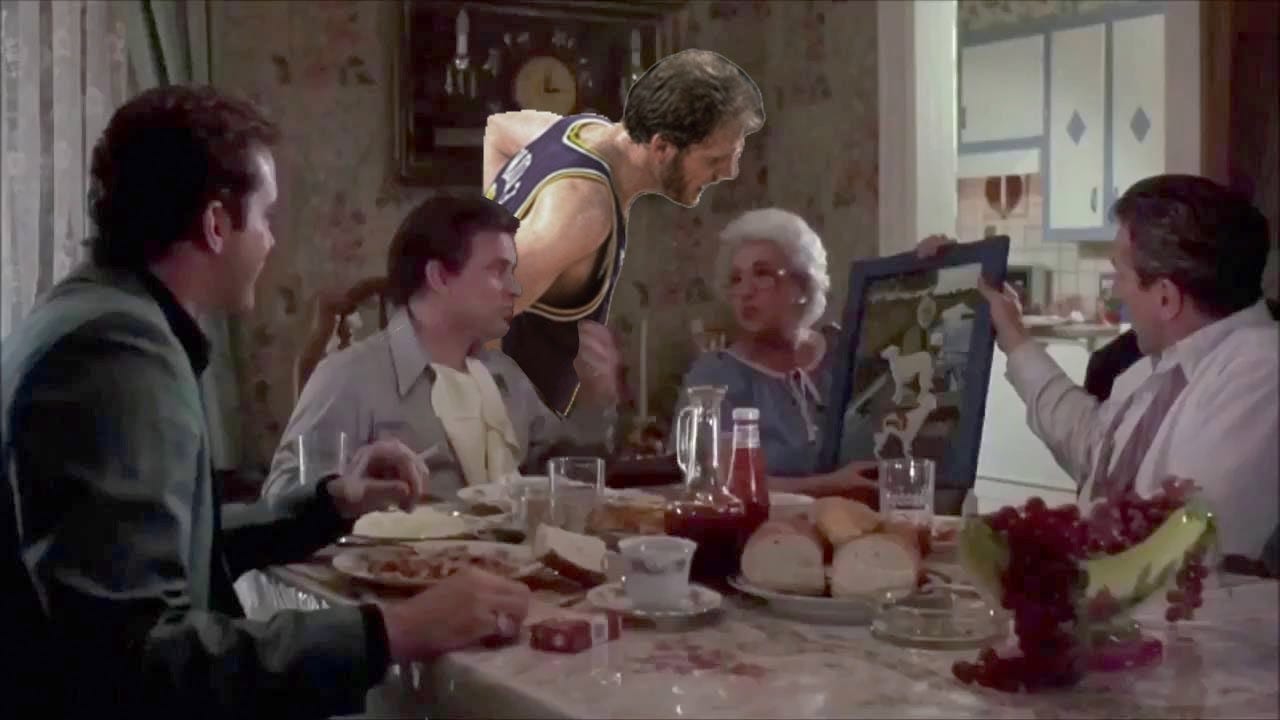 Mark Eaton admiring the dog painting from Goodfellas.

Got a tip or wanna say hi? Email me at ryancraigbradford@gmail.com, or follow me on Twitter @theryanbradford. And if you like what you've just read, please hit that little heart icon at the end of the post.