Killing yourself to look good in a dead world
[Seinfeld voice]: What's the deal with staying in shape during a pandemic?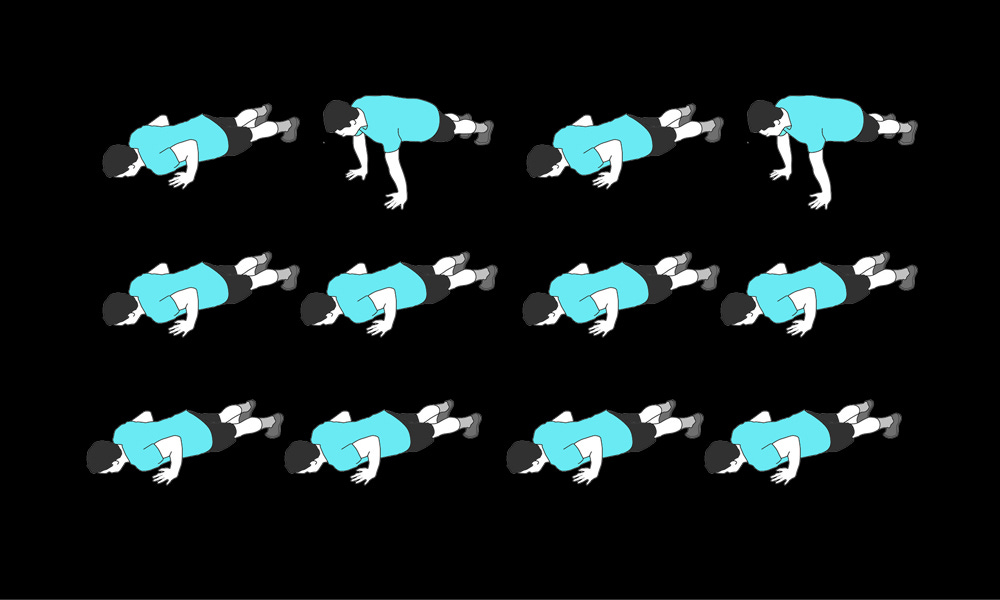 I've waited until the end of the world to really try to get into shape. I mean, really this time. Seriously. I'm up to 25 pushups a day. One and two are easy, like nothing. I remember a time when my arms would be shaking around six, but now I'm a champ, pretty much superhuman. Three, four. I clench the fibers of my carpet, lower myself until I can smell the remnants of cat barf that will never wash out. Someday, we'll tear up the carpet. Maybe I'll do it with my bare hands. That's me, a wild animal ripping up the house. This pandemic has made me feral. Ten, eleven, twelve. A bead of sweat sprouts from my forehead. My cat comes to say hey. He rubs his cheek against the top of my head, licks my hair. I can hold myself up with one arm to push him out of the way. 20, 21, 22. I'm going to be so swole after this is over, you're not even going to recognize me. Or, maybe you'll recognize me as the strong man who can do 25 push-ups. This is me now, motherfucker, king of jocks.

I remember the last day I went to the YMCA. There was no one there, obviously. I looked at the bench press and imagined it crawling with coronoaviruses. I could picture being under the bar and feeling them crawl over my knuckles like little red poison ants, and then dropping the bar on my neck.
I ended up doing a short 30-minute workout on the elliptical while watching anime because it's nice to look at without having to pay attention. Afterwards, I carefully wiped down the machine, clearing all my droplets with sanitizing foam.
I think back to that sad version of me. Would he even recognize the fitness animal I've become?

I try to deconstruct my need to remain active during this pandemic. Why do I care? Why do I jump into the ritual of exercise when, logically, I should be hibernating? Is this a societal pressure to be active or aesthetically pleasing (in other words,"fly"), or something internalized—a warped or misplaced sense of productivity? It's difficult to be creative during this time, so maybe this is my body saying, take a tight five, brain. I don't need to think to move my legs, I just need a will.
Before the pandemic, I worked out to look good and remain mentally well—exercise does wonders for my anxiety. But now there's something more: a sense of purpose. Movement of any kind is better than remaining stagnant.

I wake up and think: I'm going to go running today.
It's what I think about when I make breakfast: Gonna go running as soon as it warms up.
When I brush my teeth at noon: Probably gonna run after lunch.
After my afternoon nap: Evening run?
When I'm watching Jeopardy at night: I should go running tomorrow. To compensate for my lack of exercise, I'll usually forego a second evening beer in favor of a glass of water—which is usually my first of the day.
See? Practicing a healthier lifestyle already.

At the beginning of [gestures vaguely] all of this, I ordered a basketball. I've been meaning to buy one for awhile, the circumstances feel more dire now, so why not live with abandon? A scenario pops into my head: I'm in line to enter heaven and the angel is asking everyone if they've lived life to the fullest, and when it gets to my turn, I just hold my basketball up and the angel says, "say no more."
Before I complete my purchase, the algorithm asks if I'd also like to buy a soccer ball. Why not? With the click of a mouse, I increase my jockage by 200%.
The day before the balls arrive, San Diego city supervisor shuts down every city park. I have nowhere to play, so I spend an afternoon kicking the soccer ball around my small yard. It's sort of pathetic, like a move I'd do in elementary school to try and get the attention of the neighbor kids.
The basketball is better. I can bounce that thing for hours. I'm sure the rhythmic smacking on the cement is annoying for everyone in the neighborhood, but whatever. I dare you to come over and say that to my face! I think, addressing the imaginary friends that I'm also trying to attract.

Running in my neighborhood feels increasingly like a zombie survival game. I dodge the slower pedestrians as if they're going to bite me. Or, when there are too many on the sidewalk, I run right down the middle of the street.
When I see another runner, we lock eyes and share a look of intense hatred. What are *you* doing out here? Don't you know that I'm the only one that should be doing this?
And that self-centeredness is how I know that I'm becoming a true athlete.

As an attempt to keep members, the YMCA gives out a subscription to a remote fitness site called StudioSweat, which probably has the least appealing name for a site I've ever encountered.
I find a 40-minute bodyweight workout taught by Melissa or Melinda or Melanie. She's assertive but encouraging, and I think I've made the correct choice by choosing her class. It's the first time I've ever worked with a video and I'm surprised at how much I want to impress it. Look at me, M—! Compliment my burpees! Look at my form! The house's foundation shakes with each jumping jack. Should I be worried? No, I'm a titan of fitness. Let the house quiver.
I'm at it for 10 minutes until I'm sweating profusely. It's the burpees and mountain climbers that do it. I'm going hut hut hut, jabbing my knees forward while in a relay start position, when the sweat begins to fall. Given everybody's new fear of droplets these days, I feel like I'm producing WMDs. I watch the sweat fall into my poor, poor carpet. It's just so much. I pray it's not a medical condition. There's no way this can be a sustainable activity unless I want my office to permanently smell like a teenager's sock.
The next time I do a StudioSweat class, I set up on the patio in my backyard. The spring air feels nice and I'm killing it—like, absolutely killing it—until a bee buzzes past, which causes me to panic and end my workout five minutes prematurely.

Just wait until all this is over. I'll be able to run miles and miles and burpee all day. Hell, maybe I'll get up to 30 push-ups by the end of this. I haven't lost any weight, but I'm pretty sure that's from all the muscle I've gained. I'm a champ. A king. Fitness maestro, that's me. I can't wait for you to see me and perhaps challenge me to an arm wrestle. Won't that be nice: just being together and jocking out? Maybe I'll even let you win.

---
CORONA SAFETY VIDEO
---
THE ONLY CORONA ACTIVITY CALENDAR THAT MATTERS™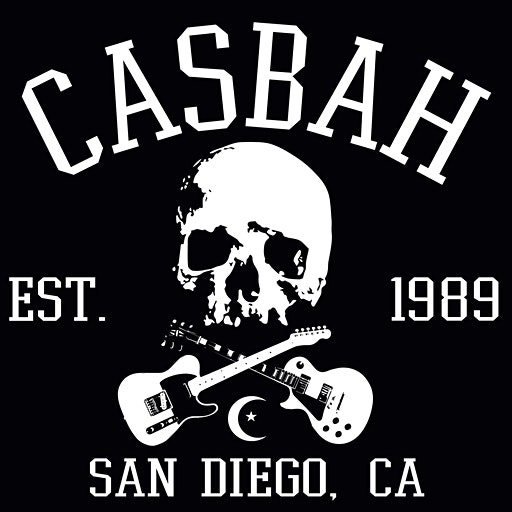 Wednesday, April 15
Letter writing time: I've been thinking a lot about The Casbah these days. Well, I've been thinking about all San Diego Venues, but The Casbah is world-renowned and has been so instrumental in our music scene, so I thought it'd be nice to send the owner Tim Mays a few thank-you notes for everything he's done. I know this probably seems like an empty/twee gesture—especially when money is probably the thing The Casbah needs most—but, hell, we're all hurting, and sometimes a kind word goes a long way.
So your assignment is to fill this out:
Dear Tim,
Thank you for all that you do. The Casbah means so much to me. I've seen a lot of shows there, but my favorite has to be ________ because ___________.
Please send me your answers by Tuesday, April 21 (ryancraigbradford@gmail.com) and I'll forward them to Tim.
Thursday, April 16
Reading time: Brian Evenson is one of my favorite writers, and this is one of my favorite stories by him. It's incredibly short and one of the creepiest things I've ever read. It's not really thematic with what's going on with the world right now, but there's no inappropriate time to read scary stories.
Friday, April 17
Movie time: After many days of hard rain, it's starting to feel like summer. However, heat plus isolation can quickly turn sour, which is why you should watch Wake In Fright—a pulpy masterpiece of Australian cinema. The plot tells the story of a teacher who loses all his money gambling and gets stranded in the town of Bundanyabba (known by the locals as "The Yabba"). There's really nothing to do in the sun-scorched Yabba besides drink beer, so the teacher befriends a bunch of shady characters and together they drink. And drink. And drink. Of course, all this debauchery eventually comes to a head in pretty upsetting ways, but the inescapability of the situation feels a little bit like what we're living in right now. Warning: this film uses footage of a real kangaroo hunt, which is pretty hard to watch.
Saturday, April 18
Photoshop time: I'll offer newsletter fame to the person who does the funniest photoshop with this photo of metal god James Hetfield being THE MOST METAL. Send it to me by noon on Tuesday, April 21st to qualify: ryancraigbradford@gmail.com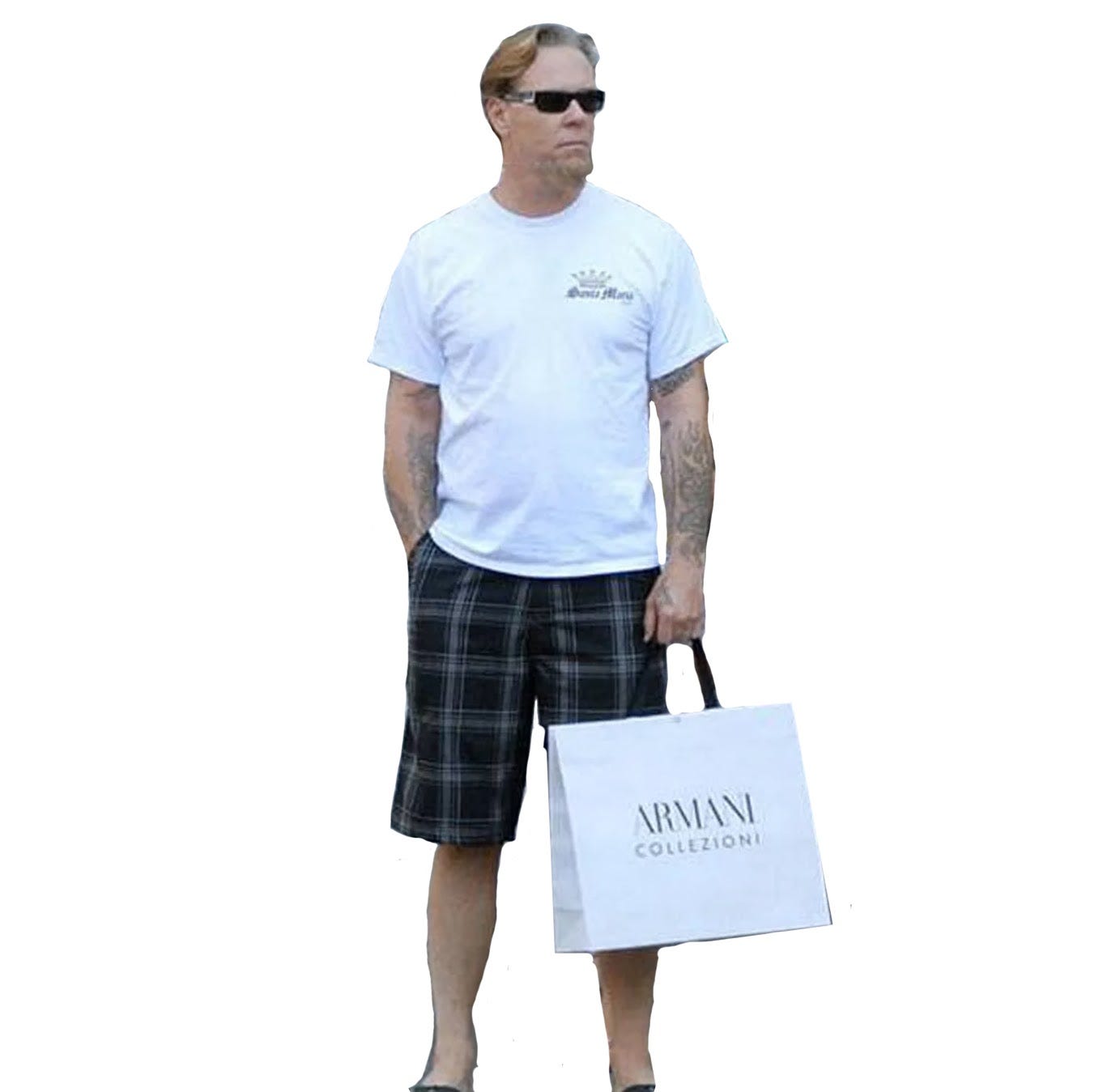 Sunday, April 19
Outside time: The other day my friend Julia ran five miles just around the outside of her house, which seems like a really hard thing to do. Below you can see her route map, which makes it look like her house is covered in blood and I think that's pretty badass. For this week's outside activity, try to see how far you can run in the most compact space. Can you beat five miles by running solely on your own property?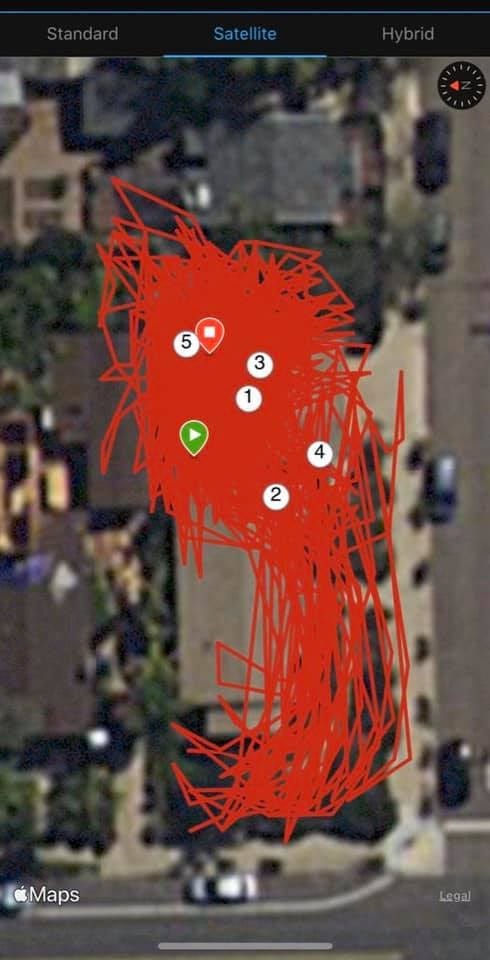 Monday, April 20
Quiz time: I've been thinking about pizza pretty much nonstop these days (also: all days), so this week's quiz is all about pizza. How much do you know about humankind's best food? Click here to play the pizza quiz.
Tuesday, April 21
Writing time: Remember going somewhere for a job? Remember having to interact with people, having office birthdays, getting memos about the water cooler? Crazy times! For this week's writing prompt, write about the worst day you've ever had at your job. It can be any job. Why was it bad? Did you freak out? Cry in a bathroom? Let's dwell on the worst parts about the old world to make our current situation a little more bearable. Send your results to me if you want: ryancraigbradford@gmail.com
---
CONTEST RESULTS
Thanks to everyone who continues to participate in the weekly quizzes. Your write-in answers are seriously such a delight to read. Here are some highlights from last week's earthquake-themed quiz:
For the question, "What's Tyler, the Creator's album is the song EARFQUAKE on?" Julia Hoopes wrote in:
This is in relation to the previous question. I used to play a game with our mini dachsund called "stomp" where I'd chase the dog around and try to stomp on it. I was older then you're probably picturing.
And Melissa Henshaw made me lol with her answer to, "If you could create natural disasters as a mutant power, which would you choose." She wrote: "GLACIERS (and control their speed)"
But first place goes to my mom (who calls or texts every week to see if she's the winner of these quizzes) for her answer to the question: "Remember in Indiana Jones and the Last Crusade when the earth splits open and the and the holy grail falls into it and Indy's trying to go for it and his dad is like "let it go son, let it go"? What would have to fall into the crack that would make you even consider going for it?"
She answered: You, Ryan. In spite of my other poor guesses, this answer should make me win.
Congrats, mom.
****
Last week, I also asked readers to have some fun with shirtless Ben Affleck gazing out into the great beyond.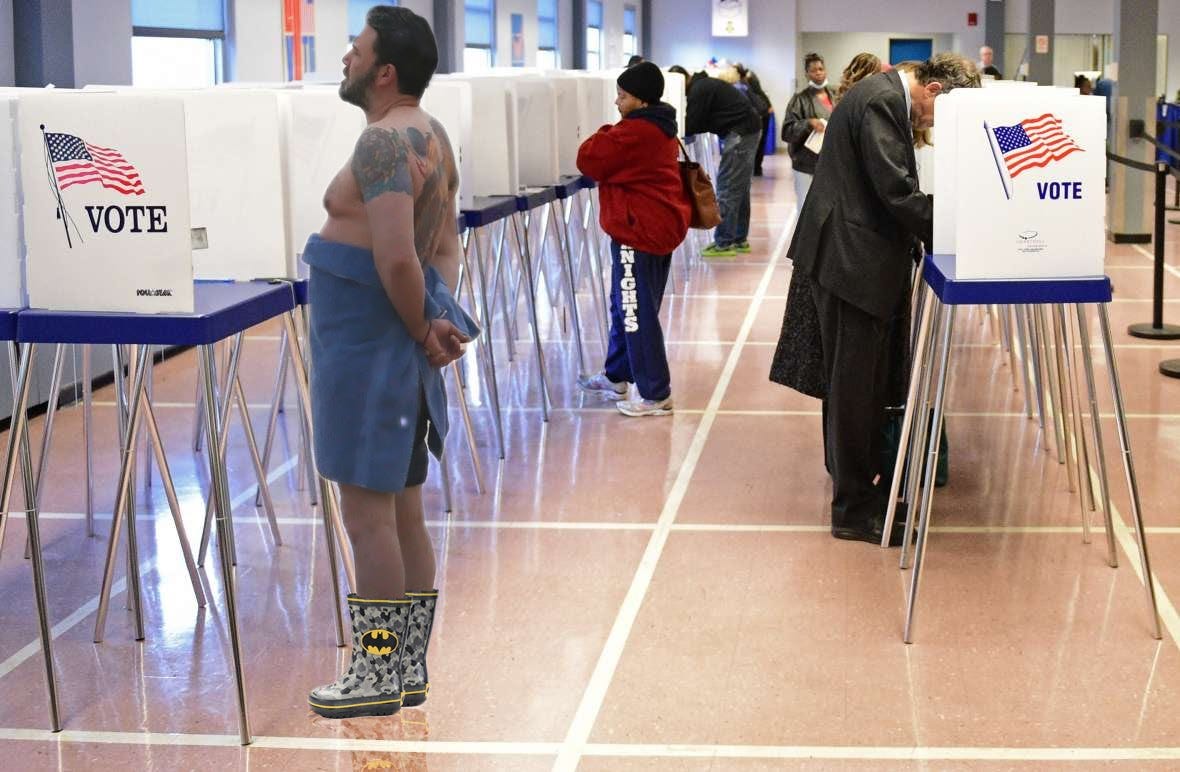 Scotty Hoopes put Mr. Affleck in a voting booth, which super apt because voting is something probably only rich people will have the ability to do this year.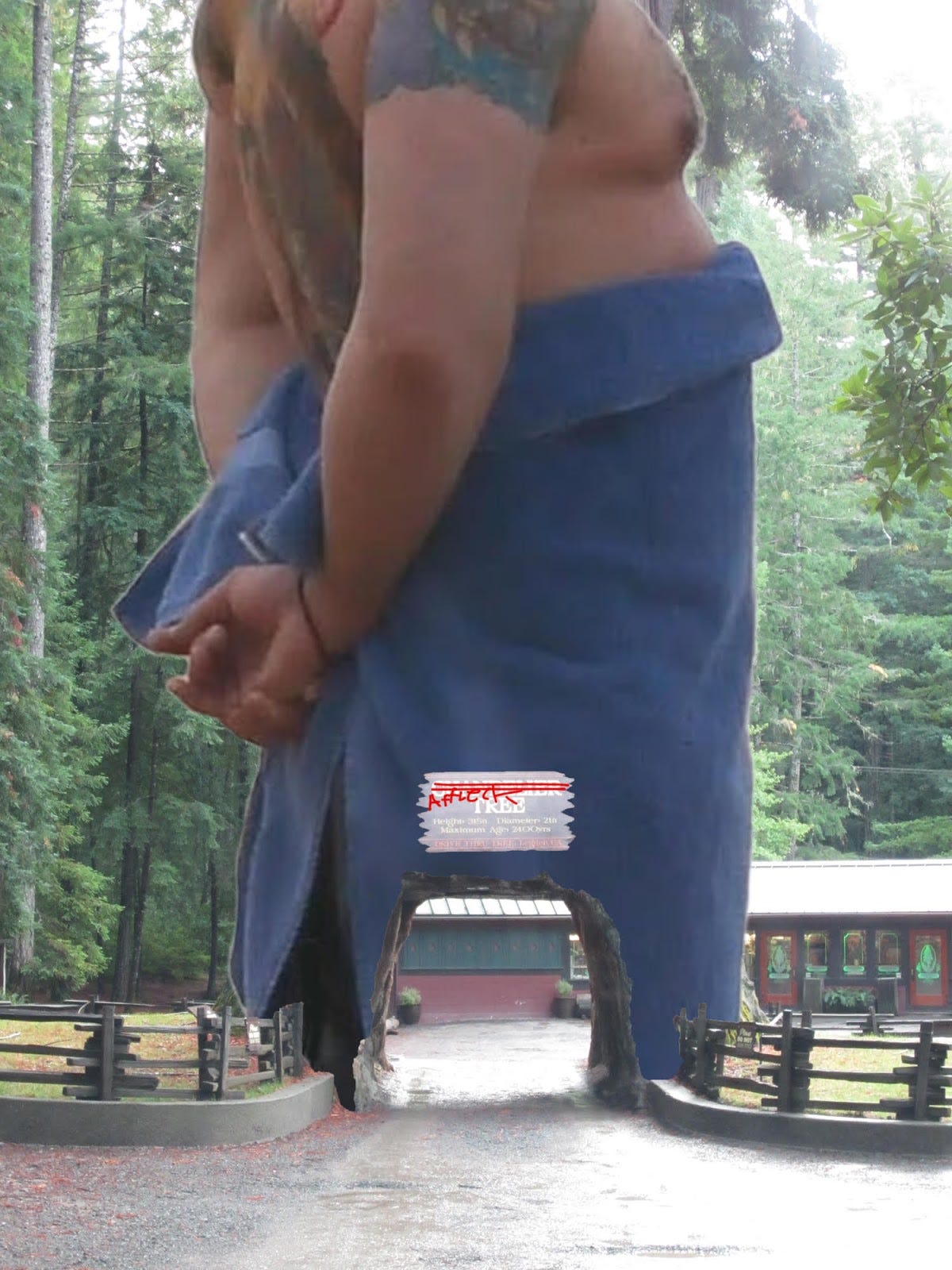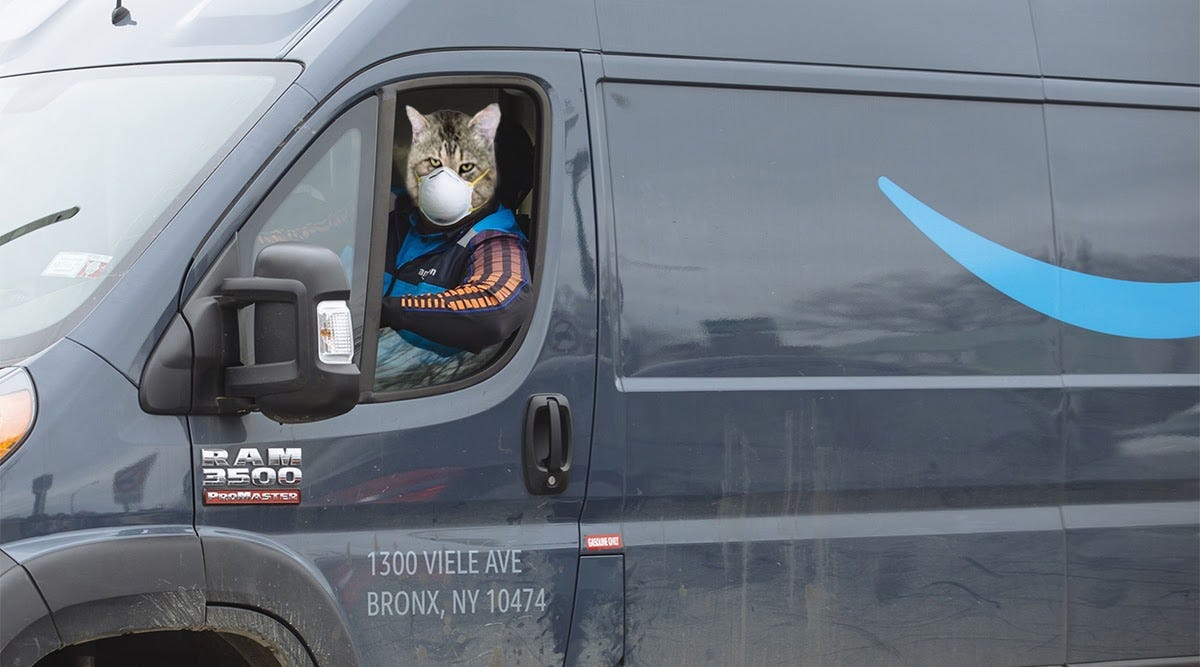 Jeff Sites got right back to me with Affleck Tree, which really highlights the sublime beauty of nature in all its forms. Also, Jeff's entry to the cat photoshop contest from two weeks ago got lost in in the mail, so please enjoy this nightmarish vision of cat people delivering Amazon packages whilst adhering to public safety measures. Better get those cats some sick leave, Bezos!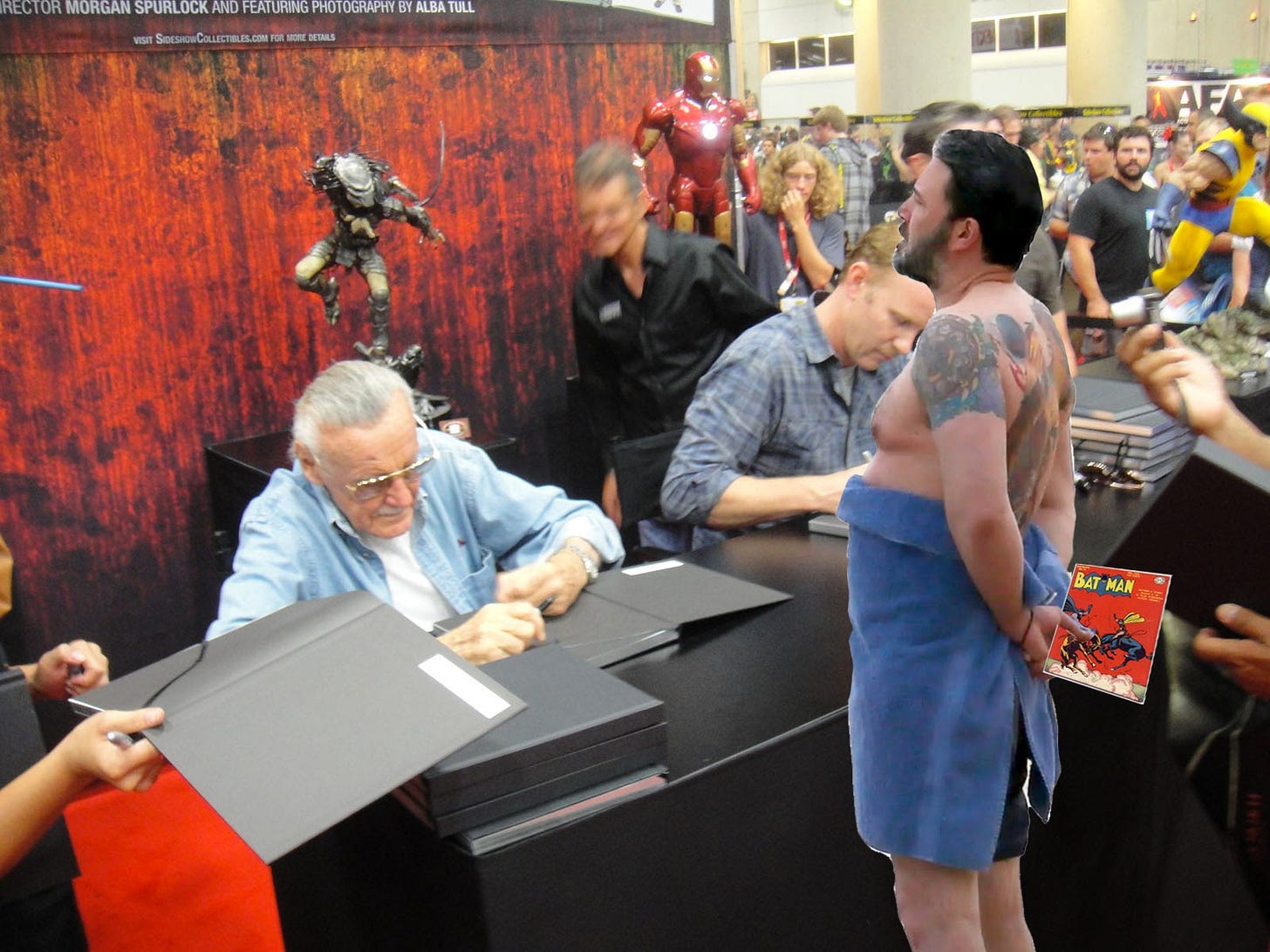 Finally, here's my entry: Ben Affleck patiently waiting in line to get his Batman comic signed by Stan Lee. I doubt Affleck would know that Stan Lee didn't create Batman, but I bet Lee (RIP) would've been a good sport about it and signed the thing anyway.
Got a tip or wanna say hi? Email me at ryancraigbradford@gmail.com, or follow me on Twitter @theryanbradford. And if you like what you've just read, please hit that little heart icon at the end of the post.