Jim Ruland knows more about Bad Religion than you
Trying to keep it cool while talking to the official biographer of one of my favorite bands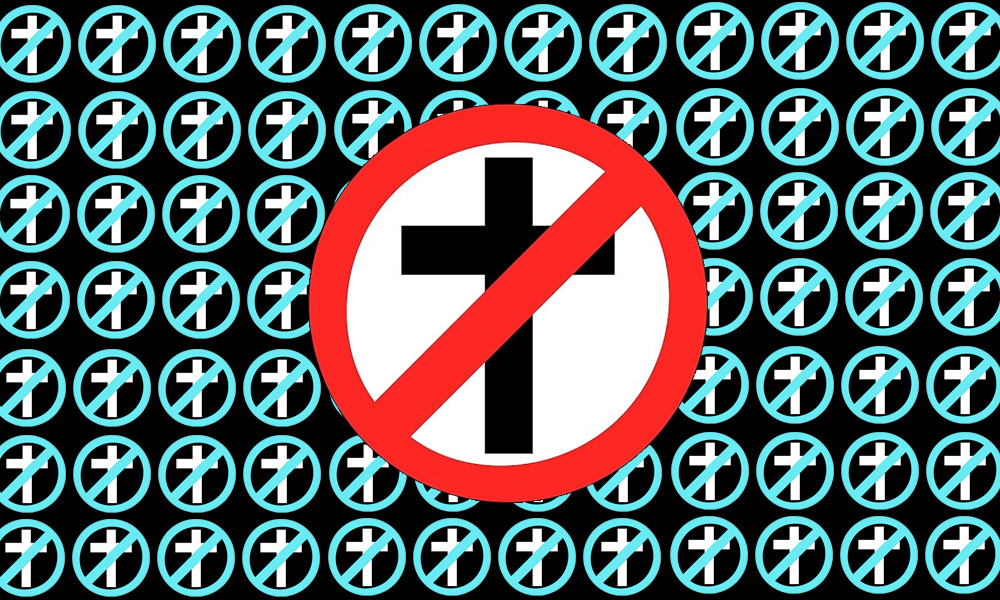 The first time I heard Bad Religion, I was riding in the car with my mom and "21st Century Digital Boy" came on the radio. This must've been in the mid-to-late '90s because I was still in denial about grunge's death and alternative radio was more than happy to satisfy my tastes by playing a heavy rotation of Bush, Pearl Jam, Nirvana, Silverchair, Smashing Pumpkins and whatever.
But there was something in the Bad Religion song that — to quote the band's Recipe for Hate album — struck a nerve. There was intensity and urgency in the vocals, different than the mumbled nonsense that dribbled from the mouths of most radio stars from that era.
I knew I loved it by the time the chorus hit. "My daddy's a lazy middle-class intellectual. My mommy's on valium, so ineffectual"
My mom shook her head. "These are terrible things to say about his parents," she said.
I wasn't really a rebellious kid, except when it came to the music I listened to, because hey, every teen has to be a shithead in their own way (it's the law). The more my parents hated it, the more I liked it. I figured if something was powerful enough to affect mom — an adult! — in that way, then they must be doing something right.
I've been a fan of Bad Religion since, and would definitely consider them one of my all-time faves. They're one of the few punk bands that have gotten better over time, aging like a fine, authority-hating wine (ACABernet?), as evidenced by last year's outstanding Age of Unreason.
And if you think that it would drive me crazy with jealousy that my friend, San Diego writer Jim Ruland, would land the job of documenting one of the greatest punk bands in history, well, you'd be wrong! I'm not petty. I only wish the best for my extremely aged and over-the-hill friend.
Ah, what can I say about Jim that's not already scrawled on bathroom stalls across America? He's an accomplished author with a great novel Forest of Fortune under his belt. He's also written memoirs with Captain Scott Campbell Jr. (from The World's Deadliest Catch) and Black Flag founder, Keith Morris. Readers of this newsletter might remember that earlier this year, we recapped HBO's The Outsider together. Oh and one time we had plans to share a burrito (they were huge) but then Jim was 20 minutes late, and during that time I had eaten the whole burrito, and Jim's never let me forget about it. This was more than six years ago. Memory like an elephant, I tells ya.
But despite any burrito-related grievances, there could not be a better person (excluding me) to write Bad Religion's biography. Do What You Want — which comes out on August 18 — is everything a die-hard Bad Religion-head could want. It's a meticulously put-together history of a band that's persevered, endured, bristled at excess, overcome personal demons and changed hearts and minds all over the world. So, good job, Jim. I guess.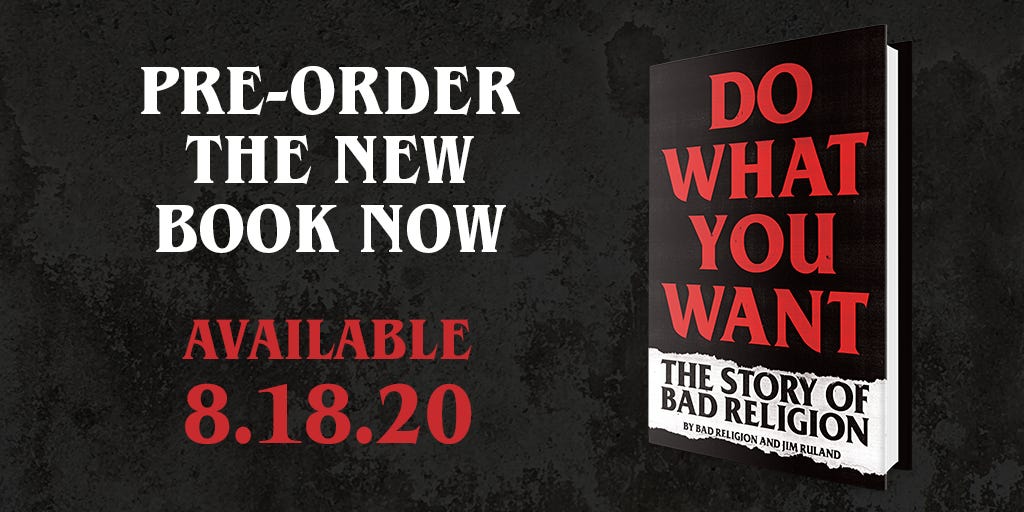 AWKSD: All right, first things first: On a scale of one to ten, how punk are you?
Jim Ruland: Baloney sandwich.
Now that that's out of the way, tell me about Bad Religion. You wrote their first official biography (which is out August 18). That's basically the job I've wanted since I was 15 years old. So, first question: who do you think you are?
I'm Jim Ruland: husband of Nuvia, father of Annie, sailor of the salty seas, and the official biographer of Bad Religion.
What's your first memory of listening to Bad Religion? Do you remember how it felt?
Yeah, I do. I was in the Navy and the record was "Back to the Known," the EP with "Frogger" on it. We were getting ready to go on a six-month tour of the Western Pacific and I was going to form a band with two of my shipmates, a skinhead from Louisiana, and a hesher from Phoenix who had been in the band Sacred Reich. (I recently learned that he passed away not too long ago.) We put together a tape of bands we liked and Bad Religion was on it. Well, the skinhead got kicked out of the Navy and the band never got off the ground, but I still remember listening to Bad Religion while washing dishes in the deep sink or out on the helo deck at sunset. I still have that tape.
Damn, do you remember what the skinhead got kicked out of the Navy for? Imagine your life if you had started that band. Would you say that your fascination with writing about bands is, oh, I don't know, some deep-seated resentment of never being in a band?? Is it fair to say that your work with Bad Religion is a vicarious journey into your own failed musicianship?
Like many of my shipmates, he was kicked out for drugs.
I was in a band. We had exactly one gig — on St. Patrick's Day — and we were paid in green beer. I played the tin whistle. We were called Twitching Bits.
Honestly, I don't think I have the temperament to be in a band. Can you imagine being stuck in a van with me while I make fun of the Misfits for 14 hours in a blizzard in Idaho? No, it's better for everyone that I quietly do my thing away from the rest of society.
How did one become Bad Religion's official biographer?
I was at the San Diego CityBeat offices one day, picking up some books, and I answered the phone. It was Bad Religion's tour manager and they were looking for someone to write his book. They'd heard great things about Ryan Bradford and wondered if he (meaning you) would be interested. I said, "I'm sorry, Ryan was in a horrible accident while on his way to interview the inventor of Hot Pockets, but maybe I can help you?"
That's true. I spent five months in the hospital. My brakes had been cut — or I guess chewed through — by what detectives could only identify as "sailor teeth." Now that I think about it, it was you who gave me the lead on that Hot Pockets interview... oh well, probably just a coincidence.
Most definitely! (Picks teeth with a marlinspike.)
Which member of the band did you meet first? What was that initial meeting like? Were you nervous?
The first member I met was Brian Baker and I wasn't nervous exactly but I was giddy. I grew up in the DC suburbs of Northern Virginia so not only was I pumped about talking about Bad Religion but I was excited to meet one of the founding members of Minor Threat. We actually met in a coffee shop in DC while I was home visiting my parents so the whole experience felt like I was revisiting my past rather than planning a project for the future.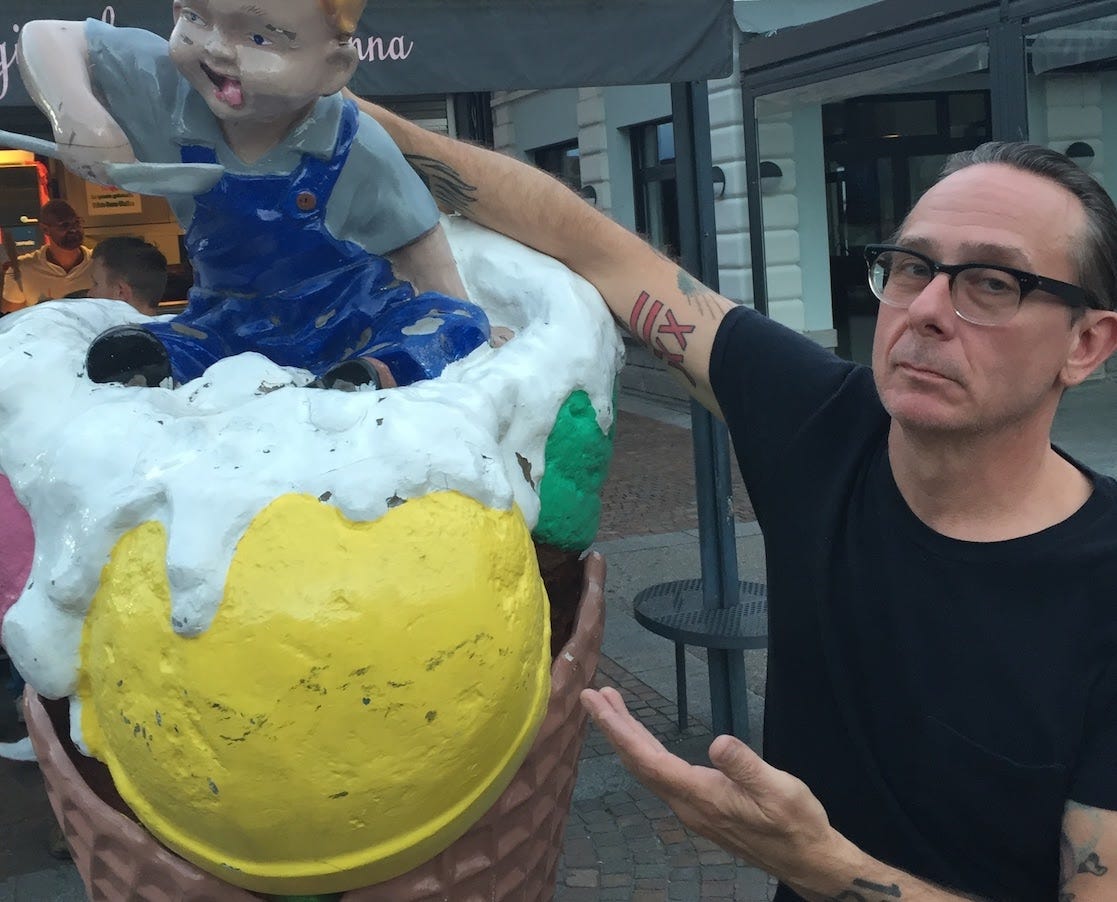 Brain Baker in Locarno // Photo by Jim Ruland

What was your drink? What was his drink? Did you two hit it off right then? Had you already signed onto the project by then or was it sort of them feeling you out?
We both had coffee and we hit it off really well. It was just an informal meeting. Up to that point all of the discussions I'd had about the book had been with the band's tour manager and can-do man, Rick Marino. I met with Brian in January of 2017 and over the next few months met with Jay and Greg and Brett. My first formal interview was with Brian and Jay in March of 2017 before Bad Religion's show at the House of Blues here in San Diego and then I met with Greg at a Gelson's in Del Mar the following day. I want to say that Greg had soup, but I'm not 100% sure.
Oh, well there goes my next question, which was: Does Greg Graffin like soup? Oh hey, look what I found while watching some old high school videos. This shirt was from The New America tour and they wouldn't let me wear it to school cuz it had a big handgun on the back.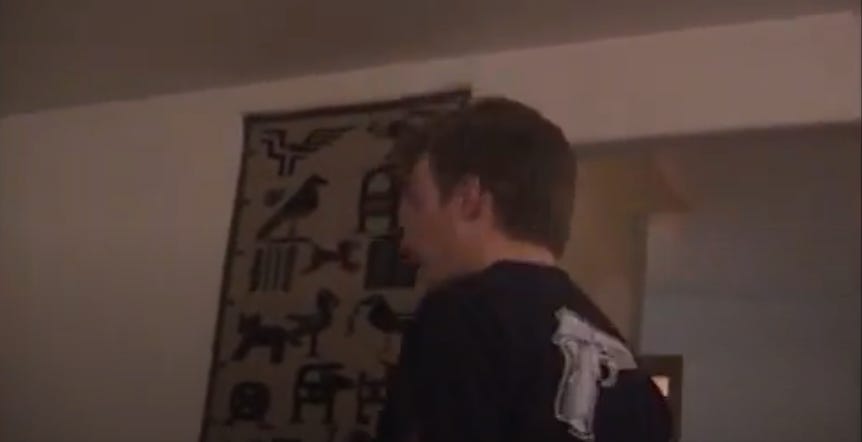 Great shirt! Atlantic rejected the artwork the band wanted to use, which featured a pair of school children with guns. I think they used it on the sleeve. Sony didn't have a problem with it though, which is why that album has different cover art outside the U.S.
You spent a lot of time with them once the project really started going. I remember you sort of touring Europe with them, right? What was hanging with BR like? Any rock 'n' roll tour stories?
Yeah, I did. I would coordinate with Rick and turn up in places. Sometimes it would be a beer festival in Huntington Beach or a rehearsal in L.A. In 2018 I went to Germany, Switzerland, and Italy and followed the band around though I did spend a couple nights on the tour bus. Then last summer I tagged along for a few shows in Spain because I was already in Barcelona with my wife, Nuvia.
I had some great adventures with Greg in Italy. He was always quizzing me about the places I'd been and what I'd seen. In Milan, he insisted I see the Duomo and on my last day in Rome, when he found out I hadn't been to the Vatican, he got on his phone, booked a tour, and off we went. As weird as it sounds, I went to the Vatican with Greg Graffin! That's just how he is: rigorously inquisitive and extremely generous.
In Vitoria-Gasteiz, Bad Religion played a Punk in Drublic festival at bullfighting arena, a small, cramped concrete bunker. It was cold and rainy and everyone stayed on the tour bus and told stories. It was one of those days I never turned on the tape recorder and laughed until it hurt.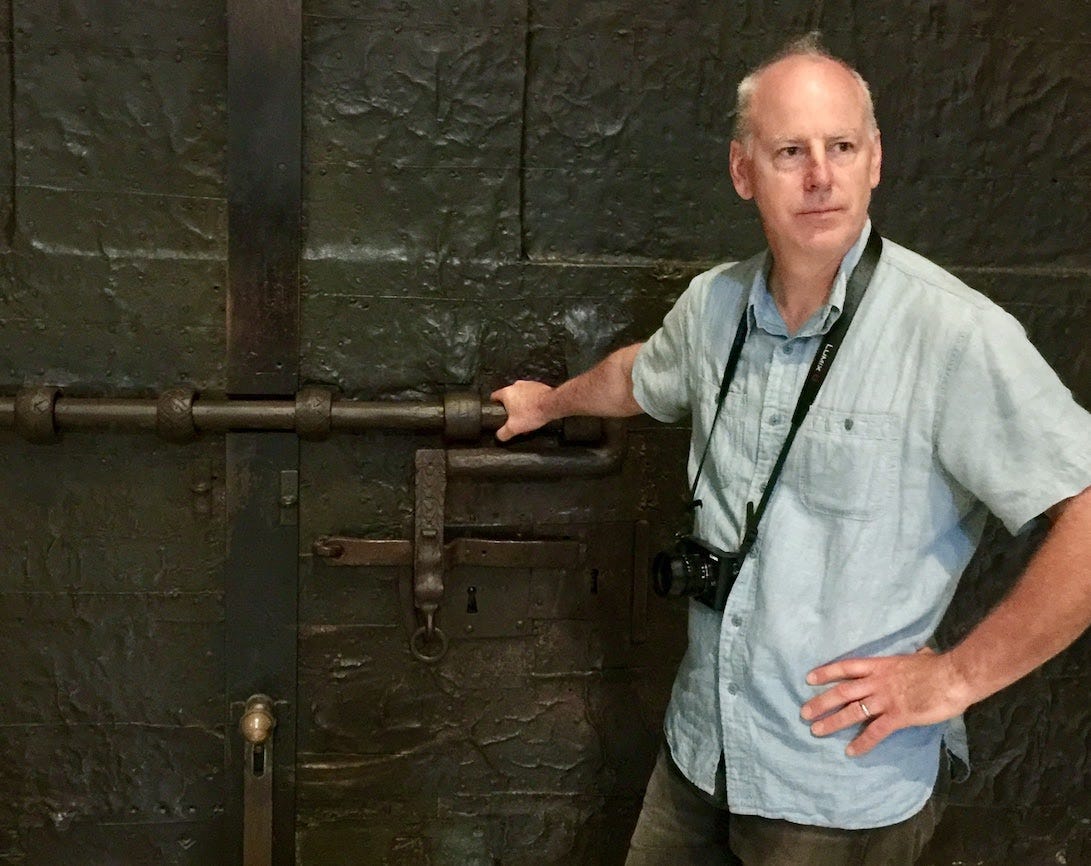 Greg Graffin in the Vatican // Photo by Jim Ruland

Oh my god. Vatican with Greg Graffin. That sounds like a Vice documentary in the making. In your opinion, what's the worst religion?
I was raised Catholic so I've been wrestling with that damage all my life. I had an epiphany in Biology where I realized we're all just protein codes and biomass. I was an angry atheist for a while but I've settled into a kind of lazy agnosticism. I yearn for the ineffable but lack the right equipment like a dog trying to write poetry. When I travel, I try to avoid photographing or going inside of churches, but I had a blast at the Vatican. The tour guide knew his shit, the art was beautiful, and I got to see the Sistine Chapel. I was a little freaked out by how many people were packed inside the place. It was like Disneyland. Just too many people. Even the tour guide thought so, and that's how he makes his living. "This isn't sustainable," he said. Guess what? He was right.
Did you experience any disillusioning moments while writing the book? I don't mean, bad per se, but stuff that changed your perception of Bad Religion or punk rock that you may have had before going into the project?
No just the opposite actually. Two of my core values as an artist are hard work and perseverance and I don't think you could find a punk rock band that embodies those values better than Bad Religion. There were so many times when other bands would have thrown in the towel, but Bad Religion soldiered on. Between Greg Graffin's side gigs as author, educator and scientist, and what Brett Gurewitz has done with Epitaph Records, it's clear these are exceptionally intelligent people. But none of that matters without hard work and perseverance.
Success comes from hard work and perseverance? Big if true.
Seriously, I can't imagine the kind of work that goes into putting a book like this together, You've covered single subjects before (Keith Morris, Captain Scott Campbell) but this was your first band biography, and I can't even imagine putting it together: scheduling all the interviews, transcribing, formatting, organizing, etc. So, props for doing a fantastic job on that. Can you briefly describe each member's interview styles? What kind of things did you look for in order to make each member's voice distinct?
Thank you! It was indeed a ton of work. Every book presents it's own challenges but as I'm sure you know from profiling artists over the years they can be flakey, mercurial, and like to sleep in late. With Bad Religion these things were never an issue. They were totally pro and gave me all the access I needed. If having too much info is a problem, I'll take it every time.
Greg is very methodical in his answers. I don't think he says anything that he hasn't reflected on at length. Brett was more candid and off the cuff and not shy about voicing his opinions. Jay has an incredible memory for detail and as far as many fans are concerned the soul of the band because of his warm and gregarious nature. Brian is extremely witty and maybe it's my East Coast upbringing but his sarcasm slays me.
Okay, if you were forced to pick a member of Bad Religion to give you a tattoo of their choice, who would you pick?
Jay Bentley. His wife, Natalia Fabia, is a fine artist, so maybe he's picked up a few tricks. But I can already hear Jay going, "Oops," and then that great laugh, and I'd be totally okay with that.
When this pandemic is over you want to get Bad Religion tattoos together?
Of course! Don't you think an Into the Unknown backpiece would be super cool?
I think you should get a full body Suffer Boy.
Get a full-body Suffer Boy on my body? Interesting. I can think of a lot worse tattoos.
Okay, so now that you've spent a considerable time with Bad Religion's discography, what's your favorite album? Favorite song? What's their most underrated album? What's the strangest BR song? What's your favorite song to hear live? What's Nuvia's favorite song? What's Annie's?
My favorite album is Suffer. 2018 was the 30th anniversary of Suffer and they played the entire album as an encore. I must have seen it ten times and it just kept getting better and better.
"Do What You Want" is my favorite song, which seems on the nose, but keep in mind that Do What You Want isn't the original title of the book. It was going to be called We're Not Bad Religion. So when I heard about the name change I was thrilled.
I'm biased because I was a fly on the wall for much of the recording but I think the new one, Age of Unreason, is way underrated. "Fuck Armageddon...This is Hell" is my favorite song to hear live. The bass line sets the tone, the guitar punctures the silence, and when the second guitar comes in? Chills every time. Here's a video I took in Mexico City.
Nuvia's favorite song is "Sorrow." Annie's favorite record is the Christmas album but she likes "Do the Paranoid Style" off the new album and for a deeper cut "Los Angeles Is Burning."
What's your favorite song? Let me guess. It's "A Streetkid Named Desire" isn't it?
It's funny that you bring up "Streetkid Named Desire" because that was one of the first MP3s I ever downloaded off Napster, and it was a mind-blowing experience that I could get something so high-quality for free! I know a lot of people (band included) don't think kindly of The New America, but I bought it the day it came out and became the soundtrack to my summer between high school freshman and sophomore years. I earned my learners permit, and I'm certain it was one of the first albums I listened to while driving. "I Love My Computer" is such a strange anomaly in their catalog that I have to give it props.
What a weird coincidence! (I just turned you in to Napster FYI.)
My absolute favorite Bad Religion song is "Skyscraper" off Recipe for Hate. I think that album is very interesting and kind of hit and miss, but I feel like that song is their most emotionally poignant and personal, but also pummeling.
What's your favorite memory of working on this book? What did you learn about yourself?
I got laid off from my job right before I left for Europe to follow Bad Religion around for two weeks. The layoff didn't come as a surprise but it wasn't a great feeling. The first few days I was anxious and exhausted, but after meeting up with Bad Religion at Docks in Hamburg I realized I didn't have to juggle the project with a full-time job anymore. The book was my job. That was a great feeling.
Thanks for talking with me, Jim. Thanks for making music, Bad Religion. Order Do What You Want here. You won't regret it.
PS: Here's a primer of all my favorite Bad Religion songs if you're not familiar with the band. Hope you enjoy!
---
AWKWARD COCKTAILS
By Kelly Davis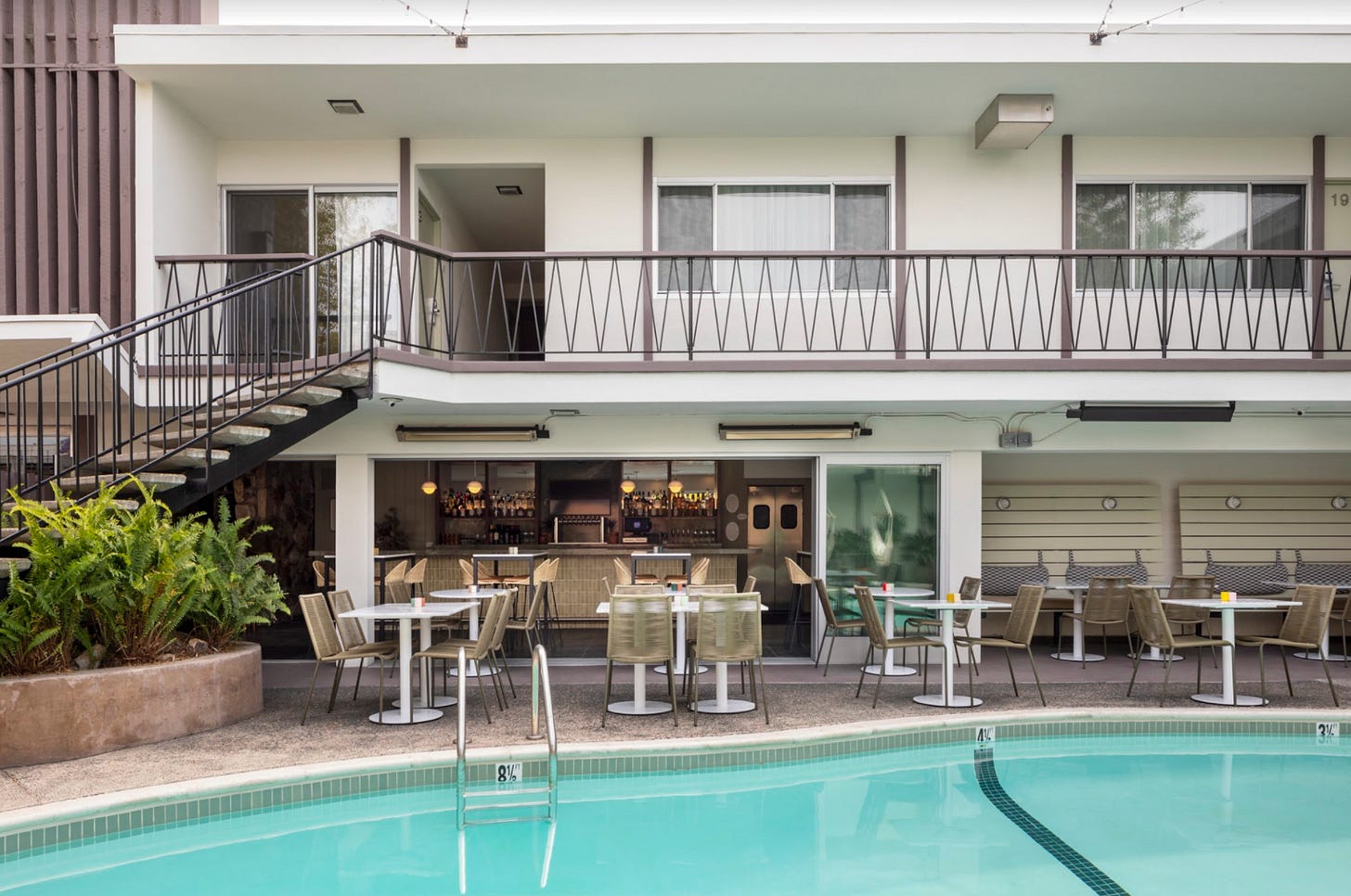 I tend not to make tiki-style cocktails at home. They require things I often lack—multiple kinds of rum, fruit juices, a positive attitude (kidding). A few weeks ago, I was lucky enough to get to do a "virtual" cocktail making demo with Cody Brashier, the general manager of Charles & Dinorah, the restaurant at The Pearl Hotel. The cocktail was the Golden Guava. It's simple, yet perfect, and with a few purchases (see links below), super easy to DIY. Charles & Dinorah's version uses two different rums (Real McCoy and Hamilton Pot Still Gold Rum), but Brashier is a fan of the Real McCoy's 3 Year and said you'll do just fine using it solo. (Plug here for Charles & Dinorah: they have a fantastic happy hour menu that's available from 4 to 6 p.m. Monday through Saturday. Their outdoor poolside patio, with tables and chairs spaced appropriately for social distancing, is open for drinks, snacks and dinner.)
Golden Guava
2 oz. Real McCoy 3 Year rum*
3/4 oz. Perfect Puree Guava Syrup
3/4 oz. simple syrup
1 oz. pineapple juice
1/2 oz. fresh lime juice
1/2 oz. Trader Vic's orgeat
Add all ingredients to a cocktail tin with ice and shake vigorously for 20 seconds. Pour through a strainer into a tall glass (or tiki mug! Or a seahorse tiki mug!) with fresh ice. Garnish with two cherries on a cute pick.
*If you want to use two rums, make it 1/2 ounce of Hamilton Pot Still Gold Rum and 1.5 ounces of Real McCoy.
---
THE WEEKLY GOODS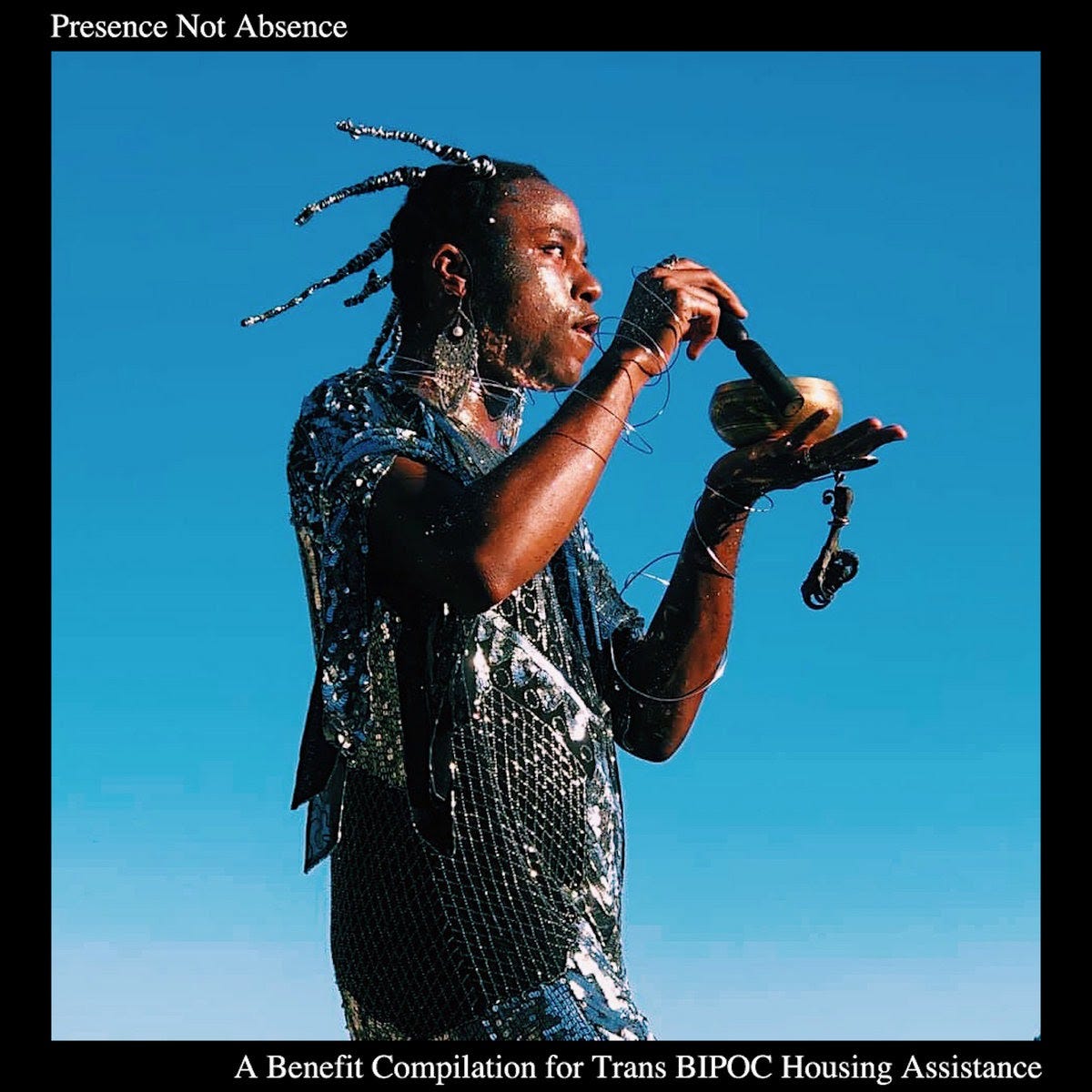 Hear this
Our current administration has been excessively cruel to the transgender community. From banning them from enlisting in the military to erasing rules that prohibited descrimination by medical practitioners, there's no other word for it except dehumanizing. To combat this increasingly vile treatment, punk/weirdo label Volar Records recently announced a benefit compilation for trans BIPOC housing assistance. Presence Not Absence features a lot of great musicians, many of whom are from San Diego. Do yourself — and our trans friends in need of housing — a favor and preorder this off Bandcamp.
Watch this
I'll long be haunted by the videos of that explosion that demolished Beirut, and I fear that many people will forget about it since our news cycle is so mercilessly fast. It also doesn't help that the tragedy happened on the other side of the world, which makes it all the more easy to compartmentalize away. This Sunday at 8 p.m., San Diego singer Natasha Kozaily (Natula, Baby Buska) is performing a livestream benefit concert to raise funds to help rebuild the city. Kozaily's music is delightfully weird and gorgeous, so this is something you'll want to see. Buy your tickets here.
And did you know...
Like all good San Diegans, I love the "hang loose" aka "shaka" hand sign, but have you ever thought about its origins? I was curious and looked it up, and there are a lot of accounts that attribute it to a Hawaiian Mormon choir leader from the mid 20th century. Dear Readers, I'm shook by this knowledge, and I don't think I will ever recover.
---
Got a tip or wanna say hi? Email me at ryancraigbradford@gmail.com, or follow me on Twitter @theryanbradford.
Julia Dixon Evans edited this post. Thanks, Julia! Go follow her on Twitter.