Inside The Outsider: Episode 5, 'Tear-Drinker'
Big disagreements in our discussion about Episode 5. Plus, Jim threatens to wear a bear suit.
Inside The Outsider is a conversation between punk-rock literary hero, Jim Ruland and me about HBO's show The Outsider and the Stephen King novel on which it's based. This week's discussion went a little long because Jim and I got in a lot of arguments! Due to the length, I decided to put this one out as a standalone.
Go subscribe to Jim's newsletter Message from the Underground (I guess) to follow along. We're halfway through the show, and there's still a lot of time to catch up.
(Read our discussions about Episodes 1 & 2 here, Episode 3 here and Episode 4 here.)
All right, here we go.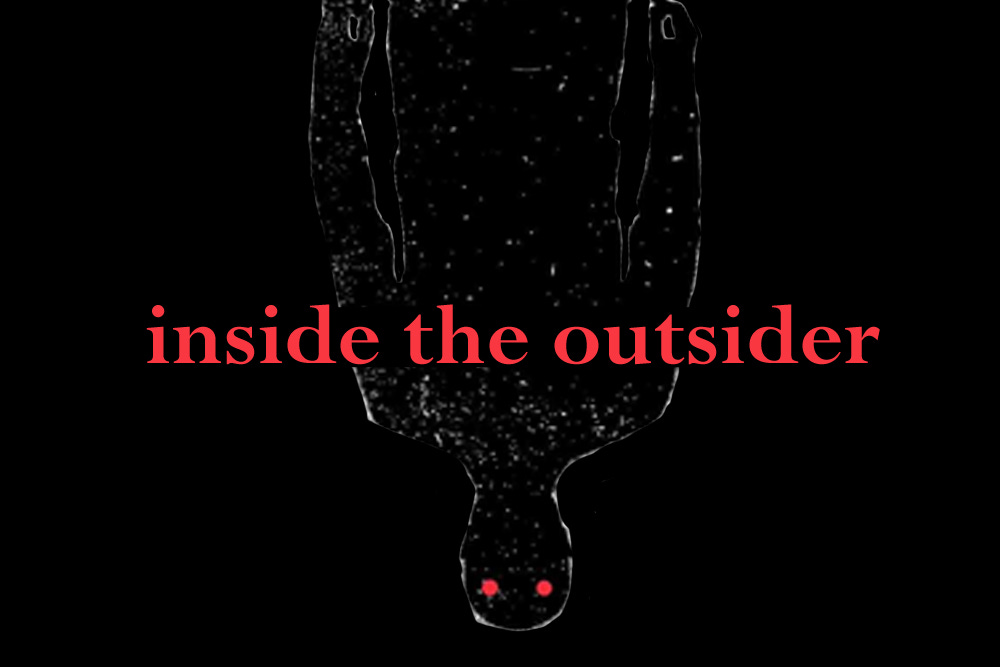 The title of the fifth episode of The Outsider, "Tear-Drinker" is fucking metal— appropriate considering how intense this one is. After the expository fourth episode, it's nice to get some good old-fashioned dread.
The episode begins with the sound of gunshots over black before cutting in on a man, dead on the ground, with the same blisters on his neck that Bad Cop Jack Hoskins is suffering from. Cut to three days earlier and we see the same man tidying the house of Heath Hofstadter, the man who suffered the same lethal case of mistaken identity as Terry Maitland. Definitely not a good sign for Jack. Foreboding looms heavily over this episode.
Meanwhile, Jack is becoming more unhinged, Holly is still on the road, and the wheels on Ralph's investigation spin in air. And then—in what may be the creepiest scene so far—the outsider visits Jeannie to tell Ralph that if he doesn't stop the investigation, he will die. They both will die.
Is it a dream? Ralph thinks so, even so, his wise partner Yunis says, "Dreams can be messages, bro"
Ryan Bradford: Let's talk about dreams, bro. What are your feelings on dreams as a narrative device?
Jim Ruland: What a question! I think how one feels about dreams as a narrative device depends on how one feels about dreams in real life. I dream every night and many nights all I have to do is close my eyes and the dreams will start before I'm fully asleep. There have been dreams that have altered the course of my life. For instance, in college when I was overworked and sleep-deprived, I dreamt that my whole life since leaving the Navy was just a dream. When I woke up I couldn't shake the feeling of unreality for weeks. In fact, there's a part of me that expects to someday wake up on a warship steaming across the South China Sea.
That said, other people's dreams are boring because they're not centered on us. I think dreams work in narrative contexts when 1) reality is slippery because of exhaustion, drug use, madness etc. or 2) we closely identify with the protagonist. I tend to follow Henry James' "tell a dream, lose a reader" dictum unless it passes the "who cares?" test. If the dream can be taken out of the story without losing anything, then it should probably go. All that said, the most powerful dream I ever had was when a friend who died from an intentional overdose came to me with a message several months after his death. So when Ralph's son, Derek, appears at the end of Episode 5, it reminded me of that moment, that loss, and not only did I feel Ralph's pain, but my own.
As for the other "dreams" in Episode 5, they're not really dreams, are they?
RB: My dreams are really dumb these days. It feels like the internet has dulled my brain, and a lot of times I just dream of, like, tweets I want to write. But sometimes I'll dream about one of my dogs from when I was little and those are very emotional, and open me up to new sensations and perspectives for a day or two afterwards.
I think dreams in narrative are a thing that pissed me off more when I was younger, but I don't really mind them now. One of my undergrad creative writing teachers said "steer clear of the three Ds: dreams, drugs and delusion." At the time, I agreed, but now I think there's value in dream narratives as long as long as they're not the it was all a dream! type.
In the case of The Outsider, for example, I think Ralph's dream about Derek was a good way of showing Ralph's anxieties: Derek repeating "Look at me" enough times for it to sound chilling, almost like a threat. When Ralph finally did turn, I expected a monster, given how tense this episode was, but it turned out to be both heartbreaking and tender. Perhaps that's a little on-the-nose symbolism (Ralph confronting his trauma, putting his trust in things he can't see, etc.), but I think it's more poetic than most things you see on TV.
But yeah, the other "dreams" in this episode were definitely not dreams, and I was a little disappointed in Ralph for gaslighting Jeannie when she said the outsider had been in their home. Mentally, where do you put Ralph in this episode? What's your overall diagnoses of him at this point in the show?
JR: Ralph isn't gaslighting Jeannie. Gaslighting implies deception, an ulterior motive. Ralph truly believes his wife had a bad dream, end of story. It's not until Jeannie draws a picture that matches Merlin's drawing that Ralph starts to wrestle with the possibility. I think up until the moment his wife handed him the drawing, he was able to chalk up the dreams to trauma: his family's as well as the Maitlands'. But now that he has corroborating eyewitness accounts, i.e. evidence, his cop brain is going into overdrive.
If you watch a lot of television and have any interest in crime and/or mystery fiction, you encounter a lot of occult detectives, that is detectives who have uncanny abilities and/or a deep familiarity with the unexplainable and the arcane. Of course, that's not how it is in real life. I would suggest that if you are a cop or a detective with interests outside of say, the local sports teams, you're going to find yourself an outsider in that fraternity. In other words, I think there are more cops like Jack than Ralph. Ralph is fascinating because he is something of an outsider because of his son's death, and his recent suspension. To uncover what is really happening, he's going to have turn away from his training and instincts and learn how to "embrace the mystery."
RB: I didn't mean that Ralph is trying to deceive Jeannie, but I also don't think that all gaslighting is overtly calculated and scheming. I think a lot of gaslighting comes from selfishness and self-preservation, and that's what it seemed like Ralph was doing. I found it to be a weird blip in his otherwise considerate demeanor, especially toward his wife, whom he's always given the benefit of doubt. That is, I think immediately undermining her experience as a "dream" is disappointing to me and harmful to Jeannie, but I also think it's symptomatic of how the case is getting to him. It's an outburst of self-preservation. This case is already beyond fucked-up, but having it enter his home—that's not something Ralph's even willing to consider.
But Jeannie's vision was definitely one of the scariest scenes in the show so far. It was the first time we heard the outsider talk, and whatever they did to his voice chilled me. Slowed it down, mushed it up, rendered it simultaneously robotic and human. I went back and watched it with subtitles to understand what the outsider says, and at one point "goats bleating" pops up. That's fucking terrifying, man. Well done, show. This episode ramped up the scariness and tension, and I'm down with that.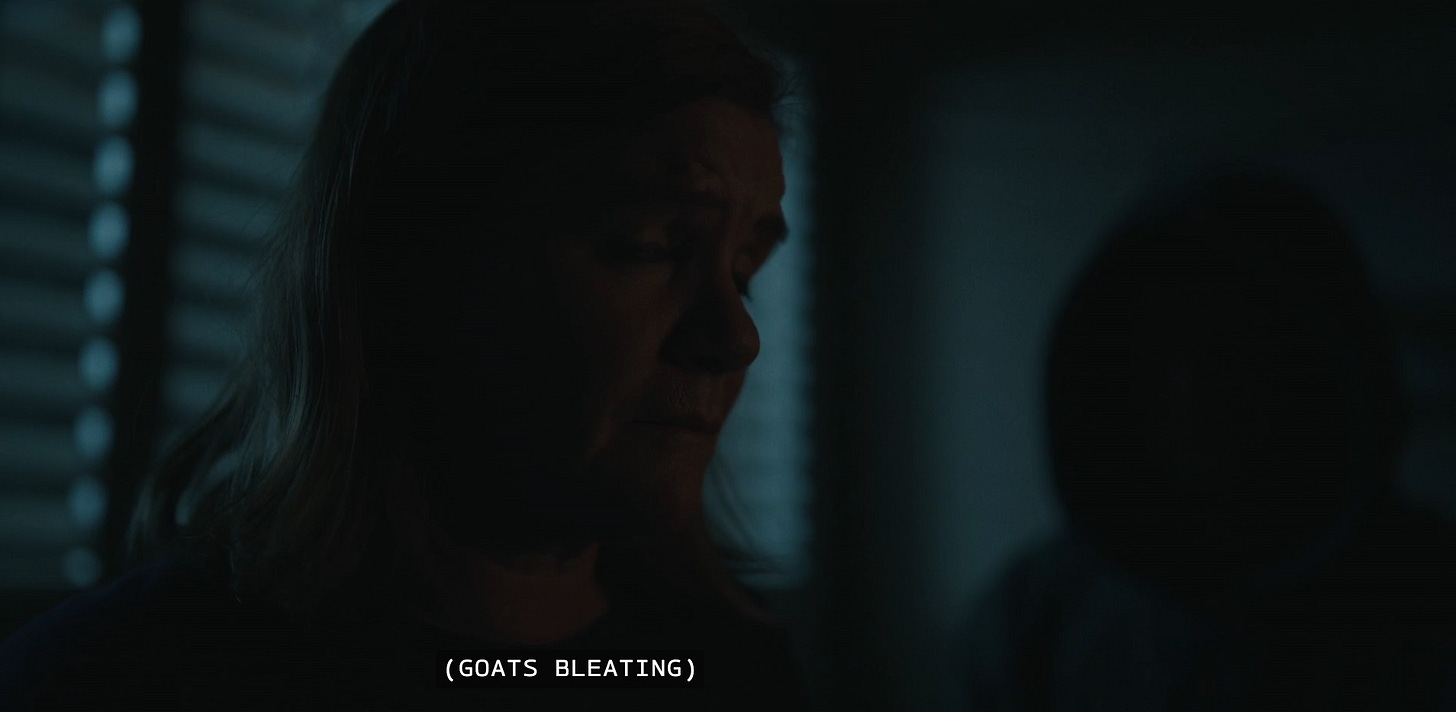 JR: I disagree. Gaslighting is always about deception and manipulation. Nor do I see Ralph's reaction as undermining and harmful. If Jeannie was frightened and he refused to listen to her because it was just a dream, that would make him a jerk. Another example: if you called me up and told me you had a dream where I was a rabid bear and I might want to get a rabies shot, I'm not gaslighting you if I listen to your story and politely suggest this won't be necessary because I'm not a bear. Now, if I showed up at your house the next night in a bear costume and tapped on your bedroom window, then yes that would be gaslighting.
But I agree that scene was very scary. The outsider seems to have three powers: 1) it can mimic the appearance of human beings, 2) it can control other human it comes into direct contact with to run errands when the outsider is in its in-between stage, 3) and it can communicate with people in their dreams. I don't want to say too much about the last one since we've read the book and more will be revealed. I thought Tomika's dream was really interesting in that unlike other dreams in which the outsider appears, the point wasn't to relay a message per se. Or was it?
RB: Jim, you're crazy. You told me last night that you believed Ralph was gaslighting. Don't you remember?
Our disagreement comes from whether Ralph is convinced that Jeannie's experience was a dream or not. You think he is, and I think he's just afraid of the truth and trying to steer it toward a rational explanation that suits his needs (i.e. continued sanity and feeling of domestic safety). His reaction was just so knee-jerk that it felt out of line for his character, but I'll let it go. Tomato, tomahto; outsider, outsidah.
Also, please don't show up to my house in a bear costume.
I think Tamika's dream is interesting, too, and I really like what it insinuates. Her character gets very little play in the novel, despite early indications that she's gonna be a major part. It's just such an obvious, bar-raising threat to incorporate a newborn in the outsider's plans, and it's a forehead-slap that King doesn't take advantage of that in his book. We already know that Jack and Tamika have a very close, almost familial relationship, so it's not really a question of if Jack—under the outsider's parasitic powers—will use Tamika's baby in some nefarious way, but when. Another example of how the show is an improvement on the book.
But in contrast, I think the show's handling of Jack's possession? servitude? has been a little dumb. It's one of the few aspects that I think the book does better. I rolled my eyes at the scene where he's in the woods yelling at his invisible master about... lamps. But I think this episode had the best Jack scene so far, which is when he's asking Ralph to be in on the investigation. He's very pathetic in that scene, and even though he's playing coy to win over Ralph, there's a real downtrodden emptiness to him.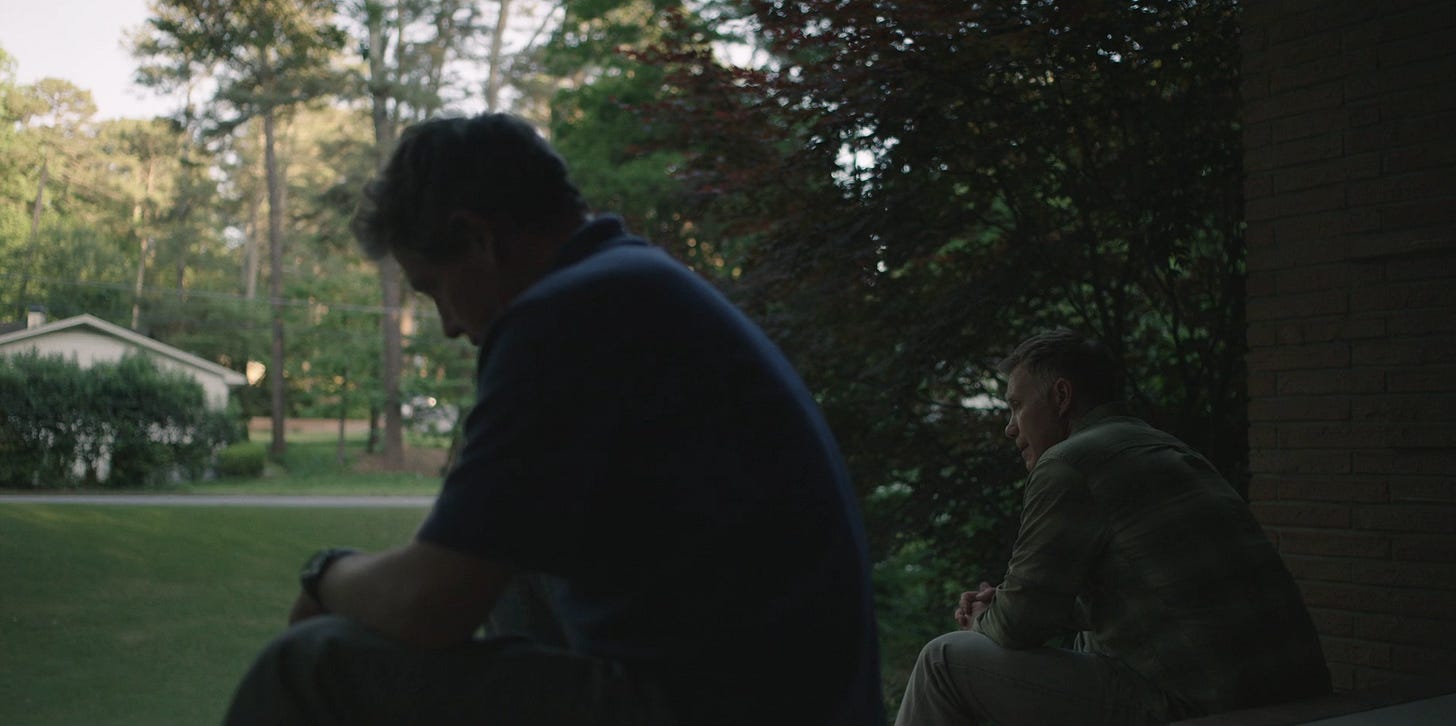 JR: Yeah, it's interesting the way Tamika's role has been expanded in the series for all the reasons you mention but I'm wondering if this was "just" a dream. When the outsider appears at the Maitland's house it leaves behind a residue. With Jeannine's dream, her bloody foot suggests her dream, at the very least, also involved sleepwalking. But with Tamika there's no indication that her dream was anything more than that.
Initially, I liked the TV version of Jack a lot better. In the novel, Jack is kind of two-dimensional clown who has an outsized grudge against Ralph. While I really liked the scene between Jack and Tamika at her baby party, I thought Ralph's second encounter with Ralph was kind of unnecessary and dumb. He could have gotten all of that off his chest at Tamika's party. I'd like to know more about how the outsider is controlling Jack, especially since we now know there was another parasitical helper in Dayton. The few glimpses we get of that guy and of Jack later in the episode suggest that the outsider's control over these people is intermittent, which seems dangerous and a little slapdash. I thought Holly was going to get some answers from the guy at the cemetery in Dayton, but not only does that not happen, we don't see how he got away from her, which seems weird, no?
RB: Yeah, I'm leaning toward Tamika's dream being just a dream to give the audience a taste of foreshadowing. But it would be cool if the outsider becomes involved with her family in more ways than Jack.
It was a little strange that Holly didn't pursue that guy at the cemetery, but maybe it's because something about him triggered one of her heightened powers of perception. There's a lot of slapdashery in this episode, now that you mention it—like the part when they're scouring Terry's gravesite and they just happento notice the barn where they found Terry's jizz-covered clothing. A little too convenient, no? And I must say that the book does not explain the outsider's powers any better. After finishing the book, I didn't really know what the outsider could do, as if King was making up powers by the seat of his pants.
So, a good friend texted me and said that's probably tapping out of The Outsider, claiming that the show's too slow for him. I've seen similar complaints online, and I feel that extended "What to expect in the second half of the series" trailer we saw at the end of this episode has a little "just hold on because it's going to get good" vibe to it. What do you think of that? I'm partial to slow burns movies—especially in horror (The VVitch, Hagazussa, and House of the Devil are slow-burn movies that I love), but does the thread stretch too thin for you?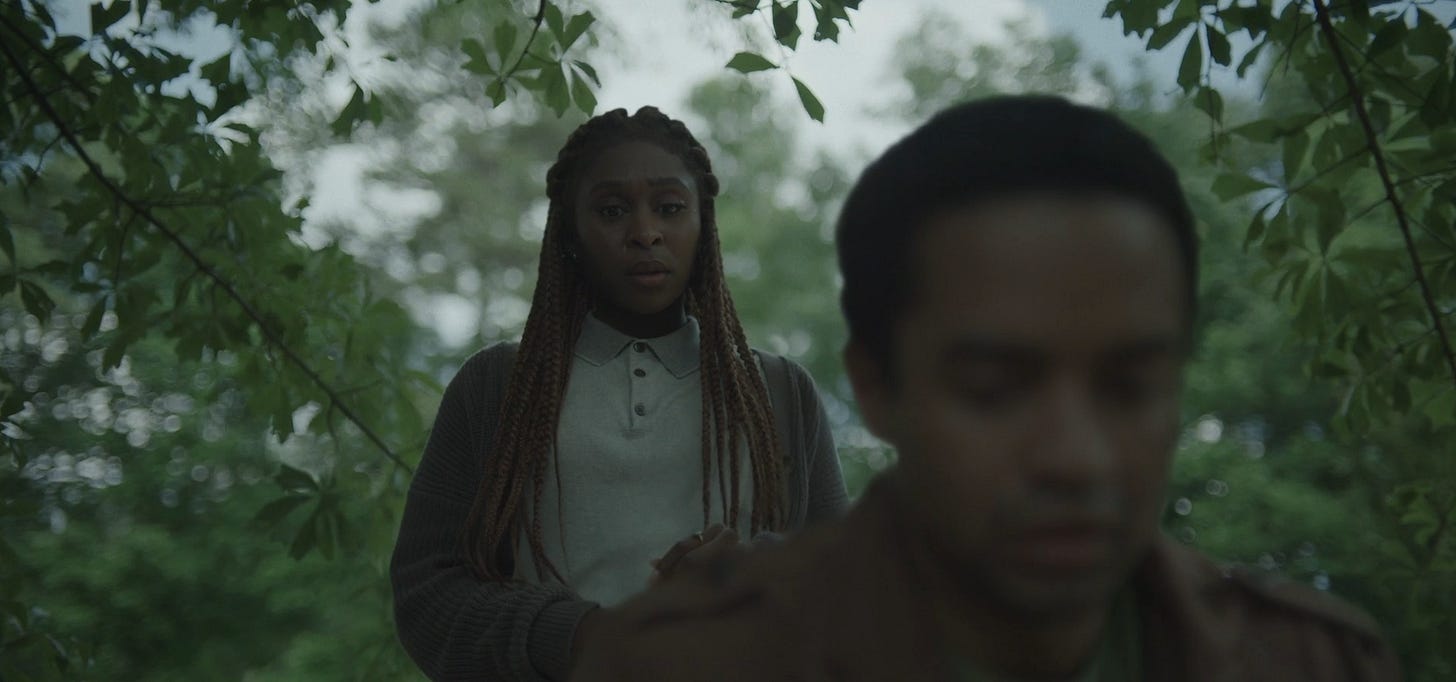 JR: Sometimes I wonder if we read the same book or are watching the same show. No, it's not too convenient because, as Holly demonstrates, the outsider likes cemeteries and sticks close to them. That's its m.o. That's what it does. I thought it was a nice touch because it fits the picture that Holly is trying to paint for them. And since slapdashery isn't even a word, I'm just going to disagree with you on principle.
RB: Okay, Webster.
JR: I'm aware of the criticism of the show's slowness, but that's what happens when you start dicking around with dreams. Viewers are going to get impatient. I don't think it's fair to compare it to films like Hagazussa. I've seen paintings with more action than that movie. As I've said before, I'm really impressed with how real the show feels. I feel more connected to Ralph and Holly than to any of the characters on The Watchmen, for example, another HBO mini-series we both enjoyed.
Halfway through the series, my main concern is whether Stephen King is going to make it the end before he gets himself cancelled with his stupid tweets.
RB: So the only thing we agree on for this entry is our mutual desire to see King to step away from Twitter?
JR: Yes, unless you'd like me to share the results of my Google search for "demented bear suit"?
RB: Please no.
JR: See you in your dreams!