Hi all, this is going to be last newsletter of the year. For the past seven years while at CityBeat, we had to put out two issues around Christmas and New Years because, well, advertisers paid for that, so we had to churn out these stupid issues so Johnny Sexshop could advertise last minute holiday dildos or whatever. But I don't have that obligation this year, and I'm going to take a holiday break for once. I just want to thank you for making the end of 2019 so great for me and, please, pat yourself on the back for supporting independent writing. It's been a rough year for writers (myself included) and your readership, shares, financial support, social media likes really go a long way in literally keeping me alive. Thank you again, and I'll see you all in January.
---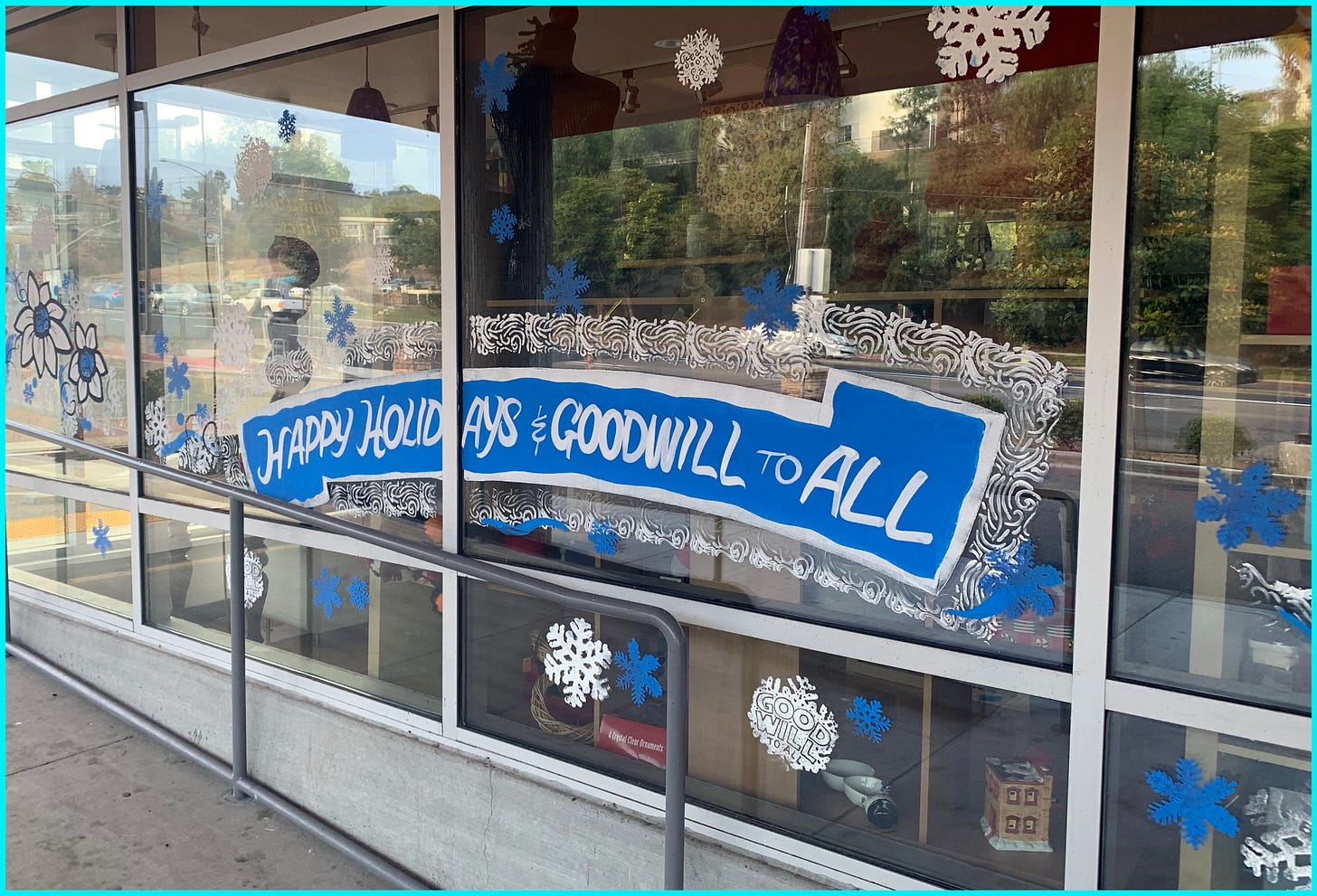 I've been staring at the thrift store across from the YMCA for about three years now. A line of treadmills overlooks the comings and goings of thrifters, and I've often made up little life stories for them while working up a sweat. These stories end up kind of melancholy—not sad, but buttersweet. Surprisingly, I take a lot of comfort in this. It's nice to consider that their lives are no more joyous than mine
There's a display painted on the thrift shop's windows. These days, there are large red and green block letters that read: "HOLIDAY Decorations." Underneath, in clashing orange, it says "Great Gifts Inside." An illustration of candy canes sprouting out of a snow underscores the mural. A few months ago, it was a pumpkin with lettering that read "Great Costume Ideas." There might have been something Thanksgiving-y painted between then and now, but I didn't really go to the gym in November.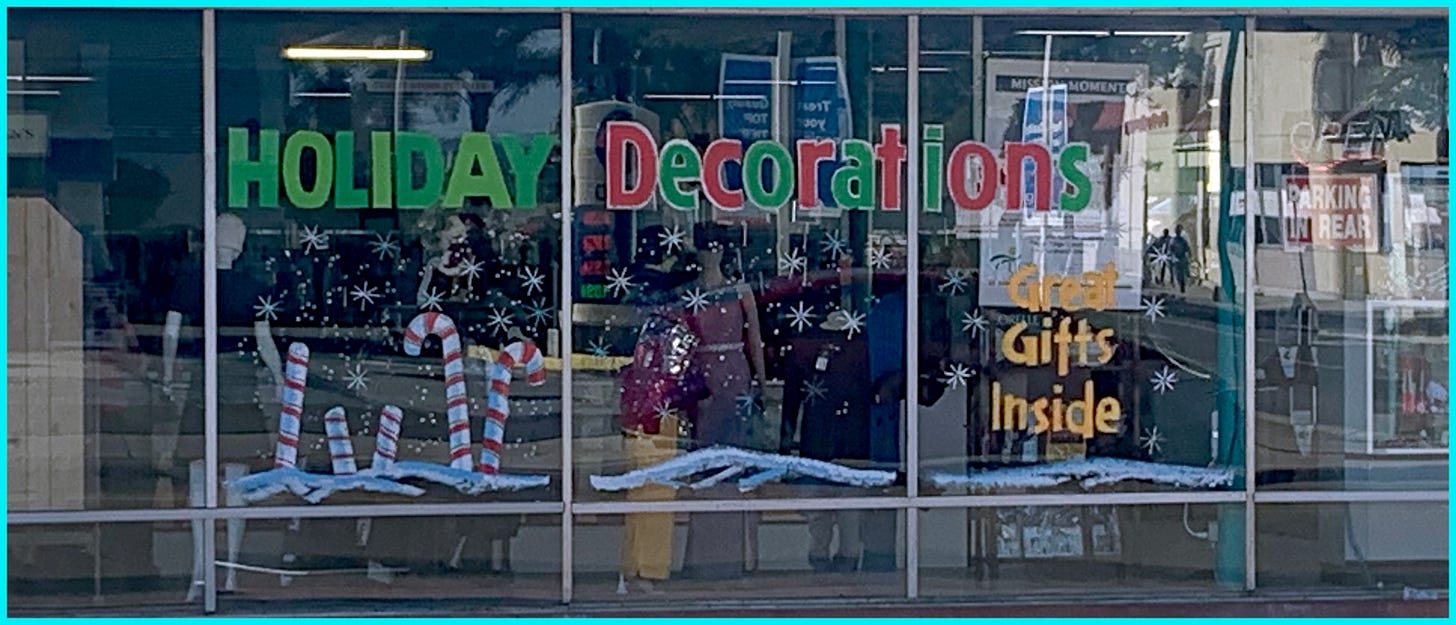 My view from the gym

Sometimes it feels like I can measure time by the changing seasonal window displays. In a city that doesn't really have seasons, I guess this is as good a method as any.
I love these displays. Like the people I watch from the treadmill, there's something bittersweet about them. Seasonal window paintings are not high art—and when looked through an art critic's lens, most are actually quite bad. But, for me, they represent a lot of things: community, blue-collar art, small business, the antithesis to annoying Instagram-baiting murals, a hold out of middle-class ideals. I can't imagine tech will ever replace window painting, and that's reason enough to celebrate them. And during Christmastime—a season that's especially hard—I find them to be a constant source of comfort. It doesn't matter how low my bank account gets or how many of my friends move on to make happy families or become more successful than me, the window art remains.
But who are the artists behind them? Who's keeping this tradition alive?
Turns out these answers are a little more elusive than I thought.
****
Google "window paintings San Diego" and one of the top results is Danos Signs San Diego. I've seen Danos' work everywhere, and if you live in San Diego, you've probably seen it, too. He's been doing it for decades. In fact, his work covers the Goodwill just down the street from my house.
At first glance, his art doesn't look much different than any other seasonal window artist, but after paying close attention, it becomes clear that Danos is an artiste. The shading, clean lines, his lettering—it's all top notch. His caricatures possess an innocence that feels both elementary and mastered. His signature, up-turned eyes convey both wholesomeness and whimsy. It's easy to imagine his little creations inhabiting the stores onto which they're plastered, holding our hands as they guide us through the second-hand stores, gas stations, pizza joints or grocery stores. I don't mind consumerism as long as it's cute!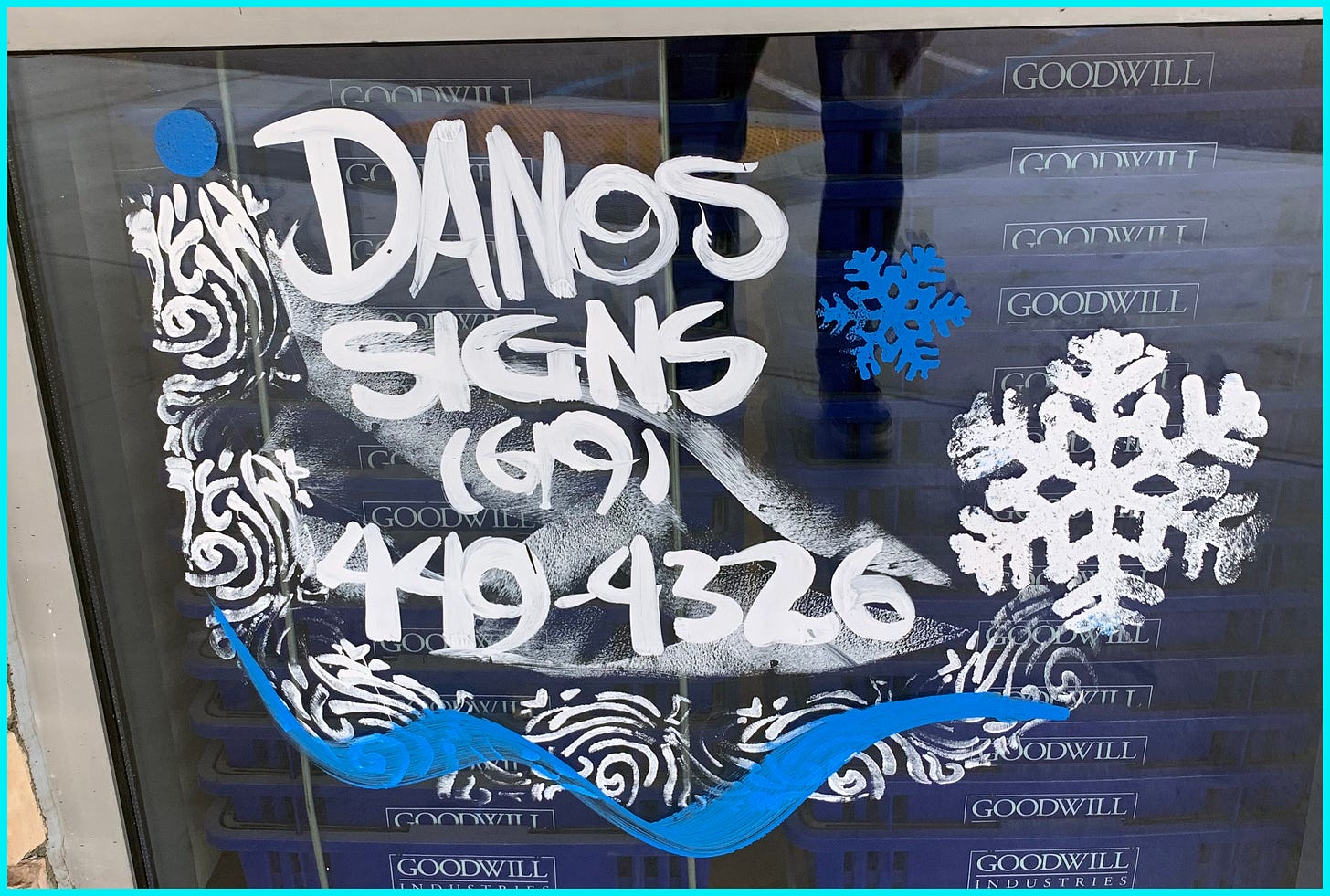 Another thing that marks Danos' art: his phone tag and phone number. It's not small or hidden in the illustration, but featured prominently. This is something that I haven't seen in any other window art. Part of me thinks it's a little cocky, but then I wonder why every window artist isn't using their signature. Is there some hidden code among window artists? I write "hidden code?" on potential questions to ask Dano.
I dial his number and explain that I'm a writer in San Diego looking to do a write about him. Generally, people are very excited to talk about their art, but Danos refuses me without hesitation. "Thank you for reaching out, but I'm not interested at this time." He's firm, but not rude, and hangs up before I can try to clarify my intent. I stare at my phone, wondering if his cold calculatedness and no-nonsense attitude is how he became the window art king of San Diego.
I put out a request on social media to see if anyone knows any seasonal window artists. So many people point me toward Danos. I find myself obsessed with him, scouring every piece of window art for his signature. I go to his website and click through his photo galleries, searching for clues about who Danos is as a person. I don't even know what I'm trying to discover. When I pick up my wife from her office holiday party at Ponce's Mexican restaurant, I practically careen my car onto the sidewalk when I notice a Danos on the front door.
And then I realize I'm referring to "a Danos" with the same reverence that one considers "a Picasso" or "a van Gough." Perhaps I need to ease up on this obsession.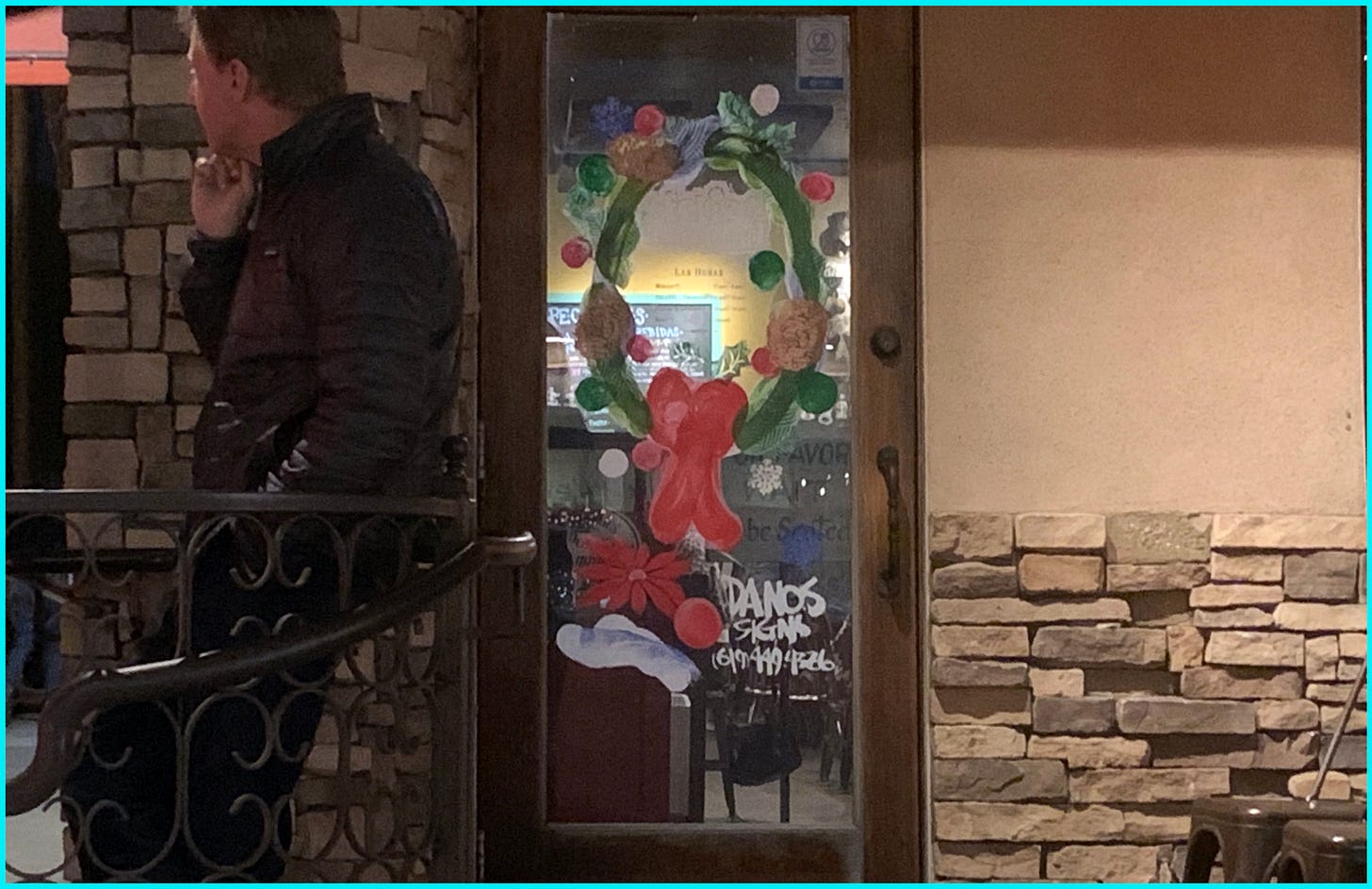 ****
A friend texts me a photo of a flyer that he found hanging in a coffee shop. The flyer reads "Quick Signs."
"Need a sign, lettering or holiday design?" the flyer reads. "Don't delay just call right away." Then it lists the name of the artist: Gary Simpson.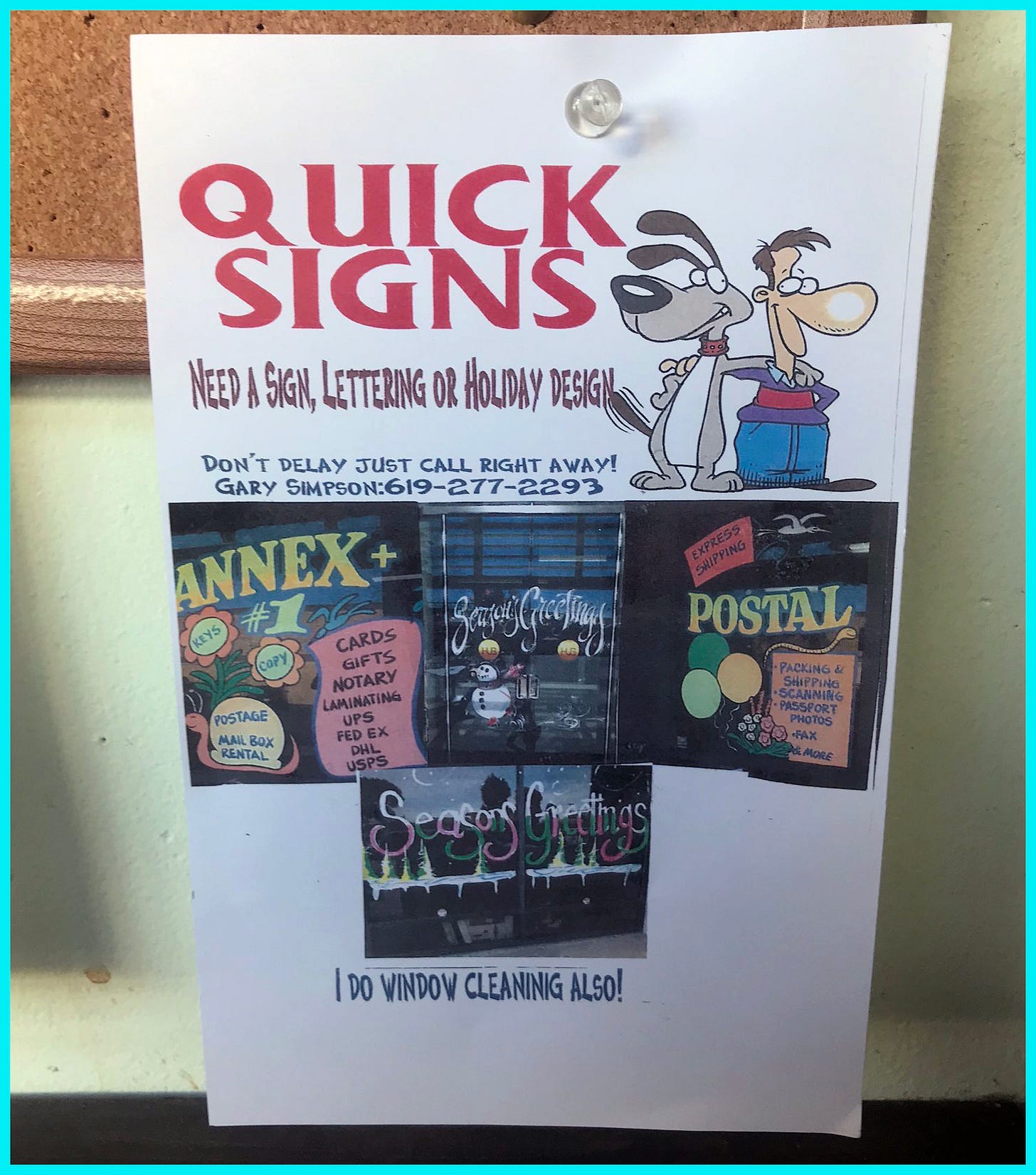 Simpson's flyer is jumble of text and images that appears to be put together in Microsoft Word. I can't tell if it's the perfect flyer for his business—conveying the elementary playfulness that works so well in window art—or if it's just absolute garbage, and if that's the case, why would I hire a guy with such poor design sensibilities?
I call the number on his janky flyer. After the brisk conversation with Danos, I expect this call to be similarly short.
When Simpson answers, I tell him that I'm a writer interested in profiling San Diego window artists. "I was wondering if I could observe you and your process."
Simpson talks to me like an old friend. He speaks quickly with a very East Coast accent and is very forthcoming. He's also no-nonsense, but not in the guarded, Danos sort of way. Although Simpson doesn't have any upcoming projects that I can observe, he immediately divulges his process over the phone with no prompting from me. For all he knows, I could be a competitor inquiring about his business secrets (or DANOS!), and he'd just be handing them out like candy. I instantly like Simpson's DGAF attitude.
"Get white paint. Lots of white paint. Tempera paint. Just go into any Blick or Hobby Lobby or Wal-Mart and say 'look, I do windows.'
"Just look up designs on Youtube. Google 'Happy Holidays' and then print it out. That's how I do it." I consider that maybe someone telling me to Google "Happy Holidays" might be a career highlight.
We get into a little of Simpson's history as a window artist. He's been doing it for 20 years, and he does everything freehand. I ask him what the competition is like as an attempt to see if he has anything to say about Danos and his empire.
"Twenty years ago it was like shooting fish in a barrel," Simpson says about the ease of landing jobs. "Now, I make 100 flyers and I'm lucky if that gets one customer." I ask why he thinks that's the case. "There are fewer mom-and-pop shops," he says. "Everything's so corporate. And, you know, Christianity." I don't ask him to clarify, but I take it to mean that given the secularism of the holiday, not too many people are interested in having Christian iconography—even if it's Santa—painted on their windows.
Simpson's mom-and-pop comment sticks with me. I I guess I never thought about the effects of New Capitalism on window painting, but it makes sense. How can anything scrappy or niche or tactile survive these days without being a labor of love? Shouldn't a trade like window painting be the exact thing our economic system protects? It seems there's nothing that embodies the ideals of capitalism more than a person with drive, hustle, intrepidness and the ability to provide a service that few others can—even if his artistic skills are middling at best.
Whoops! Didn't expect to eulogize the American Dream during my chat with a window painter.
I finally ask Simpson where his last job was so I can check it out. "It's right off the 805 and Miramar. It's a shop that does tires." He pauses. "All right, it was nice talking to you." Abruptly, he hangs up without even asking for my name.
****
The following Friday, I decide to drive up to Miramar Road to see if I can find Simpson's work. Unfortunately, my plan consists of little more than Googling "tires shops nearby" once I get off the highway. I think back to what Simpson said—"a shop that does tires"—and realize it could mean a zillion things. "Does tires," I repeat, driving down a line of used auto stores, auto repair shops, auto body shops, rent-a-cars. I find one window display, but it looks old, faded. This is a fool's journey. Why did I come up here? I get back onto the highway heading home, and wait in traffic for 30 minutes to go five miles. I turn off the highway and pull into the Wal-Mart on Clairemont Mesa Blvd. I ask a sales associate if they sell tempera paint. She looks at me as if I just asked about a house that had burned down four years prior.
I get back in my car and spend the rest of the slow drive home wondering if I've been played by the entire San Diego window artist scene.
****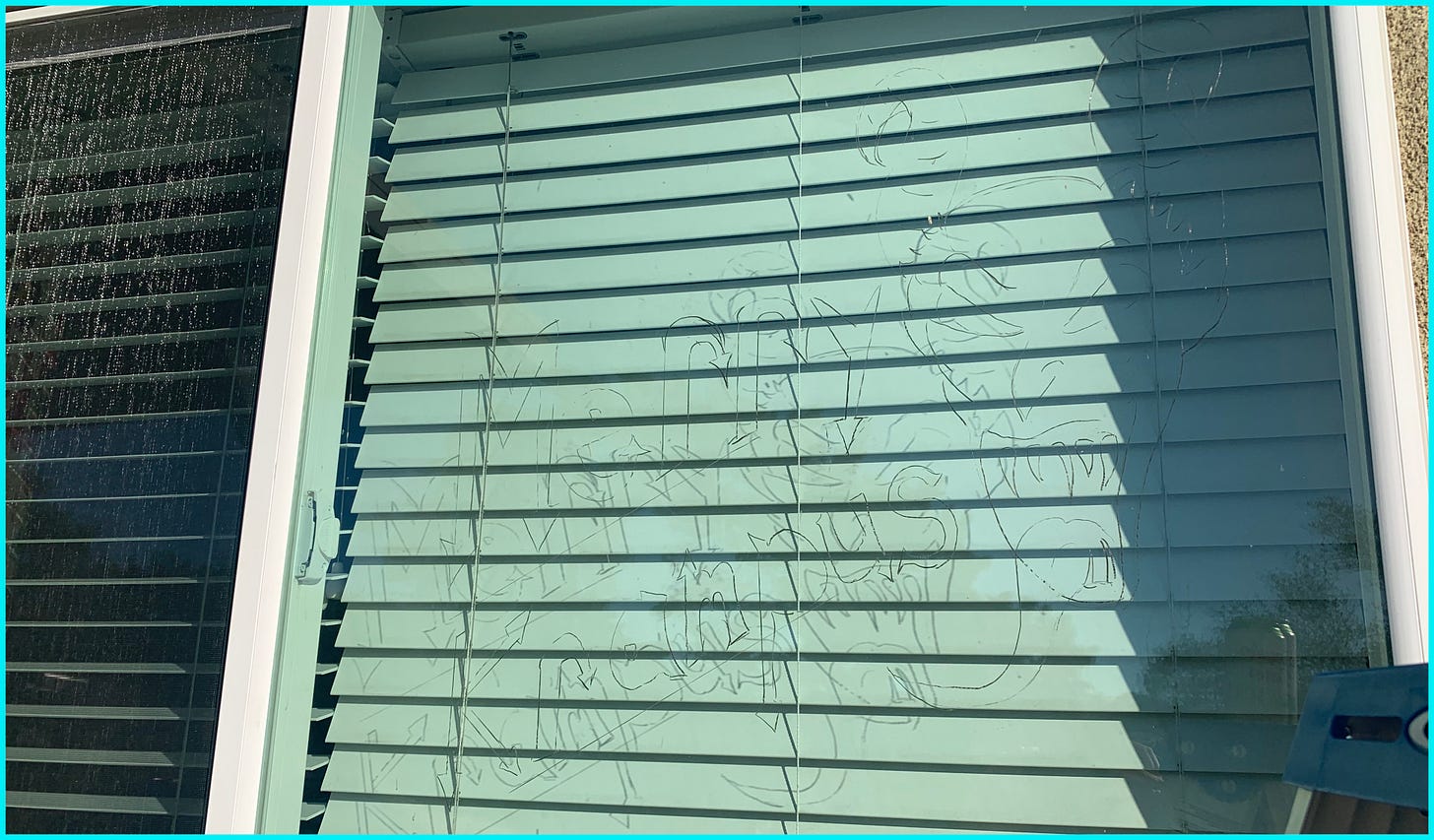 I do end up finding the materials at Blick. Five bottles of tempera paint, a wax pencil (used for drawing outlines) and a set of beginner brushes puts me back about $40. I set up a ladder at the front window of my home. I'm not really sure of what I'm doing, but the weather's brisk and the sun's shining. I have two beers and a USB speaker. I begin to draw lines on the window. The wax scrapes off easily, so I begin my design: two devilish eyes, sharp teeth, a grotesque tongue and two large goat horns. I outline Krampus, the Christmas demon, because it reflects my mixed feelings about the holiday. It can't all be doe-eyed caricatures and happiness. It can't all be Danoses.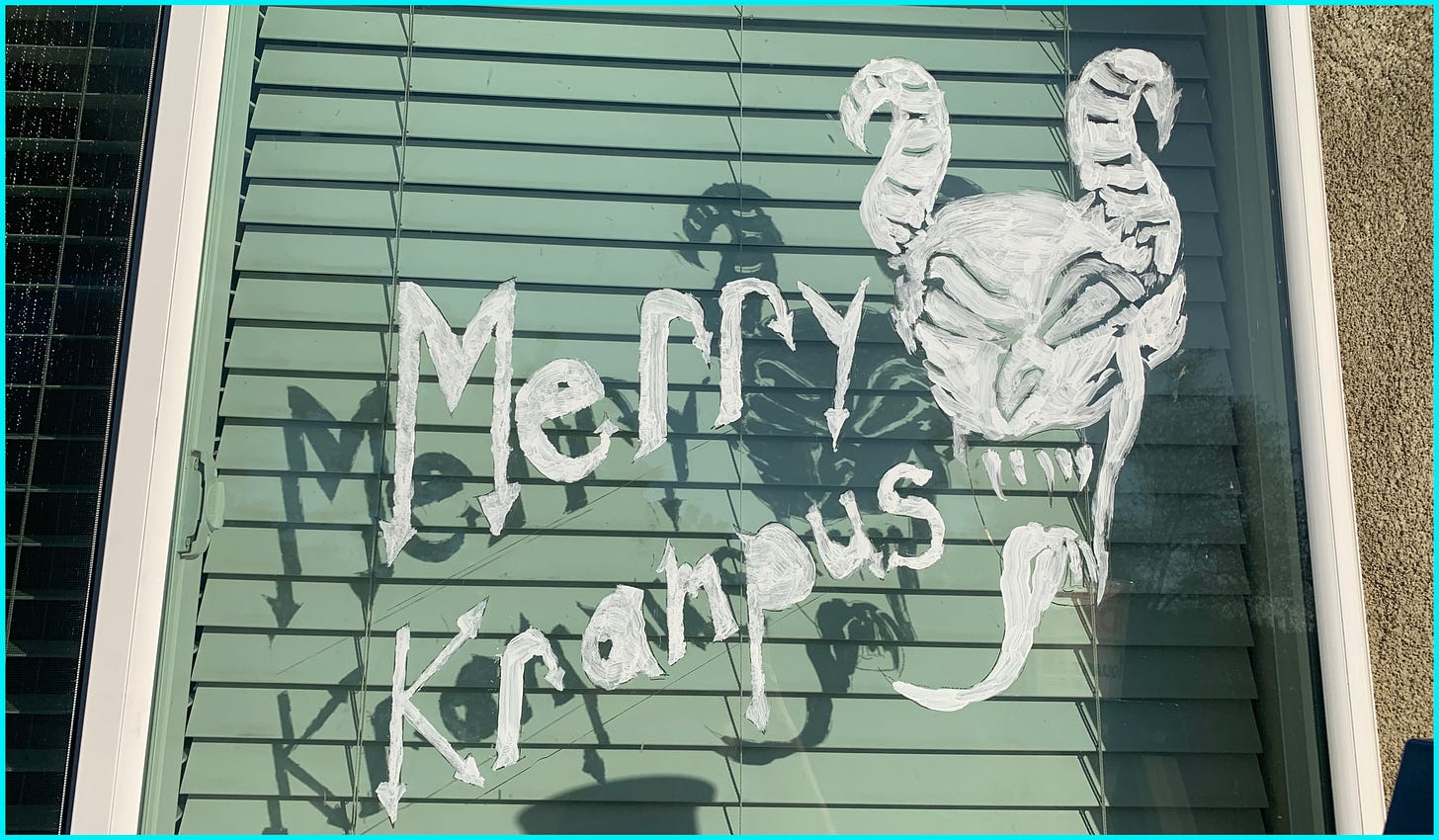 I fill in the outline completely with white. This is something Simpson told me to do because it provides a base that allows the next layer to really pop. He's right—Krampus's tongue turns out so red it looks violent. I paint the face blue and tap the edges with green paint. Certainly Krampus is going to be moldy. Like how Bob Ross made happy little clouds, I'm making happy little skin molds.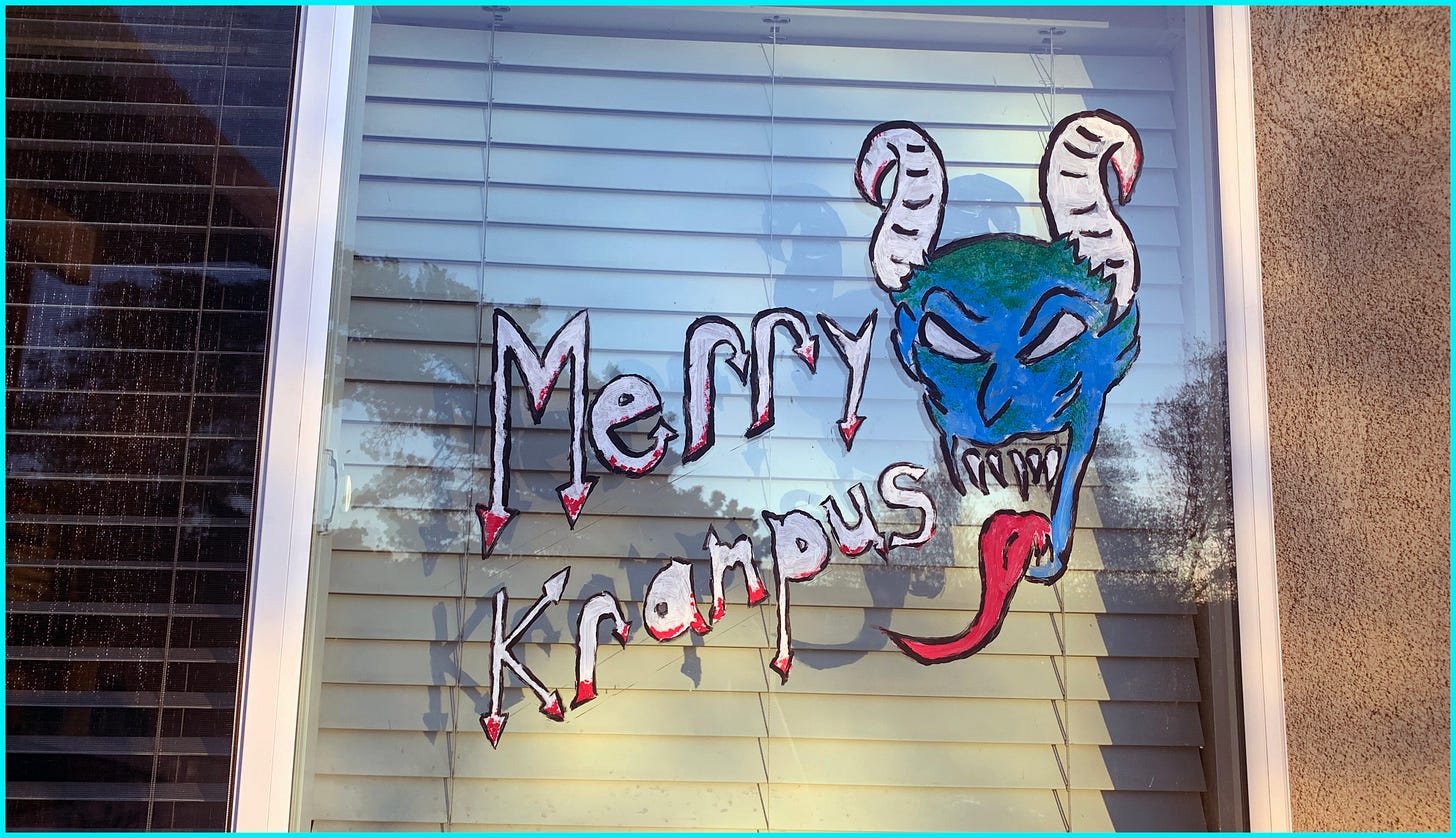 I fill in the outline with black paint and step back. Not bad. In fact, I'm quite happy with it. It's not something I could ever do for money, but it brings me unbridled holiday cheer to look upon this monster, which is as good of a metaphor for enjoying Christmas as I can muster.
---
THE ONLY CONCERT CALENDAR THAT MATTERS™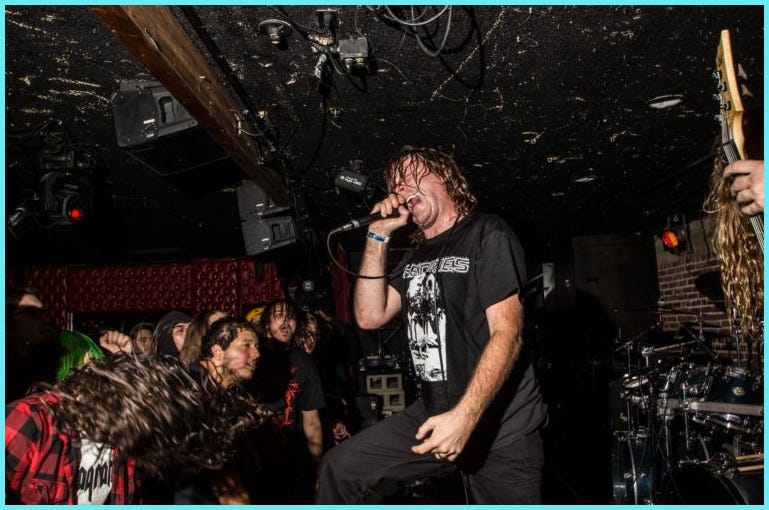 Cattle Decapitation

As we get closer to the holidays, there seems to be fewer touring bands worth checking out. However, this week is full of killer local shows that you should see. I love going to shows around this time because the bars are all decorated, everyone seems happier and the crowd just feels like a big family. Go see some live music this week while everyone else is planning their trips and trying to catch late shows of Star Wars or whatever.
Wednesday, Dec. 18
OPTION 1: JoYKiLL, Strange Ages, Dead Perennials @ The Whistle Stop. A night of somber, dark and baroque local music. I'm stoked about JoYKILL, who creates haunting soundscapes with guitar and vocals, and Strange Ages always put on a great, captivating show.
OPTION 2: Amerikan Bear, The Surrealistics, Sycamore @ The Casbah. Amerikan Bear plays that type of late '60s psyche/proto-punk that's like a mix of 13th Floor Elevators and MC5. It makes me want to wear a don a shag wig and turtleneck, and mosh with a martini in my hand.
OPTION 3: Thursday, Chris Conley @ Brick By Brick (sold out). Yeah, this show's sold out, but there's no understating how cool and influential Thursday's Full Collapse album is when it came out. It blended emo, hardcore and post punk in ways that I don't think have been replicated since. Even as a naive 16 year old, I remember thinking "this is a game changer."
Thursday, Dec. 19
OPTION 1: Ziggy Shuffledust and the Spiders from Mars, Electric Warrior, 13 Bats @ The Casbah. David Bowie's absence from the world feels more pronounced every year since he died. It's doubtful that we'll ever get an artist who made so many people feel comfortable with being weird than Bowie. Sigh. However, Ziggy Shuffledust is San Diego's premier Bowie impersonator, and if this live video of him performing "Young Americans" doesn't make you want to check him out, I don't know what to tell you, buddy.
Friday, Dec. 20
OPTION 1: Secret Fun Club, Shoot The Glass, C0de @ Manhattan Bar (Chula Vista). I don't understand how Secret Fun Club makes as much noise as they do. Like, it just doesn't seem physically or scientifically possible for a two-piece drum and bass band to produce the hard-hitting, experimental metal that they do. But I can tell you it's a wonder to behold.
OPTION 2. Hemlock presents Deth Crux, Frozen Charlottes @ The Merrow. L.A.'s Deth Crux headlines tonight's Hemlock—which, if you haven't noticed from past entries—is my favorite goth night in San Diego. Deth Crux are a little like if Bauhaus had an unholy union with Interpol. Their label describes their music as a "backdrop of urban chaos and decadence, glamour, sex, perversion, seduction, death, and body horror, and then stirred into a blood-soaked and hallucinating rock and roll horror story about deviated and once-human beings aimlessly and erratically populating and roaming a damned neon hellscape." Hm! If Grandma's in town for the holidays, take her to this.
Saturday, Dec. 21
OPTION 1: Western Settings (record release), Nights Like Thieves, The Avenue Army @ Space. Melodic punk played by sad dudes is my catnip. Put on a Menzingers or Gaslight Anthem ('59 Sound, that is), and I'll likely stop what I'm doing and look longingly into the far distance. Western Settings is San Diego's version of those bands, and they've produced a solid run of records in the past few years. They also have a beer named after them from Amplified Ale Works, which is a new symbol of success for any working musician. They're putting out a new record tonight, so go and support them.
OPTION: 2: The Heavy Guilt, Dani Bell & The Tarantist @ Soda Bar. Feels like it's been awhile since San Diego mainstays The Heavy Guilt have played a show, and it's good to see the raucous indie rockers back at it. Also, don't miss out Dani Bell & The Tarantist, who plays pop that David Lynch would be proud of.
Sunday, Dec. 22
OPTION 1: Cattle Decapitation, Atheist, Primitive Man, Author & Punisher, Vitriol @ Brick By Brick. FUUUUCK. When I interviewed Author & Punisher last year—who makes some of the hardest music imaginable—what he thinks is the hardest music in San Diego, he said Cattle Decapitation. It makes me so happy that these extreme grindcore legends are playing so close to Christmas. This your aspirin show of the week. This actually might require double dosage.
Monday, Dec. 23
OPTION 1: Nite Lapse, The Havnauts @ Soda Bar. Looking for chill vibes and funky fresh... uh.. funk? Sorry, sometimes music writing is hard. Night Lapse is chill and funky. Havnauts are rad and punky.
OPTION 2: Glass Spells, MRCH, Famblood @ The Casbah. Glass Spells play goth-tinged, synth-heavy dance music but with a nice electroclash touch. Didn't realize I missed bands like CSS and New Young Pony Club so much until I listened to this.
Tuesday, Dec. 24
OPTION 1: Exile on Kettner Blvd. @ The Casbah. I love how The Casbah throws this Rolling Stones cover show every year on Christmas Eve. This is the first year in a long time that I'll be in town with no familial obligations, so if you're not wrapping presents or watching fucking Die Hard for the millionth time, maybe see you there?
---
HEAR, HEAR
Sometimes I'll review albums, movies, or books in this newsletter because listen assholes I am a SERIOUS JOURNALIST lest you forget, and I am about to dose out seriousness and journalistness, and you're going to like it.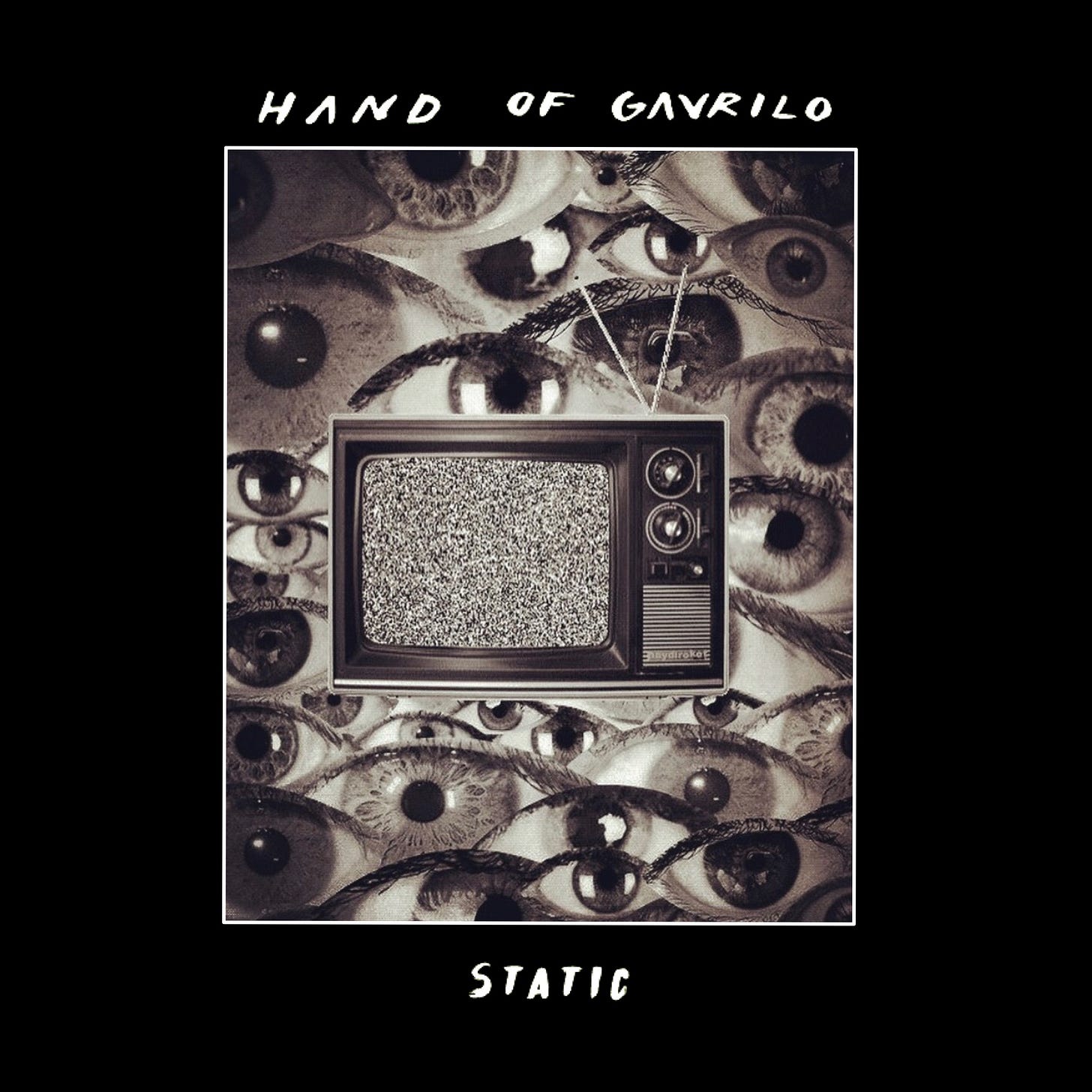 Hand of Gavrilo - Static
I'm a firm believer that the best art has to scare us, even if it's just a little bit. I mean, sure, not all art has to unlock some dark, primordial fear in us, but the stuff that does is what sticks. I think a willingness to confront that darkness is how we really learn to understand ourselves.
Perhaps that's why Hand Gavrilo are so good: The music is terrifying. But not frightening in the same way as, say, an extreme metal band is—the scary thing about Hand of Gavrilo's new EP Static is how seductive it.
The six songs on Static move like a serial killer in a crowded nightclub. "Together Forever," for example, sets into an effortlessly appealing post-hardcore groove until about two minutes in, when it unleashes its true violence. The ear-piercing screams of frontman/multi-instrumentalist Franco Rakigjija rivals that of Blood Brothers, Cave In or These Arms Arms Are Snakes, and the listener is dead before they even know what killed them.
This is not to say that the music is jarring. In fact, even when Hand of Gavrilo unleashes its Mr. Hyde, the music never becomes as abrasive as the aforementioned bands. One of Static's many strengths is that it rocks all the way through, and during some sections—most notably on the album closer "You're Next"—it's tempting to say that the songs bang. If there's a dance club for vampires (let's forget that the movie Blade exists for a moment), they'd be playing Hand of Gavrilo.
Despite all the fearsome elements—the mathy hardcore bits, its sonic abrasiveness, and throat shredding screams—Stills is incredibly accessable. It really shouldn't be as catchy as it is. But that's the thing with most great terror: you don't know that you're under its spell until it's too late.
Static comes out on December 20th. Listen to Hand of Gavrilo here.
Got a tip or wanna say hi? Email me at ryancraigbradford@gmail.com, or follow me on Twitter @theryanbradford