Horror fans are doing the pandemic better, it's science
A new study concludes that those who watch horror films are more psychologically able to deal with [gestures vaguely] all of this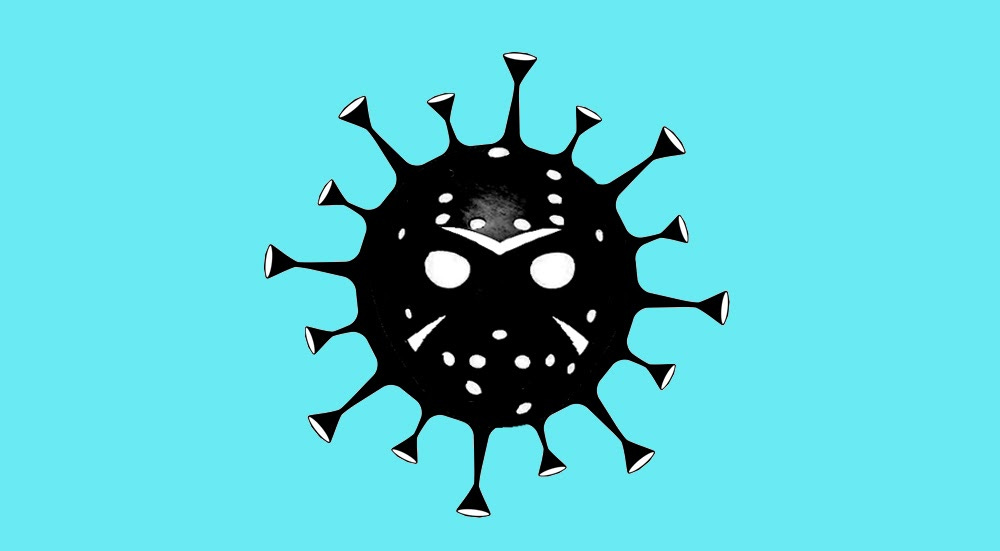 "Horror, at least in its artistic presentations, can be a comfort. And, like any agent of enlightenment, it may even confer — if briefly — a sense of power, wisdom, and transcendence, especially if the conferee is a willing one with a true feeling for ancient mysteries and a true fear of the skullduggery which a willing heart usually senses in the unknown."

Horror author Thomas Ligotti
By now, it's a cliche: 2020 is a horror show. Every day, we have to deal with a new monster — a cartoonishly evil president, increasingly brutal law enforcement and, of course, a virus that's killing thousands by the day. It's almost too much to take in, and I think the only way that we're able to psychologically handle it is because, sadly, we're getting used to it.
But a new study proves that some of us are better psychologically prepared for the pandemic than others. In this case: horror fans.
In the recently-published study titled "Pandemic Practice: Horror Fans and Morbidly Curious Individuals Are More Psychologically Resilient During the COVID-19 Pandemic," Coltan Scrivner — a PhD student in the Department of Comparative Human Development at University of Chicago — examined how the pandemic has affected those with a penchant for genre fictions, specifically movies. He found that those who regularly watch horror, prepper or contagion films are more able to deal with it than those who don't.
Without trying to sound smug, I could've predicted this. But then again smugness comes with the territory for horror fans. In the hierarchy of fandom, we get as much respect as Rodney Dangerfield, and often have to commiserate about our interests in dark little corners filled with defiled black t-shirts and Susperia posters. So we'll gleefully accept every bone thrown to us. To have our tastes intellectually — and now scientifically — justified is the same adrenaline rush as axing down the door and screaming Heere's Johnny! at all the naysayers.
This isn't to say that I haven't felt sad, scared, alone and frightened during these UNPRECEDENTED TIMES™. It's been rough. But I have yet to fully sink into despair, which I think is partially due to an interest in horror.
Horror has gotten me through a lot of difficult times. In fact (and this is a story that I've told a lot before so forgive me if it's become redundant), before I learned healthy coping mechanisms for anxiety — and before I really knew that I had anxiety — I'd self-medicate with horror films. It was only when I was steeped in the bloodshed of a slasher or monster film that those fight-or-flight feelings felt natural. Simply, I feel most at ease when watching a horror film. (One of the friends [there were multiple] who originally sent me Scriver's study said that the most calm he's ever seen me was when we were watching IT in the theaters together).
"I've been a horror fan since I was a kid," Scrivner says over the phone. "I really liked horror games. I remember playing the original Resident Evil on PS1, and Resident Evil 2 on the [Nintendo] 64, which I still have, actually. So I first started with video games and then branched out to movies." Favorite scary movie? "I really like the Dawn of the Dead remake," he says.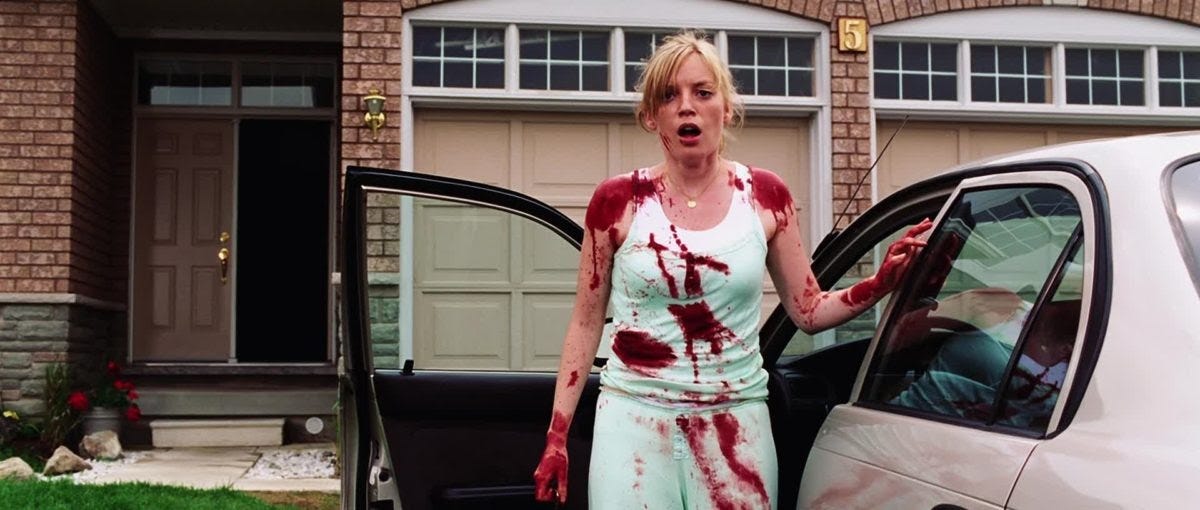 Dawn of the Dead (2004)

Perhaps it's not surprising that someone so enthusiastic about zombie fictions would be interested in the psychological effects that occur during a worldwide contagion, and it was only natural that he'd jump on the opportunity when Penny Sarchet, a journalist at New Scientist Magazine, posed the question to Scrivner's colleague Mathias Clasen: "I've been wondering if people who like apocalyptic/horror movies (which I've always hated!) will be more resilient to the trauma of this pandemic."
"I think this was a question that we probably thought about but just hadn't had the impetus to design," Scrivner said "So Mathias Clasen and I got together and said 'Let's look at this.'"
Scrivner and Clasen then teamed up with John Johnson, a personality psychologist, and Jens Kjeldgaard-Christiansen, a media and literature arts researcher. Then the four of them set out to determine if there were any trends between horror fiction-consumption and pandemic resilience.
"One prediction was that horror fans are more psychologically resilient during the pandemic," Scrivner says. "One explanation for why is that they routinely deal with scary situations, and so when a real scary situation presents itself, they have sort of the tools or the skills to help deal with that. The next task was to design questions that would get it at these motives properly. So we designed a psychological resilience scale."
Scrivner says that some good scales already exist, but they're focused on single-impact events, e.g. terrorist attacks or natural disasters. What he and his team were looking for was something that could analyze the effects of an uncertain, ambiguous, drawn-out trauma like a pandemic.
The result was the Pandemic Psychological Resilience Scale (PPRS), a 12-item, specifically worded questionnaire that measures two factors: psychological distress (whether someone experiences depression, irritability, anxiety, loss of sleep during the pandemic) and positive resilience (whether someone can have positive experiences during the pandemic). Participants were asked to rank statements like "During the pandemic, I have been more depressed than usual" and "I feel positive about the future." (Oh PPRS, always good for a laugh!).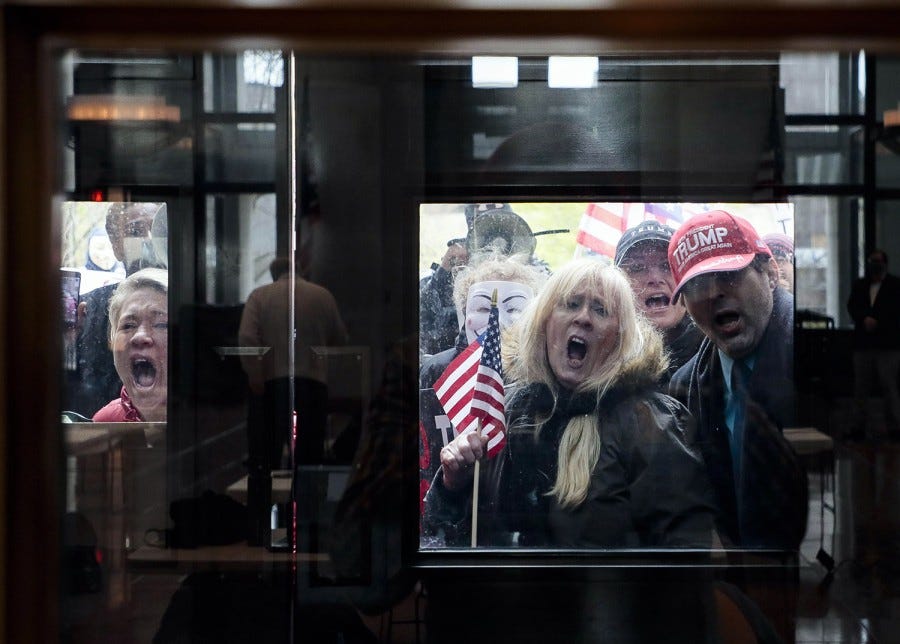 Wish I knew what movie this was from // Photo by Joshua A. Bickel

The study then factored in stuff like genre fandom (which included questions about horror and specific subsets of horror, romance, and comedy), specific questions about pandemic films, pandemic preparedness and a scale that measured a subject's morbid curiosity — a scale that Scrivner developed in a separate study, but is worth understanding (Scrivner's Twitter handle is @MorbidPsych, btw).
"The basic idea of morbid curiosity is the motivation to learn about threatening or dangerous things in the environment," Scrivner says. "There are four subtypes of curiosity. One of those is having an interest in the motives of dangerous people. This would be an interest in true crime, for example. Another one would be supernatural danger, and this would be people who are interested in things like ghost stories or maybe certain religious phenomena. The third one is interested in interpersonal violence, which would be people who enjoy boxing or MMA. If a street fight breaks out, they'd be the ones watching it. The last one is body violation. So this would be an interest in injuries or the limits of the body. This could be anything from an interest in, say, like skulls or bones to maybe even medical interest."
I ask where fans of shows like America's Funniest Home Videos would fall.
"That's an interesting question," Scrivner says. "I guess that would fall under body violation, but hm... I would have to think about that."
In what comes as a surprise to perhaps no one, the study concludes that fans of horror films experienced less psychological distress than normies during the pandemic. Even as the world burns, we're sleeping like babies! As for positive resilience, well, we didn't fare as well, which is expected when your life is a dark room. One. Big. Dark. Room.
But those who are morbidly curious — which, if you recall, encompasses more than being a horror movie fan — did report having positive resilience during the pandemic.
So what do we do with those findings? Scrivner says the next step would be to design an experimental study (as opposed to a recorded one) where researchers could manipulate the amount of horror fiction a subject consumes in an effort to monitor increased or decreased resilience. This would prove whether someone could improve their ability to deal with trauma through exposure to horror. The ultimate application for this, according to Scrivner, would be in treating disruptive psychological ailments like PTSD, anxiety, OCD or hypochondria.
I ask Scrivner if he considers himself psychologically resilient during the pandemic.
"I think I have been. I don't have a lot of obligations. I mean, there have been some aspects of my work that have been kind of messed up by this, but I haven't been laid off and I don't have kids at home, things like that...When we ran models, we controlled for a lot of aspects of personality. We controlled for things like age, sex, and income, and controlled through the sort of five domains of personalities — conscientiousness, neuroticism, extraversion, openness to experience and agreeableness. When we control for all of those different individual factors, we still found this trend of being a bigger fan of horror movies tends to correlate with lower psychological distress."
So there you have it, boils, ghouls and nonbinary spookies: horror films are good for you. Science says so.
---
MAKING COMIC-CON @ HOME FEEL MORE LIKE THE REAL THING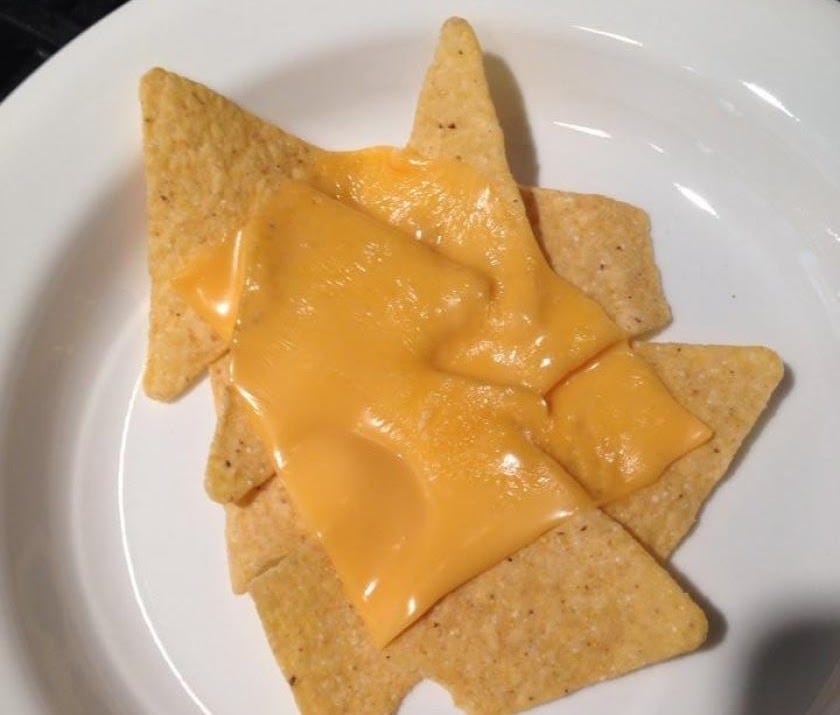 For obvious reasons, Comic-Con is only happening online this year, so I wrote a *very* useful guide to replicating the real experience for The Union-Tribune. Check it out, nerds!
---
THE DAILY GOODS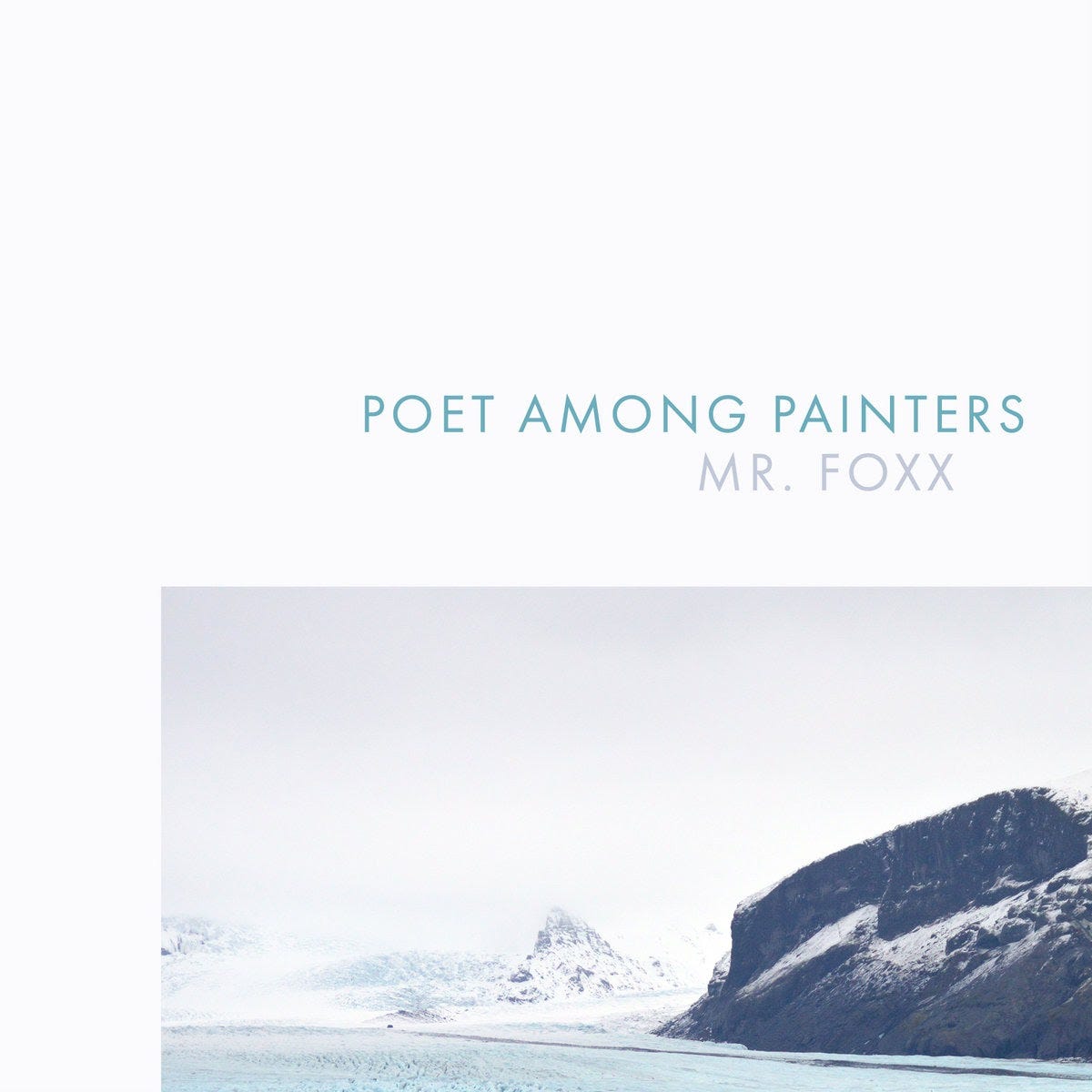 Listen to this
By Julia Dixon Evans
Mr. Foxx - Poet Among Painters
Erstwhile San Diegan Mr. Foxx, the solo project of Of Ennui's Brian Strauss, has a new EP out. Strauss's compositions — regardless of the project — are somehow both finely produced and just raw enough.
Mr. Foxx's last full-length release (2019's "An Episodic Course") was purely instrumental, but the brand new EP, "Poet Among Painters," marks a return to lyrical songwriting. And it does so with an unapologetic poeticism. Strauss — actually a poet! — packs so much story in each track, and the album at times hints at the intoxicating, larger-than-life sound of Nick Cave or Orville Peck, the narrative prowess and folk aesthetic of José Gonzalez or the grit of Black Rebel Motorcycle Club. But mostly, Strauss's work is something else, something new.
The acoustic and tragic "I Can Feel the Daisies Growing Over Me," kicks things off in a tiny package. At just over two minutes, it almost feels like a prologue. And when the bluesy title track, "Poet Among Painters" follows, it's gorgeous and brooding. A total standout track with a driving, hypnotic beat, vivid scenes and curious details, you can practically feel it against your skin.
A heaviness dominates the EP: themes of death, indulgence and solitude. But these pieces are as soothing and whimsical as they are haunting. Each track has a slightly different sonic feel, but it's all made coherent by Strauss's gifted, dense storytelling and luxurious use of language. Plus, the EP's closer, "Lavender Lips of Glass Hammers," is a setting of Frank O'Hara's surreal and lovely poem "Music." With that, the tracks on "Poet Among Painters" are part homage to vice, longing and loss, part homage to poetry itself.
---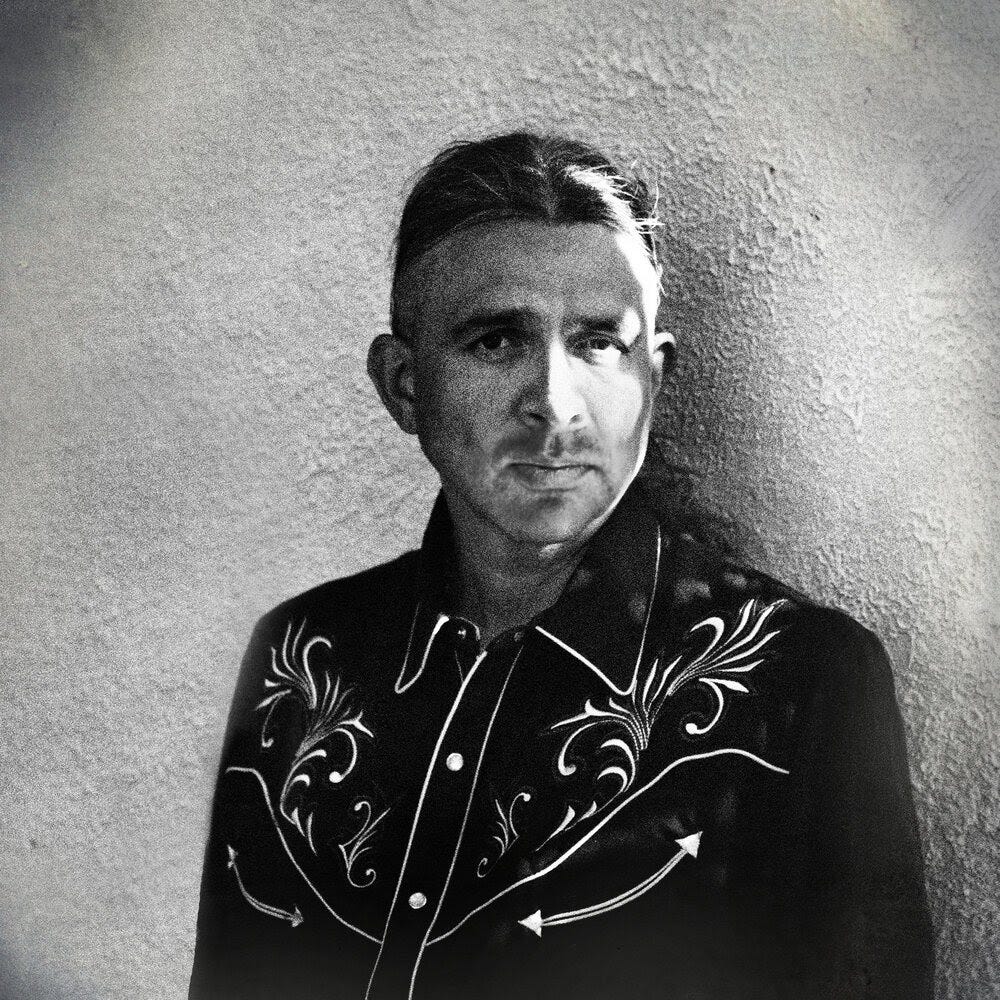 Read this
In case you're not yet finished reading about the benefits of watching horror, check out this thoughtful CrimeReads essay, "Why Exposing Kids to Horror Might Actually Be Good for Them" by Stephen Graham Jones. The Blackfeet Native American author has been one of my favorite writers for the past 10 years, producing some of the finest, most emotionally-wrought horror fiction I've ever read, including Mongrels (the best werewolf novel imo) and Mapping the Interior — a haunting and touching ghost story set on The Reservation. His latest book, The Only Good Indians, just came out and is winning accolades all over the place.
---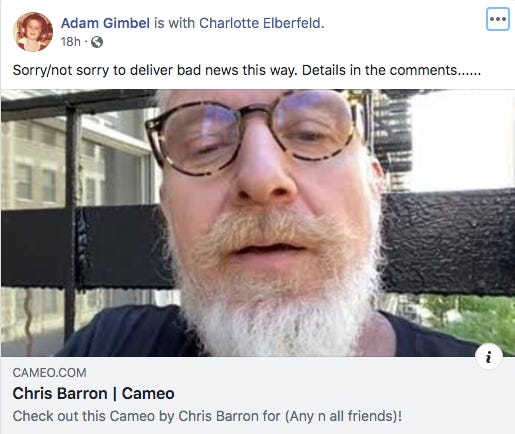 Watch this
Adam Gimbel, singer/musician for San Diego's — nay, the world's — best old-man parody Weezer cover band, Geezer, just announced that he has lymphoma. Although he reassures us that he's doing well, and that it's an "easily" treatable cancer, it's still scary nonetheless, and couldn't have happened to a nicer dude. But given Gimbel's penchant for showmanship, of course the announcement came via a Cameo of Chris Barron, singer for Spin Doctors. It's simultaneously one of the funniest and most collar-pullingly strange things I've seen, and confirms that we are now living in a George Saunders short story. Kudos, Adam, and get better soon! <3
---
Got a tip or wanna say hi? Email me at ryancraigbradford@gmail.com, or follow me on Twitter @theryanbradford. And if you like what you've just read, please hit that little heart icon at the end of the post.
Julia Dixon Evans edited this post. Thanks, Julia. Go follow her on Twitter.