Highlights from my second grade journal
In the early '90s, I liked TV, Ernest movies, and icicles. I also really loved a show called Key West for some reason.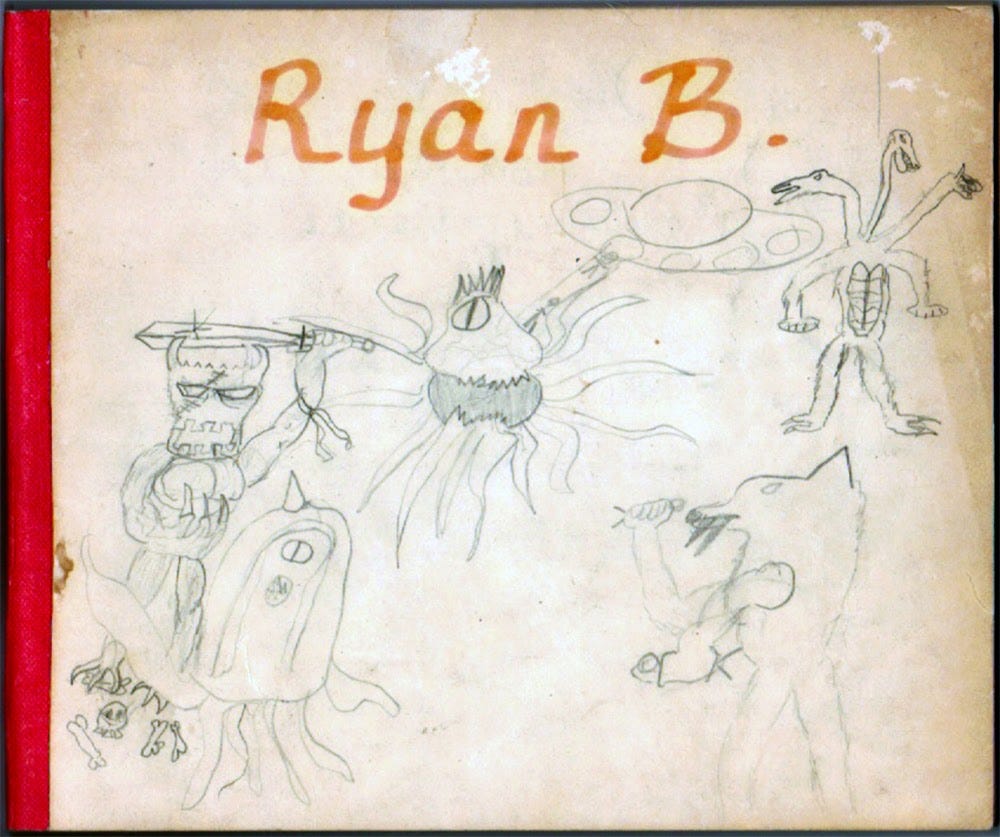 It's easy for me to lean into the idea that the person I am now is the same person that I've always been. In memories of playing in a Discovery Zone ball pit, or rummaging through a McDonald's Happy Meal for a burger transformer, or peeking through my fingers while watching Ernest Scared Stupid — I'm the 35-year-old, schlubby journalist that I see in the mirror every day.
But sometimes you come upon a piece of your past that reminds you that you were once an idiot child just like all the other idiot children of the world. It's an unflattering, sometimes-amusing-but-often-disheartening realization, much like when you see your profile in a reflection and remember that's what you look like from the side.
I stumbled into such a situation recently when I was cleaning out a bookshelf and discovered a journal that I kept in second grade.
My memories of second grade are pretty great. I was in a class with all my best friends, I loved my teacher, and I earned so many goddamn Pizza Hut coupons for how much I read that year. Oh, I was also on the best rec league soccer team in Park City, Utah. We never lost a game, which instilled in me the very false belief that I was good at sports.
The reality — according to this journal, at least — paints a portrait of a boy who was often bored and watched a shitload of movies. At least I was pretty good at drawing monsters (as evidenced by the cover).
But despite those flaws, there are fascinating moments of true introspection and creativity riddled throughout. I like this kid. I would hang out with him.
Here are some of the highlights: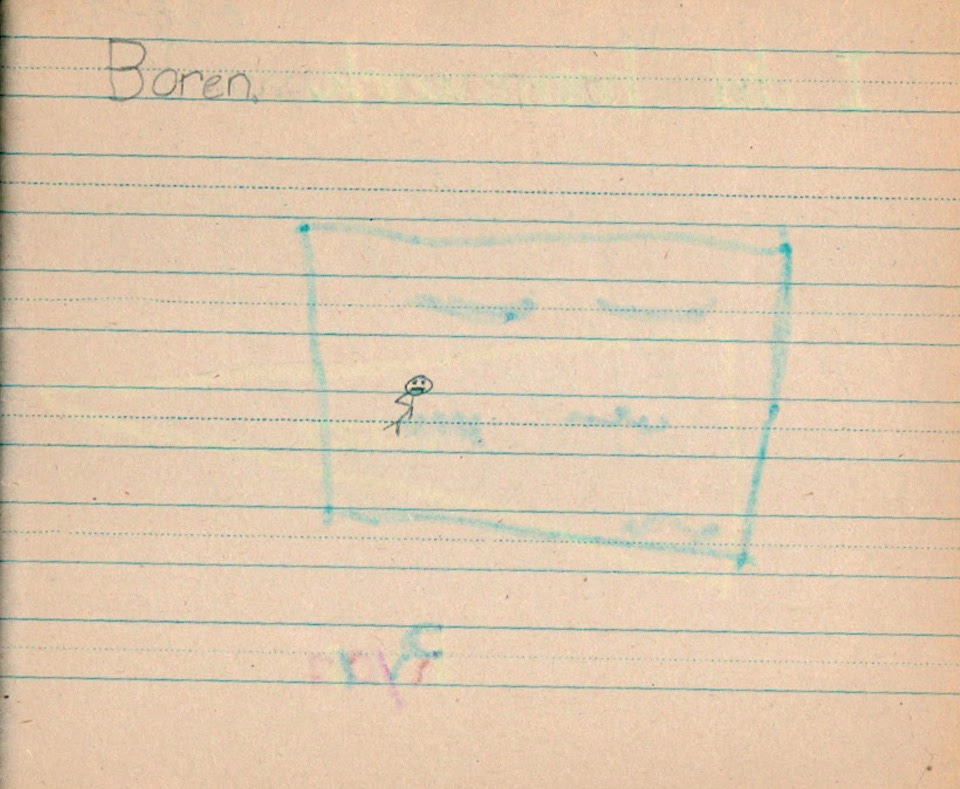 Have you ever seen an image this profoundly sad? Like, the stick figure is not even big enough to fill the line. When people talk about the bleakness of looking into the void for too long, I imagine this is what eventually looks back. I don't know if I meant "bored" or "boring" — but I'm submitting "boren" to the proper authorities as an acceptable term for utter and complete desolation. Luv 2 have memories!
Hark! Another uplifting missive from the past. This is exactly what someone in a horror movie would find after a tragic accident took their child. "I was home alon" would be scrawled on the walls in crayon, in shower steam, and, finally, blood.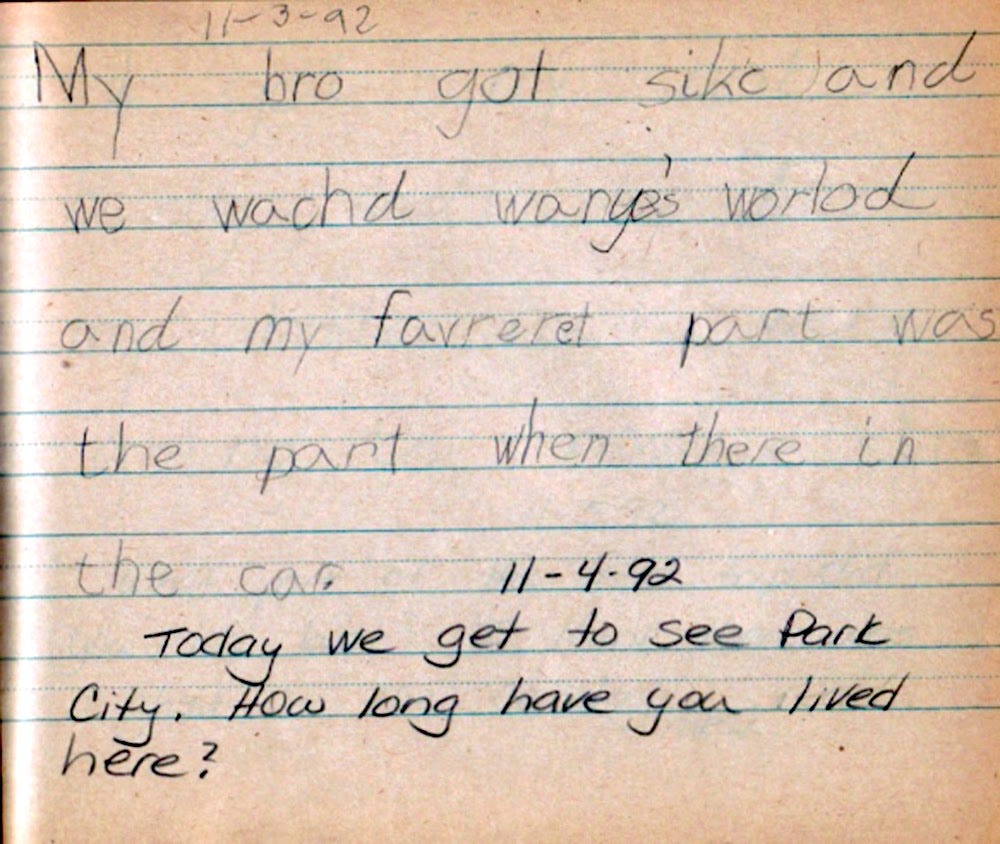 Film writing is too smart these days. I would love to read a film criticism site that's just a laundry list of the critic's favorite parts. The entry for Jurassic Park, for example, could be "The part where the T-rex is in the mirror" and "the part with the raptors and kids."For the record, "the part when there in the car" is still my favorite part of Wayne's World.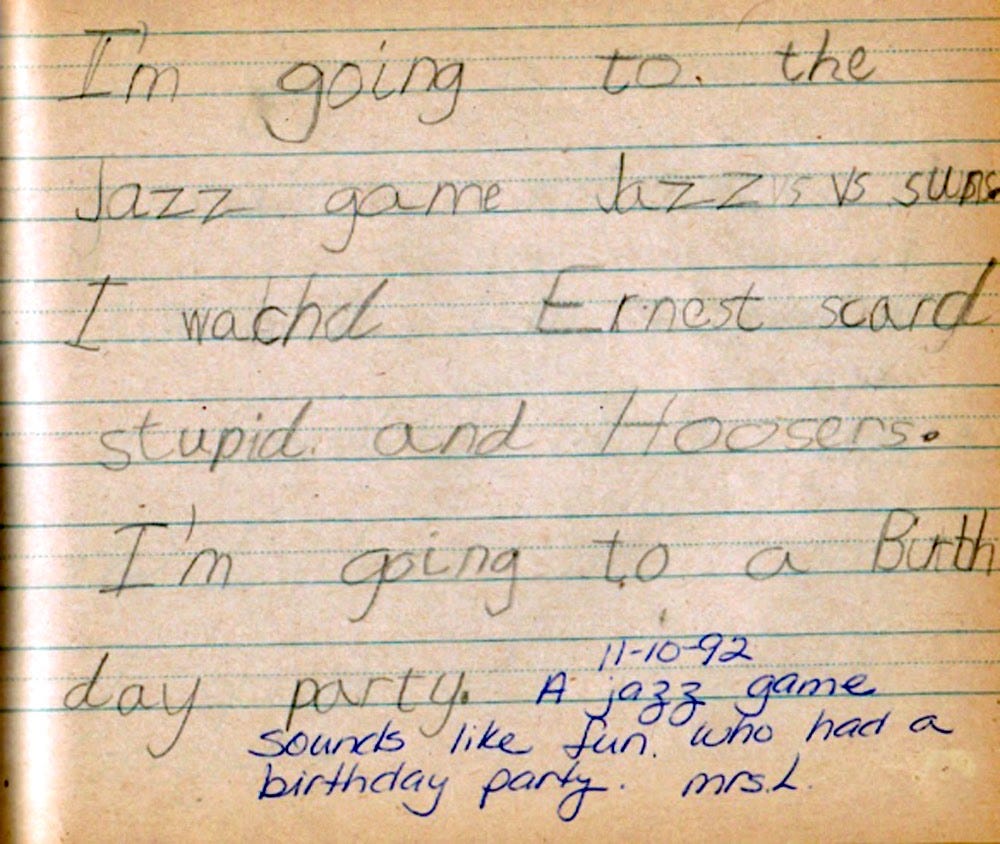 I know I'm coming off all nonchalant in this entry, but Ernest Scared Stupid scared the shit out of me. So traumatic was this experience that my dad turned the movie off before we could finish it. As a die-hard Ernest fan — nay, connoisseur — I couldn't understand why Mr. P. Worrell would agree to be in something so grotesque. I felt betrayed, honestly. This film probably accounts for a lot of deep-seated issues I still have to this day. Good thing we had Hoosiers as a palate-cleanser, because what second-grader doesn't love a drama about Midwestern basketball?
Don't need a babysitter tonight, honey... I rented Hoosiers.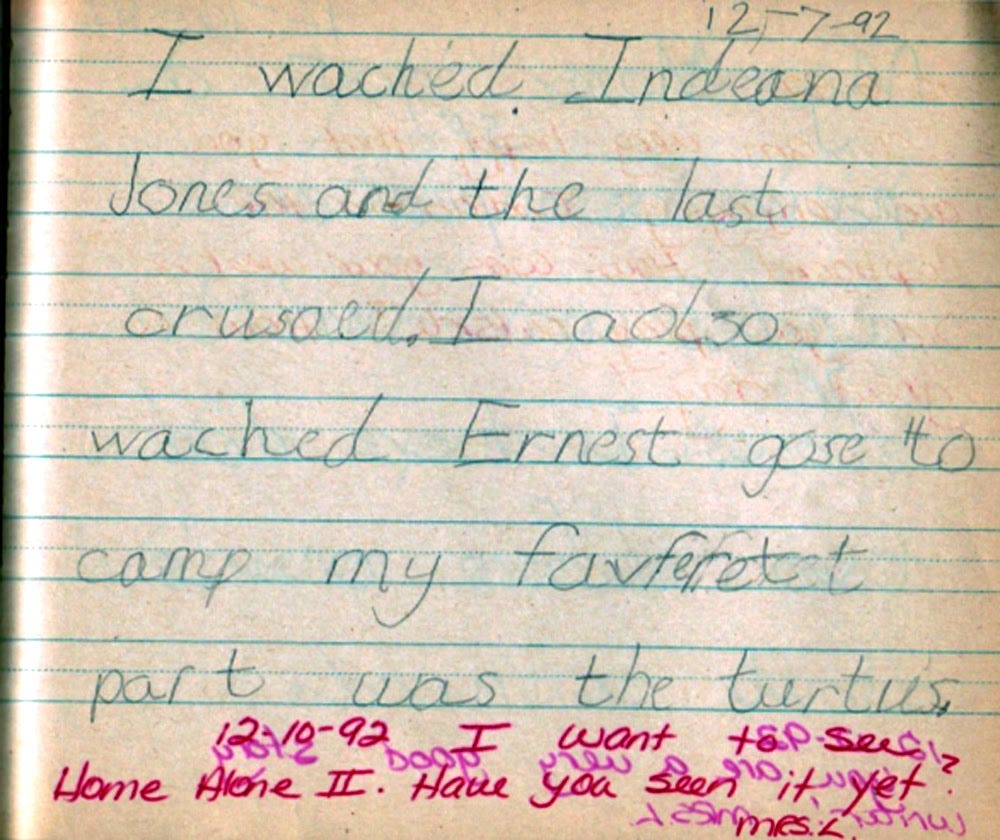 Ah, a two-fer of cinematic greats. In case you're having trouble reading, the best part of Ernest Goes to Camp is the part with the turtles. Also, I remember how happy I was at how much space "Indiana Jones and the Last Crusade" took up on the paper. Three lines of content, baby. This is the second-grader's equivalent of using 14 pt. font and increasing the margins. For all of Young Me's flaws, I'm proud that I learned how to game the system early on.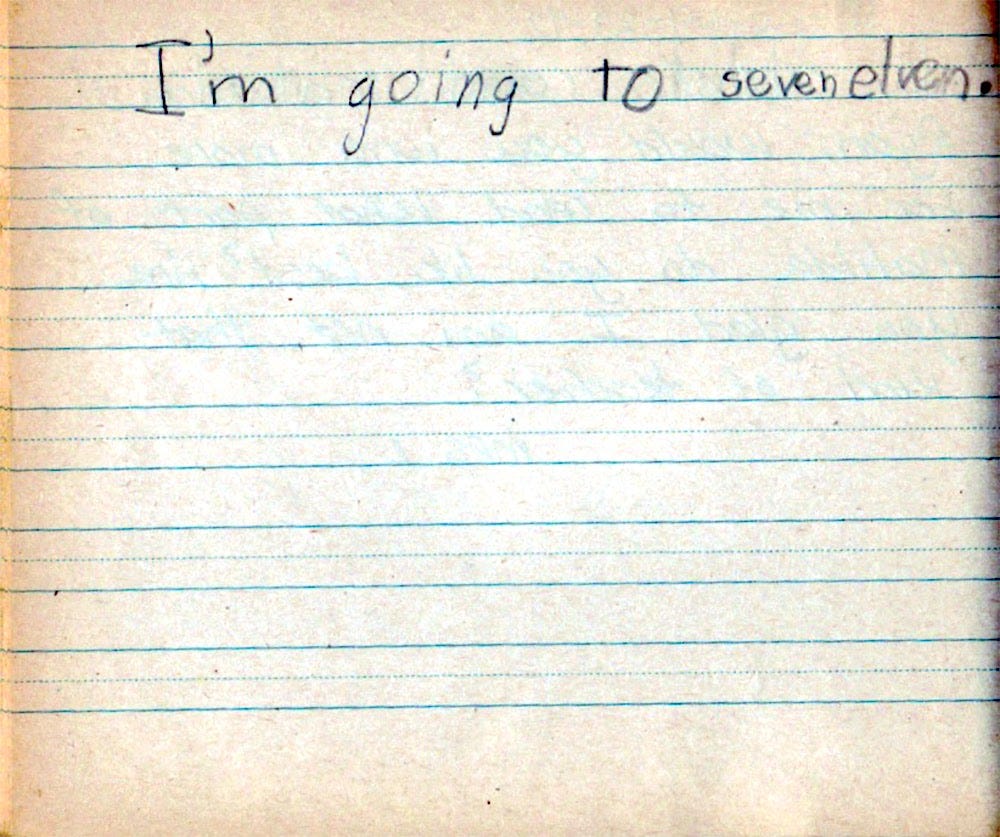 I would still devote an entire page to this information, tbh.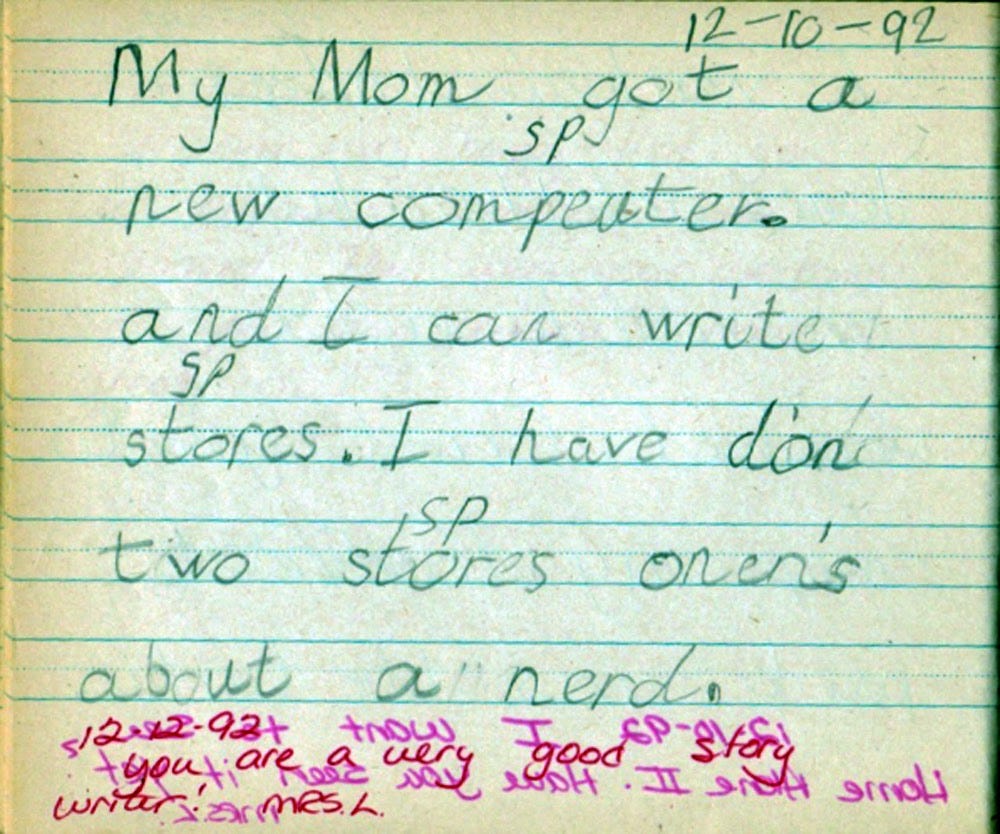 "You are a very good story writer - Mrs. L."
Whenever I now look at my dwindling bank account or think about the futility of my chosen career, I bring out this page and press it against my face. Sometimes I wake up with it on my pillow — the paper wrinkled with dried tears. If I concentrate real hard, I can take myself back to '92, when my success was measured by crafting stories about nerds and the world just seems a little brighter.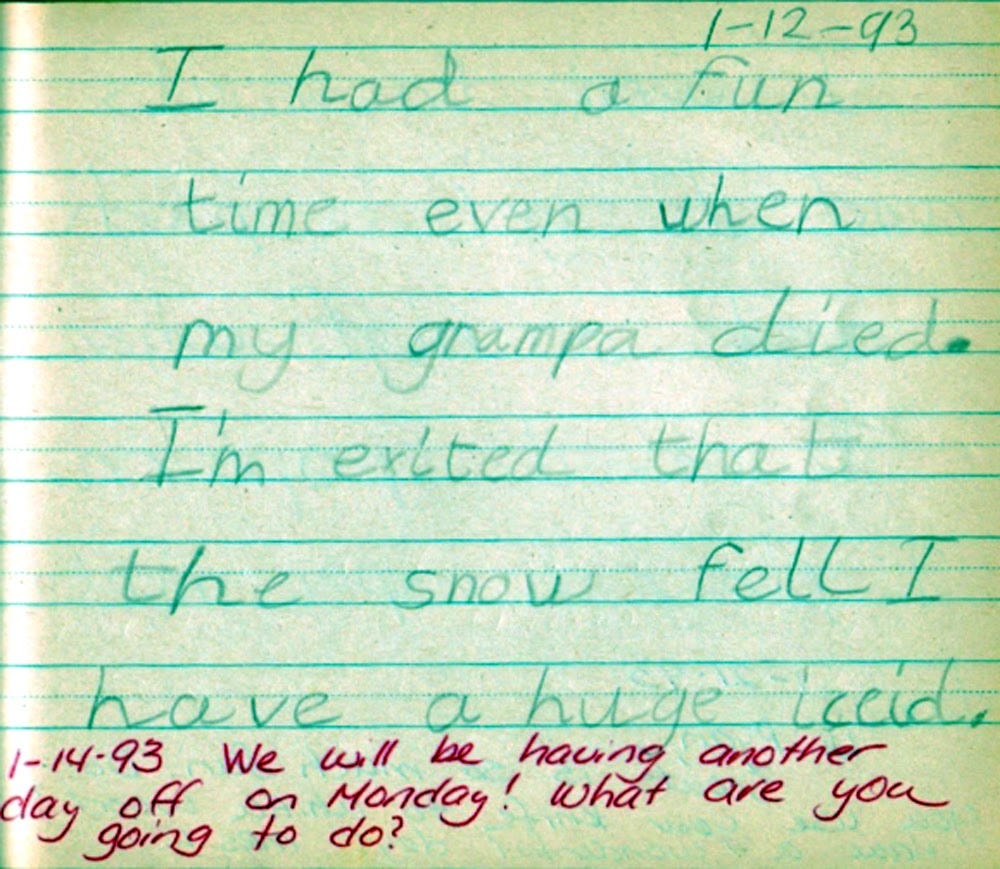 It's interesting to view grief from an 8-year-old's perspective. When my grandpa died, I wasn't old enough to really understand loss at that magnitude. I knew his death was sad, and that I should be sad, but it was more of a performative echo of how my parents and relatives were acting. I loved my grandpa — I have great memories of him scribbling in coloring books with me during church — but as you can see, his death registered as important in my mind as a big snowstorm and the excitement of having a "huge icicle."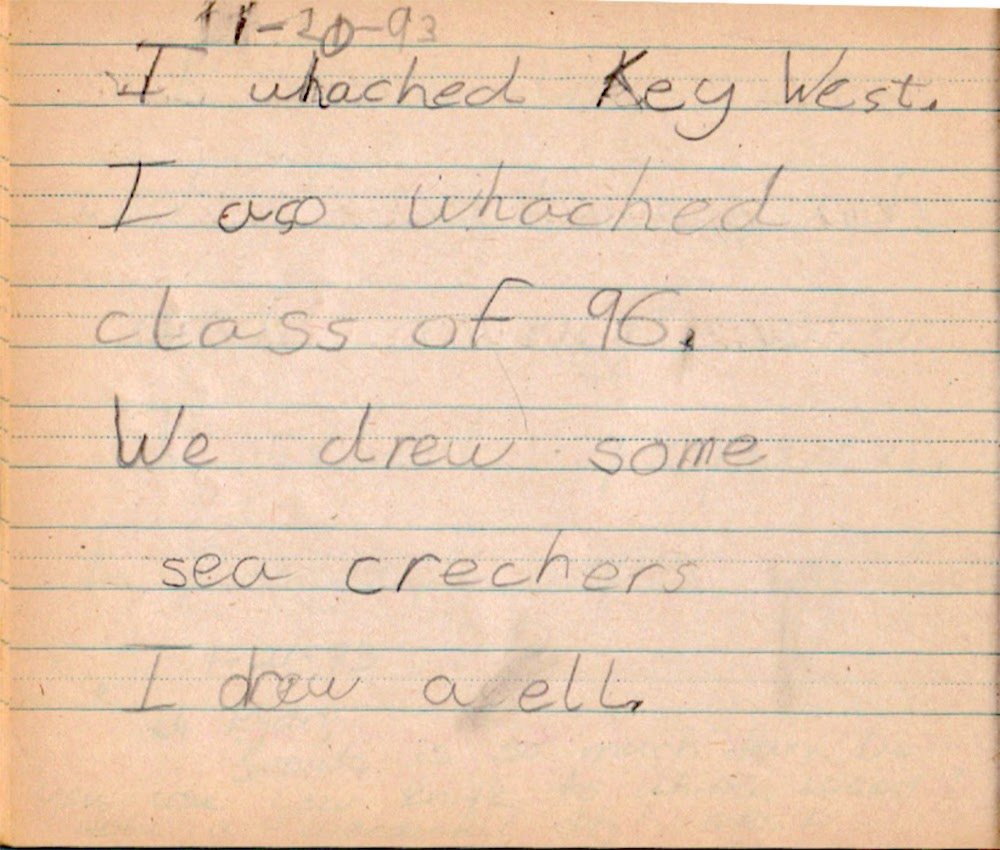 We had one TV in my house growing up — an analog box with no remote and metal buttons. I still remember the high-pitched hum when you turned it on. That TV was a dear friend of mine, who watched over me and my brothers with its irradiating face for hours each day as we waited for our parents to get home from work. How I miss those days, slugging out in our family's papasan chair, absorbing all the steamy Fox shows that I was definitely too young to watch (Fox was the only channel that the TV could pick up). "Screen time" was not a thing back then.
Does anyone remember the show Key West? It was about a guy who won the lottery and moved to the Florida Keys and gets caught up in all sorts of sordid adventures. This isn't the only mention of Key West in the journal. The idea of an 8-year-old being obsessed with Key West is so funny to me. Why was I so into it? I skimmed through the pilot on Youtube, and it seems pretty problematic now, but it also features a scene where an alligator dreams about terrorizing a bound woman... so ¯\_(ツ)_/¯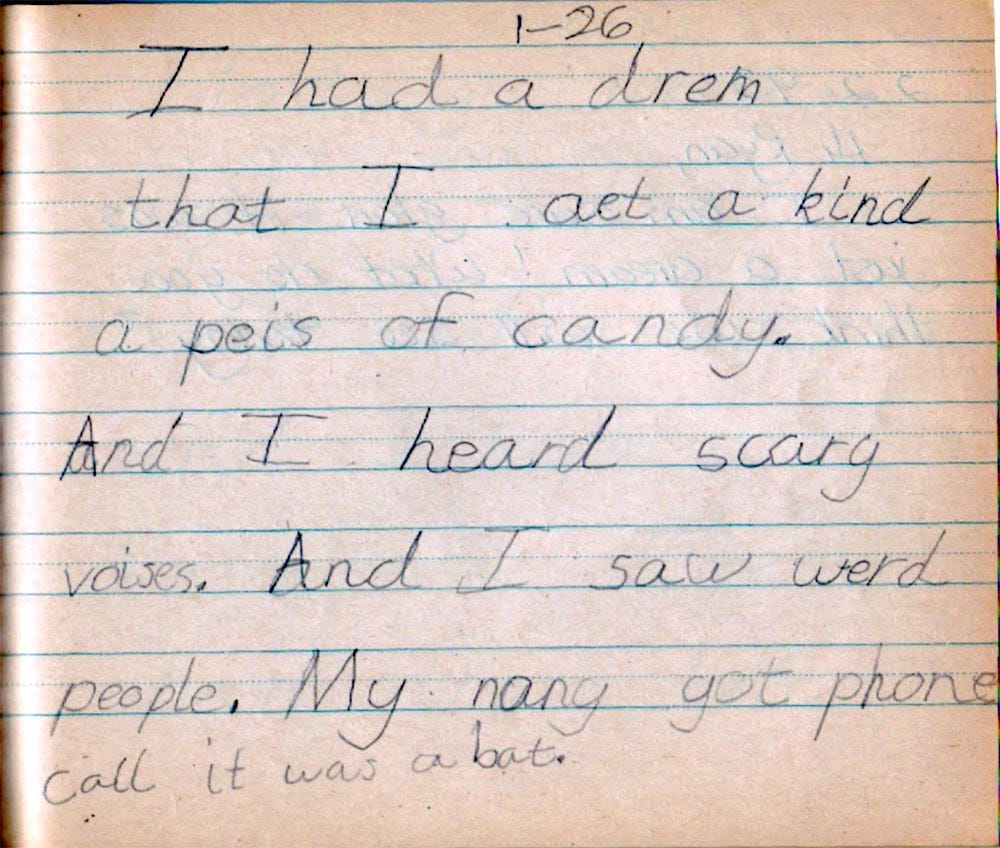 Proof that my brain was a lot better then than it is now. This dream shook me. I still remember the bat's squeaky voice when it called my nanny on the phone. I think it said "this is a bat."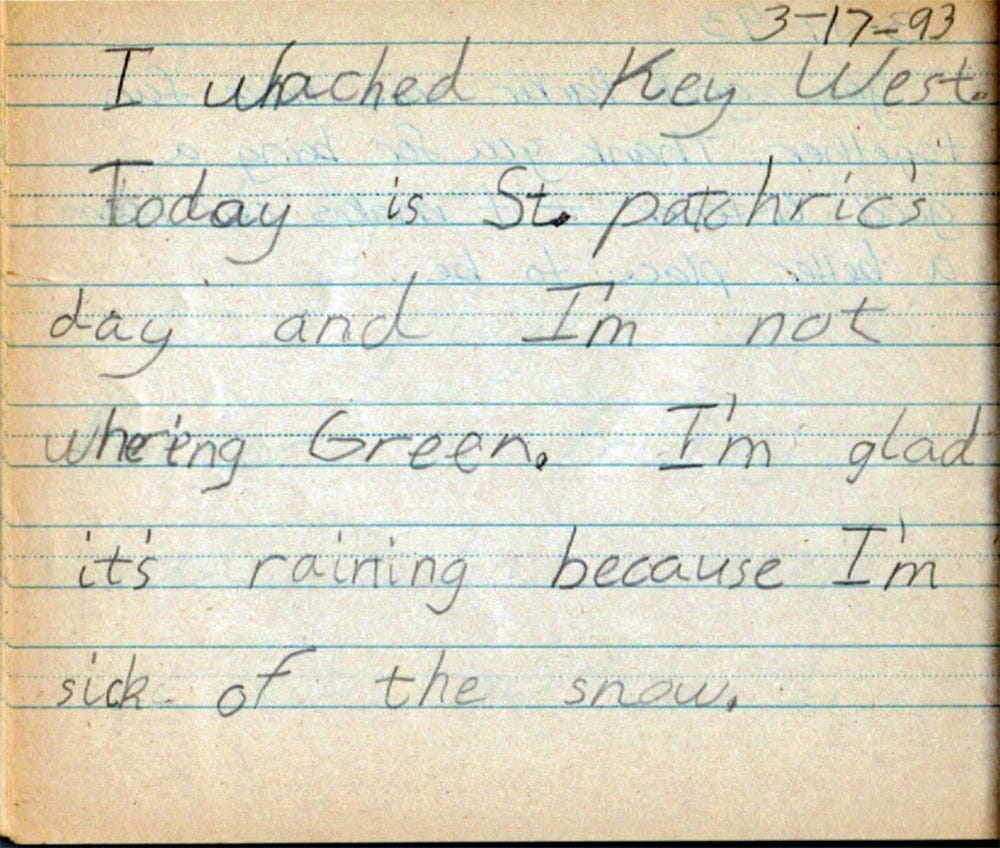 I'm proud of the general saltiness of this post. Props to my young self for refusing to partake in St. Patrick's Day bullshit. Plus, another shout-out to Key West, the absolute best show for an 8-year-old to watch. Hell yeah, Key West.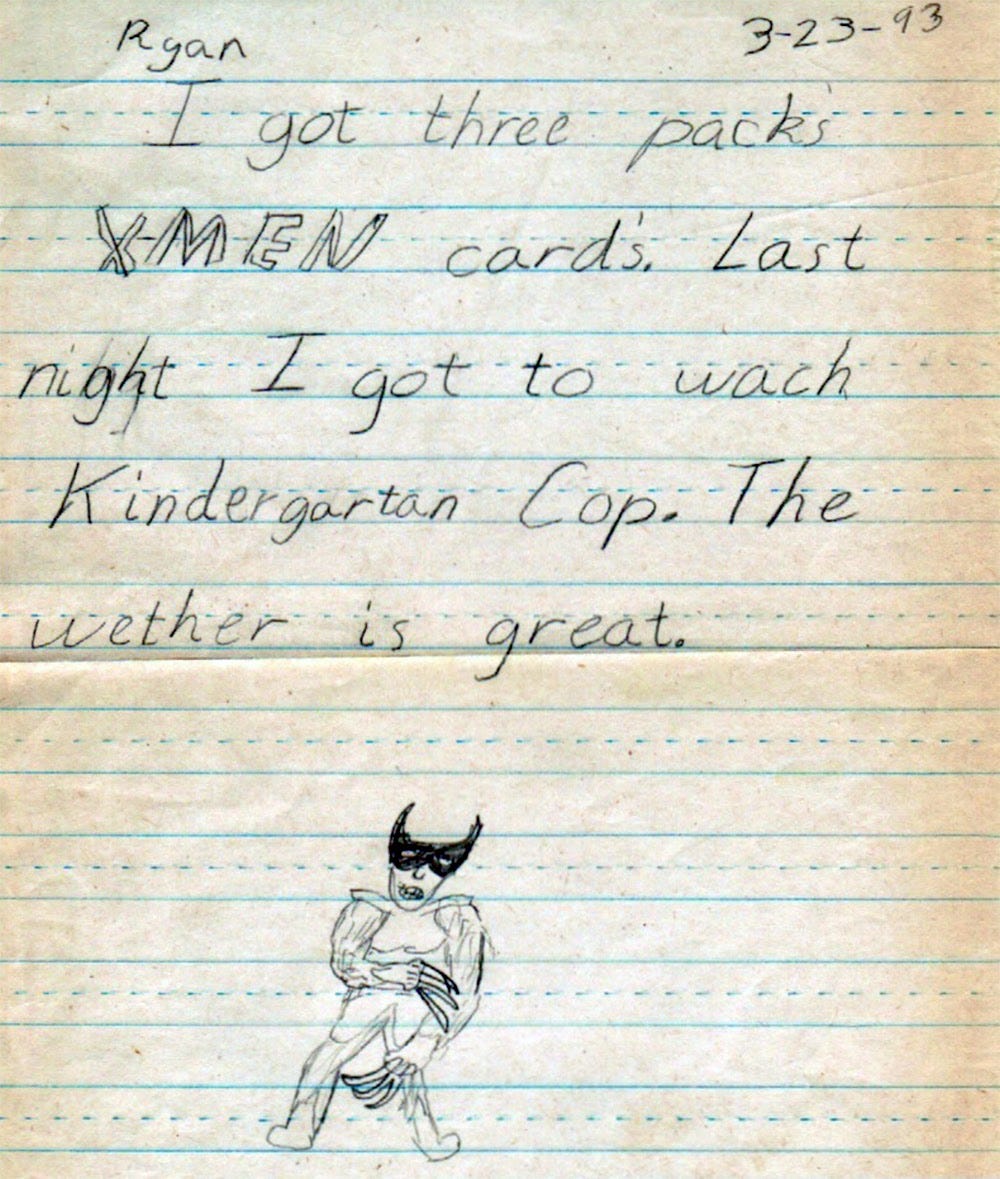 What a day. This is the last page in the journal, and I don't think I've been able to end a story this well since. "The wether is great" is a killer closing line.
Click here to view the entire journal. Sixty pages which I painstakingly scanned into digital permanence. Hope you enjoy. And hit me up if you ever want to watch Key West sometime. <3
---
THE WEEKLY GOODS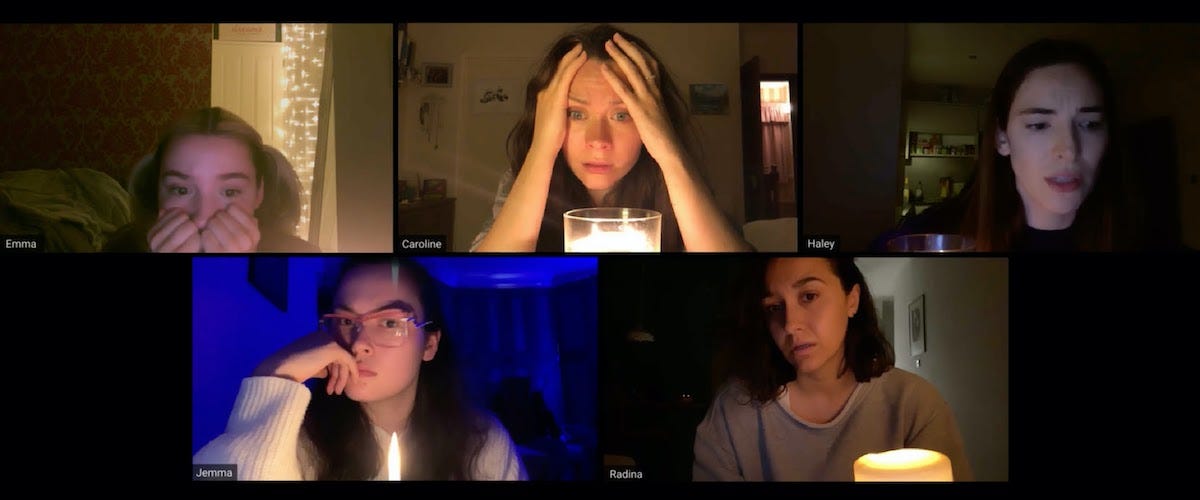 Watch this
Last week, a short 56-minute film called Host appeared on the horror streaming service, Shudder. It dropped with little-to-no fanfare, but when I read the description, I was instantly intrigued: during quarantine (yes, the current quarantine), five friends looking for some socially distanced fun decide to hold a virtual seance over Zoom, and then accidentally summon something evil. It is, without a doubt, the scariest thing I've seen this year. A lot of the film's effectiveness comes from being presented as a Zoom call, so it mirrors what we've all been doing for the past six months. Host is definitely not a movie that could've come out at any other time, and I'm not sure if it'll hold up a year from now, but it's the type of flash-in-the-pan brilliance that horror can do so well. Honestly, I can't look at the Zoom screen the same again. Watch this on your computer.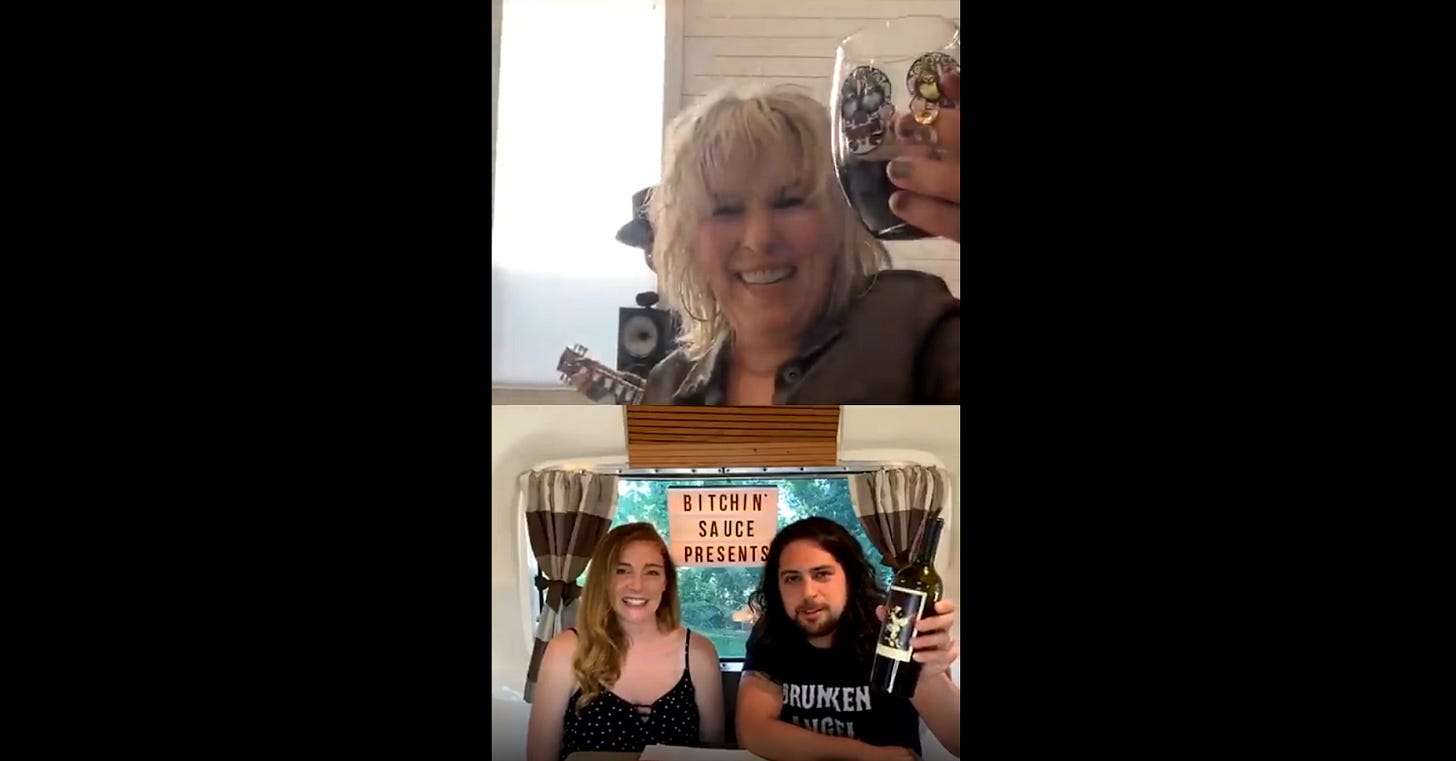 Lucinda Williams and Bitchin' crew

Listen to this
I'll always be into it when music and sauce team up. At this point I would normally link to my CityBeat story where I met Offspring singer Dexter Holland to talk about his Gringo Bandito brand of hot sauce, but CityBeat has jettisoned all their archives so you're just going to have to trust me that the article exists. Anyway, North County's Bitchin' Sauce is very good and now they're producing livestreaming music shows on their Instagram page. They've already featured acts like Lillie Mae and Lucinda Williams (!), and each episode includes Bitchin's founder Starr Edwards interviewing the musicians. As with all livestream concerts, it feels a little like a hit of methadone, but it's cool that Bitchin' is putting their energy and resources into giving us a live-music fix.
Do this
In your opinion, what are the San Diego companies, officials, and/or establishments that have been handling or adapting to the pandemic the best? This is obviously open to interpretation and could mean a variety of things, but I just want to know which restaurants, bars, businesses, elected officials have you seen go the extra mile. What efforts have they done to make life in these UNPRECEDENTED TIMES™ better? I have a few in mind, and may use your responses for an idea I'm throwing around, but mainly I'm just curious. You can send me your anecdotes, praises and props at ryancraigbradford@gmail.com. Thank you.
---
Got a tip or wanna say hi? Email me at ryancraigbradford@gmail.com, or follow me on Twitter @theryanbradford. And if you like what you've just read, please hit that little heart icon at the end of the post.
Julia Dixon Evans edited this post. Thanks, Julia. Go follow her on Twitter.