Goddamnit, I think I liked Hubie Halloween
A deep dive into the newest Adam Sandler comedy with film critic Glenn Heath Jr., and realizing the power of good-natured movies during a time of widespread hatred and strife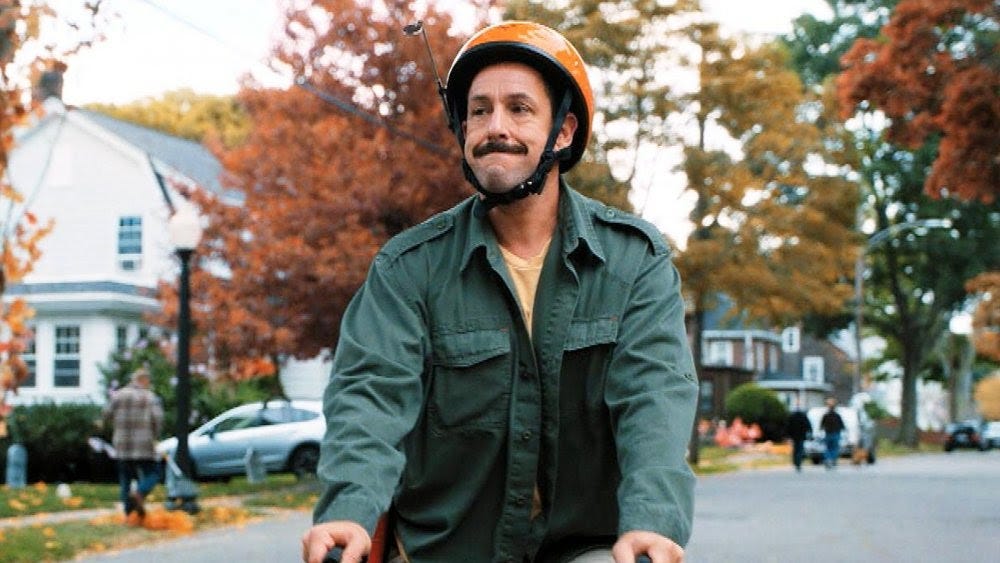 Every time I tell people I watched Hubie Halloween, I feel the need to apologize. Even if they don't plan to watch the newly-released, holiday-themed Adam Sandler romp, they're still listening to me make the words "Hubie Halloween" with my mouth, which only takes seconds, but these are seconds that they'll never get back. The idea of a grown-ass adult spending 90 minutes watching the new Adam Sandler comedy — in this year?? In this economy?? — raises a few flags.
I'm going to blame Glenn Heath Jr. for starting me down this path. He's the one who suggested we write about Hubie Halloween. He had to be punking me, right? Because no self-respecting adult would willingly subject themselves to any Adam Sandler movie that isn't Punch Drunk Love or Uncut Gems (apologies to all the Little Nicky-heads out there)...right?
But I'm willing to do a lot of things for Glenn. I became familiar with his work when he was the film critic at San Diego CityBeat, and I was instantly awed by his thoughtful writing and willingness to engage with films in a way that's become rare in the blurb-y, Rotten Tomatoes-fied world of film criticism. I haven't always agreed with his opinions (Glenn has the grave character flaw of disliking Ari Aster's films), but he's the type of guy who can drag a film that I love, and I'll still admire his analysis. And now that CityBeat is gone, he's started his own newsletter called Afterglow, which is the best film writing on the internet and you should absolutely subscribe.
So, at Glenn's behest, I sat down with a glass (or two or three) of bourbon and pressed play on Hubie Halloween. And the result... well, the result kind of surprised me.
Ryan Bradford: So I'm ashamed to say that I actually laughed a few times. Glenn, my first question to you is: what's wrong with me?
Glenn Heath Jr.: Absolutely nothing wrong with laughing at the Sandman's ridiculous shenanigans in this one, which is admittedly stupid but always very genuine and good-hearted. My favorite running gag is Hubie's stupid Swiss Army Thermos and its many functions, most of which actually apply well enough to the story arc. But I'm getting ahead of myself.
My rationale for suggesting we do a conversation on Hubie Halloween of all things was based on my positive past experiences with the Adam Sandler/Netflix universe, most specifically The Week Of. It's a truly wonderful and hilarious comedy about two families meeting for the first time during an eventful and tumultuous wedding celebration. Definitely worth checking out even for those skeptical of Sandler's comedic gifts.
While that film toes the line between genres and tonal registers, Hubie belongs to the silly slapstick side of the Sandler spectrum. It's about a socially awkward manchild living in Salem, MA who's obsessed with protecting his fellow citizens on Halloween, a holiday of great importance to the town with a traumatic history of alleged witchcraft. Because Hubie is so transparently committed to this singular mission, the rest of the town ridicules him at every turn despite his good intentions. A simple bike ride through town turns into a shooting gallery of which Hubie is the target (everything from watermelons to walkers comes hurling at him from offscreen). Having spent upwards of four decades enduring this abuse, he's become especially adept at dodging incoming projectiles with Olympic-style flips and somersaults. During these moments we see the world through Hubie's eyes, as a volatile world of vindictive cruelty that never stops flinging more shit your way. Pure cinema for me.
I latched on to this theme early on and it allowed me to see the film as something very worthwhile considering our country's ongoing obsession with anger and hate (the Salem Witch trials being just another example of extreme American persecution). I'm wondering if you felt the same way watching a genuinely good man try to overcome such an onslaught of negativity, or if this was a nonfactor for you. As a surface-level comedy, Hubie peaks midway through and is a lesson in diminishing returns. But I'm curious, which elements of the film you were drawn to? Did the film's tweakings of the Horror genre (werewolves, masked "killers") do anything for you as a fan of the genre?
RB: I'm very glad that you didn't hate Hubie, and I think that my initial hesitation to admit to liking it is the exact kind of cynicism and negativity that the movie is trying to combat. I, too, was drawn to the inherent goodness of the film. Over the past few months, I've tried to revisit some comedies that I remember enjoying — some that aren't even 10 years old — and found them to be too problematic to get into. For example, I loved Jody Hill's Observe and Report when it came out, but now it seems too mean-spirited and caustic. I tried watching The Other Guys as well, and that movie's chock-full of gay-panic jokes. I even had to stop watching Idiocracy, which I know people love, but I just don't find profound or funny at all (and the constant use of the word "faggy" in it just feels too privileged to be fully ironic, at least for me).
The point is that it's difficult for me to latch onto comedies, and the above examples show how much my cultural attitude has changed in the past decade (blink-182 voice: I guess this is growing up). But I was taken with Hubie's good-natured heart. I feel like this is a film that I'll be able to watch years from now and still dig it — just like how I can still enjoy the Sandman's Billy Madison and Happy Gilmore.
You're totally right about the uneven tone throughout the movie, and I think that's my main complaint about it (apart from when libertarian nut Rob Schneider shows up). I kept wondering who this film is for. There's a good amount of raunch — lots of bodily fluids (although I laughed at the first projectile vomit) and a running joke of old women wearing crass T-shirts — but also parts and an overall message that feels straight out of a made-for-TV-Disney movie.
I was also very into the aesthetic of the film. One of my Achilles' heels is a film that immerses itself in the world of Halloween. I'm thinking of movies like Hocus Pocus, Trick R Treat, and even Ernest Scared Stupid (which I'd consider almost to be a sister movie to Hubie). As much as I love straight-up horror, I prefer a mix of spooky and fun, and would totally love to live in Salem as depicted in Hubie Halloween.
What's your relationship with Halloween and horror films? You're also a newish dad, so does that factor into how you react to films like Hubie?
Also, is it strange for you to watch Adam Sandler in this after Uncut Gems?
GHJ: All of the comedies you mentioned were released during or immediately after the Bush administration, so it makes sense that there was a tide of acidic, scathing genre films that were trying to skewer our corrupt government institutions and Hollywood archetypes. The future looked pretty fucking dim. And the misogyny and homophobia in those films is indeed more of a reflection of how far cultural norms have shifted in such a short amount of time. Similarly, I just finished watching The Sopranos (you did too right?) [RB: oh marone, yes I did] and that show is even more dated when it comes to its treatment of race, people of color, and LGBTQ representations. But I have no doubt that it accurately reflects how many conservative pockets of society still think and speak today.
Hubie Halloween feels like comfort cinema to me more than anything else. Like you said, Sandler specializes in this style of movie when he's really on. As we grow older and our tastes change, this kind of thing will become more appealing at certain times, especially the really high stress moments like 2020. Interestingly, within such a seemingly tame, loose, and funny framework, the film seeks to call out the hostility, name-calling, and needless oppression of everyday life. As a character, Hubie is completely inoffensive other than he reminds other people why they suck, why they've failed, and why they remain completely unhappy. Instead of trying to understand how this insecurity and self-hatred has become so ingrained in their lives, they lash out against the meek, ridicule the genuine, and show disdain for anyone who's not beholden to the consumer mindset of pop fandom. Sounds like our orange clown of a President doesn't it?
Funnily enough, Hubie Halloween is basically one of those classic fables with a clear cut lesson, but the character who usually functions as mentor and sage (Hubie's mom played wonderfully by June Squibb) turns out to be the vindictive, vengeful instigator of all things spooky. When you think about the pain her character must have endured over the years, watching this town tear her son apart both emotionally and sometimes physically, any parent would relate to the reasoning behind her fiery actions.
It's great you mentioned the film's visual style and production design. Hubie's house is basically an elaborate simulacrum of Halloween as mythical folklore, which is funny because Hubie himself gets scared so easily. But that really embodies why people love Halloween so much, the terror and the treats, the pageantry and the pain that undercuts it all. I can already see that level of enjoyment/fright in my own daughter, who's almost 3 but going on 13. She's ready to embrace everything about Halloween in such a sincere way much like Hubie must have at that age. Still, a lifetime of being socially tortured has turned him into an insecure narc who can no longer enjoy the holiday he loves so much. He's only worrying about those that care least about him.
Coming on the heels of Uncut Gems, this performance from Sandler is pretty phoned in. But what I always marvel at with this type of ensemble from Happy Madison Productions is how much fun all of these actors look like they're having. You've got Shaq as a DJ with a soft, sexy voice, Steve Buscemi as a not-quite werewolf, Kevin James hamming it up as a Muppet cop, and Maya Rudolph and Tim Meadows showing the pure embodiment of an unsatisfied middle-age marriage.
Now a day removed from watching Hubie Halloween, it dawned on me that no one is actually murdered in this film that is so lovingly connected to a genre where carnage looms large. Still, the threat of injury, perceution, and death is literally everywhere, which as a parent is an even scarier projection of modern American society. What do you make of this theme? Especially when it comes to people who don't necessarily feel comfortable in public/social situations.
Also, I thought it was really interesting that they completely neutered all things sex in this film. Even the younger characters who are falling for each other are positioned purely as friends. Their attraction feels plutonic, or maybe that's just me being jaded to the idea that young love can still be innocent. But honestly, I missed the exciting horniness so prominent in many of my favorite horror films.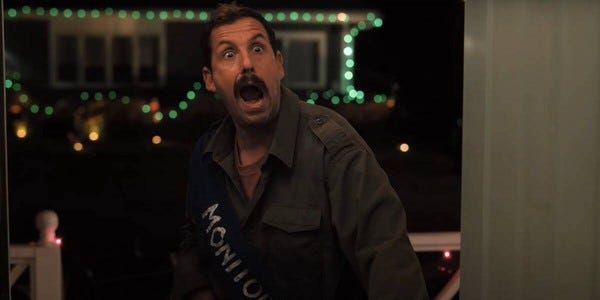 RB: Ha! You're very correct about the movie being neutered. Although, I definitely loved the running joke of numerous women dressing up as Harley Quinn for Halloween. Truly inspired.
Like, if you go back to Hocus Pocus — a movie ostensibly for kids — that film is horny af. I can't really remember if Ernest Scared Stupid is horned-up, but Jim Varney is an underratedly attractive man, so the horniness is probably inherent in that, regardless. But yeah, when we think of more grown-up Halloween flicks (John Carpenter's Halloween being the obvious first thing to come to mind) those were always full of prominent horniness, which, unfortunately, positioned slashers to be cautionary tales of puritanical reactionism.
Which is sort of like why I really dig the danger in Hubie. There is no time period of human development that I find more fascinating than the brief years between childhood and adulthood — where we're learning of the real-life dangers of the world, but still clinging onto the ghosts and monsters of our youths. And I think Sandler's Hubie character just never grew out of that transitory stage, which is probably not why the movie is so sexless (I imagine they were trying to appeal to a younger audience) but it works for that purpose. It took me a while but eventually loved the idea of Hubie being scared of everything despite his love of scary things.
You're also right about the lack of menace in the film — no one hurt or maimed. Although it must be said (and SPOILER ALERT): Hubie's mom was going to burn Hubie's bullies like witches before he intervened?! I love how they just brush over that to make way for the moralizing, but that woman would've straight-up killed all those people in a very horrible and painful way if Hubie hadn't stopped her, and I think that's inadvertently hilarious.
I feel all the guest stars you mentioned were pretty solid, but I was especially delighted by the Shaq cameo, partly because I think Shaq just seems like an absolute gem (UNCUT SHAQ??.... wait, nvm), but also his role as the radio DJ reminded me of The Fog, Texas Chainsaw Massacre 2 and The Warriors — other movies that use radio as a narrative device.
So, what's your main takeaway? Do you feel better as a human having watched Hubie Halloween? Would you watch it again?
GHJ: Hubie's mom was definitely going to light those absuive motherfuckers up, and she represents a certain wrath that resides in every parent when it comes to protecting their child. Another aspect I just remembered (who knew this movie was going to inspire such spirited debate!!) is that Hubie's long lost ancestor actually stood up to the hysterical mob that would inevitably burn people at the stake in the late 17th century, and ended up paying for it with their life. Now his mother has inverted that construct, turning history upside down, or better yet, threatening to light a fire under it's ass to see what people truly believe in, what kind of trauma they are capable of remembering.
All this is to say that Hubie Halloween is many things: a stupid Adam Sandler comedy, a genuinely relevant moral tale, a revisionist Halloween one-nighter, and most of all, a portrait of simple goodness in a sleazy, dumbass age where empathy and common sense somehow signal weakness. "True bravery's being kind." Not the quote one would expect from a sinister mastermind of a horror film, but here we are. Overall, I found the film to be an enjoyable, sometimes, funny, and always thoughtful distraction from the 24/7 shit show that is America 2020. It may not have taught me anything, but it reminded me not to take out my bullshit on others. And for that I'm grateful.
Thank you, Glenn. Thank you, Sandman. Thank you, everybody. Go subscribe to Afterglow.
Got a tip or wanna say hi? Email me at ryancraigbradford@gmail.com, or follow me on Twitter @theryanbradford. And if you like what you've just read, please hit that little heart icon at the end of the post.