Fighting the marginalization that wants to keep you invisible
Organizer Ismahan Abdullahi discusses what San Diego gets right for Muslims, what it gets wrong, and activism in the age of Trump
It's easy to not think about what happened in 2016. 
We don't need to dig up the events of that night in November, when the United States of America stepped into one of those cartoon holes that never ends. In hindsight, it was a night where we collectively stepped over a precipice. Our nation was forever changed, reverted back to its monstrous, original form. 
For many (myself included) that election night is a memory better left locked way. As time passes, and sane minds are able to process the trauma, it'll be relegated to the "I remember where I was when" section of the brain reserved for darkness, right next to 9/11, the space shuttle Columbia disaster and Sandy Hook. Right now, though, it still feels too fresh to analyze it with any sort of objectivity. 
It's easy to compartmentalize election night 2016. Not necessarily erase it, but cover it with a veil. Mute it. No need to dwell on the past, especially now that we have the opportunity to unseat the president this year and replace him with someone better suited for humanity. Keep moving forward, keep looking at the horizon—that's the only way to get through this, right? 
No, not really. This escapism is a privilege for those who haven't been affected by the damage that's already been done, and will continue after Trump is out of office. We are skilled at platitudes and sanctimonious outrage, but subscribing to Pod Save America does nothing to help the black and brown Americans who've experienced increased persecution, injury or death; a Pelosi clap is not going to solve the border crisis. #RESIST all you want, but there are still children in cages. 
I'm not trying to shame anyone for good intentions, just trying to remind us all that there are people who don't have the privilege of hoping that someone else—a new president, a new administration—is going to course-correct our nation. 
Ismahan Abdullahi, for example, is someone who cannot be complacent.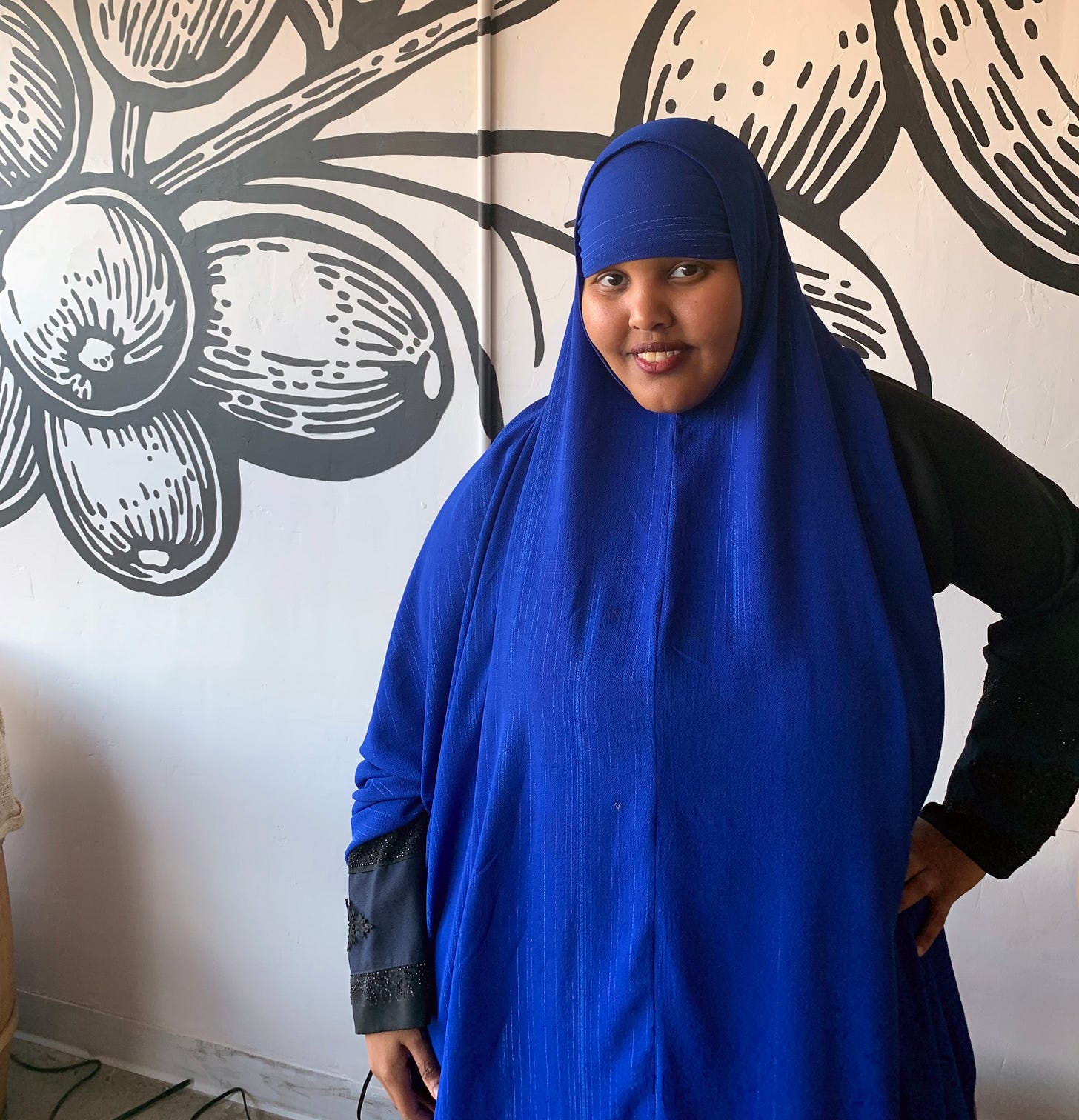 Ismahan Abdullahi

As the Executive Director of San Diego's MAS PACE (Muslim American Society Public Affairs Community Engagement), Abdullahi organizes, educates and advocates with San Diego's Muslim community on a daily basis. 
"It really serves as a platform to educate, engage, mobilize, and galvanize," Abdullahi says about MAS PACE. "To really push for owning our own narratives and stories because let me tell you—people will tell stories for you."
I noticed Abdullahi's work through Twitter, where I regularly saw her interacting thoughtfully with elected officials and advocating for intersectional inclusion. I then realized that I really had no idea what MAS PACE did, and on a broader scale—what it's like to be a Muslim in San Diego. Does our city do right by its Muslim community? I had no idea. I reached out to Abdullah who kindly agreed to indulge my ignorance. 
We meet at Ryan Bro's Coffee in City Heights. At the table next to us, there's a music-making workshop meant for teens. Someone's scratching a digital turntable while someone else idly strums a ukulele. Admittedly, it's not the most ideal environment for an interview, but Abdullahi is unfazed by it. In fact, it appears that she thrives in the kind of environment where she has to rise above the noise. 
Almost immediately, Abdullahi tells me how excited she is about the recent vote to repeal the Muslim travel ban by the House Judiciary Comittee. Her excitement is palpable, but she knows that this is a process, and that even if the NO BAN Act passes the Senate, it will likely get vetoed by the president. Still, she takes strength from these victories. Each new step is progress. "And progress is way better than just standing still," she says. 
For as long as she can remember, Abdullahi has been interested in advocacy and organization, but the experience of fleeing a war-torn Somalia and arriving in the United States after 9/11 steeled her resolve. 
"That really shaped my experiences and how I move in this world," she says, recalling that period of bristling Islamophobia.  "It shaped my political viewpoint and my political worldview and I think it wasn't until then that I realized I can be part of that change. I don't have to accept the way that things are." 
Abdullahi credits growing up among the culturally-diverse-but-often-sidelined refugee communities in City Heights and South Bay San Diego stoked her desire to become politically active. 
"I realized that my voice is power. How do I evolve from there?" she says. "And how do I also bring others with me? My political activism really started from there."
Abdullahi speaks passionately, clearly, carefully but with an inclusive friendliness. Throughout our conversation, I'm constantly in awe of how inclusive she is with her language, emphasizing the importance of improving our intersectional spaces. She speaks like a natural leader.
After years of grassroots organizing, Abdullahi was recently promoted to Executive Director at MAS PACE—a position that requires multiple hats (when I congratulate her on the promotion, she laughs: "Thank you. It's definitely congratulations, but it's also sometimes a 'condolences' too."). She's currently focused on combating voter suppression and getting people involved in the census—both of which prioritize amplifying her community's voice—but there are numerous other issues that MAS PACE tackles.
For example, refugee assistance is a big part of MAS PACE's agenda, and they've partnered with border coalitions to provide legal help for migrants. This is no surprise, considering that asylum seekers from Mexico and Central America are now experiencing what Muslim Americans have faced for a long time.
Abdullahi speaks excitedly of a recent case where an individual escaped slavery, traveled through multiple countries seeking asylum, only to land in a U.S. detention center. However, MAS Pace was able to get them legal help. 
"I know that he's able to feel that sense of freedom and safety that was missing from his life for so long. We don't realize the impact that kind of trauma has on folks."
We talk about San Diego, and whether it's a good city toward the Muslim community. 
"It's welcoming in the sense that it's a privilege to have so many diverse voices and diverse cultures. It's just a snapshot of what America is. Surprisingly, I realized traveling throughout the states that I shouldn't take that for granted."
But hate and fear do exist here. Abdullahi tells a story about recently dining in a restaurant where the majority of the clientele was Muslim, and a couple came in and made it apparent that they felt unsafe.  
"The waitress told them, 'Hey, don't be scared,' which I thought was kind of unnecessary. Fear has no place in our community, right? But then when you think about what emboldened hate looks like—it creates those uncomfortable situations. You have someone from the highest level of office saying that these types of folks—whether they're Muslims, whether they're refugees, whether they're Mexicans, whether they're communities of color—that they're Other. They're different. And that creates that sense of marginalization that wants to keep you invisible."
Ultimately, Abdullahi would like San Diego to do better at accountability, which, yes, is not common in a city built on boosterism and a "no bad days" mentality. 
"What does it mean for us to really hold each other accountable when it comes to anything that can pass as either derogatory or hate language towards any specific faith, or a specific community?" she asks.
"Dialogue always helps. Don't get me wrong. But I've had so many conversations. Let me just say sometimes it's not about coming in with love. How do you hold accountable spaces if folks are being racist? If [elected officials] are being Islamophobic then there are certain moments that need to be called out." 
We talk about her interests outside of work, including her deep love for being outdoors. She loves hiking Cowles mountain, and we laugh about the ridiculousness of Potato Chip Rock. Our conversation eventually falls on mental health. Abdullahi tells me that there's been an uptick in addiction, depression, anxiety and suicides among refugees—and combating that is yet another battle she's fighting. 
"There's so much that you're up against," she says. "People don't realize that. Just having that overstimulation. I mean look at—I hate to use this example—but Kobe Bryant's death. I grew up watching Kobe Bryant. And then I saw it on Twitter. I can't even imagine what the families were going through. I didn't get a chance to process this, you know? It's absurd."
She pauses. 
"But in that absurdity, how do we give each other hope? That's what I'm trying to do."
---
THE ONLY CONCERT CALENDAR THAT MATTERS™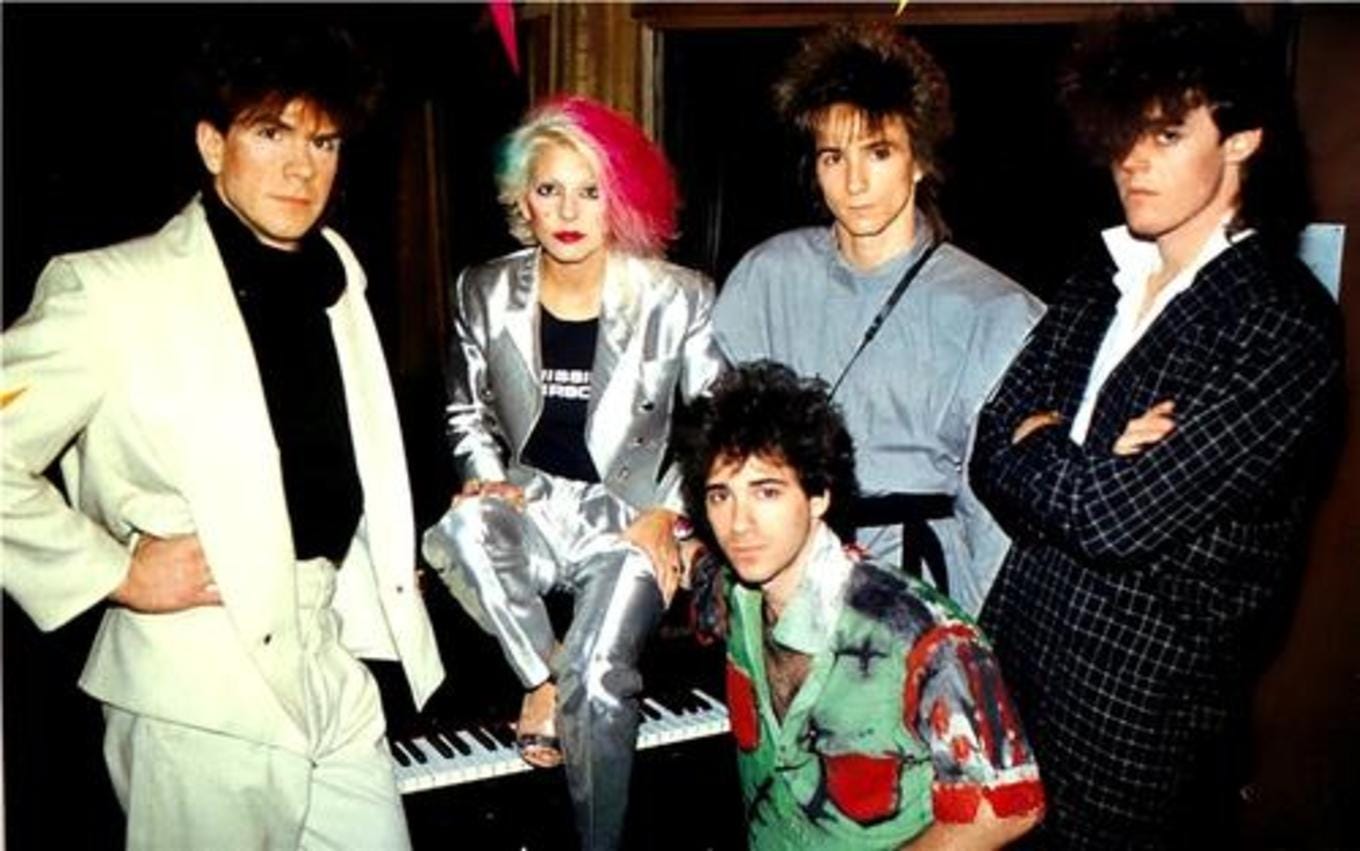 Missing Persons
Wednesday, Feb. 19
OPTION 1: Missing Persons, Diane & the Deductibles @ The Belly Up. I fucking love Missing Persons. They're unapologetically plastic and vapid, almost to the point of sounding like a parody of '80s new wave. But I'm convinced that beneath the veneer, there's real sadness and darkness (just listen to "Windows" and try not to feel sad or unsettled or a combination of both). Also, vocalist Dale Bozzio has an A+ yelp. 
OPTION 2: Mr. Elevator, Triptides, Amerikan Bear, DJ McGranahan @ Soda Bar. Mr. Elevator plays '60s-inspired psychedelic pop that's a lot more trippy than bands that usually get those descriptors. Kind of like if The Doors played Britpop. 
Thursday, Feb. 20
OPTION 1: MDRN HSTRY, The Frets @ Seaport Village. I normally wouldn't recommend any band that has an aversion to vowels in their bnd nm (I'm sorry: band name), but this show is part of Seaport Sessions, a pop-up music and art festival in Seaport Village, and I always like when San Diego tries things that aren't beer fests or farmers markets. Also this is Tim Pyles' series, and he's a great guy who's always fighting the good fight for our music scene.
OPTION 2: Bay Faction, Lunar Hand, Jara, Leon Canoe @ Che Café. When I first started playing a track by Bay Faction, I was like oh, kinda like a lo-fi, rockier version of the xx. Which is good. But as I got further into their catalog, they started sounding super vibey, like... I don't know, Sublime with more self-loathing vocals. But by the time I realized that, I had already listed them as OPTION 2 and the delete button on my computer is broken so I guess that's what we're sticikng sticccking shit sticking with.  
Friday, Feb. 21
OPTION 1: Drakulas, SPELLS, Jacob Turnbloom @ Ken Club. Drukulas have that tightly-wound, Euro punk sound that reminds me of Buzzcocks, Wire or The Hives. It sounds simultaneously unhinged and proper, and I dig it. 
OPTION 3: 'F#ckin' in the Bushes' a night of Britpop and Indie dance @ Whistle Stop. Before going to my first F#ckin' in the Bushes last month, let me tell you, Dear Readers, I was terrified. I no longer do club nights. New music confuses me. My agoraphobia now dictates my actions. However, I was pleasantly surprised about how um... gentle Whistle Stop's monthly Britpop night is. It's not overly crowded and I even knew most of the songs! I didn't even have the desire to yell at a cloud! This is the club night for people who hate club nights. 
Saturday, Feb. 22
OPTION 1: Adam Gnade book release party @ Verbatim Books. Even though Adam Gnade no longer lives in San Diego, his writing courses with the blood of this city. Tonight, he's releasing his new book, This Is The End Of Something But It's Not The End of You, which is a fantastic, slightly Kerouac-ian chronicle of San Diego/Mexico in the late-'90s/2000s. It's full of heartbreak and hope, and I highly recommend it if you want to feel something. Demetrius Antuña (from dark post-punk band Tulpa Luna) will provide musical accompaniment, and special guests Julia Dixon Evans and Bridget McGee Houchins—two very talented writers—will also read. 
OPTION 2: The Well, Zig Zags, Nowhereland @ Pour House (Oceanside). Jesus, how come I haven't heard of The Well, until now? Their sludgy, stoner-y psychedelic metal is heavy af. And Zig-Zags are just raw punk insanity. 
OPTION 3 'Eternal Night: The Revenge' @ Til-Two Club. Get those spikes and pleather out and get ready to dance to some goth industrial. I'm not sure how you dance to this type of music, but I'm sure it's probably evil-looking. Plus, the DJ lineup is all women (Calypso, Mars, Barbieserk) so that's cool. 
Sunday, Feb. 23
OPTION 1: Yola, Amythyst Kiah @ The Music Box. Yola's 2019 album Walk Through Fire has a lush, warm feel, reminiscent of Fleetwood Mac and Beach Boys's best albums. You know, back when records weren't just compressed Frankenstien'd monsters of volume. This is good, obviously, because it accurately captures Yola's astounding music—a retro mix of soul, rock and a little bit of country. 
OPTION 2: Slum Summer, The Gorgeous Boyscouts, Hurricane Kate @ Soda Bar. Slum Summer is a newish San Diego band whose singer is from the UK who thusly sings with a British accent and thusly sounds a lot smarter than most bands. It's like if Billy Bragg sang for Pavement. Oi! Good show, cor blimey! 
Monday, Feb. 24
OPTION 1: Braggers, Rebel City, Man Fights Manic Kin @ Soda Bar. Punishing rock with hardcore vocals. Here's your aspirin show for the week. 
Tuesday, Feb. 25
OPTION 1: Thrice, mewithoutYou, Drug Church, HOLY FAWN @ The Observatory. I was a huge fan of Thrice in high school and their Illusion of Safety was a regular fixture in my '94 Mercury Tracer. I haven't followed them after that but I like what I've heard. However, I'm obsessed with Drug Church, whose 2018 album Cheer has been on constant rotation since it came out. 
OPTION 2: Habibi, Rudy De Anda @ Soda Bar. Habibi plays lo-fi pop with '60s girl-group harmonies, but their songs are both sad and kinda sexy—which regular readers of this newsletter will know is my musical catnip. 
---
INTRODUCING AWKWARD MOVIE NIGHTS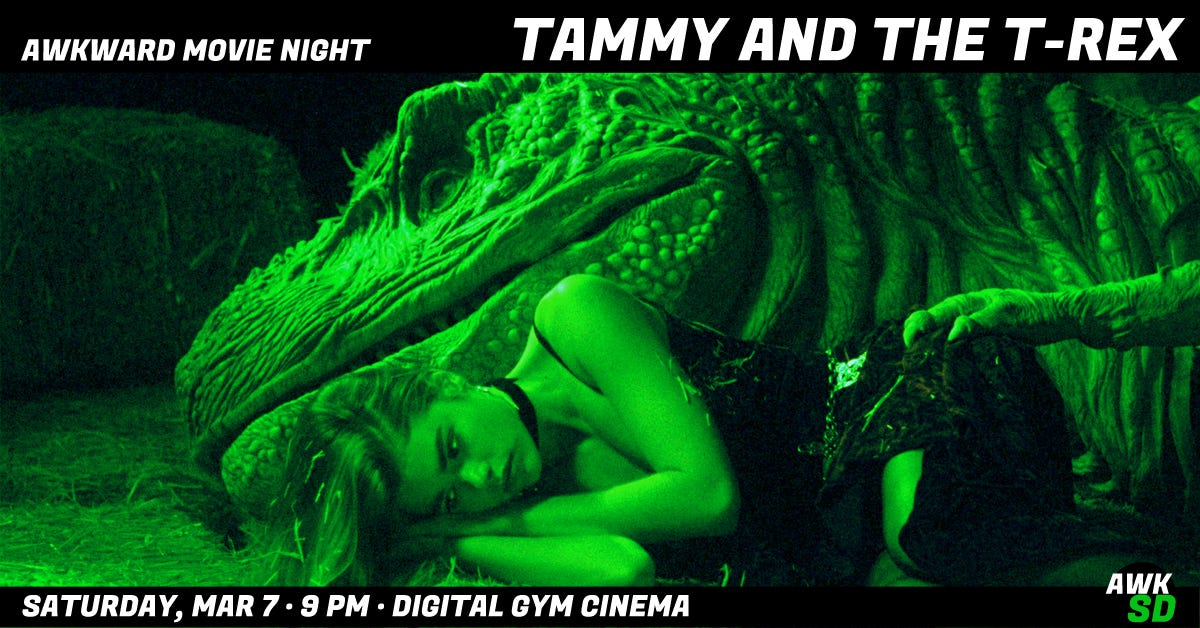 Is it comedy? Is it horror? Drama? How, exactly, did it get made? Awkward Movie Nights is a new series I'm doing at Digital Gym that strives to celebrate films that exist beyond classification, political correctness and good taste.
Simply, it's a look into films created by weirdos intended to make us feel weird and uncomfortable. Anxiety runs rampant in our culture, and this movie series strives to appeal to the outliers and anyone who feels or has felt out of place. But let's not forget that these movies are also hilarious (often unintentionally), and host Ryan Bradford (author of PACIFIC Magazine's "Well, That Was Awkward" column, and author of the newsletter "Awkward SD" [which you are reading right now!]) will rip into these films and discuss what makes them so awkward.
For the first entry, we're going to watch Tammy and the T-Rex, about a man who—after being killed by wild big cats in the local animal park—has his brain implanted into an animatronic dinosaur by a mad scientist. Can he convince his girlfriend Tammy that it's him buried under that mess of wiring and latex? And how many people does he have to kill to prove his devotion? 
Join me on March 7 at 9 p.m. to watch this bonkers gorefest.