Damnit, I ended up at a blink-182 concert
The story of a lonely 35-year-old guy holding onto his youth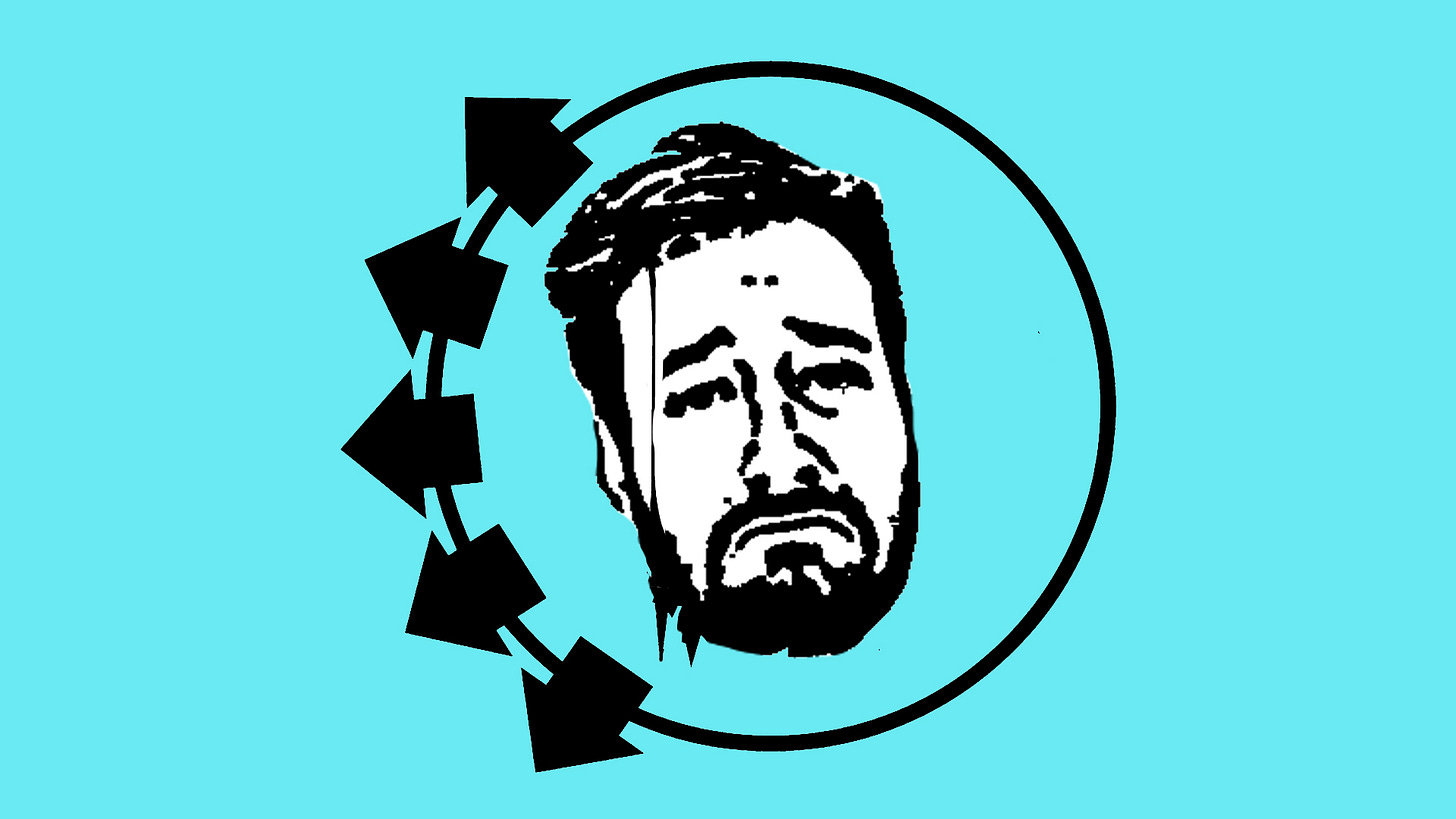 I guess this is growing up, I think, splitting the rainbow-colored edible in two. The gummy ribbon already has a low dose of cannabis—10 mg—and splitting it further perhaps feels a little too cautious. But I'm not very skilled at weed, and the last time I was high in public it took me 20 minutes to find frozen pizzas in a grocery store, so now I mostly stay home to do drugs.
But tonight's special. Tonight I'm going to see blink-182 for the first time since I was 15 years old, and it seems like the perfect opportunity to indulge in 5 mgs of responsible, grasping-at-youth fun.
The gummy is rainbow colored and tastes like all of the sugar. Woo, I think. A modest woo, appropriately grown-up.
blink-182 are in San Diego tonight, playing the TwitchCon party. If you were to ask me what Twitch is, I'd say "video games" and hope you had no follow up questions (but you can read about it here). Earlier in the day, I'd spent only a few hours in the convention center, but that experience has left me as befuddled as when I was high at a grocery store. Everyone was wearing lanyards displaying screen names like cutedaddybear and icepenguin, and the only company I recognized was Totinos, purveyors of the pizza squares I'm planning to use to line my coffin. Their presence at this gamer convention seemed genius. Like any good trash food, they know their market.
But one thing I do know about video games: they're [rubs thumb and forefinger together to indicate "big money"]. And even though 2019 marks TwitchCon's fourth year (and its second in San Diego), it's a sold-out event. This is how they can throw a private party in Petco Park with blink-182.
The cannabis begins to kick in on the Lyft ride down to Petco, and my memories of my first blink show creep up on me. It was the summer between freshman and sophomore year of high school and even then I was self-conscious of my blink-182 fandom. I'd never admit to liking such a commercially successful pop-punk band, but I'd turn up the radio in my mom's car when "Damnit," "What's My Age Again," or "Adam's Song" came on. We all did. When blink-182 came to Salt Lake City to tour Enema of the State (an album which turned 20 this year), my friends and I justified buying tickets because Bad Religion were the opening band, which, of course, was an outrage. How dare punk legends like Bad Religion open for blink-182? Outwardly, I could complain about the injustice of that, but secretly, I was stoked for blink.
Coincidentally, that summer was the first time I tried cannabis, smoking out of a homemade Aquafina bong in Steve Martinelli's basement. His mom caught us almost immediately and then told my mom. When confronted about it, I lied and said that I'd only been hanging out, but I hadn't smoked (I think this is the first time I'm admitting this, so I'm sorry mom—but just take comfort in the fact that the whole experience was so traumatizing that it kept me off drugs for the rest of high school).
These stories don't really have anything to do with each other, but my cannabis-addled brain has an amazing ability of forging connections, and the coincidences between then and now feel profound.
The Lyft drops me off at Petco and the heavy bass of some electronic artist fills the air. The man ahead of me is holding up the line to get in because security is inspecting his DSLR camera. The fiasco seems to be causing this fellow a lot of distress. It's all chill, man I think. I'm at the level of high where simply standing in a line satisfies my mental, philosophical and emotional needs.
I get through security and the Petco field opens up in front of me, grandiose and sublime. It's like being God and looking upon His creation for the first time (if God built sports stadiums). There's a sizeable crowd, but it's sparse enough to make the night feel intimate. Clusters of gamers riddle the field. They are nerdy and earnest—bastions of futuristic clothing and non-binarism. I have a brief but lucid thought: this is the future. The bright lights and optimistic youth feel too much. It's almost emotional. There's hope here, and it's definitely not coming from me.
Lil Nas X was supposed to play, but he dropped out at the last minute. A rapper named Logic replaces him, and I don't know his music, but everyone else does. There's a guy next to me wearing a polo shirt, sandals and a buzzcut and he whistles after every song. His technique is two-fingers-in-the-mouth, and the noise he produces is so high-pitched that it ravages my ears. I type in my notes: "I wish he'd die." The dude whistles after every Logic song and I've developed a Pavlovian fear whenever a song nears its conclusion. Logic cuts one song early because "you guys don't know it." Oh god, I think, and the dude blasts his whistle.
After Logic's set, the Jumbotron plays a video of a first-person shooter and beach balls bounce through the crowd. I wonder if the people who brought them are proud that their beach balls have found new lives in the hands of the crowd. Oh yeah, I'm high.
blink-182 start their set with "Feeling This," the opening track off their 2003 self-titled, super-serious album. It's a ballsy move to begin with a song that heavily features lyrical stylings the now-departed guitarist Tom Delonge (who's off proving that UFOs are real), but I dig Delonge's replacement Matt Skiba, who also sings for Alkaline Trio—a band that I've loved for a very long time.
The stage set up is excessive. I don't know why I had ever thought of blink-182 as a scrappy, pop-punk band, but it dawns on me that they've been an arena band since the late '90s. Flames blast during songs that don't deserve flames. In what world would a song called "First Date," demand such Mötley Crüe stylings? Blasts of steam produce sounds loud enough to overpower the music, and I laugh everytime it happens because it reminds me of industrial sounds from Aliens.
Let's go... don't wait... Let's make CKKKSHHHHH this last forever CKKKSHHHHH.
The band plays hit after hit, and I realize that, for better or worse, this is the soundtrack to my life. blink-182 has been a constant since I was 15. Twenty years. Goddamn. I nearly tear up when they play their ballad "I Miss You"—not because it reminds me of a specific moment, but because it could apply to so many moments in my adult life(Please don't tell my enemies that I had feelings during a blink-182 song).
The band finishes with "Damnit," a song that feels integral to San Diego. I know plenty of San Diegans who don't like blink-182, but if we're going to have an anthem, why not make it "Damnit"? We could do a lot worse.
The gummies have worn off by the time I leave the stadium. Lyft rides home are jacked up to $40, so I take the bus. I'm trying to be smarter about spending. I guess this is really growing up.
---
BY THE WAY
Speaking of blink-182, indie musician Colleen Green recently covered blink-182's Dude Ranch in its entirety using only bass and vocals, and I can't get enough of it. It's one of my favorite albums this year. It soothes my soul and it's the perfect music for working at night. I highly recommend it.
---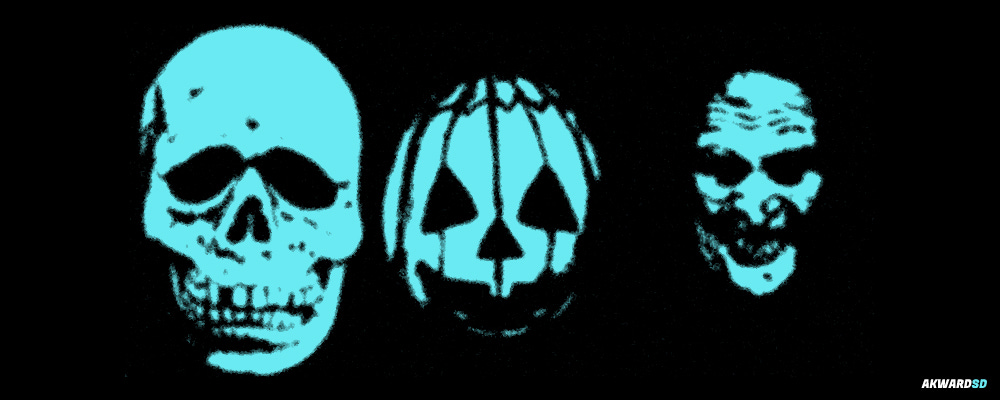 STREAMING BLOODY MURDER
I could watch horror movies all day. Really, the only thing stopping me is the body's physical limitations. Seriously: curse thine mortal sack of meat. Rid thee of the need for food and rest!
When I was at CityBeat, I used to curate 24-hour horror film marathons every year around this time, using films (mostly) available through streaming services. And I'm still doing it! Can't stop, won't stop. Only the most damned can make it through. See you on the other side, boils and ghouls.
Your friends arrive with concessions in hand and smiles on faces. They've brought a box of unpopped popcorn, a quality meat-and-cheese tray, perhaps a sixer of renowned IPAs. Oh, perfectmovie snacks! you say. Spooktacular! You've been saying "spooktacular" a lot this season, and tonight, it makes everyone laugh politely. Laughter is good. You hit play on the first movie.
6 - 8 p.m.: Tigers Are Not Afraid (Shudder, 2017)
Tigers Are Not Afraid is a great film to start this horror marathon. Mexican director Issa López's visionary film pits a gang of street kids against the drug cartel, whose violence has left the kids homeless. However, the newly-orphaned Estrella keeps encountering the ghostly visage of her murdered mother, who provides assistance in the kids' quest for justice. Mixing gritty, real-world violence with horror and fairytales, Tigers Are Not Afraid is a little bit like a Pan's Labyrinth set in modern times, andis one of the best movies I've seen lately.
8 - 10 p.m.: Lake Mungo (Shudder, 2008)
I will always watch mockumentary/found-footage horror films. This is one of my flaws. I'd say about 90% of them are awful, but Lake Mungo is scary as hell. The Australian film documents the death of Alice Palmer—who drowned at Lake Mungo—as well as the supernatural events surrounding it. This movie is such a well-made portrait of grief and sadness that it almost doesn't feel like a horror movie, but it sticks in your brain and under your skin.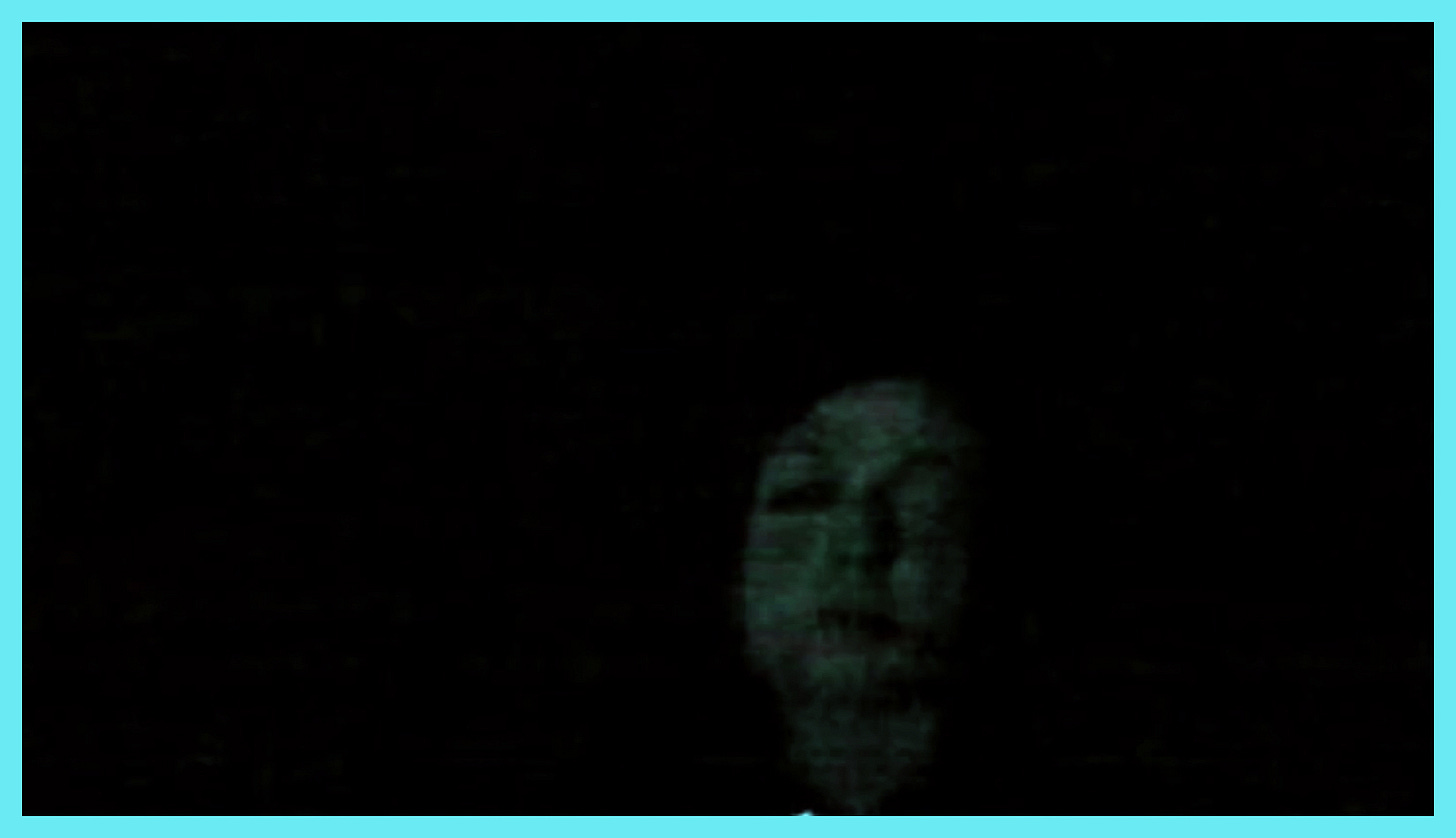 10 p.m. - 12 a.m.: Triangle (Amazon Prime, 2009)
A group of WASP-y friends set out on day of sailing (as is wont for WASP-y friends) but the fun stops when a storm capsizes their boat. While floating out at sea, the group encounters a cruise ship. They climb aboard and discover it eerily empty... or is it?? The first few minutes of this psychological thriller look and feel like a made-for-TV Syfy movie (especially the cringey storm CGI), but then the story twists into something far more inventive, smarter and unexpected. Best to go into this movie without knowing too much about it.
Ahhh, your friends say, standing up, stretching. That was fun. Let's do it again next year. They reach for the door, but the knob won't turn. They pull harder. The door won't budge. Hey, what gives? You tell them that nobody's leaving tonight. It's not safe out there. Outside, a wolf howls. Something scratches on the other side of the door. You've now entered the witching hour, the best time to watch a trio of witch films.  
12 - 2 a.m. - Hagazussa (Shudder, 2017)
It's an understatement to say that the German film Hagazussa is a slow burn, but the style and confidence of this film are equal to—if not greater than—The VVitch. Set in in the Alps during the 15th century, the young mother Albrun lives in isolation and exile due to her late mother's reputation as a witch. When another woman befriends and subsequently betrays her, Albrun sets upon realizing the power of her lineage, which is a prolonged, grotesque and brutal process. The final shot will stay with me forever.
2 - 4 a.m.: Suspiria (Amazon Prime, 2018)
I was initially skeptical of this remake of the Dario Argento classic about a dance school ruled by a coven of witches, but it's amazing. I still can't believe that the last 20 minutes are part of the same movie. It's bonkers.
4 - 6 a.m.: The Love Witch (Amazon Prime, 2016)
I didn't know I had been missing a late-'60s, Bewitched-inspired film in my life until I saw The Love Witch. The comedy-horror follows Elaine, the self-proclaimed love witch, on a journey of finding the perfect man after the death (murder?) of her husband. I don't say "delightfully evil" often (I imagine one has to do that while wiggling their fingers, Homer Simpson-style), but this film is that, as well as funny and sexy. The look and tone of it is pitch-perfect.
The sun's coming up. You and your friends look at each other with bloodshot eyes. Their smiles are back, but they're manic, half-crazed. You think it's safe to go outside? They ask. You say sure, but no one makes a move to do so. Without saying another word, you put on the next film. 
6 - 8 a.m.: The Cook, The Thief, His Wife, and Her Lover (rent it, 1989)
I'm a big fan of Ari Aster films (Hereditary, Midsommar) but after seeing The Cook, The Thief, His Wife, and Her Lover, it feels like Aster's kind of just aping this film. Filmed like a stage production, The Cook is a perfect combination of high and low-brow art. Big-time gangster Albert Spica (played terrifyingly by Michael Gambon) owns a restaurant that he uses as his own clubhouse, regularly inflicting abuse and violence upon his staff, his wife, and patrons. After a hideous final straw, his wife sets in motion Albert's comeuppance, which is very great and very gross. This film is like if Shakespeare directed a Tales from the Crypt episode.
8 - 10 a.m.:Maniac (Shudder, 1980)
Maniac is about a man who murders women for their scalps, which he uses to adorn his mannequins at home. Maniac is very weird and offensive, but strangely lyrical and compelling—similar to a Nicolas Winding Refn film (Drive, Neon Demon). Maniac also has one of the most gruesome shotgun deaths ever put to film.
10 a.m. - 12 p.m.: Climax (Amazon Prime, 2019)
I regret every day that I watched Gaspar Noé's Irreversible, which had turned me off from seeing any of this other films. But I was curious about the provocateur's most recent Climax, which is about a modern dance troupe celebrating the end of rehearsals and, unbeknownst to them, drink a bowl of LSD-laced punch. The hallucinations come on gradually, so you don't even realize that you're witnessing a descent into a frantic hell until it's too late.
Now that the provocative section is done, you stand up to fix something for lunch. You count the number of friends who are sitting around the screen. You can't remember if it's more or less than when you started. Someone is crying somewhere in house. You open the fridge and pull out the meat and cheese plate and six slices of white bread. Bon appetit, you say.
12 p.m. - 2 p.m.: Upgrade (HBO GO, 2018)
After gangsters paralyze Grey and kill his wife, a young tech entrepreneur offers Grey a second chance with STEM—a biomechanical chip that restores motion to his arms and legs. Grey soon discovers that STEM can enhance his strength and fighting-ability, basically turning Grey into a killing machine. It's a delight watching Grey act as a passenger in his own body while STEM takes over, gruesomely dispatching gangsters. This is what Venom should've been.
2 - 2:30 p.m.: Petscop—episodes 1-? (Youtube)
The only thing that really creeps me out these days are Creepypasta-esque internet videos that revel in ambiguity. Petscop is a video series of a long-lost Playstation 1-era game called Petscop where a yellow duck-faced character searches for animals. But as the videos progress, the sense of unease increases with long bouts of inappropriate silence, doppelgangers, and messages from what may or may not be a dead child. The janky graphics and era-accurate sound effects make the whole thing even more uncanny. I'd say watch a few episodes now, and then come back when you really want to mess yourself up.
2:30 - 3 p.m.: Don't Hug Me I'm Scared—episodes 1-6 (Youtube)
Another online series that nails horror. This puppet show masquerades as a Sesame Street-style educational program, but flashes of intense gore and a creeping realization that they're in some existential purgatory make Don't Hug Me I'm Scared genuinely horrifying.
3 - 5 p.m.: Prom Night II: Hello Mary Lou (Shudder, 1987)
With no connection to the original Jamie Lee Curtis-starring Prom Night, Prom Night II is a wholly original beast. Mary Lou dies at her prom in 1957, but thirty years later, Vicky Carpenter finds Mary Lou's prom dress and gradually becomes possessed by the revenge-seeking Mary Lou. There are so many great moments in this film, like Vicky's demonic rocking horse licking her hand, Vicky tongue-kissing her father, and the greatest locker-related death of all time.
The sun's going down again. Your friends stare blankly ahead with clownish smiles on your face. One of them starts to laugh. Or cry. You can't tell the difference. You open an IPA and pour it over your face to cool the hot sensation in your forehead. Suddenly the next movie comes on and you don't know who started it. We don't have to do this you say, but it sounds like gibberish. Did you even say it out loud? Never mind. You reach for the popcorn and sit back. 
5 - 7 p.m.: Phenomena (Shudder, 1985)
God bless Dario Argento. I've loved his original Suspiria since I was 16 years old, when I found the DVD in a five-dollar bin at K-Mart. As I've gotten older, and seen some of his lesser-known work and I've realized just how truly batshit his movies are, and Phenomena is just...wow. Young Jennifer Connelly stars as a girl who attains a psychic connection with insects after being hit by a car, and together—she and her bug buddies—search for a killer. There's also a deformed boy, Donald Peasance as a bug expert, and a knife-wielding ape. All hail Argento.
---
THE ONLY CONCERT CALENDAR THAT MATTERS™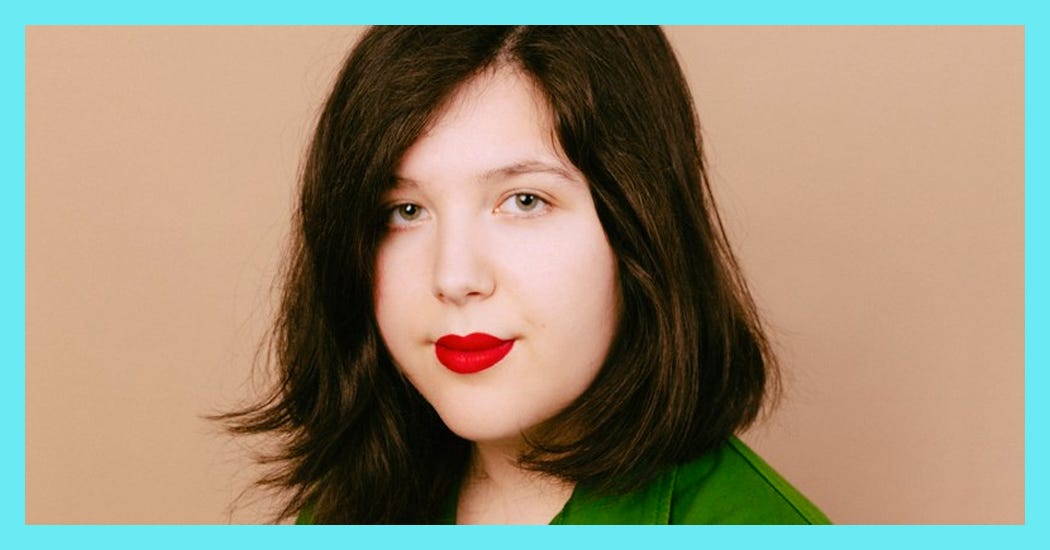 Lucy Dacus
Wednesday, Oct. 23
OPTION 1: Danny Brown, Ashnikko @ The Music Box. Danny Brown is the man. Perhaps the weirdest hip hop artist of the last decade, he's also one of the most innovative, pushing the boundaries of what the genre can do further than anyone else. He's also a goddamn delight, as evidenced by this recent GQ feature.
OPTION 2: Off With Their Heads, Slingshot Dakota, Tracy Soto @ The Casbah. Off With Their Heads does the type of anthemic, literate, blue-collar punk that reminds me of Dillinger Four or American Steel, with a little bit of Against Me! thrown in. If those comparisons don't sell you, then I don't know what to say. Maybe you're not punk? EDIT: this show has been cancelled.
Thursday, Oct. 24
OPTION 1: Oranssi Pazuzu @ Brick By Brick. My former colleague and metal aficionado Jeff Terich is crazy about this band, and when Jeff gets stoked on a metal band, you best pay attention. Blending Goblin-esque prog and psych with black metal style vocals, Oranssi Pazuzu is unlike anything I've ever heard. Now this is what I call horror music! (Fun fact: Pazuzu is the devil's name in The Exorcist).
OPTION 2: Lizzo, Empress Of @ Cal Coast Credit Union Open Air Theatre. This year is unequivocally the year of Lizzo. I can't think of another artist that made as much of a cultural splash than her and with good cause. She's the epitome of DGAF, which is such a refreshing message in these hyper-conscious, fragile, and anxious times, and her megahit "Juice" is the self-love anthem we've been waiting for.
Friday, Oct. 25
OPTION 1: Rocket from the Crypt, Ceremony, El Vez, Death Valley Girls, Slaughter Boys, Alvino and the Dwells, L.A. Witch @ House of Blues. My dudes. It's Rocket From the Crypt. No further explanation needed.
OPTION 2: The Frights, Hunny & Just Friends @ The Observatory. It's been really cool watching homegrown band The Frights rise to fame. Like PUP or Joyce Manor, The Frights specialize in emotionally-deep and unhinged punk, and their recent signing to Epitaph Records makes the most sense.
Saturday, Oct. 26
OPTION 1: Oingo Boingo @ Humphreys Concert by the Bay. I can't really articulate my deep love for Oingo Boingo in a quippy little description, but they were my first ever concert, so the fact that all the original members will be playing this show (including Danny Elfman) makes my black heart very, very happy. Edit: my mistake, Danny Elfman will NOT be at the show. I got too excited when I saw him in the promo pics.
OPTION 2: Agnostic Front, Prong, Slow Decay @ Soda Bar. I can't think of another band that epitomizes New York hardcore better than Agnostic Front. I'm sure there will be lots of sweaty, pulverizing bro love at this show.
OPTION 3: Heartbones @ The Merrow. Har Mar Superstar teaming up with Sabrina Ellis (singer for A Giant Dog) is one inspired collaboration. Anyone who's seen those respective bands knows the physicality they possess, so seeing those two together should be nothing short of a spectacle.
DON'T GO: An Evening With Bill Maher @ San Diego Civic Theatre. Bill Maher is the leftier version of Dennis Miller: Stupid, unfunny, and "edgy." Sure, he hates religion and makes fun of Trump—which gives him a pass in many liberals' books—but he's also transphobic, Islamophobic and racist.
Sunday, Oct. 27
OPTION 1: Face to Face, Lagwagon, Destroy Boys @ The Observatory. Face to Face have put out some of the best punk records ever. In fact, it's difficult to think of another punk band with a three-album run as good as Don't Turn Away, Big Choice and their self-titled album.
OPTION 2: Eyehategod, Negative Approach, Sheer Terror, Final Conflict, and the accused a.d. @ The Casbah. Perhaps the only sludge metal band more influential than Eyehategod is The Melvins. These songs are so thick and crunchy, they should come in a blue Skippy jar (sorry, I'm trying to get into the peanut butter copywriting market). This is your aspirin show of the week.
Monday, Oct. 28
OPTION 1: Lucy Dacus, Liza Anne, Sun June @ Belly Up Tavern. When I saw boygenius last year—a musical collaboration between Lucy Dacus/Phoebe Bridgers/Julian Baker collaboration last year—there was nary a dry eye in the audience. And while I was familiar with Bridgers and Baker, that night introduced me to Lucy Dacus, whose music is a little harder-edged, but no less emotional.
OPTION 2: Saintseneca, The Blank Tapes @ Soda Bar. Eh, I don't really know Saintseneca but he seems easy on the ears, and on a Monday, that's all you can hope for. Maybe treat yourself to a lasagna before hitting this show. Also, Garfield jokes are good.
Tuesday, Oct. 29
OPTION 1: DJ Douggpound, Brent Weinbach @ Soda Bar. DJ Douggpound is the insane genius that edits a lot of Tim and Eric videos. With his "joke DJ" act, he uses the same awkward, schizophrenic, glitchy style of cutting to turn songs into punchlines. Also, it's cool to see Soda Bar booking some stand up comedians! Hope this becomes a trend.
OPTION 2: Michale Graves @ Brick By Brick. Poor Michale Graves. It's no easy task to replace Danzig as the singer of The Misfits, and for that reason, he'll always be reviled by punks. But hear me out: Graves is a great singer. I actually love some Danzig-less Misfits, and Graves-era songs like "Saturday Night," and "Dig Up Her Bones," are among my favorites from those horror punks.
---
HEAR, HEAR
Sometimes I'll review albums, movies, or books in this newsletter because listen assholes I am a SERIOUS JOURNALIST lest you forget, and I am about to dose out seriousness and journalistness, and you're going to like it.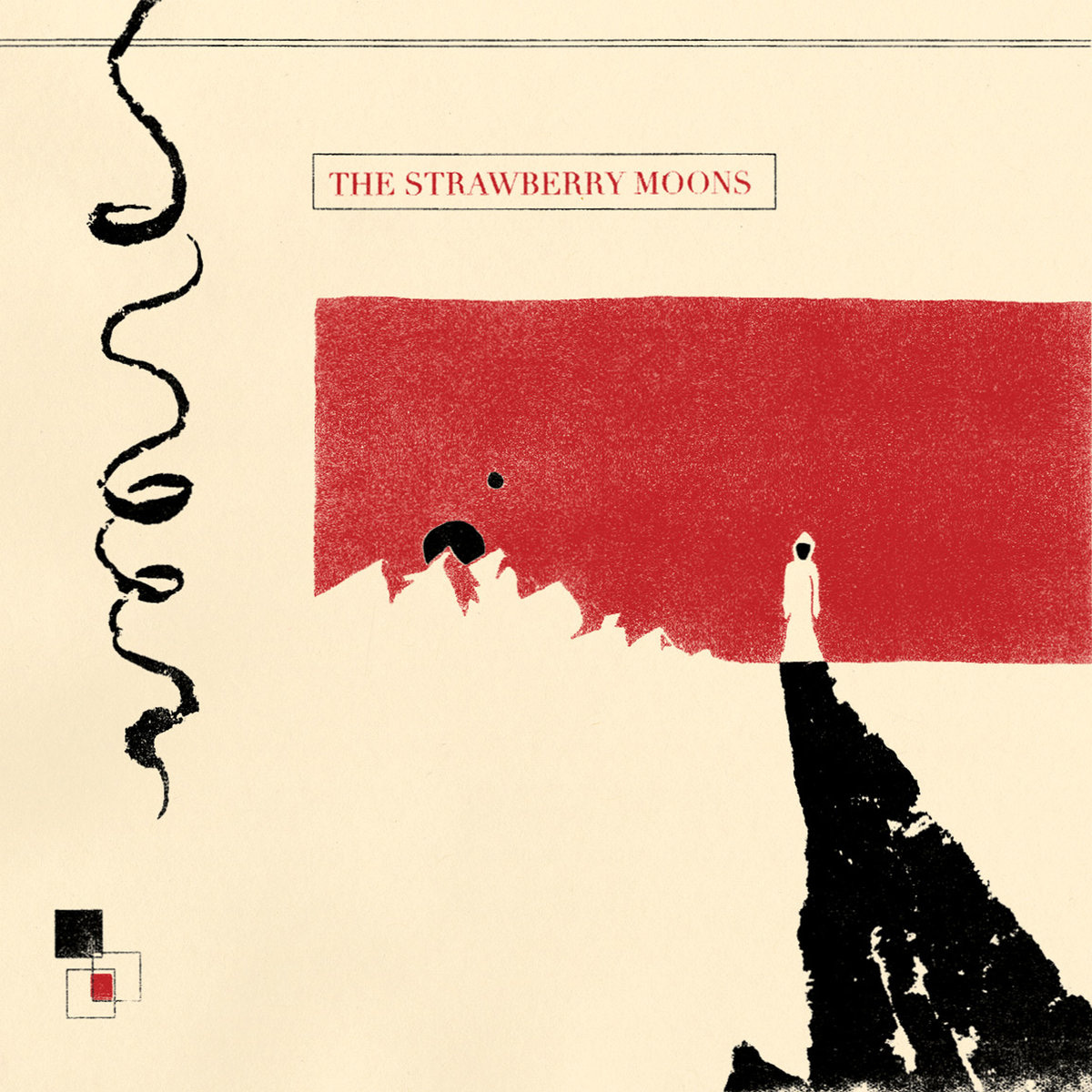 Strawberry Moons
S/T
"What kind of music do you play?"
This question is a thorn in every musician's side. How is it possible to distill your art/soul/passion into, like, a noun, man? Music can't be boxed in by labels. It contains multitudes!
I imagine this question is especially irksome to The Strawberry Moons. Ostensibly, they're a pop band, but given the range of songs on their self-titled debut, the p-word is a little too reductive. They cover a lot of territory, but it never feels disparate. In fact, the result is one of the most cohesive and enjoyable San Diego albums that has come out this year.
I don't think it's a stretch to say that the band is inspired by the music of the late '60s and early '70s, which accounts for the psych, blues, country and hard rock that laces the the album. Lead vocalist/keyboardist Aimee Jacobs has a voice that's simultaneously light and haunting— a sound that immediately brings to mind Jefferson Airplane. On "When We Were Animals," one of the album's many highlights, lead guitarist Will Lerner and Jacobs trade lines throughout the verses, but the chorus explodes with "Gimme Shelter"-like prowess. Additionally "Microphone," is anthemic AF, as if Foo Fighters had written a retro Britpop song.
In the hands of anyone other than San Diego's genius producer Ben Moore, an album this varied would feel scattershot, but the balance between weirdness and pop is impressive, and even the more benign songs (like the country-tinged "Smiling Face") have subtle, retro-futuristic touches that keep it from dipping into schmaltz territory.
While it may be difficult to pin down The Strawberry Moons' sound, they know exactly what they're doing, and with a release this confident, it's best to just close your eyes and enjoy the ride.
Got a tip or wanna say hi? Email me at ryancraigbradford@gmail.com, or follow me on Twitter @theryanbradford