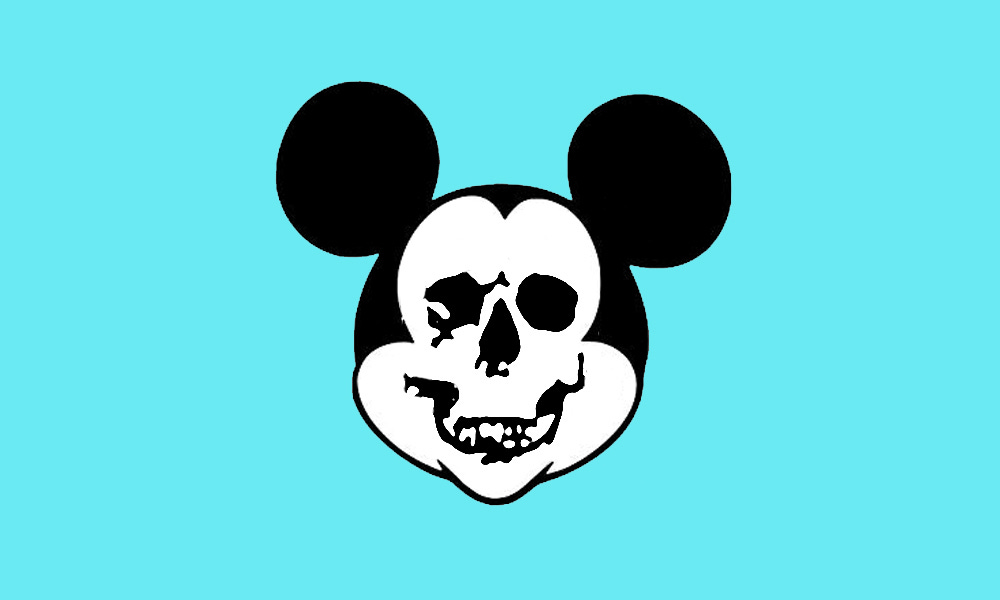 When Disney+ hits the 'Net, I get a text from a friend. It's a screenshot of the film The Poof Point. The text stirs something deep and primordial inside me. If this had been a movie, my gruff, world weary voiceover would say, "18 years. It's been 18 years."
I immediately sign up for the seven day trial.
I feel my inner punk die when I confirm the order. I mean, a lot of things die when I smash that button—RIP to my self-respect and dignity too—but the punk thing hurts the worst. There are few things less countercultural than subscribing to the monolithic streaming service that has lured both children and adults alike by dangling the MCU, The Simpsons and Jeff Goldblum on a candy-striped string. Don't even get me started on Baby-fucking-Yoda and the rabid, memeified insanity he's inspired. Only such a complete, capitalistic stronghold could turn us all into walking advertisements so easily.
But it's not Baby Yoda that has me subscribing to Disney+. It's something way more sinister: vanity.
Back in 2001, I played drums in a pop-punk band called The Flare. Our music was squeaky clean and inoffensive—exactly what you'd expect from a group of high schoolers who grew up in Utah. And that's how our band landed a role in The Poof Point. Perhaps we weren't overtly going for the "pop-punk band in a made-for-TV Disney movie" sound, but it certainly didn't hurt when we were cast as the pop-punk band in a made-for-TV Disney movie. (It also didn't hurt that our guitarist's dad was the director of photography on The Poof Point).
I haven't seen the The Poof Point since 2001, when our band watched it together. I remember feeling slightly bored the whole time. I also felt vaguely sad watching our youthful punk ideals (no matter how whitewashed they already were) filtered through a Disney lens.After that night, I think The Flare played together maybe two or three more times, and then faded away like the kids at the end of Stand By Me.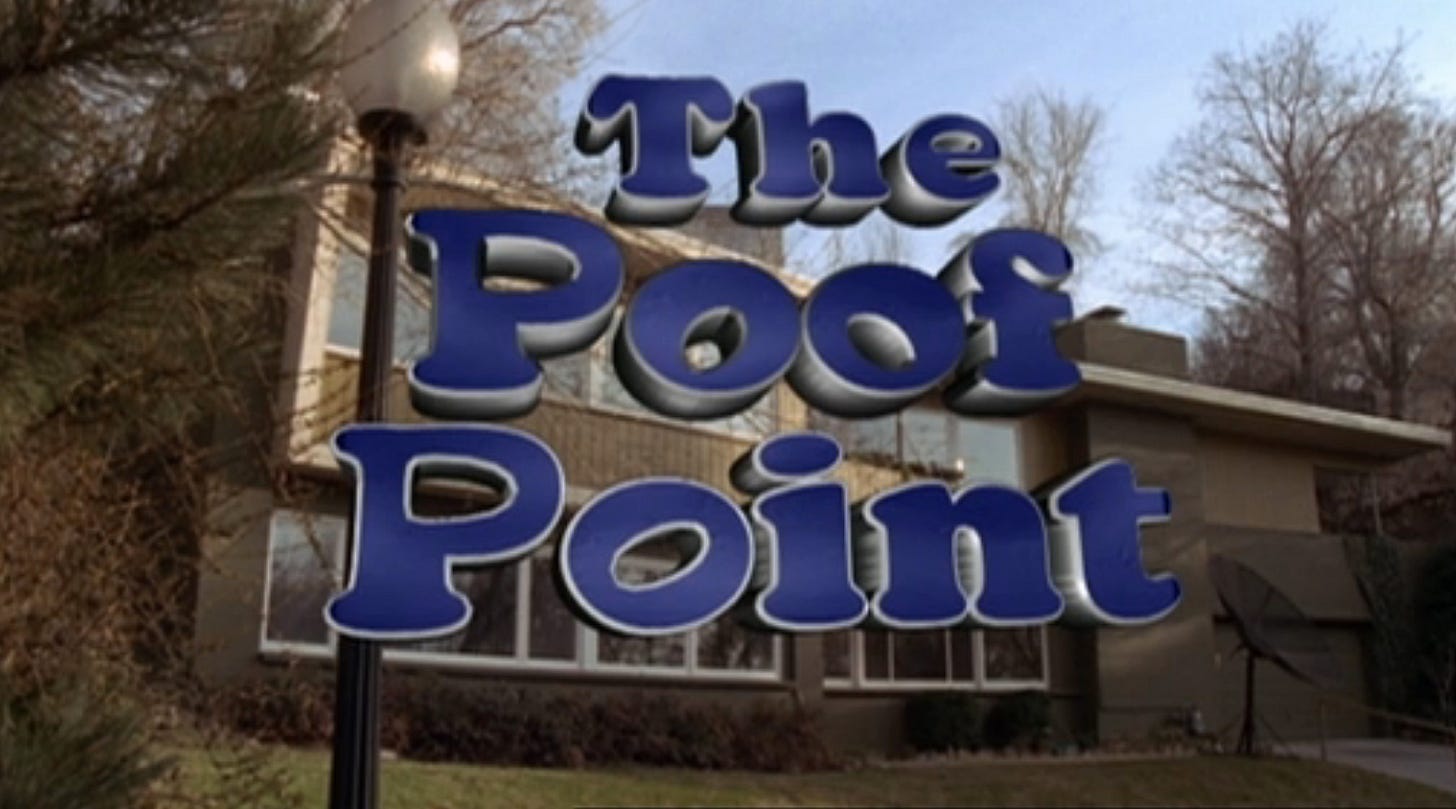 But vanity ultimately wins. I need to see how the film holds up, but more importantly, I need to see me. I fire up the Disney+ interface. I already know I'm going to dislike this. The selection is like going to an Airbnb that the owner has stocked with all the VHS tapes that their kids—now grown up—no longer need. "Oh, now I can watch all the Home Alones? Cool."
I scroll past The Mandalorian, the Baby Yoda-starring Star Wars thing that everybody loves. Not today, Baby Yoda, I think. Someone's gotta care about Baby Ryan.
I find the Poof Point icon. My mouse hesitates over it for a moment. What deep feelings will this unlock? Is this an "abandon all hope ye who enter" situation?
I breathe deep and click.
THE PLOT
The Poof Point follows the Ballard family, which consists of two scientist parents (played by Hangin' With Mr. Cooper's Mark Curry and Dawnn Lewis) whose social ineptitude is the scorn of their children's lives. Older sister Marie (Raquel Lee) tries to keep the household together while her parents bury themselves in wacky (read: zany) experiments. Meanwhile, her little brother Eddie (Tahj Mowry) is preparing for his big audition to be the bass player in the band Urban Slugs, played by us, The Flare, and most importantly: me, the drummer.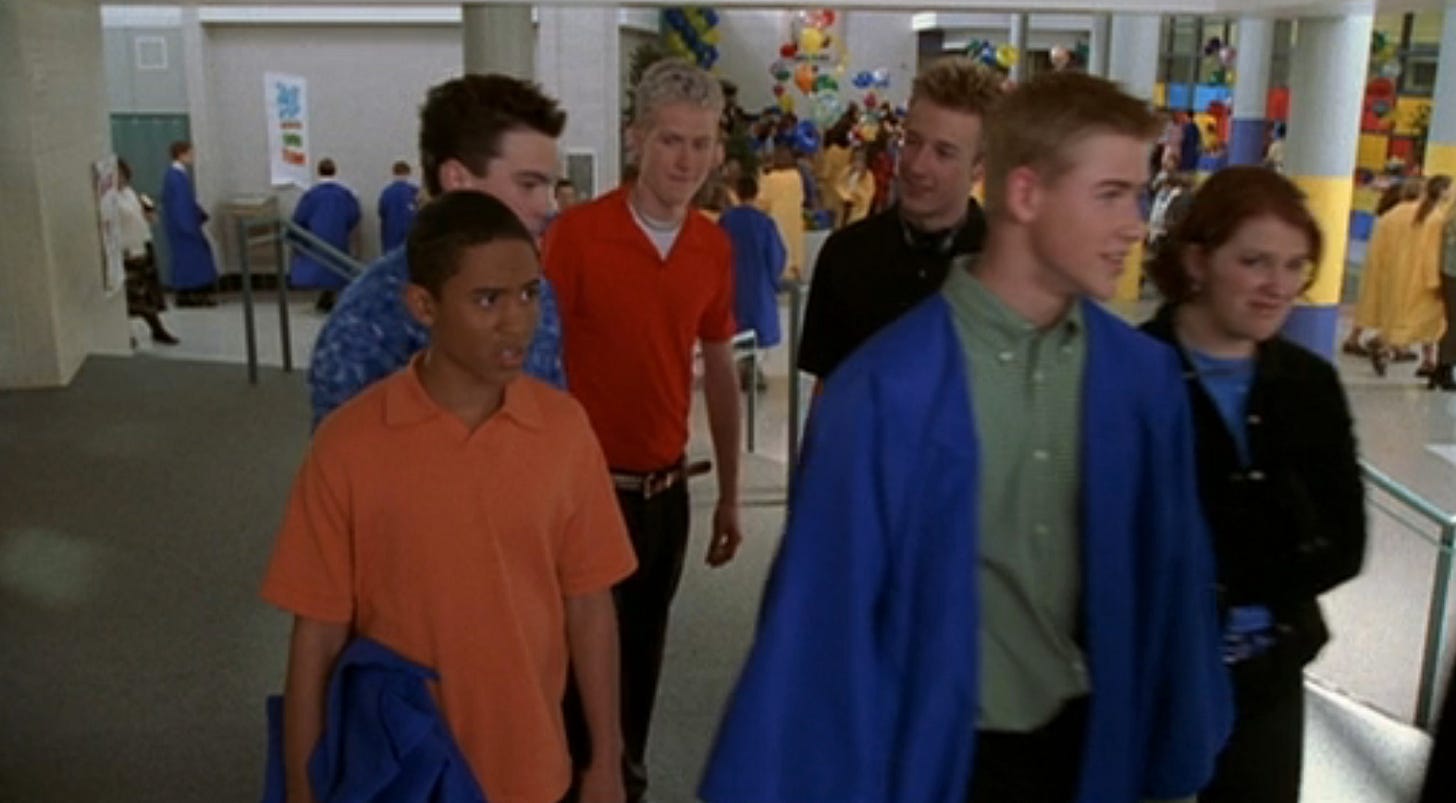 Me in the black shirt, back right
However, while trying to perfect time travel, his parents accidentally set their internal clocks backwards somehow. They regress mentally throughout the movie, and the kids have to save their parents from "the poof point," or the point before which they were born. A point of non-existence. I think this means they disappear or explode or something.
So what we have here is a Freaky Friday-like inverse of familial roles. The parents become increasingly immature and the kids have to cover for them. Keep in mind that the kids also have to do regular teen stuff like: be cool! Keep up appearances! Impress the Urban Slugs! Remember, this is set in a time when teens had a lot more to do than sexting nudes to each other and getting famous on TikTok.
COMMENTARY
The Poof Point is not a good film. Even in an era when people write cases for unpopular movies, there aren't a lot of cases to be made for The Poof Point. Rewatching it, I feel the same boredom through the scenes that didn't feature me, but also a new sense of self-loathing toward the scenes that do. Looking at my younger self makes me question all the life decisions that I've made in the interim. What has happened in my life between that fresh-faced kid on the screen and the older, uglier, fatter middle-aged man watching it?
Perhaps it's that dark introspection that makes me appreciate what the film was trying to do. Namely, the concept of "the poof point"—reverting to a stage of non-existence—is a desire that I've felt many times at (i.e. social gatherings, potlucks, or whenever anyone asks how my novel is going). I'm also very down for movies where science experiments go wrong and people are punished for playing god, and in that sense, The Poof Point is a cautionary tale of mankind's hubris.
But these elements are pushed down by flashy colors, funhouse emotions, and cheesy dialogue. For example, the leader of the Urban Slugs (played by Ryan Seaman, who now drums in IDKHow, a band that I hear on the radio all the time) offers this tip to Eddie while at Eddie's middle school graduation:
"I'm not sure if you have the look. Urban Slugs have gotta be... smooth."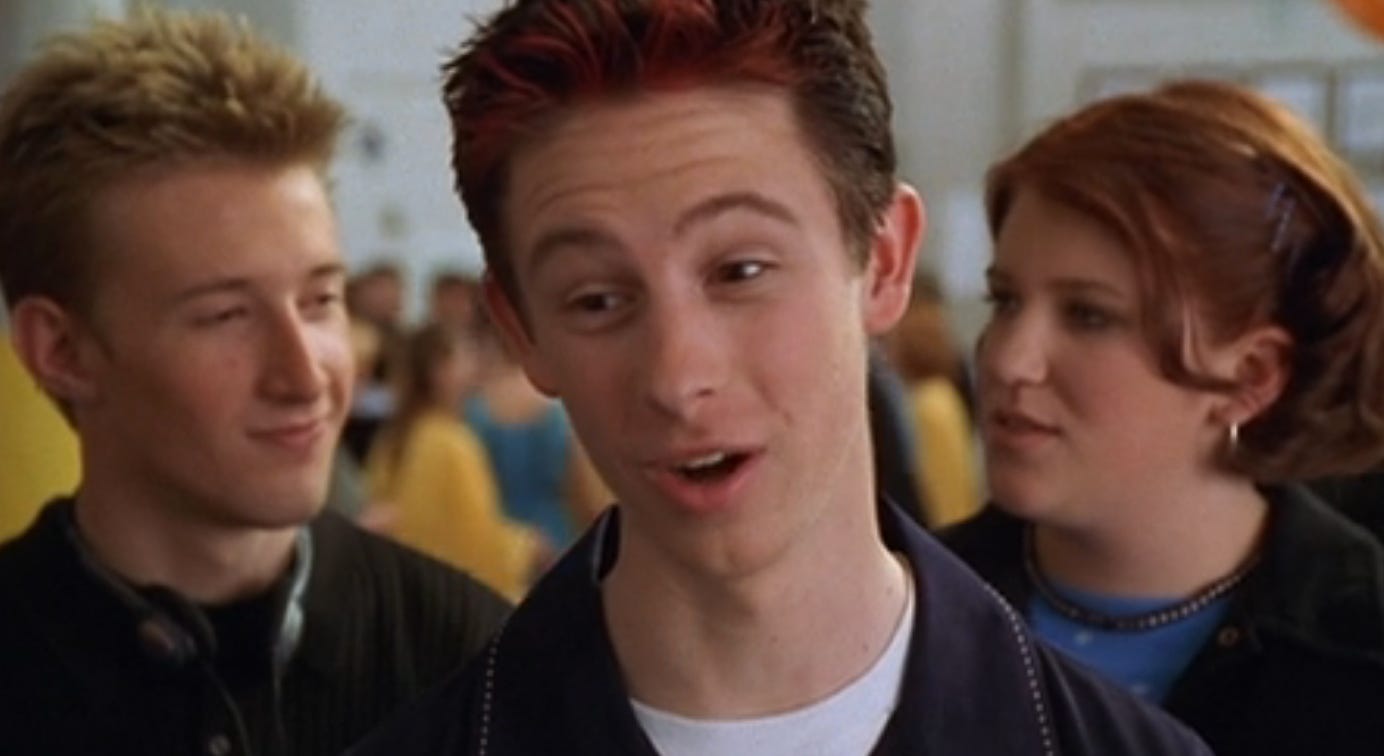 Check out my hair. I hated it so much that I asked the wardrobe people if I could wear a hat for the next scenes.

First off, why are the Urban Slugs at some kid's middle school graduation? Did they just show up to flex on Eddie, and if so: weird. Have the Urban Slugs made it a habit to show up to random middle school graduations to neg potential members? Are they desperate? Or worse, are they predators?
When Eddie responds that he can be "smooth," Ryan says: "All right, you got one shot. Tomorrow. Three o'clock. Your place." This little exchange reeks of desperation on the Urban Slugs' part, and kind of implies that they don't have their shit together. Do they not have their own practice space? Why are they so eager to haul all their equipment to a 12-year-old's house? I would be pissed if I was in the band and our leader set up this gig. I was in the band, and I'm pissed.
Eddie's relationship with the Urban Slugs also seems to hinge on a character named Collin, who just sucks. I can't tell what his role is. He seems to be a friend of Eddie's but also a manager/hype man for the Urban Slugs. Like, what a pathetic role for a high schooler—acting as a mediary between a high school pop-punk band and a kid who just barely graduated middle school. I almost feel sorry for him if he didn't seem so much like an incel in training. Seriously, dude is so horny around Eddie's sister that I want to retroactively call the cops on him. "Hey Maria," he says like a frat boy who's just downed an entire cup of Jäger. "You're looking pretty pretty today." Cue all the shudders.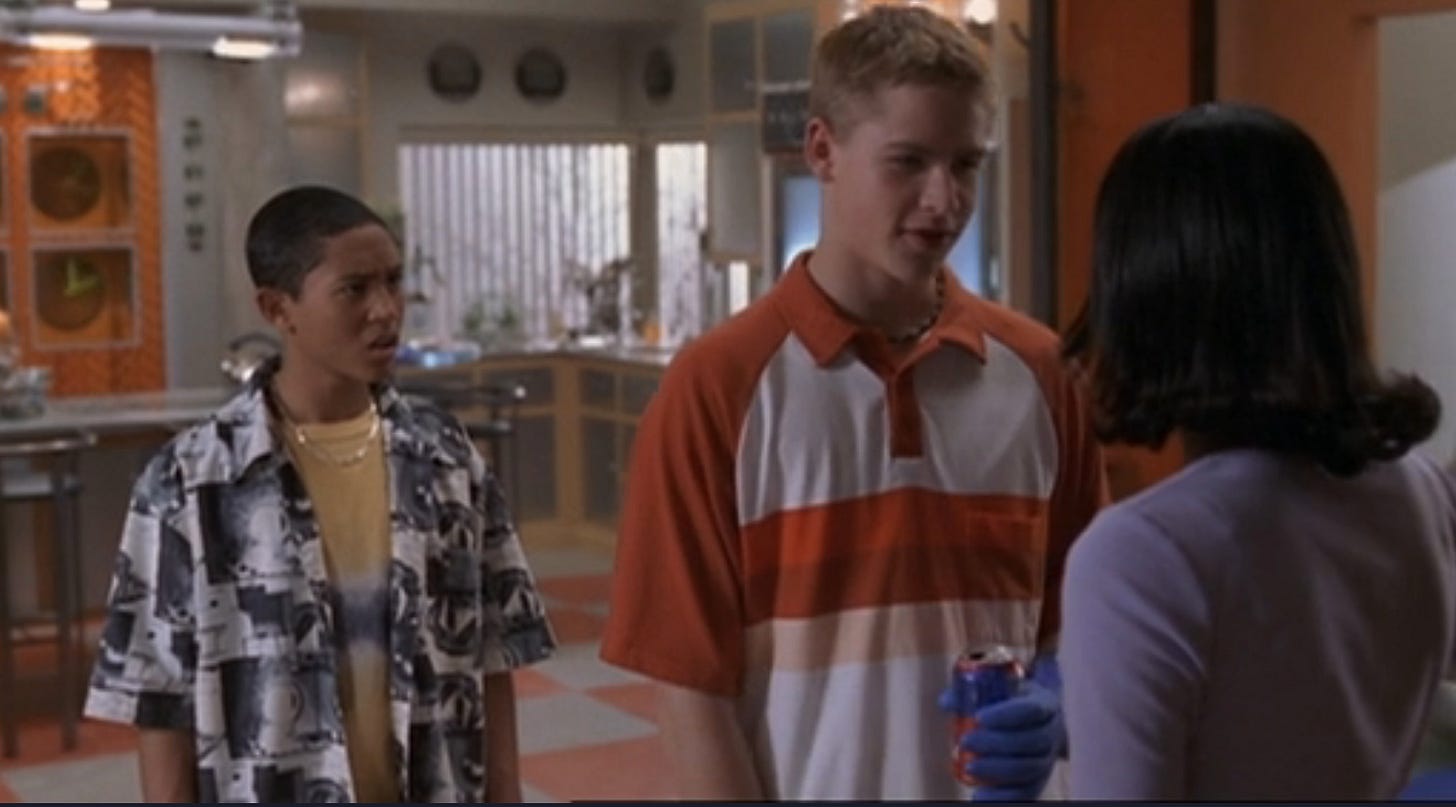 Yikes.

The middle of the movie slogs hard. There are a lot of scenes where the kids realize their parents aren't as square as thought originally thought, especially when they hit the teenage stage of mental regression. But I do not appreciate when the parents turn into grown-up toddlers (which coincides with Eddie's coveted Urban Slugs audition). These scenes may be great for people who have fetishes for watching adults act like babies, but that's something I do not care for. No thank you very much.
The climax of the movie comes during the party scene at Eddie's house where apparently everyone from school has come to watch Eddie audition for the Urban Slugs. This party scene took five days to film and I remember the movie set just becoming redolent with teen hormones during that week. Everyone was hooking up with each other, or at least trying to. Because I had a girlfriend at the time, I mostly just spent a lot of time at the craft service table and exploring empty sets. I remember finding a copy of Marx's Communist Manifesto in Eddie's room. The highlight of the week came when the director Neil Israel (of Surf Ninjas fame) yelled at the kid playing Collin, who couldn't get a line right. The line was, "What's with the door-slam drama?" but kept he delivering it like a caveman: "What's with door-slam drama?" Ha ha. Collin sucks.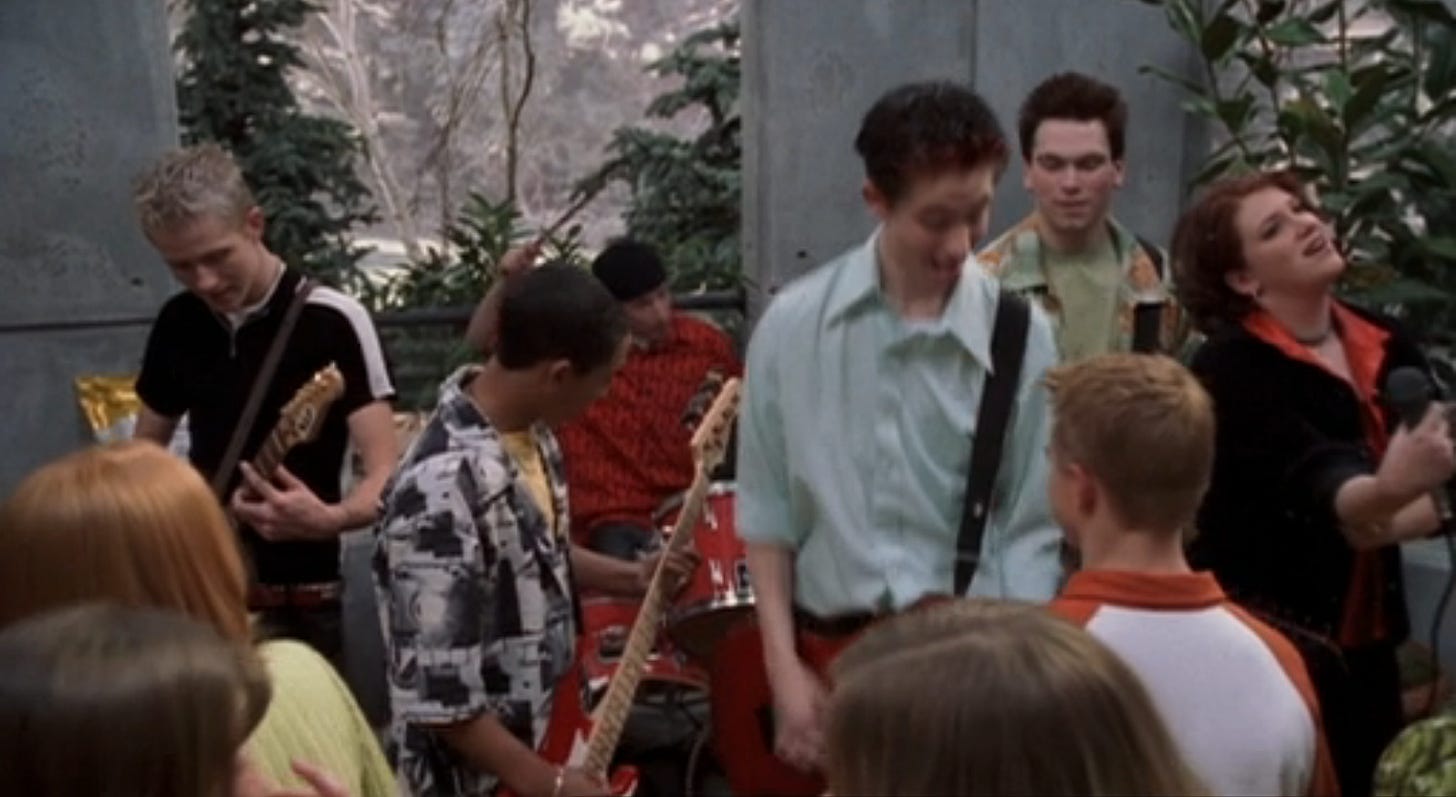 The Flare also set up a pretty good side gig by selling copies of the The Flare album—which Disney paid us to record—to all the movie star kids. Note to all struggling bands out there: land a role in a Disney film. Child stars are loaded and just want to buy shit.
Watching the party scene now, it feels strangely representative of the behind-the-scenes energy. It's at once dull and frantic at once. There are kids that seem way too young to be at any party. Everyone stands around in ridiculous clothing picked by grown-ups with no concept of style/dignity/taste. I've had very unremarkable nightmares exactly like this.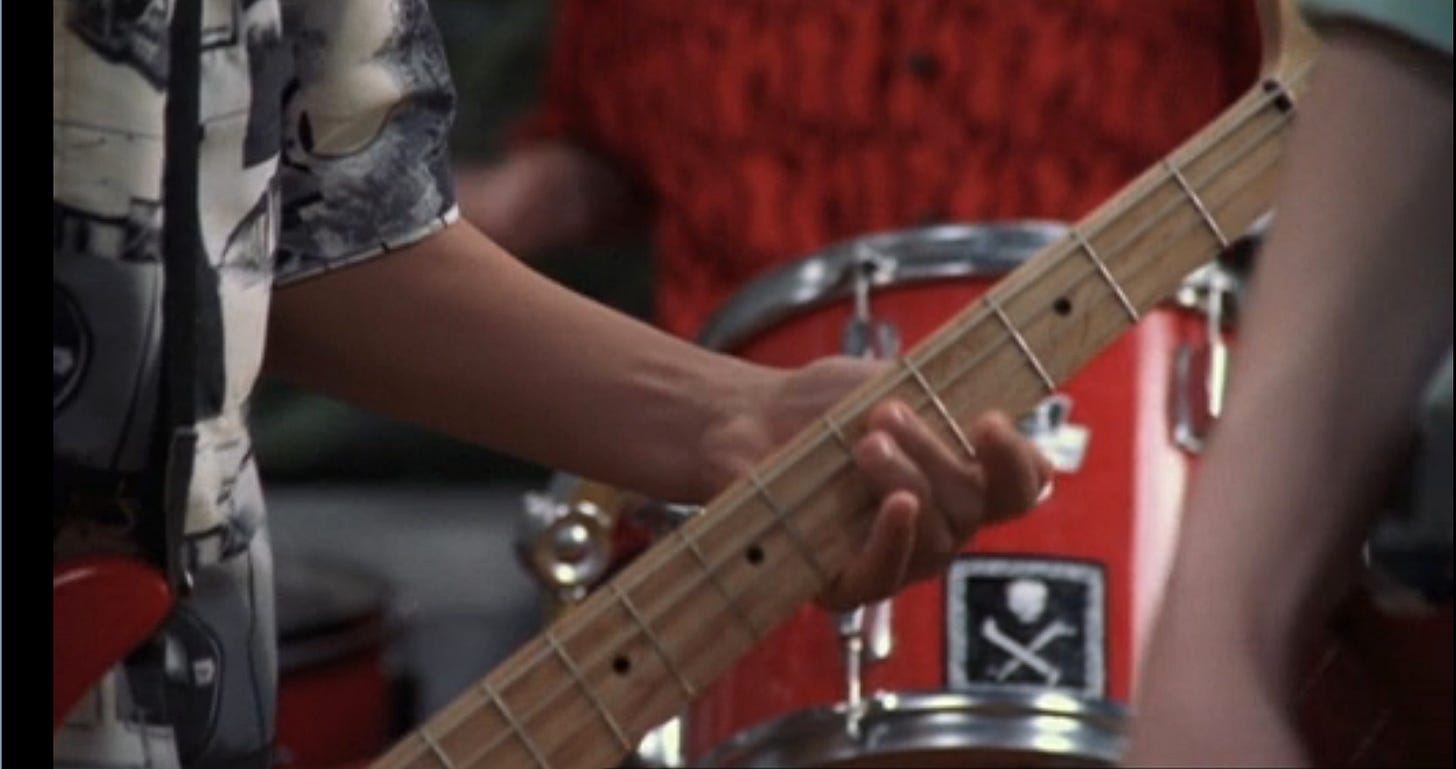 Pretty proud that of getting a Rancid sticker onto Disney, tbh
There's also some strange, racially-coded things going on with the Ballard's white, WASPy neighbors. As they watch all the kids flock to the party, they shake their heads in disapproval and say stuff like "Those Ballards are all alike." The mother asks, "should we go over there?" and the dad responds, "I think we should call the police!" They are the epitome of BBQ Beckys. I mean, this is the kind of shit that leads to people being turned into hashtags.
I fast forwarded through the rest of the movie. I think it all works out in the end, but do I care? Not really.
CONCLUSION
For a sad trip down memory lane and a sad reminder of your (i.e. my) impending mortality, I recommend watching The Poof Point. Despite all my naysaying, I don't think it can be any more annoying than anything else on Disney+.

---
SPEAKING OF CAPITALISM, A SAD INTERMISSION
This past week, we saw the closure of OC Weekly and a beloved San Diego art gallery, La Bodega. Smart people have already written about these events far more eloquently than I could, but it's yet another sad reminder of how beauty is increasingly steamrolled by greed. I don't know how to stop the gentrification that ultimately forced La Bodega to close, but it sucks that every cool thing will ultimately fall victim to the popularity it cultivates.
OC Weekly is yet another casualty in the epidemic of shuttering community papers. You don't need me to tell you this, but if you want strong voices in journalism—and you don't find stronger, better voices than in alternative weeklies—you're going to need to support them as well as the businesses who run ads with them. Please stop celebrating things only when they're gone. Thank you.
---
UNEMPLOYMENT LIFE HACKS
No job? No future? No worries! Ryan Bradford from Awkward San Diego dishes out fun, easy, and affordable ways to keep life's futility at bay. In this episode, Ryan explains how to make some tasty alcoholic beverages on the cheap.
---
THE ONLY CONCERT CALENDAR THAT MATTERS™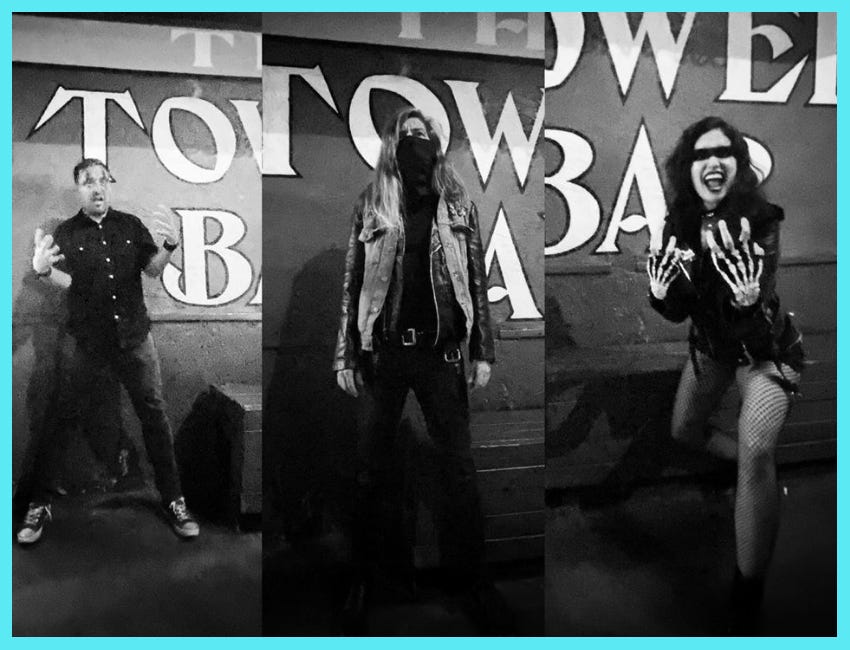 Forest Grove
Wednesday, Dec. 4
OPTION 1: Moon Hooch, Coco Columbia @ The Casbah. Moon Hooch are made up of two saxophonists and a drummer who cut their musical teeth while busking in Brooklyn. And it's apparent: theirs is the kind of energy spawned from the loudest and wildest city in the world.
Thursday, Dec. 5
OPTION 1: Battles @ The Stage Room at UC San Diego. Hey music nerds, you know that show you've been looking for this week? Well, listen to this! Battles make weirdo, math-centric rock—kind of like a harder-tinged Animal Collective.
OPTION 2: Decent Criminal, Allweather, Le Saboteur @ Tower Bar. Decent Criminal plays hard-charging punk that reminds me of PUP, and I dig it, but honestly, I'll recommend any show that features locals Le Saboteur, who rule so very hard.
OPTION 3 The 1975, Catfish and the Bottlemen, Fashion Jackson, IDKHow @ Pechanga Arena. Remember how I just spent 1000+ words on a made-for-TV Disney movie? Well, Ryan Seaman, who was in that movie with me, now plays drums n IDKHow. He's one of those guys who's so talented that I'd hate him if he wasn't my friend.
ANOTHER OPTION, I GUESS: Black Flag, The Dickies, and The Linecutters @ House of Blues. I guess maybe go to this if you're a punk rock completist. Unless you're a super huge Greg Ginn fan, it'll probably be painful to see him drag the corpse of Black Flag around on stage. The Dickies are another once-great band who revealed themselves to be misogynists when they played Warped Tour a few years ago. Also, this show is at House of Blues. If you like classic punk, I'm sure you'll have fun, but I just foresee a sad, sad night of music.
Friday, Dec. 6
OPTION 1: Daughters, HEALTH, Show Me The Body @ Soma. Daughters put out a scary-ass, amazing album last year. You Won't Get What You Want is operatic, dark, and disturbing. It veers between noise and cinematic soundscapes. Go to this show if you want to destroy your sense of what's right in the world.
OPTION 2: Fear of Noise @ various venues: Hell yeah two-day, DIY punk/hardcore showcase! This is a great opportunity to see some of the best bands tearing up San Diego these days. Pick any of these showcases and you're bound to see some good, socially-conscious, globally-considerate thrashing.
Saturday, Dec. 7
OPTION 1: GLSEN Fundraiser ft Spooky Cigarette, Ingonoir, Delahcruz, Wsprgrl,
The Ocalypse @ Bar Pink. GLSEN is an organization that advocates for LGBTQ rights in schools and rallies against bullying based on sexual orientation. Everything about them is admirable. Also, if you haven't had the opportunity to see the great dark/tropical Spooky Cigarette yet, now is your chance.
OPTION 2: Fear of Noise @ various venues. One time, I was talking to a local musician and we were having a discussion about punk and he was like, "don't you think it's about time you grew out of that type of music?" I stood there in shock, and then I got sad for him. Punk is so good. I feel bad for anyone who doesn't like punk.
OPTION 3: The Bronx, Warish, Slaughter Boys @ The Casbah. See above re: what I said about punk. Man, the more I think of that guy who suggested I grow out of punk, the more I hate him. BTW: The Bronx rule.
Sunday, Dec. 8
ONLY OPTION: Death Eyes, Archons, Forest Grove, The Gay Agenda @ The Casbah. Yeeeeeaaaaahhhhh! Forest Grove (the band in which I play drums) is playing tonight with some other great locals. If you have other plans tonight, don't expect a Christmas gift from me.
Monday, Dec. 9
OPTION 1: Nicely (EP Release Show), Bit Maps, New Me @ The Casbah. I recently saw a clip of Nicely playing and it made me whisper "holy shit." They have the kind of skill that makes you feel bad for thinking you could ever play an instrument.
OPTION 2: Mega Bog, Rose Dorn @ Soda Bar. Have you ever been, like, really high and listened to music? It sounds a lot like Mega Bog. Erin Birgy—the mastermind behind Mega Bog—fuses indie, jazz, sci fi and psych-pop together to make music that sounds, like, beautiful, man.
Tuesday, Dec. 10
OPTION 1: Pete Yorn, Dear Boy @ Belly Up Tavern. I always think of Pete Yorn as a commercialized version of Sparklehorse, or a '90s alt-radio star that missed his decade. However, there's no denying the strength of songwriting on Yorn's debut, musicforthemorningafter.