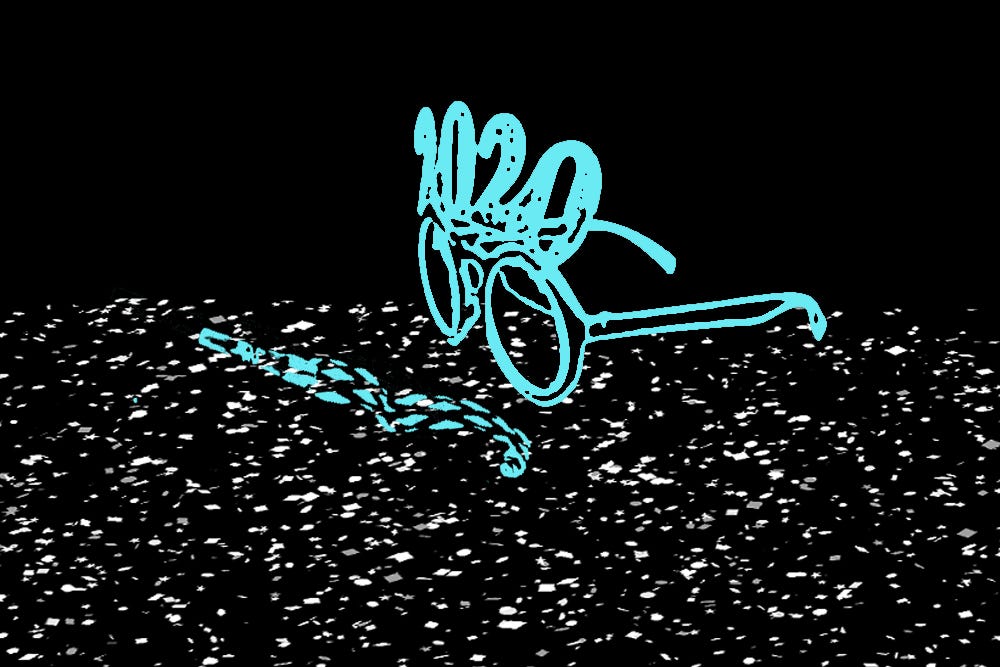 Happy New Year. You might be reading this in bed, the events of last night blurry and swirling in your head. There might be empty bottles and cans on the floor. Maybe there's someone snoring next to you whose name you can't remember. Perhaps your mouth tastes like vomit. When did I vomit? Is this my vomit? Did I eat someone else's vomit?
Or maybe you're waking up bright and chipper, having fully graduated to the stage of adulthood where New Years Eve is just another day. Congrats. Here's your medal: 🥇
Whatever the case, New Year's Day always feels like a turning point, a chance for a fresh start. However you're feeling today, it's safe to say we're all yearning to turn over a new leaf and forget the bad decisions we've made—whether they were made earlier in the year, or less than 24 hours ago.
I, for one, am looking forward to a fresh year. To be honest, 2019 wasn't the best. I watched a publication that I worked at for seven years quickly devolve into a glossy celebrity rag. I suffered a professional rejection that made me reconsider my worth. All this on top of the run-of-the-mill anxiety and depression that comes from living life.
But I think the hardest part of 2019 had to be almost losing my dad.
Back in April, I received a text message from him saying that he got into a nasty bike accident (accompanied by a gruesome image of the wound). I figured that if he could text something like that in good humor, then the accident couldn't have been too gnarly.
A few days later, while driving up to LA to see Bikini Kill, I got a text from my stepmom—a registered nurse—who said that my dad had been rushed to the ER because he was unresponsive (I should also mention, because life is a tragic comedy, the ambulance taking him to the hospital also got into an accident).
My dad had been bleeding internally for four days, which had gone unnoticed by the initial CT scan. On the fourth day, he passed out three times. My step-mom believes that he died, only to be brought back to life in the trauma unit. I'm thankful that I didn't know any of this until he had regained consciousness, but that didn't stop me from tearing up when I finally got to listen to him recount his Nikki Sixx-esque brush with death with drugged-up nonchalance.
That night, I watched Bikini Kill tear up the Palladium with a newfound appreciation for life. I don't know if I'll ever experience a show like that. Suddenly, the world seemed a little simpler with the realization that, ultimately, all we have are the people we love.
I don't want to forget that feeling. I think it's fine to look forward to 2020, but I think there's inherent value in retaining the things that weren't always good.
It's funny: I've spent a lot of holiday break editing a manuscript for a novel that I wrote from 2017-2019. A year and a half. It's the longest I've ever spent writing something. But going through this long-gestating work has been a little like reading the rings on my emotional tree. I can pinpoint spots that were written when life seemed bleak, and others where I was doing better. It's an amalgam of life's messiness. I don't know if it's my best work, but it probably the most meaningful to me.
I've never been good at New Year's resolutions. The only one that's ever really stuck is "no more Hot Pockets" (which I started 10 years ago after accidentally burning my lip on a pepperoni and it looked like herpes and I didn't know what was more embarrassing to tell people: herpes or Hot Pocket burn). But I don't want to forget the pain, sadness and distress I've felt this year. 2020 will, no doubt, shape up to be a nasty political year, and I imagine online will turn into a wasteland of shaming and vitriol. I already see a lot of it, as if we've already forgotten the hell of 2016.
I guess this is all to say that it's probably good to keep that rearview mirror positioned correctly, even if what's behind us isn't pretty. We are the product of every second that comes before right now.
Happy New Year. Don't be hard on yourself. Take care of your loved ones. Be kind to others. We'll make it.
---
THE ONLY CONCERT CALENDAR THAT MATTERS™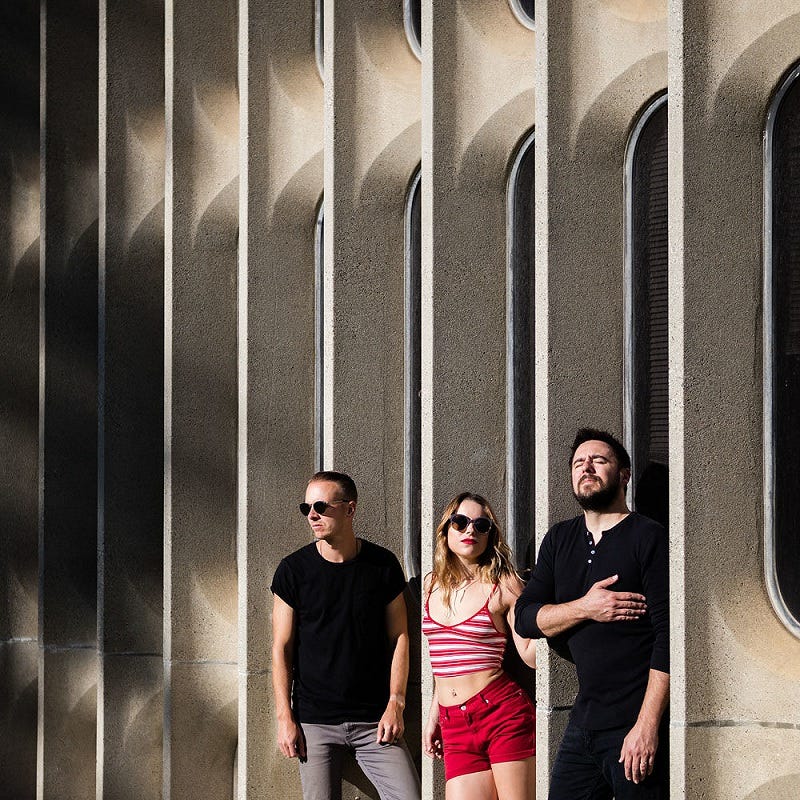 Le Chateau
Wednesday, Jan. 1
OPTION 1:Bed @ your house. That's right, I'm coming over to your house, and I'll probably be hungover and whiney. Please be prepared with two California burritos and a three Ernest movies (I recommend Goes to Jail, Scared Stupid and Goes to Camp).
Thursday, Jan. 2
OPTION 1: TSOL, The Detours, Social Spit @ The Casbah. Thirty something years later, TSOL's "Code Blue" is still one of the grossest songs ever.I'm telling you: they just don't write necrophilia songs like they used to.
OPTION 2: Corrupt Vision, Sarchasm, Mad Cow Disease, Pudre, Jumped In @ Til Two Club. Remember in the early 2000s when there was a lot of anarcho-punk/ska bands that all kind of sounded the same? Well, now there are so few of those bands that the sound is fresh again. Corrupt Vision sounds like the angerier, hardcore-ier version of Leftover Crack, which is a very good thing.
Friday, Jan. 3
OPTION 1: Le Chateau, The Swedish Models, Free Paintings @ Soda Bar. I'm stoked that 2019 marked Le Chateau's return after a brief absence from the local music scene. Their Chvrches-like dream pop is simultaneously ethereal and immediate. It's also kinda sexy and kinda sad which is always my catnip.
OPTION 2: Blood Ponies, Corrvus, Rivalry, Those Darn Gnomes, and S O L V @ San Diego Content Partners. [Star Trek 2 voice]: Kaaaahhhnn! I mean gottthhhhh!
OPTION 3: The Amandas, DJ Stack Aly @ Whistle Stop. I think it's safe to say that if you don't like the throwback type of '60s soul that The Amandas perform, there must be something wrong with your enjoyment receptors. Go get yourself checked out by a doctor.
OPTION 4: Willie Nelson @ Balboa Theatre. Earlier this year, while watching Ken Burns' Country Music documentary (yes, that's right Dear Readers, I watch Ken Burns documentaries, which means I'm actually super smart) I tweeted this: "I learned that Willie Nelson wrote Patsy Cline's "Crazy" which explains the massive Sublime/Smoke 2 Joints-style bong rip in the middle of that song." Good tweet, imo.
Saturday, Jan. 4
OPTION 1: Elis Paprika, Le Ra @ Soda Bar. Guadalajaran native Elis Paprika performs a heavy, vicious style of '90s grunge/punk, but has better vocal pipes than most bands to come out of that era. Think Veruca Salt mixed with Soundgarden. It rules.
OPTION 2: Petty 2: A Tribute to Tom Petty @ The Casbah. I was in an English pub last year, way up north in Newcastle, when Tom Petty's "Free Fallin'" began to play over the speakers. In what felt like a movie scene, all the blue-collar blokes stopped mid conversation and begin singing along. It was a testament to Petty's universal appeal and the disarming impact of his songwriting. And who knows—maybe you'll find a date at this tribute showcase, and you'll get introduced and you'll both start groovin'.
Sunday, Jan. 5
OPTION 1: Famblood, Mellow Code, Rosy Cheeks, Freedom Curse @ Soda Bar. Don't ask me why, but I love it when family creates art together, like Famblood's cousin duo Lynette Ríos Padilla and Sam Padilla. I mean, no shade to anyone I am related to, but I can't imagine anyone in my family jumping on board if I told them I wanted to create stark new wave/cold wave electro that vampires could play at art openings, and that makes the type of music Famblood writes all the more admirable.
Monday, Jan. 6
OPTION 1: Rebecca Jade and the Cold Fact, Alvino and the Dwells @ The Casbah. You really can't go wrong with a Rebecca Jade and the Cold Fact show. The music is timeless, and I would nominate Jade if there was ever a global campaign to find a singer whose voice is most likely to make you smile.
Tuesday, Jan 7
OPTION 1: Lighterburns, Droll @ Soda Bar. Lighterburns is a local pop-punk/emo band that I have not heard of until just now, which is a huge oversight on my part. The Warped Tour alumni sound a lot like Motion City Soundtrack and early Fall Out Boy, and as an emo boi from the early 2000s, I dig it.